Growing Up with Winnie the Pooh, a line of Disney DVDs that are new to America, is predominantly composed of episodes of "The New Adventures of Winnie the Pooh." This weekly animated television series first aired in 1988. Though its production run ended in 1991, the show has lived on through syndication Saturday mornings on network and weekdays on the Disney Channel. In addition, several of Disney's recent Winnie the Pooh video releases such as A Very Merry Pooh Year and Un-Valentine's Day have made use of old episodes, often surreptitiously.

Though "New Adventures" is by far the most well-known Pooh television series, it was actually the fourth conceived. The first was proposed back in 1958, just two years after creator A. A. Milne had died. Milne's widow Daphne approved a deal which passed motion picture rights to the National Broadcasting Corporation (NBC). NBC produced a pilot, but it wasn't picked up, and two years later, the rights went back to the Milne Estate.

In June of 1961, Walt Disney bought the rights to Pooh, something he had expressed interest in for over twenty years. This acquisition is undoubtedly a major turning point for Winnie the Pooh, who after a 35-year existence as a British literary icon would enjoy new life as one of Disney's most popular animated personalities. Walt eased the public into seeing Pooh on the big screen with some featurette-length shorts, beginning with "Winnie the Pooh and the Honey Tree" in 1966. Walt died later that year while a second short "Winnie the Pooh and the Blustery Day" was in production. He would not get to see the final product, but he would posthumously earn the "Best Cartoon Short" Academy Award for it in April of 1969.

These two shorts were edited together with 1974's "Winnie the Pooh and Tigger Too" and connecting animation for the 1977 feature-length film The Many Adventures of Winnie the Pooh. They also provided material for "Winnie the Pooh and Friends", the second television series which made use of other Disney animated films, as well. After NBC's unsuccessful pilot and the short-lived "Pooh and Friends", the third television series would prove to have a bit more staying power. This one was called "Welcome to Pooh Corner" and it began in 1983 on a very young cable network known as the Disney Channel. The series depicted the Hundred Acre Wood inhabitants with life-sized costumes operated by actors and animatronics.
"The New Adventures of Winnie the Pooh" was Pooh's fourth television series and is the subject of this DVD review. You see, although you wouldn't know it from the title or descriptions, Growing Up with Winnie the Pooh: Volume 2 - Friends Forever is mostly made up of episodes of "New Adventures." This entirely original and entirely animated show was introduced on the Disney Channel but soon made its way to network television, specifically the American Broadcasting Corporation (ABC).

The show, by any account, was a success. It was recognized with the Daytime Emmy award for "Outstanding Animated Program" in 1989 and again in 1990, when it shared the honor with Tim Burton's "Beetlejuice" cartoon.

Clever writing, imaginative animation, and wit which resonates with both children and adults. Today, those claims are often made with regard to the films of Pixar Animation Studios, who have become a field leader in ten award-winning years. But those same claims could apply to "The New Adventures of Winnie the Pooh", which while visually and structurally suited to television, has good qualities which ascend the medium's constraints.

This makes it very odd that these new Growing Up with Winnie the Pooh volumes would present its content not as the Emmy-winning television series it is, but as if it's new moral-filled stories featuring Pooh and friends. For some reason, Disney markets Pooh content strictly to the preschool sect these days. This strategy is probably the reasoning behind releasing volumes this way instead of season sets of "New Adventures." A look at the packaging on this DVD emphasizes lessons about "encouragement, "concern", "working together", and "solving problems." While most Saturday morning TV shows will offer some positive values, it's odd that Disney is emphasizing its educational worth over its entertainment factor. Even if the show's name may be misleading more than a decade after it was first "new", I don't doubt that its popularity could sell DVDs alone rather than this approach. But I guess that's for the marketing people to decide.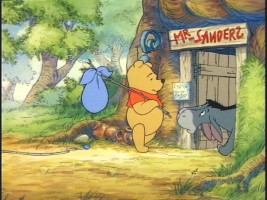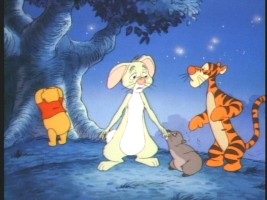 Like Volume 1, Friends Forever offers four "New Adventures" episodes. On the whole, these episodes are a bit better than those on A Great Day of Discovery, but there is also less to enjoy. Of the four episodes, three run just over ten minutes (fitting in half of a half-hour time slot, with credits and commercials) and one is a full 21-minute show. Gone are the memorable opening credits sequences for these episodes; instead, there's just one 40-second theme song that has been used for this DVD line in its previous incarnations.
In addition, there are a few ten-second interstitials done in the style of the DVD line's opening sequence and menus. These feature things like Roo jumping into Kanga's arms and Pooh floating with a balloon. The only other new content are some simple 1-minute puppet shows done in this same vein, and even with the barrage of end credits, the disc runs just sixty minutes altogether.
"Good-Bye Mr. Pooh" (1989) (10:38)
When he sees Pooh packing up honey jars and getting ready to leave, Tigger bounces to the conclusion that Pooh is moving away. So, the gang gets together to throw Pooh a surprise going away party. Pooh actually does take off for a little while, but when he returns, he finds Eeyore has moved in. Like many Pooh stories, this episode relies entirely on a simple misunderstanding, but it has lots of the verbal humor that displays the show's great wit.
"Where, Oh Where Has My Piglet Gone?" (1989) (10:33)
Another misunderstanding leads to Pooh thinking that Piglet is that latest thing that he's simply misplaced. Pooh goes off with Rabbit to look for their friend, but that just leads to Pooh losing still more. Meanwhile, Piglet is making use of a new songbook. It's another fun episode with Pooh's absent-mindedness on comic display.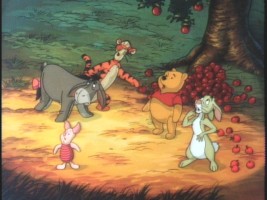 "Fish Out of Water" (1989) (10:34)

In one of the more surreal episodes, fish descend upon the Hundred Acre Wood. That's right, hundreds and hundreds of trout turn up underground, in the pipes, and all around. With his home taken over by the fish, Gopher moves into Rabbit's. The gang (sans an absent Tigger) declares war on their intruders. They seek to make it rain and flood the fish out of their domain.

"Pooh Skies" (1990) (21:05)

In a search for honey, Pooh knocks down a piece of blue egg shell with his ladder. Tigger warns him that he's broken the sky and everyone thinks they're in for disaster. Eeyore, Tigger, Piglet, Rabbit, and Pooh all prepare for the falling sky they anticipate. Their preparations involve moving under ground with Gopher. Rather than welcome the houseguests, Gopher decides to single-handedly fix the sky, and Pooh offers to help. They take a trip to the clouds, while the rest of the gang tries to save them. There's an interesting apocalyptic vibe to this episode.

After the second and fourth episodes, there are a couple of simple shorts animated to look like a puppet show. This qualifies as the only brand new material on the DVD and together, they run less than three minutes. In the first one, Piglet gets in a jam while collecting acorns.

The final one tells about a time when Pooh must decide who of his three friends he ought to share his present with. Friends Forever again concludes with a parade of four closing credits sequences. There are minor differences among the end credits which come from different seasons, but the good news is that a bit of those wonderful theme song lyrics are heard in some of these.

It's definitely great to see some classic television animation of this caliber on DVD. But clearly, these releases are intended to appeal to parents of preschoolers and casual fans. Looking to obtain a complete collection of the show? The Growing Up with Winnie the Pooh series wouldn't be a very cheap way to do that. Altogether, "The New Adventures" ran for four seasons, although more than half of those aired in the first six-month season of the show. There were a total of 83 episodes, a mix of half-hour and quarter-hour shows. This total number of episodes is conducive to probably three of multi-disc DVD sets. Released this 4-episode compilation route, you'd need 21 of these Growing Up volumes to put together a complete set. Will we see that many? Most likely not, but there have already been six discs released in the UK, with two more due next month.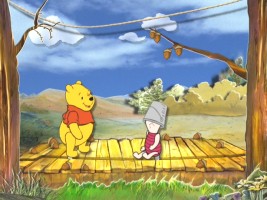 VIDEO and AUDIO
Everything that comprises the "feature" is presented in the 1.33:1 fullscreen aspect ratio, matching the dimensions in which the show and new material was created. As with the first volume, this video leaves much to be desired. The transfer is rarely very sharp. There is some grain and shimmering. The video is too frequently plagued by scratches and other flaws. At times, the picture can get downright murky, particularly in the blurry-looking third episode "Fish Out of Water." Colors aren't very consistent or on-the-mark; bright hues like the red in Pooh's shirt seem oversaturated at times. Other times, the shirt is richer and less blooming.
Admittedly, television animation has come a long way in the 15+ years since these episodes aired and some of the inconsistencies can be attributed to its budgeted production values. (Although, many shows today favor a less realistic approach with less action than this. "New Adventures" is neither excessively simple-looking nor shoddily-produced.) Still, it's clear that no sincere efforts have been taken to make this program look as it good as it should on DVD. That's unfortunate.
All of the episodes on this DVD are presented in Dolby Mono. These tracks, where audio is limited to the front center speaker, are fairly satisfactory and somewhat robust. (I suppose the series didn't make a transition to stereo until 1991.) If possible, surround remixes might have been nice, but there's nothing noticeably lacking with this simple sound presentation.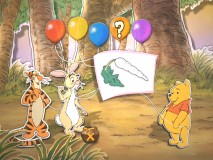 BONUS FEATURES, MENUS and PACKAGING

There are just two short bonus features included. First is the "Heffalumps & Woozles" Sing Along Song (3:00), which presents one of the Sherman Brothers' trippiest songs in fullscreen and active surround. As per the format, lyrics appear on screen to help you sing along, if you're so inclined. The montage seen is from the '60s featurette "Winnie the Pooh and the Blustery Day"

which modern audiences will know as one of the segments of The Many Adventures of Winnie the Pooh.

There's also the very short and simple child-friendly "Piglet's Balloon Game." In this activity, you help Rabbit, Tigger, Eeyore, and Pooh untangle the balloons they have for Piglet by matching colors with the drawings shown to you.

Growing Up with the Winnie the Pooh DVDs are equipped with Disney's "FastPlay" which to make a long story short play through previews, the feature, and extras just like VHS, no button-pressing required. If you so desire, you can choose to immediately go to Menu instead. The Main Menu takes you on another flat tour of the series' stylized take on the Hundred Acre Wood, as a very long tracking shot observes characters amidst falling green leaves and flying bees. An instrumental of the "Growing Up with Winnie the Pooh" theme music plays on the main menu and some of the submenus, which are not animated aside from brief transitions.

At the start of the disc, previews play for Pooh's Heffalump Movie, this Growing Up with Winnie the Pooh line, and the upcoming JoJo's Circus DVDs. The Sneak Peeks menu provides additional trailers for Bambi, the new Volume Two Disney Princess DVDs, Disney Learning Adventures, The Incredibles, and the Disney Princess merchandise line. As usual, the menu offers a "Play All" option which cycles through all nine minutes of promos.

Inside the case, there is a growth chart which features Pooh, Piglet, Tigger, Roo, and Eeyore. The chart folds out to 4 feet and 9 inches, a height cut-off for liking Pooh which I hope isn't enforced. There's also a two-sided insert which lists scene selections and bonus features on one side, and promotes next month's Disney Learning Adventures DVDs on the other. Finally, a "Pooh-rific" coupon booklet offers savings on Winnie the Pooh magazine and what Disney would classify as "preschool" DVDs like the Princess Collection.
CLOSING THOUGHTS
If you've made it this far and read the entire review, you've gotten a history of Pooh on TV, a detailed overview of "The New Adventures of Winnie the Pooh", and a critical analysis of Friends Forever and the Growing Up with Winnie the Pooh DVD line at large. A lot of effort has gone into this review, and it would seem like more than went into this disc, which merely ports content previously available on DVD internationally and on television airwaves before that.
To its benefit, the content recycled for Friends Forever happens to be four delightful little episodes of a funny and well-made cartoon program. For only an hour's worth of that program (presented with disappointing video quality, no original opening credits, and hardly any bonus features) the price seems a bit high. The problem with this DVD is not at all "The New Adventures" which has my glowing recommendation, but with the way that it's being released to disc. This route is pricey, incomplete, and disheartening. Disney seems to have designed this line not for fans of the series but for people who will buy any new Pooh DVDs that are thrown their way. Unfortunately, I don't know if the show will ever see a more satisfying DVD release. In which case, this may be the only way to enjoy it on DVD.