Brother Bear is the story of three human brothers living with their tribe in the Ice Age. In a very short amount of time, the film defines these three characters as wise oldest brother Sitka and his two younger siblings, half-witted but well-meaning Kenai and the jesting, hard-headed Denahi.
Kenai is excited to be receiving his totem from tribe elder Tanana, but when he winds up with the "Bear of Love" as his symbol he is disappointed. Kenai doesn't see how a bear (or he, himself) can represent love. His feelings certainly don't change when it is when the three brothers are fighting a bear that Sitka is killed. Kenai sets out to kill the bear responsible for his older brother's death. When he does, though, the spirits that govern interspecies transformations see to it that Kenai is transformed into the big brown bear that he has just killed.
The one remaining human brother Denahi, seeks to track down the bear (who is actually Kenai) that he thinks is responsible for both of his siblings' deaths. With Denahi on his trail, Kenai sets out with four paws and a lot more hair, for "where the light touches the mountains", a destination where he will be able to be restored to human form. Kenai comes across young Koda, who is going in the same direction and lends Kenai some much-needed bear sense and the audience some personality as kid-friendly travelling company to our stern protagonist. Turning up from time-to-time as comic relief are a pair of mooses named Rutt and Tuke,

whose amusing banter has its roots in actors Rick Moranis and Dave Thomas' early '80s comedy sketches on "SCTV" and the film Strange Brew.

From its shrill song "Great Spirits" peformed by Tina Turner which attempts to create a dramatic opening in the vein of "Circle of Life," Brother Bear seeks a return to the top form Disney that marked the '90s. In a number of ways, it suceeds, though not to the extent of the masterpieces from last decade that it emulates like The Lion King and Tarzan.

The universal literary and cinematic theme of 'the journey' present in Brother Bear is a part that works. As with the most potent Disney animation, Brother Bear fully emerges the viewer in story and characters. The film's philosophy, on the other hand, comes across both a bit heavy-handed and shallow. The film's creators have sought to create a distinct and illuminating order to the world of wildlife, a mood that worked in The Lion King as supporting the story, but never felt forced or preachy. The efforts to add gravitas and depth to Brother Bear's story do detract from it a bit, and make the film's ending disappointingly witless.
Music is a bit of a mixed bag, but it's mostly favorable. Of course, Phil Collins' unique-sounding voice will immediately call to mind Tarzan, another Disney film inhabited with wild animals and tall trees. The music isn't quite as memorable and energetic as Tarzan's, but a couple of songs do work well enough to make you almost forgive the harsh opening number that Disney decided (unsuccessfully) to push for the Best Song Oscar.
Overall, Brother Bear is a step-up from the more experimental recent efforts from Disney Feature Animation such as the disappointing Atlantis and though it's less certain to please crowds like Lilo & Stitch, it feels more of a return to quality filmmaking from the studio. Of course, it cannot be seen as much of a return, knowing that Disney has decided to discontinue making two-dimensional animated theatrical films.
This transformation tale of viewing events and conditions through different perspectives is an entertaining film experience. Though it calls to mind elements of some recent, successful Disney films, it has enough of its own in the way of story and characters to remain unique. Best of all, Brother Bear manages to thrill and amuse audiences with an effectiveness that surpasses most of today's cinema.
DVD Details

1.66:1-2.35:1 Anamorphic Widescreen (theatrical)
1.66:1 Anamorphic Widescreen (reformatted)
Dolby Digital 5.1 (English, French, Spanish)
DTS 5.1 (English)
Subtitles: English; Closed Captioned
Release Date: March 30, 2004
Two single-sided, dual-layered discs (DVD-9)
THX-Certified
Black Dual Amaray Keepcase
Suggested Retail Price: $15.99 (Reduced from $29.99)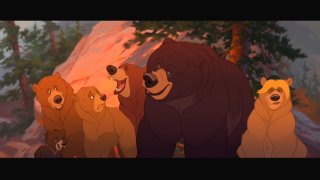 VIDEO and AUDIO

In theaters, Brother Bear began presented in a 1.85:1 aspect ratio, and then after 24 minutes, expanded to fill the wider 2.35:1 screen for the rest of the film. This unique presentation is recreated for the DVD...on Disc 2. The aspect ratio shift comes at the moment of transformation, when Kenai's perspective of the world changes. As the transfer is enhanced for 16:9 televisions, the first 24 ½ minutes are windowboxed within the anamorphic frame, resulting in a picture that's surrounded on all four sides by the 'black bars,' no matted what kind of TV you're watching it on. Disney chose to do this as the closest way to duplicate the theatrical experience.

The Disc 1 presentation of Brother Bear is reformatted, but oddly enough it is reformatted in a 1.66:1 anamorphic widescreen transfer. Disney touts this as a "family-friendly widescreen" presentation,

and this time "family-friendly" actually does mean the film has been cropped from its original aspect ratio, as opposed to Disney's normal use of the term.


Why is it 1.66:1 instead of the standard 1.33:1 'fullscreen' pan-and-scan job? It's not really clear. Yes, you're not losing quite as much (29%) of the picture as a normal pan & scan job (43%) of such a wide film. But on a standard 4:3 TV, you wind up with black bars on top and bottom, plus tiny black bars on the side (most likely covered by overscan). If there is such a thing as 'logic' to reformatting films, it would seem to suggest that a 1.78:1 cropped anamorphic transfer would make more sense by filling up the 16x9 frame with additional picture instead of tiny black bars.

In any event, you won't want anything to do with the reformat job, and it's quite disappointing that Disney chose to make this the viewing format for Disc 1. When watching the movie, you'll want to see it the right way, so make sure to put in Disc 2 to watch the movie itself.

With that wordy aspect ratio description out of the way, how does the movie look? Pretty good. As expected from such a recent movie given a digital transfer, there are no flaws at all with the print. It's clean and vibrant. The picture perhaps could (and should) be a bit sharper. It just didn't seem as crisp as the theatrical exhibition or recent animated Disney films. Overall, though, video quality was overwhelmingly satisfying. And well, Disc 1 of course is heavily cropped and the film's nice compositions are wrecked.

The film's audio options bear more explanation than usual, as well. Disc 2 presents Brother Bear in English and French Dolby Digital 5.1 tracks, plus a DTS English track. The heavily-cropped Disc 1 offers Dolby Digital 5.1 tracks in English, French, and Spanish, but no DTS. Disc 1 also contains Rutt & Tuke's audio commentary (reviewed with other Bonus Features) below. Both the Dolby Digital and DTS tracks sounded great.

The sound mix is pretty active and dynamic. The sounds of the wilderness are faithfully and effectively distributed among the speakers. The film's music also makes for an energetic and all-around pleasing audio experience.


BONUS MATERIALS
The highlight of Disc 1 is Rutt & Tuke's Commentary, which is just like any audio commentary, except that the speakers are Rick Moranis and Dave Thomas in character as the film's comic relief moose. It feels totally improvised, and Moranis and Thomas are in prime form. It's mostly quite funny, and I do wish it wasn't only on the reformatted disc. You can choose to listen to the commentary with visuals or without; with the former selected, you occassionally get to see well-done silhouettes of the moose. Of course, the entertainment value of the commentary, like Strange Brew, is totally subject to taste. Some may find the dim-witted banter and heavy sprinkling of "eh"s abrasive, but for me, I found it quite entertaining, for the most part. It would have been nice to have this character commentary on the properly-framed disc.
Koda's Outtakes (2:45) present Disney Feature Animation's attempt to create a series of bloopers which treat the film's characters as actors. The idea may seem familiar, and it should, as the practice was employed by Pixar for three of their high-profile animated films, beginning with A Bug's Life. The clips here are a bit entertaining; they don't seem like a complete retread of the jokes that Pixar's already done. This outtakes reel, hosted by Koda, does feature the obligatory bodily humor, but also a cool Stitch cameo.
In the music video for "Look Through My Eyes" (4:00), Phil Collins performs with a band in front of and in between clips from the film. The Sing Along Song of "On My Way" (4:02) of course presents the musical segment of the film (in 1.66:1 non-windowboxed anamorphic widescreen) with the lyrics on screen.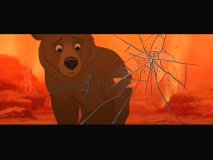 There are two options to choose from "Brother Bear Games." In "Bone Puzzle", you select from a pallette of uniquely-shaped bones to fill in the prints of various animals. After successfully completing a puzzle, you are treated to a short montage of facts and clips of the animal whose part you just assembled. These include some clips from other Disney films and shorts; the raccoon featurette, for instance, briefly features Pocahontas' Meeko. The game requires closer attention than most typical games, though it might frustrate some viewers. There's no way to lose, and ultimately, they start repeating the same ones, so I suspect the (safe) assumption is that you'll tire of it eventually, even if the "prize" clips are fun.
"Find Your Totem" poses a variety of questions and then "the spirits" tell you which symbol most represents you. It's like the "Princess Personality Profile" game. The only drawback for antsy players is you have to wait to hear the question each time, even after the response choices appear. I got the otter totem.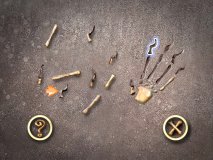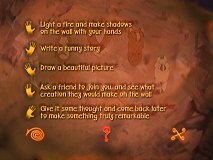 "Bear Legends" (2:55) is a short but dry bunch of Native American tales featuring wall drawings and narrated by Tanana.

"Making Noise: The Art of Foley" (3:16) is a little featurette on Brother Bear's sound effects hosted by Jeremy Suarez (the voice of Koda). It may be geared towards a young audience,

but I think all will find it fascinating, even those familiar with the process.

"Art Review" (9:55) is the closest thing to a filmmaker's commentary on the DVD, and it's enjoyable. Conceptual and development art for Brother Bear, accompanied by the film's score, is described by art director Robh Ruppel and Byron Howard, the supervising animator of Kenai. The development of the film's characters is discussed. It's more lively and informative than a simple stills gallery, and it's a great bonus feature, which those interested in Disney's artwork will particularly enjoy.

The Sneak Peeks that play at the beginning of Disc 1 are for Aladdin, The Incredibles, Chicken Little (Disney's computer animated film coming to theaters in 2005), The Three Musketeers, Mary Poppins: Special Edition (the booklet provides us our first look at this set's cover art), Mulan II. There are also ads for the GameBoy Advance Brother Bear video game and Walt Disney World Magical Gatherings, accessible from the "Sneak Peeks" menu which is accompanied by an intimdiating rift on the familiar Sneak Peeks music. Unfortunately, there is no section containing trailers for Brother Bear, even though a few different previews for the film appear on other discs, including The Lion King and Treasure Planet.
Onto Disc 2, the disc which presents the film correctly and contains four bonus features. The most substantial extra of the entire set is "Paths of Discovery: The Making of Brother Bear", a 45-minute documentary. This praiseworthy piece takes you through the film's production and boasts an impressive list of interview subjects. Among those who appear are directors Aaron Blaise and Robert Walker, producer Chuck Williams, Roy Disney, Joaquin Phoenix, Phil Collins, Tina Turner, Dave Thomas, and Rick Moranis.
The film's origins go back to 1994 when Disney CEO Michael Eisner, wowed by The Lion King, asked if any other films about animals were on the drawing board. Like The Lion King, but unlike most of the studio's animated features, Brother Bear is not based on any famous literary work and required an original story to be developed and fine-tuned over several years.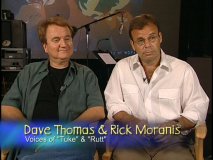 The film was originally going to be about Kenai and an older bear named Grizz, voiced by Michael Clarke Duncan. The directors finally gave into their co-workers who said it wasn't working, and Kenai's new travel companion became the younger Koda. Topics covered include the voice cast, the real locations that inspired animators, and the changing aspect ratio. A good portion of the documentary is devoted to the film's music; the songs were written by Phil Collins and originally planned to all be performed by him, too. In a first, Collins also wrote the film's score, with help from Mark Mancina, who scored Collins' previous Disney collaboration, Tarzan.
It is one of the best documentaries I've seen on a recent Disney animated film, or any recent studio film, for that matter. A minor drawback is that title screens turn up from time-to-time which break up continuity. This, nonetheless, allows a submenu to give the option to watch any portion of the documentary by itself, breaking it up into 12 short segments which each run a few minutes long (like last fall's disappointing bonus disc of The Lion King). The segmented-layout to the documentary just barely prevents it from being the perfect supplement to the film, but nonetheless, it is a well-produced and entertaining behind-the-scenes look at the film.
Next is the "Deleted Scenes" section. The three sequences and introduction from the two directors run 11 minutes and 5 seconds altogether with a "Play All" function. In addition, each scene is introduced by the filmmakers. "Where's Koda?" takes place the morning after Kenai breaks his promise to his young companion. Kenai has to go through the moose to get at Koda, who he realizes is necessary to get him to where he's going. It is effectively reconstructed through the use of storyboards. "Confession" employs preliminary black-and-white animation and provides an alternate to the film's existing "No Way Out" scene between Kenai and Koda. "Muri the Squirrel" was originally one of the first creatures Kenai experienced in the animal world and has his own scene, which was understandably deleted.
"The Fishing Song" (3:45) is a number that was written for the film's salmon run scenes, but ultimately replaced by "Welcome", one of the film's most memorable tunes. Phil Collins introduces the bonus feature and his vocals accompany storyboards from the movie. It's a nice inclusion, but the final song in the film is, naturally, better.
"Transformation Song" (2:39) presents a song that Phil Collins wrote for the Great Spirits in this important scene. Ultimately, the song was translated into Intuit and performed by the Bulgarian Women's Choir, who we see here, accompanied by the original English lyrics as subtitles, and interweaved with clips from the scene in the movie.
The pleasing menus offer some environmental animation which ranges from subtle to not-so-subtle. Disc 1's menus are forest-oriented, whereas the second disc's menus center around the salmon run. Some of the Disc 1 menu screens feature banter from Rutt & Tuke talking all around the 5.1 surround speaker setup. In a nice touch, the menus list the running time of the highlighted bonus feature. There are the THX Optimizer tests to calibrate your audio and video settings.
Surprisingly, Brother Bear's DVD is not housed by a cardboard slipcover the way other recent 2-disc Disney releases have been. It's a black dual amaray keepcase, which holds two discs in a standard single case size. Its insert folds out to six pages and contains a scene selection list, a two-page map of bonus features, and previews of the supplements on Discs 1 and 2.
CLOSING THOUGHTS
While some Disney DVD collectors may buy Brother Bear quite simply because it's the latest animated classic, those who are more selective are strongly recommended to check this out too. Even if Brother Bear can't quite rank among the studio's greatest films, the movie is highly commendable and this satisfying 2-disc release once again gives the latest Disney animated classic the proper treatment it deserves. As one of just three Disney animated classics debuting on DVD in 2004, Brother Bear should be near the top of your list of sets to buy.
Buy Brother Bear from Amazon.com: 2-Disc DVD / 2 Movie Blu-ray + DVD / Instant Video