The 1980s ended nearly twenty years ago, but despite the popularity of retro merchandise and programs like VH1's "I Love the '80s", Hollywood hasn't seen fit to wax nostalgic about the decade much. Kickin' It Old Skool seeks to change that, with a whole-hearted trip down memory lane that makes The Wedding Singer seem restrained.

For viewers in their late 20s and early 30s, this Jamie Kennedy comedy represents the first feature film that really celebrates the fads and faces from their childhoods. While that may sound pretty exciting to the demographic in question, the plentiful and occasionally fun '80s references are buried in a crass, uneven, misguided movie.

Short-lived TV star and stand-up comedian Kennedy plays Justin Schumacher, who in 1986 suffered a major breakdancing accident that threw him into a long-term coma. A 9-minute sequence depicts the fateful day in which 12-year-old Justin and his pals (collectively, the "Funky Fresh Boyz") dance off against a rival crew at a grade school talent show. Packed with appearances by '80s fads (like multi-zippered outfits, Garbage Pail Kids cards, Smurfette, and an assortment of shelf-occupying toys), this opening may be the most inspired and entertaining stretch of the film, even with unknown, non-comedically-inclined child actors on screen.

Twenty years later (the movie takes place in 2006, suggesting it missed its intended release date), Justin is still completely comatose and the cost of keeping him alive is beginning to weigh down on his parents (Happy Gilmore's Christopher McDonald and "That '70s Show" mom Debra Jo Rupp). Just as they are about to authorize the proverbial plug being pulled, Justin is miraculously (and somewhat cleverly) awakened. With the mind of an '80s kid (and, briefly, the body of someone who's been in bed for two decades), Justin is released to the real world in a fish-out-of-water set-up that is equal parts Big and Blast From the Past.
Kickin' actually moves forward with the hackneyed, sitcomish concept of good people (Justin's parents) needing money and a monetary prize-wielding contest promising a solution. The contest is Get 2 Steppin': Crew Edition, a local reality TV show that inspires Justin to reconnect with his multicultural set of friends to bring the Funky Fresh Boyz back and into victory. The friends are, naturally, in various states of disarray. Darnell (Miguel A. Núñez, Jr., Juwanna Mann) is a toy store employee with big ideas, little funds, and a domineering wife (Vivica A. Fox). Aki (Bobby Lee, "Mad TV") is a shy desk jockey who has spent years in speech therapy to remove all evidence of an Asian accent. Hector (Aris Alvarado, "Gilmore Girls") is a male "meter maid" with a major weight problem.
Of course, two other characters introduced in the opening are also conveniently both in town and in relevant positions: young love interest Jen ("Access Hollywood" correspondent Maria Menounos) is a choreographer for the competition and she's engaged to Justin's foe Kip ("Smallville"'s Michael Rosenbaum, convincingly loathsome), the Get 2 Steppin' host whose childish antics have developed into full-fledged jerkness.
That probably all sounds okay to you, the premise even better, and the cast's previous credits can't necessarily be considered a warning sign (after all, Robin Williams, Tom Hanks, Bruce Willis, and many other movie stars have had their big breaks on television). Sadly, though, little goes right in this film. The screenplay by young TV veterans Trace Slobotkin, Josh Siegal, and Dylan Morgan is all over the place. It draws the occasional laugh out of Justin's juxtaposition (for instance, his reaction to seeing Phantom Menace toys with "Star Wars" branding). But too often, it employs broad, bathroom gags or unfunny jokes at stereotypes and certain groups or cultures. Example: the fat Hispanic guy wears a bra and wig for Justin to learn about female anatomy. There's little humor to be had in such vulgar, mean-spirited, loosely-strung efforts, which are always accompanied by overbearing uses of music or score as if that will really help land laughs.
By far, the movie's biggest misfire comes in its final act, where it takes what is frequently the weakest part of comedy films (the big spectacle climax) and draws it out to over twenty minutes, or about 15 minutes too long. These scenes are not only void of comedy, they're largely absent of even any attempts. Instead, the dance competition enables a sincere showcase of breakdancing (or, more accurately, b-boying) and krumping, as if we're supposed to be enamored with the forms. How is that funny? A variety of flashy teams compete, with a smug teenaged opponent (Jesse "Casper" Brown) and farting, urinating old homeless man (Frank C. Turner) thrown in, for good measure.

Kickin' It Old Skool had plenty of potential to mine '80s nostalgia and a common but timeless plot for laughs and a lightly entertaining experience, even with the breakdancing competition in place. It's just so uneven and mostly off-mark, emulating cheesy '80s sincerity at points and merely aspiring to present-day bathroom humor at others.

I only hope this movie and its severe box office failure -- its meager $4.5 M gross made it one of the biggest flops ever among films playing in close to 2,000 theaters -- don't discourage others from making similar movies. There's comedic gold to be had, just not with this team.

It will be interesting to see if Jamie Kennedy's career ever really takes off. Certainly, his prominent presence here has to damage his value in Hollywood, and as one of the film's producers, he clearly deserves blame for more than just bad script selection. Still, as one of the rare people who can admit to paying to see both Kickin' It Old Skool and 2003's better Malibu's Most Wanted in empty theaters, I think Kennedy has some real talent that with a little molding and more proficient writers could headline a comedy that's both good and profitable. Until that happens, however, he's dangerously close to becoming this decade's Carrot Top.
DVD Details

2.35:1 Anamorphic Widescreen
Dolby Digital 5.1 (English)
Subtitles: English, Spanish
Closed Captioned
Release Date: August 28, 2007
Single-sided, dual-layered disc (DVD-9)
Suggested Retail Price: $14.98 (Reduced from $27.98)
Black Keepcase with Cardboard Slipcover
VIDEO and AUDIO
Surprisingly, Kickin' It Old Skool was filmed for the 2.35:1 widescreen aspect ratio and only this version makes it to DVD. Unsurprisingly, picture quality is fine, with the most noticeable shortcoming being the rampant moiré effect which derives from Justin's mesh shirts. The transfer is enhanced for 16x9 televisions, despite the package not specifying that.
Only an English Dolby Digital 5.1 soundtrack is offered and it is sufficient. As mentioned earlier, the soundtrack is cluttered with prerecorded music and James L. Venable's Mickey-Moused score. Regardless, it's a very front-oriented mix, providing little in the way of atmospheric effects, peaks in dynamics, or other remarkable features.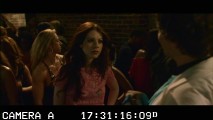 BONUS FEATURES, MENUS and PACKAGING

Twelve deleted scenes are provided, running a whopping 29 minutes altogether. Mostly extensions, they're presented in a finished-looking state, visually marred only by an ever-increasing time counter. The numbers onscreen aren't the only problem; the deletions are largely unfunny and shorter on good taste than what's in the movie.

The most substantial sequence drastically elongates Justin's night club experience, as he takes Ecstasy (presumably earning the R rating that was successfully appealed) and encounters Michelle Trachtenberg, '80s wrestler Roddy "Hot Rod" Piper, John Ratzenberger, and Erik Estrada. There are about three laughs to be had in the lot and like most of the ones in the movie, they're born more out of '80s pop culture references than wit.

The only other bonus is the movie's somewhat promising theatrical trailer (2:20).

The static, silent menus opt for a splotchy paint and graffiti design that seems more tailored to present-day skateboarding than '80s breakdancing culture. The disc opens with trailers for The Salon, (quite randomly) Haven, and Gray Matters. The in-case chapter insert uses its front side to promote a thematically distant upcoming Yari Film Group/Fox DVD release.
CLOSING THOUGHTS
Kickin' It Old Skool squanders its promising premise on lowbrow humor, an aimless story, and an utterly flat final act. There are a few laughs, mostly at mere name-dropping of 1980s cultural icons, but definitely not enough to provide a satisfying comedy experience. Fox's DVD delivers a fine feature presentation, a lousy collection of deleted scenes worth viewing only to see the recognizable actors cut from the film, and the trailer. Clearly, this is a disc destined for bargain bins in about a year, but even then, a curiosity rental will suffice for those expecting a lot of '80s nostalgia and a paucity of scattered humor.