EXTRAS
The Gold Collection DVDs were never known for an abundance of extras, but I was pleased with what was here on Fun and Fancy Free. The standard Read-Along (with standard options of Read to Yourself or Have it Read to You) is included, which reiterates the story of Mickey and the Beanstalk. And there's a simple 16-question trivia game, which are always fun to do once. Trailers at the start of the disc are for the Gold Collection, Little Mermaid II, The Tigger Movie, and Toy Story 2. Unfortunately, no Fun and Fancy Free trailer is included.
A music video for Lou Bega's "Disney Mambo #5", which takes the catchy tune from his momentarily popular "Mambo #5" song and replaces suggestive womanizing lyrics with "family-friendly" rhymes about traditional Disney characters (apparently with some pronunciation trouble). "Liquor store" becomes "candy store" and so on, and Bega is accompanied by kids playing brass instruments. It's kind of fun, though I'm not entirely sure why it's included.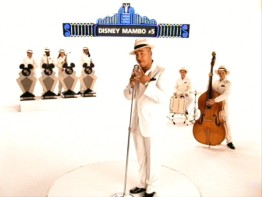 The real bonus feature of substance is "The Story Behind Fun and Fancy Free", which runs a fast 15 minutes, but is entirely insightful and revelatory. The nature of the wartime package films is discussed by Leonard Maltin and animators, including . The film was actually mostly worked on in the early 1940s, although it wasn't released until 1947. Abandoned concepts include incorporating Foulfellow and Gideon from Pinocchio, the circus settings from Dumbo, and an appearance by Minnie Mouse as the one who trades the magic beans to Mickey for the cow. The featurette also covers the cast, including Walt Disney himself, who provided the voice of Mickey Mouse through this film. This is apparently a carry-over from the laserdisc release, and it's an excellent inclusion, enhancing one's appreciation and knowledge of the film in a quick and entertaining fashion. It's worth noting that all of the features are closed-captioned, and the featurette is subtitled, as well.