By Renata Joy

Irene Bedard was born in Anchorage, Alaska to an Inupiat Esikmo mother and a father of French Canadian/Cree descent. In her mid-20s, Bedard was cast by Disney as the voice of Pocahontas, the famed Native American girl who sought peace between her people and English settlers.

Ten years have passed since Pocahontas came to theaters as the latest in a line of widely-embraced, award-winning animated musicals from the Disney studio. Bedard reprised the role for the 1998 direct-to-video follow-up Pocahontas II: Journey to a New World and has also had leading roles in the critically-acclaimed film Smoke Signals (1998) and Disney's live action drama Squanto: A Warrior's Tale (1994).

Nowadays, at age 37, Bedard continues to act. She's currently at work on "Into the West", a six-week mini-series executive produced by Steven Spielberg that begins airing next month on TNT. She'll also be seen in a cameo that harks back to her most famous Disney role; she plays the mother of Pocahontas in a dream sequence in Terence Malick's much-anticipated drama The New World which stars Colin Farrell as John Smith and opens in theaters this November. On the side, Bedard sings in a band with her husband Deni and she still finds the time to be a mother for their two-year-old son.

On Tuesday morning, this Golden Globe-nominated actress, who People Magazine once named one of the 50 Most Beautiful People in the World, took some time out to reflect on Pocahontas ten years later and on the film's recently-released 10th Anniversary Edition DVD.
---
UltimateDisney.com: I have heard that you were the live-action model for Pocahontas. What was the extent of that?
Irene Bedard: While we were recording, the animators filmed me to use as a reference for expression and body movement. They also captured certain facial expressions and the way my hands moved.
How much of yourself do you see in Pocahontas?
My 2-year-old already recognizes "Mommy" on the screen. My brother came all the way from Alaska to the Central Park premiere and throughout the screening, he constantly nudged me because he recognized traits of mine.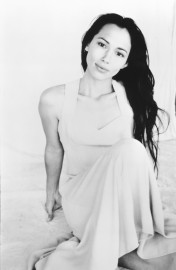 Did you have any interaction with the cast during production, like Mel Gibson or Judy Kuhn, the singing voice of Pocahontas?
Judy Kuhn and I were never in the studio together and I never saw any other the other actors during recordings. I was looking forward to seeing Mel Gibson at the Central Park premiere, but he was busy with Braveheart at the time and wasn't able to attend. So to this day, I still haven't met him.
Did getting cast in a Disney movie have any special significance for you? Did you grow up with certain Disney films?
Definitely. I grew up in Alaska and we were always the last to get things. Any time a Disney film was on T.V. or came to the theater, we always had to see it. The Central Park premiere was amazing. One hundred and ten thousand people came. Now, I sing in many concerts, but at the time, it was overwhelming to be in front of so many people. It was also wonderful to be a part of Disney World's 25th Anniversary celebration, standing in front of the castle with so many stars. These are memories I will have forever.
Do you have a favorite part or any special memories from the production of Pocahontas?
I remember giving hugs to everyone on the last day of recording. We had so much fun together. I really enjoy the process of animation; it's all about imagination. I would ask myself things like, "What is it like talking to a tree?" and "What tone of voice would I use to talk to a raccoon or hummingbird?" Even how far the hummingbird would be from me was important. Was it right by my head or farther away? I loved working at the Disney animations studios. It was so wonderful to be told to "take a left at Goofy and a right at Mickey."
What do you feel makes Pocahontas special among the Disney canon?
Of all the Disney female characters, Pocahontas is the strongest. She's not waiting for her prince. She actually saves John Smith from death. She is independent and strong-willed. She has a sense of self, but still takes advice from her elders on what she should do. I think my favorite part is when she is told to listen with her heart and not to follow only her head.
Has the passing of ten years changed your view of the film?
I have done thirty films since then and have had the chance to live Native American women's history all the way from the past up to modern day. I think it's great that Pocahontas is something that will be shown around the world and makes Native American history accessible to all children.
What do you think about the film's fidelity to the limited historical knowledge?
I think that Disney's animation has an element of magic. In their telling, Pocahontas is older than she actually was when she met John Smith. There was no love relationship in real life. When Pocahontas went to England and met John Smith again after many years, she said, "You were a stranger in my land and you called my father 'father.' Now I am a stranger in your land and I must call you 'father.'" Their relationship was really based on respect and reverence.
Did you feel pressure or a certain duty to the real Pocahontas in your portrayal, especially as one of the few historical characters depicted in Disney films?
I worked as much as I could to give strength and dignity to her character. She was young, but the daughter of a leader who ruled many. I think she had a sense of knowing that she would become a leader one day and represent peace for her people. Growing up, I had an idea of who Pocahontas was and when I took the role, I learned more. She was a renowned beauty who was a leader of her people. She received accolades when she went to England and even had an audience with the King and Queen. She was very remarkable.
How do you feel about the extended 10th Anniversary Edition that's presented on the new DVD? Do you have a favorite part of the DVD?
I think it's beautiful. My favorite part would be the deleted scenes. It's good to go back and see things I remember going through and doing. It's wonderful to see everyone who I worked with during the filming on the making-of. People who first saw Pocahontas as children can now see it again as teenagers, and little ones can see it for the first time.
Many young girls today look up to Pocahontas as a role model. Did you have a favorite Disney heroine growing up?
For live-action heroines, I used to like Jodie Foster and Hayley Mills. As for animated (laughs) -- I don't know. I've always sort of liked Cruella De Vil.
---
Interview conducted May 11, 2005.
Our sincere thanks to Ms. Bedard for taking time out of her busy schedule to discuss Pocahontas and to the kind folks at Buena Vista Home Entertainment for making this interview possible.