Like a coach sticking with a lineup that got the team back in a game or a superstitious manager refusing to change underwear in the midst of a winning streak, Walt Disney Animation had no need to switch things up during their 1990s renaissance. As ticket sales and acclaim kept soaring to new heights, the studio had every reason to continue making Broadway-style cartoon musicals on a yearly basis.

While 1995's Pocahontas would halt the precipitous rising with a take just shy of what Beauty and the Beast made four years earlier, alarm seemed premature. Besides, Disney's animated features were years in the making, so production on the subsequent summer's release, The Hunchback of Notre Dame, was in an advanced stage by the time it became clear that Pocahontas was no Lion King.

Hunchback followed Disney's winning formula closely. Alan Menken, the composer of all of the era's hits save for Lion King, was back and reunited with Pocahontas lyricist and fellow stage veteran Stephen Schwartz. Gary Trousdale and Kirk Wise, the young directing team that had success on Beauty and the Beast, returned to the helm with Don Hahn again serving as producer. There was the strategic release date in late June, the Friday likely to start summer vacation for the youngsters whose school years ran the longest.

Perhaps the biggest variation lied in the story. Fairy tales had served Disney well. The Shakespearean animal story of The Lion King had done even better. Simplified American history as a backdrop to intercultural romance? Not so much. A 19th century adult novel by French author Victor Hugo was not an obvious choice, especially with its mature and potentially frightening content. However, this was not Victor Hugo's Hunchback, it was Disney's Hunchback. The titular outcast would have a certain adorability to his deformity. His heroism would be the traditional kind, his atypical existence would be softened down with comic sidekicks and a scene-stealing goat, and there would be lots of singing. The result was more of the G-rated merriment that families had been devouring as quickly as Disney could serve it up.
As gypsy jester Clopin explains in the lively opening number "The Bells of Notre Dame", a deformed baby is semi-adopted and named Quasimodo by minister of justice Judge Claude Frollo. Frollo keeps Quasimodo in the bell tower above Paris' Notre Dame cathedral. Quasimodo's only friends up there are Victor, Hugo, and Laverne, the stone gargoyles who are only alive in his company (and maybe in his mind). Even now in adulthood, the kind, lonesome Quasimodo is forbidden from leaving the bell tower by Frollo, who isn't much of a surrogate father or a man.
Frollo and his soldiers take drastic measures to rid their city of anyone they deem undesirable. That includes the sympathetic gypsy dancer Esmeralda, who claims sanctuary inside Notre Dame, but not before making an impression on both Quasimodo and Frollo's newly appointed captain of the guard, Phoebus. Despite some initial distrust, Quasimodo, Esmeralda, and Frollo all seem to have similar interests and help one another elude Frollo's unscrupulous guard.
It's not just its timing as part of Disney's descent that puts Hunchback on a plane beneath the likes of The Lion King, Aladdin, The Little Mermaid, and Beauty and the Beast. The story and characters, those fundamental elements, do not rank among Disney's finest. It's all engaging enough and looks very nice, with Disney animators uncovering much art and beauty in yesteryear Parisian architecture and religious imagery. The music, however, does not have that instantly unforgettable quality of the aforementioned foursome or even parts of Pocahontas. Disney had been dominating the Original Song category at the Academy Awards, often claiming multiple nominations and a win, but Hunchback was shut out, receiving only a nod for Original Score on one of those years where that was split into Dramatic and Musical or Comedy categories.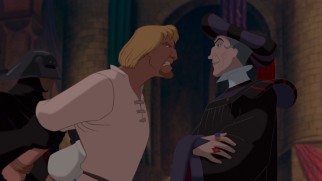 In the grand scheme of things, Hunchback's shortcomings are minor, but enough to earn the film "good, not great" classification. It's not a matter of the formula growing stale or overly familiar; it's just an imperfect application, Hugo's novel not being an ideal fit for a crowd-pleasing Disney outing. There's also a pretty striking disconnect between the easygoing material (Quasimodo and the comic relief gargoyles) with the more dramatic turns involving Frollo's guilt and passion (more than enough to earn a PG rating nowadays).

The Lion King easily ran as wide an emotional gamut, from death and despair to bug-eating and warthog flatulence. Somehow, though, Lion King pulls it off perfectly, perhaps because of the distance between us and these African animals we know from idyllic zoo encounters. Hunchback centers on the human race and the sting of its cruel, harsh, judgmental side lands more than routine acts of compassion and selflessness.

Still, there is something distinctly magical about Disney's 1990s musicals that I think can only partly be credited to the form's impact on so many childhoods of those now in their mid-thirties and under. Part of it may be the confluence of pure, noble art forms: animation, music, cinema, theatre, and, in this film's case, literature. Even an effort a couple of steps beneath the best is supremely watchable, investable, and moving. If you've studied, frequented, and ruminated upon the Disney canon as often as I have, you're certain to find charming qualities to all of the different eras' output. Many feel an obligation to consider Walt's first forays into feature animation remaining the medium's apex and to an extent, I agree. But if you forced me to watch any Disney animated classic at any given time, I think I would probably be drawn to those modern renaissance musicals more often than not. Judging from the amount of passion they inspire online, I don't think I'd be alone in that inclination.
---
While either neglecting or farming out most of their live-action catalog, Disney has made a concerted effort to releasing their animated films in Blu-ray combo packs over the past couple of years. Many of the films that are popular enough to put out on Blu-ray (but not popular enough to turn into a Diamond Edition-type event) have lent themselves to a 3-disc, 2 Movie Collection combo holding a film and its usually direct-to-video sequel on one Blu-ray alongside a lightweight DVD of each. That is how Hunchback makes its Blu-ray debut, joined by its reviled, relatively unknown 2002 "cheapquel" The Hunchback of Notre Dame II. Not all fans can appreciate the fact that these once heavily-advertised and quite lucrative straight-to-video sequels are now of so little value they can only be released as essentially a bonus feature. HoND-philes sickened by the thought that to get the most pristine presentation of their beloved film they also have to tacitly purchase HoND II as well can at least take comfort in the fact that the sequel's title does not share the spine or the front cover as on other 2 Movie Collections.
Copyrighted 2000 and released in 2002 at the height of Disney's sequel craze, Hunchback II has the look and feel of a Saturday morning cartoon and not a very good one. Especially when watched in succession on Blu-ray, you'll immediately recognize (perhaps from the unintentionally quivering lip on Esmeralda's first shot) how much less artistic effort has gone into this film, which running an hour plus credits barely qualifies as feature-length. On the plus side, this is both fast and tremendously forgettable, especially viewed on the back of its predecessor with appropriately low expectations.
Outside of Frollo, all of the original film's leading characters are back as are their surviving original voice actors (the likes of Demi Moore, Kevin Kline, Jason Alexander, and, in the title role, Amadeus' Tom Hulce apparently unwilling to turn down an easy paycheck). This Paris bears little resemblance to that of the previous film, but Quasimodo is still ringing the bells of Notre Dame. Phoebus and Esmeralda are now married and have a son named Zephyr (The Sixth Sense's Haley Joel Osment in one of his many millennial Disney voiceovers), who shows no sign of gypsy heritage at all.
With Clopin and company excited about Le Jour d'Amour, a festival of love, the Cirque du Sarousch comes riding into town. This traveling circus, led by the vain magician Sarousch (Michael McKean), flourishes on thefts occurring during their engaging performances. Sarousch's assistant Madellaine (Jennifer Love Hewitt) has tightrope walking aspirations, but they are undermined by her boss, who reminds her that her job requires nothing more than looking pretty. In time, we learn that Madellaine has been part of the circus since Sarousch caught her as a starving 6-year-old stealing some coins. The involuntary servitude continues today, as Madellaine is uncomfortable but compliant with Sarousch's order to do some recon work into the crown jewel of Notre Dame's bells, La Fidèle.
The ever-lovelorn Quasimodo thinks that maybe Madellaine could fall for a guy like him and he might be right, but fallout is inevitable once he discovers the circus' ulterior motives and Sarousch places all the blame on the girl.
Eleven years after its release and six after Disney got over their sequel fetish, Hunchback II doesn't elicit much resentment. Yes, it's lousy, deficient in storytelling and characterization, and visually and musically a far cry from its forebear. But all that meets one's expectations, given the quality of Disney's sequels especially at the turn of the century. Since basically all the films from Disney's Renaissance got such a follow-up and all those follow-ups grow less and less significant each day, there's no harm done to the original film's modest legacy, even while sharing a Blu-ray release.
Watch a clip from The Hunchback of Notre Dame:

Blu-ray & DVD Details

1.78:1 & 1.66:1 Widescreen (1.85:1 & 1.66:1 DVDs Anamorphic)
Blu-ray: HoND: 5.1 DTS-HD MA (English), Dolby Digital 5.1 (French, Spanish), Dolby Surround 2.0 (English, Portuguese, Russian); HoNDII: 5.1 DTS-HD MA (English), Dolby Digital 5.1 (French, Spanish, Russian), Dolby Surround 2.0 (English, Portuguese)
DVDs: 5.1 DTS (English), Dolby Digital 5.1 (English, French, Spanish)
Subtitles: English SDH; Blu-ray only: English, French, Spanish, Portuguese, Russian
Blu-ray Extras Subtitled; DVD Films Closed Captioned
Release Date: March 12, 2013 / Suggested Retail Price: $39.99
Three single-sided, dual-layered discs (1 BD-50 & 2 DVD-9s)
Blue Keepcase in Embossed Holographic Cardboard Slipcover
Still available on DVD: HoND, HoND II ($15.99 SRP each; March 19, 2002)
and on Amazon Instant Video: HoND, HoND II
VIDEO and AUDIO

While I was quite pleased with The Hunchback of Notre Dame's 2002 DVD presentation (which made it one of the first Disney renaissance films to be enhanced for 16:9 displays), Blu-ray kicks it up to a whole new level of satisfaction that should leave no one disappointed. The 1.78:1 transfer (a slight unmatting from the DVD's 1.85:1) is positively stunning, boasting sharpness, detail, and vibrancy that impress even as you put your face up to the screen. Close inspection of busy Topsy Turvy Day shots full of small moving confetti reveals only the tiniest bit of compression artifacting.

For an animated film nearly twenty years old to look this good outside of the Diamond Edition line is most commendable. The 5.1 DTS-HD master audio soundtrack is every bit as praiseworthy too, distributing the rich choral score and thoughtful sound design with precision, clarity, and immersion.

Presented in 1.66:1, Hunchback II doesn't look anywhere near as dazzling. That seems more the result of its limited production values than a shoddy transfer. The sequel displays a tiny bit of fine grain and some minor scratches. Otherwise, it holds up nicely, provided your definition of "nice" covers oft off-model characters, erratic colors, and wishy-washy action. Though not troubled in any specific way, the 5.1 DTS-HD master audio soundtrack likewise has much less impact than its predecessor. Both films get unadvertised Russian and Portuguese dubs and subtitles alongside Disney's standard three language options.

Neither of these films is likely to be given a new Blu-ray transfer anytime soon (heck, they weren't even given new DVD transfers, eleven years later, for this release), but that is unnecessary, given the high quality of the former's presentation and the limitations of the latter's production.
BONUS FEATURES

Neither movie gets any new bonus features on Blu-ray, which won't seem too surprising to fans who know that the bulk of Disney's efforts of producing supplements are reserved for their big Diamond Edition titles (and even that has been on steady decline since DVD's sales peak). What's worse is that not all of their DVD bonus features make it to Blu-ray and that none of the recycled extras is upgraded to high definition.

The original Hunchback is joined by three bonuses. First and longest is an audio commentary by producer Don Hahn and directors Gary Trousdale and Kirk Wise. Recorded for the 2002 DVD, it is everything that a commentary should be, as the trio points out small details, discusses the technical challenges of blending traditional methods with CGI,

and share considerations that rose during production, like deleted songs. If not quite riveting, this highly screen specific chat is nonetheless a worthwhile listen for Disney animation buffs.

Next, we get "The Making of The Hunchback of Notre Dame" (28:02), one of my all-time favorite Disney bonus features. Jason Alexander hosts this Disney Channel special that covers all the appropriate bases regarding the animation, voice cast, and music. Alexander's material is quite entertaining and livens up the information that was not yet commonplace back in the '90s. Every Disney animated film from this era got a promotional special like this, but only Pocahontas and Hunchback have included them on DVD and Blu-ray.

A multi-language reel plays "A Guy Like You" (3:23) in a sampling of the 31 languages in which the film was recorded. The section closes out with "Info" (legal disclaimers posing as something more) and a standard digital copy promo that doesn't apply to this set.
Hunchback II's "Classic DVD Bonus Features" begin with "Behind the Scenes with Jennifer Love Hewitt" (4:51), a blast from the past Disney Channel Movie Surfers puff piece promoting the film with disjointed generic sound bites and recording session footage of the sequel's star actress.
Even shorter and fluffier is "A Gargoyle's Life: It's Not Easy Being a Gargoyle" (2:42), which has an unseen Jason Alexander deliver a beat poem over minimalist and retooled animation.
At least the DVDs included here are the old ones (unupdated save for the loss of full-color disc artwork), which allows them to retain some unadvertised minor bonus features not found on the Blu-ray.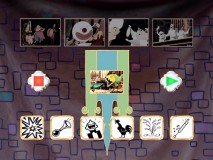 The original film includes a "Topsy Turvy" sing-along (2:30), which is taken from the old '90s video and therefore slightly more charming and

choppy than just the scene from the film with subtitles over it.

It also has "Topsy-Turvy Underground", a set-top game that takes you down to the Catacombs, where you get to play around with the sound effects in three scenes from the movie. Slight but fun, the activity would have benefitted from an upgrade, as the branching it employs is far from seamless.

In the same vein Hunchback II includes two simple games under the heading "Festival of Fun Activity." The first teaches you about the musical scale and lets you choose an order for Quasimodo to ring the bells of Notre Dame. The second lets you program a series of dance moves for a shadow puppet of Djali to perform.

The Blu-ray opens with trailers for The Little Mermaid 3D, Monsters University, and Planes, followed by a Pinocchio anti-smoking PSA. The Sneak Peeks listings play promos for Disney Movie Rewards, the video game Epic Mickey 2: The Power of Two, Radio Disney, Mulan, Super Buddies, Return to Never Land, and the thus-unnamed next Tinker Bell movie.

Both of the old DVDs open with trailers for Beauty and the Beast: Special Edition, Tarzan & Jane, Max Keeble's Big Move, The Hunchback of Notre Dame II (the sequel advertises the original film's DVD debut instead), and Disney DVDs in general (Pure Digital Magic!), while their Sneak Peeks menus add ads for The Many Adventures of Winnie the Pooh, "Schoolhouse Rock", and American Legends.

WHAT'S MISSING?

I still vividly recall reports of Hunchback's DVD debut briefly being advertised as a two-disc edition on Disney's official consumer site only to be revised and scaled back to a single disc. That 2002 release came when Disney stopped offering 2-disc editions of their animated films outside of their top line (the Platinum Editions). I never saw such a thing with my own eyes (even though I might have, being more a Disney fan than a webmaster or critic back then) and it still sounds like the kind of thing a hopeful, devoted fan would invent, but I don't think the fact that Hunchback doesn't gain extras here stands as confirmation either way.

Regardless, this release represents another huge missed opportunity for Disney to provide extras included on the original film's loaded 1997 deluxe laserdisc set. That three double-sided disc platter included three deleted songs with commentary by Alan Menken and Stephen Schwartz, an early presentation reel, story reels, trailers, and extensive art galleries. It really doesn't make sense that Disney hasn't bothered to include this material to add some easy value to this set as an upgrade over the DVD that is widely available for less than half the price of this combo pack.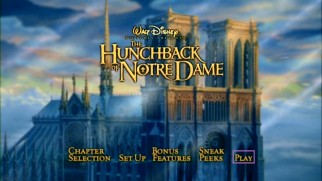 MENUS, PACKAGING and DESIGN
The Blu-ray gives each movie its own static, scored menu screen. Almost seven full years into the format and Disney is still not supporting bookmarks or resuming playback. Furthermore, this disc doesn't even remember where you left off on an unfinished viewing of either film, a luxury the studio usually extends. The DVDs hang onto their old main menus, which show more creativity with their animated renderings of the bell tower.
The standard Blu-ray case stacks the two gray DVDs across from the plain blue Blu-ray. It holds inserts for Disney Movie Rewards and the Disney Movie Club and is topped by a cardboard slipcover that is embossed on front and holographic all over.
CLOSING THOUGHTS
Those who consider The Hunchback of Notre Dame to be one of Disney's underrated gems may be disappointed that the film doesn't get a more elaborate Blu-ray edition including the numerous extras that haven't been available beyond laserdisc, but there was little chance that the studio was going to treat it to anything other than this 2 Movie Collection. Though offering nothing new in the bonus features department, the set doesn't lose anything from the DVD (putting most on the Blu-ray as well) and, most importantly, delivers a breathtakingly beautiful presentation of the original film. While it doesn't come cheap (and the sequel you probably don't want clearly adds to the list price), this combo pack does represent the best that Hunchback will look and sound for the indefinite future.
Support this site when you buy The Hunchback of Notre Dame now from Amazon.com:
2 Movie Collection Blu-ray + DVD / DVD: HoND • HoND II / Instant Video: HoND • HoND II