Being John Malkovich is an unusual title for a non-documentary, an impossible draw in Charades, and an attention-grabbing feature film debut both for writer Charlie Kaufman and director Spike Jonze.

This strange, widely-celebrated 1999 indie centers on Craig Schwartz (an unusually messy John Cusack),

a depressed, out-of-work New York puppeteer. Craig is a passionate and gifted artist in need of an audience. Instead, at the encouragement of his frumpy, animal-owning wife Lotte (a dark-haired Cameron Diaz, way out of her not entirely established element), Craig responds to a classified ad looking for a filer with fast hands.

The job is in the Mertin Flemmer Building, where things are a bit unusual. Craig must report to the seventh and a half floor, by emergency-stopping the elevator between levels and crouching down. An orientation video explains the history of Floor 7½, but other mysteries and oddities remain, like Craig's lecherous supposedly 105-year-old boss Dr. Lester (Orson Bean) believing he has a speech impediment, on account of his executive liaison Floris' (Mary Kay Place) hearing problems.
One day, Craig drops a file behind a cabinet and it actually falls behind a board in the wall. In retrieving it, he discovers a dark, narrow passageway, which leads to, of all places, inside the mind of actor John Malkovich (who plays himself). He gets to see and hear what Malkovich sees and hears, experiencing briefly what it is like to be John Malkovich. After fifteen minutes, he is shot out by the entry to the New Jersey Turnpike. Craig's not easily impressed workmate Maxine (Catherine Keener) is skeptical of his story and not even familiar with Malkovich, but she eventually enters into an after-hours business partnership. They charge $200 for the quarter-hour inside Malkovich, a fee readily paid in this lucrative enterprise.
The portal into Malkovich's head does create some problems and a kind of bizarre love triangle between Craig, Lotte, and Maxine. Craig's feelings for Maxine are unrequited, but Maxine is totally turned on by Lotte when she is the one inside Malkovich.
The profound, inexplicable discovery is complicated in several ways. First, Craig tricks Maxine into expecting Lotte, letting him secretly get a taste of intimacy with his crush. Then, Malkovich learns what has been going on and his attempt to experience what everyone else has been produces a nightmarish result, vehement disapproval, and the threat of a lawsuit. Meanwhile, Lotte looks into this phenomenon and how it might relate to Dr. Lester's unusual interest in Malkovich. And Craig finds a way both to occupy Malkovich's mind indefinitely and to control his speech and actions, an exhilarating outlet for his puppetry skills.
Being John Malkovich is undeniably a trip and merely the first to come from the imaginative mind of Charlie Kaufman. He and Jonze reteamed on 2002's self-referential Adaptation., which earned Kaufman a second original screenplay Academy Award nomination (and his invented brother Donald, a first).

Since then, Jonze has mostly stayed away from feature films, keeping busy in the domains of his breakthrough, music videos and short films, and only helming Where the Wild Things Are. Kaufman has contributed slightly more regularly to the world of cinema, most recently scripting Eternal Sunshine of the Spotless Mind (which won him a screenplay Oscar) and Synecdoche, New York (which marked his directorial debut).

Few movies delight in bending your mind the way that Kaufman's do and Being John Malkovich establishes that propensity in no uncertain terms. The peculiar premise proves to be merely a springboard and an almost irrelevant one. Malkovich fits the bill as a vessel of reasonable fame, although hardly anyone in this film genuinely recognizes him and for particular work (his most commonly-cited credit is a jewel thief film, which as he points out, he's never done). In 15-minute spurts, his life seems remarkably uninteresting as well, checking his teeth, getting almost identified by a cab driver, and eating at a restaurant. Despite the immediate demand for temporary access to his world, it is more the thrill of vicarious living that excites the clientele.

Even that thrill is set aside for ones more meaningful and specific to Craig, Maxine, and Lotte, which tickle their romantic and creative interests in kinky and unexpected ways. For us, the pleasures of Being John Malkovich do not exactly stem from the bizarre conceit nor from the entangled characters in the foreground, but from having our own mind engaged and stimulated consistently. The movie is funny as it plays with the perception and existence of Malkovich, a somehow perfectly random subject. And it is fun as it tosses all these ideas around from hunched-over workers conducting business as usual on a half-floor to an apartment whose animals greatly outnumber its human occupants to an enclave of senior citizens whose interest in an actor is purely as a means to immortality.

The wealth of ideas distinguishes the film and makes it stand out as it would not in other ways. For instance, it's tough to really warm to any of the characters. Maxine is about as abrasive as love interests come. A variety of mental issues distance Lotte from us, even as she is grossly mistreated. And Kaufman's own voice of self-doubt and untapped genius, Craig, does some pretty questionable things (testing the inherent likability of Cusack). And yet we stay invested and interested in the lives of these characters and of this imagined version of John Malkovich, one who hangs out with Charlie Sheen (himself) and hooks up with creepy unsolicited callers.
Though you'd think that this movie would be a tremendously difficult sell, it actually managed to be a fairly significant hit given moderate theatrical release in the fall of 1999 by Focus Features forebear USA Films. Easily clearing the not insignificant $13 M reported production budget and then some, it grossed $23 million domestically, by far the most of any of that year's movies that played on less than 1,000 screens. Adjusted for inflation, the total translates to over $35 M today, a sum unheard of for the vast majority of limited release indie cinema these days. Oscar nominations were earned for original screenplay, director, and supporting actress (Keener). Though none of those drew wins, Being collected a wide variety of other nods and honors, from the Independent Spirit Awards and National Board of Review all the way to GLAAD, Teen Choice, and the MTV Movie Awards.
Being is even more familiar to film buffs and geeks than that reception would indicate. Only eleven other 1999 films have received more votes on IMDb. Over 162,000 people have "liked" the movie on Facebook (compared to just 42,000 who have "liked" Malkovich himself). And the critical consensus is about as strong as any movie from the late-'90s.
All of that makes Being John Malkovich a no-brainer selection for The Criterion Collection, which distributor Universal's willingness to collaborate with the boutique line makes a reality this week. Tomorrow, the film makes its North American Blu-ray debut and is also available as a 2-disc DVD, each carrying Criterion spine number 611.
Blu-ray Disc Details

1.85:1 Widescreen
5.1 DTS-HD MA (English)
Subtitles: English
Not Closed Captioned; Extras Not Subtitled
Release Date: May 15, 2012
Single-sided, dual-layered disc (BD-50)
Suggested Retail Price: $39.95
Clear Keepcase
Also available on DVD ($29.95 SRP) and on Amazon Instant Video
Previously released as Universal DVD (November 5, 2002) and USA DVD (May 2, 2000)
VIDEO and AUDIO
Being John Malkovich is deliberately not the most picturesque film, but I gather that Criterion's Blu-ray represents the best it's ever looked. The 1.85:1 presentation maintains the film's dark, murky original look, with an appropriate amount of fine grain. Otherwise, the element is clean and boasts solid sharpness and detail. The 5.1 DTS-HD master audio mix commands more notice with its potent design, especially in the heightened scenes set in Malkovich's mind, as his booming voice engulfs from all directions, and the pathway to it that rumbles gently.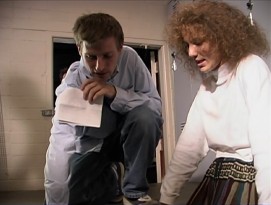 BONUS FEATURES, MENUS, PACKAGING and DESIGN

Criterion characteristically assembles a healthy collection of bonus features here,

all of which are presented in HD.

Things kick off with a selected scene audio commentary (57:51) by Jonze's "friend and competitor" Michel Gondry, who you might also identify as the director of Kaufman's Eternal Sunshine and Human Nature. The menu notes that Gondry spoke over the entirety of the film but is abridged "for reasons of accuracy, audience interest, and legal liability." More studios should take this approach, offering us an engaging half-commentary over a drawn-out full one. Gondry's thick French accent is a challenge, but he has some interesting remarks on needing stars to secure financing, Vincent Gallo, dead and living actors, and seeing Kaufman's script brought to life without him. When he runs out of things to say 25 minutes in, he calls Jonze on speakerphone to talk more about seeing dead actors in his movies, play up their rivalry and respective low-ceiling work, to confirm that there was no back-up plan for Malkovich not participating, and to try to coax him to confess he was in love with Catherine Keener. It is an appropriately whimsical track, which also features Gondry's longtime editor Jeff Buchanan asking the occasional question.

"All Noncombatants Please Clear the Set" (33:21) is a new making-of documentary compiled from Lance Bangs' many hours of behind-the-scenes footage. It offers fantastic fly-on-the-set access, the kind of fascinating treatment that everyone dreams of their favorite film having. This production -- shot among low ceilings, dark tunnels, moving school buses, and a real awards show; utilizing John Malkovich in a camera vest and dress; and finding Jonze and his cast members horsing around -- especially benefits from these great views. Even hearing what set production assistant Sam Spiegel gets up to is interesting.

Shot last November, "John Malkovich and John Hodgman" (27:51) has Mac's "I'm a PC" spokesman interview the actor about his experiences on the film. Naturally, Malkovich has a fascinating perspective on a project dependent on his participation. He discusses how his feelings toward the script progressed from directorial interest (with a vetoed subject change) to reluctant acting to a trusting embrace. The interview gets into specifics such as the casting of Charlie Sheen as his best friend, the script's prescience, the nature of celebrity, the film's generational divisiveness and its effect on his persona. Malkovich comes across a bit disdainful of public attention, but very thoughtful and articulate. He even touches on "Sittin On Tha Toilet."
"Spike's Photos" (15:29) has the director sharing his production photographs for the film's newly-redigitized 30th anniversary chip in the back of the head edition. He talks about the crew and cast members as they appear in his diverse collection of snapshots, yielding some reflection and a bit of behind-the-scenes footage.
Two films within the film are presented in their fun entireties. "The 7½ Floor" (2:12) is the Mertin-Flemmer Building's orientation video explaining the admirable origin and history of its half-floor. "American Arts & Culture Presents John Horatio Malkovich: Dance of Despair and Disillusionment" (4:17) is the artful portrait of Malkovich's abandonment of acting and subsequent rise in puppetry.
Licensed from Universal's DVD, "An Intimate Portrait of the Art of Puppeteering" (7:20) is a 1999 featurette that gathers thoughts from Phil Huber, the man who did all the marionette puppetry for John Cusack's character. Huber talks about his craft and the film. We get some looks at Huber performing and some opening weekend reactions to BJM from puppeteer moviegoers.
Two 15-second and two 30-second TV spots promote the film in creative, most unusual ways, though a "Play All" option is missed. Not as daring but still thankfully preserved is Being John Malkovich's full original theatrical trailer (1:55).

Sadly, one of Criterion's usual touches -- a taste of the director's other work -- does not occur here, depriving us the chance to see any of Jonze's iconic music videos in hi-def. A few other minor extras from Universal's DVDs -- a bizarre Spike Jonze interview, "A Page with Nothing On It",

a short on the "Art of Background Driving", Jonze's photo album (undoubtedly rendered redundant by the feature here), and cast & crew biographies and filmographies -- also do not make the cut here.

The quietly-scored menu opens an endless succession of blue stage curtains, never coming to present anything other than the film's title (briefly). Like all others I've encountered, this Criterion Blu-ray manages to resume playback of unfinished items and also supports bookmarks on the film. Can every other studio please find out how they do this and follow suit?

It wouldn't be a Criterion disc without a booklet. The thick clear keepcase houses a 16-page booklet, which supplies the usual cast and disc information (the latter sneaks some humorous Jonze eccentricity into the dry transfer details). It also offers "The Original Piece of Wood I Left in Your Head", a transcript of a conversation between pop culture critic Perkus Tooth and Spike Jonze. Their talk is nothing short of brilliant, as Tooth long-windedly dissects minor details for wild insight into the film and Jonze begrudgingly plays along or remains silent, but does object to his colonic pronunciation of the title. I guess those wanting the standard academic Criterion booklet analysis (which this film absolutely lends to) may be dismayed, but this is far more colorful and amusing.
CLOSING THOUGHTS
I don't regard Being John Malkovich as one of the high marks of '90s cinema as many do, but the film must be recognized as an inspired and confident debut from two of the most creative minds in modern cinema. A film this substantive and expressive lends to repeat viewings and by far the most appealing way to do that is in Criterion's first-rate Blu-ray Disc, which offers a high quality feature presentation and a lot of extras both highly enjoyable and insightful. For those who consider this movie an all-time favorite, this package is a no-brainer purchase and it's strong enough to warrant a recommendation for everyone else as well.
Buy Being John Malkovich from Amazon.com: Criterion Blu-ray / Criterion DVD / Instant Video