In 2013, action films about attacks on the White House were like period magician dramas in the fall of 2006, computer-animated insect comedies in the fall of 1998, or mall cop comedies in early 2009.

That is to say the premise sparked two similar high-profile movies released near one another.

At the beginning of the year, you'd have been crazy to predict bigger things from Olympus Has Fallen. This one was from novice screenwriters, the director of King Arthur, and shaky young distributor FilmDistrict. It starred habitual box office flopper Gerard Butler, held an audience-restrictive R rating and a March release date. The other one, White House Down, starred Channing Tatum and Jamie Foxx, opened at the height of the summer movie season, was rated PG-13, was the work of director Roland Emmerich (Independence Day, 2012) and writer James Vanderbilt (The Amazing Spider-Man), had more than twice the budget, and the backing of media giant Sony's primary Columbia Pictures division.

Despite all those advantages and the fact that among such similar pairs the second movie to open has generally performed better, Olympus Has Fallen surprisingly performed significantly better than the subsequent White House Down, doing more business both domestically and abroad despite minimal difference in critic and moviegoer sentiment. The film's grosses aren't cataclysmically distant, but in an industry with little capacity to surprise those who follow it closely, these defied expectations will go down as one of 2013's bigger shocks.
Olympus Has Fallen opens on a snowy night, in which the United States' President Benjamin Asher (Aaron Eckhart) and his wife (Ashley Judd) are about to attend a billionaire's Christmas party. Our point of access is Mike Banning (Gerard Butler, who also produces), an ex-Special Forces agent who now serves as the closest and most trusted member of the President's Secret Service detail. Icy roads create dangerous driving conditions which lead to a quick and unforeseeable death of one of the first characters introduced. Though Banning's quick thinking and acting that night holds up to scrutiny, the harrowing experience is enough to get him reassigned to a desk job that he is eager to shed.
A year and a half later, Banning is still itching to get back into the thick of it. He gets his chance when the President's scheduled meeting with representatives of South Korea does not go as planned. Guerilla forces from North Korea seize the White House, making South Korea's Prime Minister the first of numerous recorded executions and taking President Asher, his Secretary of Defense (Melissa Leo), and other high-ranking officials hostage.
Just happening to be in the right place at the right time, Banning assumes the proverbial "one man" role, using his extensive knowledge of the executive mansion and his considerable might to escape to safety and become the free world's first line of defense against these ruthless, well-armed terrorists. Banning is reluctantly put into that position by Speaker of the House Allan Trumbull (Morgan Freeman), who is promoted to acting president by Banning's boss, the Director of the Secret Service (Angela Bassett).
The attackers seek to retrieve launch codes for nuclear weapons, which are known exclusively by three of their captives. But they'll also have to deal with Mike Banning, who amidst this bloodbath endures much of the film with nothing worse than a few scratches.
Though the premise seems preposterous, Olympus sells it well, treating us to a believable inside view we'd never have should such an unlikely scenario play out.

Presumably, our government is not so precarious that the John McClane of Secret Service agents would be the only thing standing between evildoers and near-nationwide annihilation. But like Air Force One and most of Armageddon, this is pure escapism played straight with enough budget, technology, and polish to achieve suspension of disbelief.

Competently constructed, Olympus is a fast and easy watch. Perhaps you don't need to completely turn off your brain, but it certainly would not hurt to leave it unplugged for a while in advance. Only the highest-ranking government officials would be able to definitively point out the film's fictions, but you don't need to be in a position of such power to recognize that Action was listed above Logic on this production's every call sheet.

Antoine Fuqua is not a filmmaker one expects great things of. In his fifteen years of directing, his films can mostly be classified as underwhelming (King Arthur), overrated (Shooter), or both (his breakout hit Training Day). His previous effort, Brooklyn's Finest (2010), was an adequate little crime thriller, but nothing that anticipated this, his biggest-budgeted work since the Jerry Bruckheimer-produced King Arthur. While it goes without saying that Olympus is not a great film, it is better than expected and shows more care and attention than is due from an established veteran with nothing really to prove. The film owes much to the original Die Hard, but as the lackluster latest installment of that Bruce Willis franchise proved, it's not enough to simply know that kind of hero and hatch a scenario that brings out his best. Butler is not an actor who oozes charisma or charm, but he fares fine with the light acting load he's given here. As do his castmates, most of whom either sit around a desk looking alarmed or get an opportunity to endure hostage anguish.

While its design feels like a faint throwback to the aforementioned hits, the stylings and perfectly adequate set pieces (which include an endangered First Kid and a Washington Monument that crumbles down) are enough to qualify this as passable contemporary entertainment. It's violent, not so intelligent, and ultimately not something that will really stay with you. But there's definitely room for that kind of cinema so long as it manages to engage as this does.

Becoming FilmDistrict's biggest hit by a country mile, Olympus Has Fallen fell just shy of the $100 million mark domestically and added an okay $62 M from outside the country whose resolve it celebrates. It hit stores today in a DVD and the Blu-ray + DVD combo pack reviewed here from Sony Pictures Home Entertainment, the same unit that will release White House Down in a couple of months.
Blu-ray & DVD Details

2.40:1 Widescreen (DVD Anamorphic)
Blu-ray: 5.1 DTS-HD MA (English), Dolby Digital 5.1 (Descriptive Video Service)
DVD: Dolby Digital 5.1 (English, Descriptive Video Service)
Subtitles: English, English for Hearing Impaired, Spanish
Not Closed Captioned; Extras Subtitled
Release Date: August 13, 2013
Two single-sided, dual-layered discs (BD-50 & DVD-9)
Suggested Retail Price: $40.99
Blue Keepcase with Side Snap in Embossed, Holographic Cardboard Slipcover
Also available as standalone DVD ($30.99 SRP) and Amazon Instant Video
VIDEO and AUDIO
Blu-ray treats Olympus Has Fallen to exemplary picture and sound. The 2.40:1 presentation does not assume the prevailing molds of Michael Bay and Jerry Bruckheimer. Colors aren't stylized to an extreme and not every sequence is bathed in darkness. The video, of course, is sharp, detailed, and spotless. The 5.1 DTS-HD master audio, meanwhile, gives your home theater the workout you expect of a decently-budgeted new action film.
BONUS FEATURES, MENUS, PACKAGING and DESIGN
The Blu-ray's all-HD bonus features begin with an unlikely reel of bloopers (2:26), showing actor and technical goofs.
"The Epic Ensemble" (6:58) celebrates the cast, with crew members and co-stars throwing praise in every direction.
"Under Surveillance: The Making of Olympus Has Fallen" (11:36) is the disc's general making-of featurette, which covers the premise and production, the latter parts touching on filming in Louisiana, the input of consultants, and explosions.
"Deconstructing the Black Hawk Sequence" (3:30) briefly dissects one of the film's big set pieces.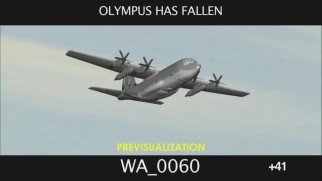 "Ground Combat: Fighting the Terrorists" (3:02) comments on the film's violent action staging, with Fuqua sounding off on the topic.

"Creating the Action: VFX and Design" (7:03) illustrates and explains how layers of CGI were employed on sequences

for what Fuqua told his crew was "not a visual effects film."

The same disc sold on its own, the combo pack's DVD has no bonus features whatsoever. That's uncharacteristic for Sony and suggests they (or, perhaps just FilmDistrict) are adopting a Paramount-like strategy at a time when Warner is bringing back two-disc DVD editions for new films.

The discs open with an UltraViolet promo and trailers for Insidious: Chapter 2, Dead Man Down, and Evil Dead. To those trailers, the Previews menus add ones for Parker and The Kings of Summer. Olympus Has Fallen's own trailer is foolishly missing.

The menu places a patriotic border around oft-layered action clips from the film. Though this isn't an in-house production, Sony still equips the BD with full resume and bookmarking features.

Sporting double-sided artwork and holding your codes for Sony Rewards and UltraViolet, the side-snapped keepcase is topped by an embossed slipcover applying liberal holographic touches to the reproduced cover art.
CLOSING THOUGHTS
So long as you enter with reasonable expectations, Olympus Has Fallen proves to be a pretty painless experience. It's violent but not too violent for mainstream audiences. It's stupid but not enough to ridicule or lose you. Its well-executed action sequences hold your attention for the full two hours and there are no delusions of grandeur. It's basically a grounded version of Air Force One that more believably leaves the heroics to a Secret Service agent rather than the Commander in Chief.
Though its bonus features are routine, Sony's Blu-ray combo pack does deliver a superb feature presentation.
Buy Olympus Has Fallen from Amazon.com: Blu-ray + DVD + UV / DVD + UV / Instant Video