Director John Frankenheimer had an atypical career trajectory. He began, as many once did, in television, helming episodes of dramas beginning at age 24. Upon turning 30 in 1960, Frankenheimer graduated to feature films and immediately garnered notice for his unflinching black and white dramas. Two of his 1962 releases -- Birdman of Alcatraz and The Manchurian Candidate -- basically etched his name in cinema history books, though strangely none of their six Academy Award nominations went to him.

Manchurian's limited accolades are particularly a head-scratcher, since the Cold War thriller has long been revered as a classic, being chosen for preservation in the Library of Congress' National Film Registry and appearing one-third into the American Film Institute's original "100 Years...100 Movies" countdown.

Whether he was underappreciated by the industry or simply failed to live up to his promise, Frankenheimer kind of floundered in the middle of his career, directing a number of action and genre B-movies. After returning to television in the 1990s for prestigious movies that won him four Emmys in five years, he enjoyed a tiny bit of a resurgence, getting to direct three sort of prominent millennial theatrical thrillers in the notorious The Island of Dr. Moreau, the relatively respectable Ronin, and the Ben Affleck bomb Reindeer Games before passing away in 2002.

Frankenheimer never received an Oscar nomination and he picked up a Razzie nod for Dr. Moreau. Still, he is regarded as an important filmmaker with a substantial body of work. Having cracked The Criterion Collection with a 1957 "Playhouse 90" episode appearing in The Golden Age of Television set, Frankenheimer returns to the esteemed boutique line via his 1966 film Seconds. Under a license from Paramount, it claims spine #667 on DVD and Blu-ray this week.
Adapted from David Ely's 1963 novel of the same name, this dark thriller gives middle-aged mopes a way out from their life's doldrums. For a hefty fee, a stealthy company will stage your death and establish a new life with a different appearance and identity. New York bank loan officer Arthur Hamilton (John Randolph) is giving serious thought to using this service, which his old (supposedly dead) tennis partner has recommended. Arthur has a wife (Frances Reid) he loves but his marriage has grown cold and affectionless. Still, there's no turning back from such a procedure, something that is giving the doughy businessman sweaty bouts of sleeplessness.
Unsure if he's ready to go through with it, Arthur has the decision made for him by the company, who give him a disturbing push towards reinvention as Mr. Antiochus "Tony" Wilson. His death sufficiently faked, Arthur awakens from extensive surgery with new teeth and a younger, more chiseled body (now Rock Hudson). Based on his desires voiced under the influence of sedation, Tony is given his dream job of painter and the documents and portfolio to support it. He is moved into a nice home right on the California beach and even has a servant assigned to help him acclimate to his new life.
While walking along the coast one day, Tony meets Nora Marcus (Salome Jens), a playful former homemaker who has been similarly reborn. Here, the movie loses its way some, as it throws the potential lovebirds into an orgiastic party scene full of revelrous guests stomping grapes in the altogether. Reinserted for a 1996 video release, that originally cut, seemingly random sequence (whose nudity earned an R rating) sets up the next, when Tony's embarrassing drunken display at his housewarming party raises the concerns of his fellow "reborns" in the community.
After a visit to his wife, who still knows nothing of his transformation, Tony decides he's ready for another makeover. Dependent on word-of-mouth, the company requests that he sponsor someone else who could use their service.
As you would expect, Seconds feels much more kindred to The Manchurian Candidate than Reindeer Games. The 1960s appear to be Frankenheimer's heyday and an era that lent to his brand of paranoid thriller. Though most of the industry had moved on to color,

and Frankenheimer would on his next film (the international racing picture Grand Prix), the director continued to gravitate to black and white, telling stories befitting that steamy palette. Frankenheimer and his cinematographer James Wong Howe (who picked up the film's only Oscar nomination) give Seconds considerable visual power, employing striking, uncomfortably long takes, creepy head-on shots, and creative distorted angles to highlight the horror both in midlife malaise and in this company promising to alleviate it.

From its macabre fixation on cadaver procurement to its Frankensteinian makeover procedures, the unnamed company assumes an effectively creepy presence throughout this film. In limited screentime, their unscrupulous executives -- a Mr. Ruby (Jeff Corey), who devours a chicken dinner prepared for Arthur and an old head honcho (Will Geer) who seems to value nothing but his own business -- make you feel dirty and ill at ease with their work, which sounds kind of promising in theory.

Rock Hudson, who had enjoyed success as a frequent lead in romantic comedies with Doris Day, seemed to yearn for some own reinvention with his turn in this dark, edgy thriller. Despite his pre-title billing, Hudson does not show up until 40 minutes into the film. After that, though, he's never off-camera for more than a few seconds. It's a strong, appealing, and evidently uncharacteristic performance, with which we can identify as things get very strange and disquieting.

Seconds was not well received by the public upon release and would represent Frankenheimer's last serving of black and white cinema. Nonetheless, the film has seen its reputation grown over the years. Its admission into Criterion feels like some well-deserved recognition for its director, who struggled through the 1970s and '80s. Criterion's Blu-ray presents the film exclusively in its 1996 extended cut, rather than the unrated 100-minute original theatrical cut that abbreviated that out-of-nowhere party sequence.
Blu-ray Disc Details

1.75:1 Widescreen
1.0 LPCM Mono (English)
Subtitles: English
Not Closed Captioned; Extras Not Subtitled
Release Date: August 13, 2013
Suggested Retail Price: $39.95
Single-sided, dual-layered disc (BD-50)
Thick Clear Keepcase
Also available as DVD ($29.95 SRP) and on Amazon Instant Video
Previously released as Paramount DVD (January 8, 2002)
VIDEO and AUDIO
Seconds appears in 1.75:1 widescreen and looks pretty spectacular. The transfer displays an appropriate amount of film grain, while remaining sharp and detailed in ways different from most late-'60s cinema. While black and white film stock can seemingly make anything interesting, Frankenheimer and Wong Howe's compositions deserve credit, as does the Blu-ray for presenting them with so few imperfections. The uncompressed 1.0 LPCM monaural soundtrack also gets the job done right, hiding the recordings' age and keeping them so crisp and intelligible that you likely won't need the English subtitles provided.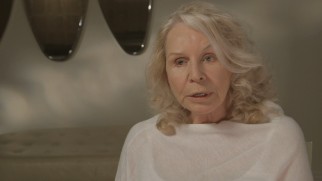 BONUS FEATURES, MENUS, PACKAGING and DESIGN

Extras begin with an audio commentary that director John Frankenheimer recorded in 1997 for a laserdisc release of the film. Frankenheimer may be 32 years removed from production, but his vivid recollections pertaining to what's onscreen flow throughout, down to specific camera details for individual shots. Highlights include diverting the public's attention while shooting in an operational Grand Central, the ubiquity of smoking then,

the importance of letterboxing now, evolving editing styles, filming real surgeries and the raucous wine festival, and understanding the film's box office failure.

On the video side, where everything is encoded in HD, we start with "Alec Baldwin on Seconds" (14:21), a new interview with the Emmy-winning "30 Rock" actor, who acted in Frankenheimer's final work, the 2002 telemovie Path to War. Baldwin recalls working with the director in addition to expressing a detailed, knowledgeable admiration for Seconds.

Criterion's new retrospective "A Second Look: Evans Frankenheimer and Salome Jens" (18:37) interviews the director's widow and Seconds' leading lady. Each shares her thoughts and memories of the film, from replacing a studio-vetoed Laurence Olivier with Rock Hudson and technical facets to Jens' nude scene trepidation and making sense of the film's tepid initial reception.
"Palmer and Pomerance on Seconds" (12:38) is a new visual essay in which film scholars R. Barton Palmer and Murray Pomerance shed light on the film on its own and in relation to Frankenheimer's career and politics. Their academic observations, spoken by Palmer, are presented over stills and clips from the movie.

Under the heading Archival Footage, we find a 1971 Frankenheimer interview (10:26) conducted for Canadian television.

In it, the director discusses his visual tastes, the "schizophrenic" nature of his job, and his estimation of his work to date.

Also there, "Hollywood on the Hudson" (4:18) is an excerpt of a 1965 WNBC news segment on Seconds' filming in Scarsdale, New York with a focus on Rock Hudson. Surprisingly, this fun piece looks most presentable, having been shot in color film.

Sadly, the other extra that joined the commentary on Paramount's 2002 DVD -- the film's original theatrical trailer -- is not included here.

The menu plays score over a still from the surreal opening titles. As always, Criterion kindly equips the disc with bookmarking and resume features.

As usual, Criterion's final extra is found within the thick, clear keepcase. It's a 20-page booklet, the heart of which is "Reborn Again", a new essay from film critic and professor David Sterritt. Establishing Seconds as the final act in Frankenheimer's "paranoia trilogy" following Manchurian and Seven Days in May, it's an engaging, analytical read.
CLOSING THOUGHTS
As it approaches its fiftieth anniversary, John Frankenheimer's Seconds remains a creepy movie with the power to unsettle. This well-crafted black thriller is given stellar treatment from Criterion. The Blu-ray's fine feature presentation and substantial supply of bonuses (45 minutes of new reflection completing archival bits and Frankenheimer's own invaluable commentary) are enough to recommend the disc to anyone interested in the film.
Support this site when you buy Seconds now from Amazon.com:
Criterion Blu-ray / Criterion DVD / Instant Video