By Albert Gutierrez

I will say it now: if you have any respect for Eddie Murphy, you will stop reading this review and go watch something he made before 1996. If you don't mind losing about five to ten minutes of your life, you can stay here and read about how I just lost an hour and forty-odd minutes (and then some) of my life watching the travesty known as Norbit.

It is a pathetic and painful attempt at a "big black woman" comedy that doesn't involve anyone named Madea (and I don't even like Madea). I still wonder who exactly chose to pay to see this waste of film stock, as it actually brought in nearly $100 million at the box office. Surely audiences were looking for a cinematic form of cruel and unusual punishment.

Norbit is a sad, sad tale about a loser (Eddie Murphy, in one of his three roles) who, as a baby, was thrown out of a car and onto the porch of the Golden Wonton Restaurant and Orphanage. As a child, he is looked after and picked on often by Mr. Wong (Murphy again), and after one orphan disappears for two weeks, gets buddied up with little Kate. The two become good friends and spend all their time together, even getting "married." One day, Kate is adopted, and Norbit ends up alone for some time, until a large fat girl named Rasputia decides to take him under her wing and become his girlfriend. Eventually, he is "adopted" by Rasputia's family, a set of three burly brothers who run Latimore Construction, and ends up marrying Rasputia (adult version played by Murphy yet again).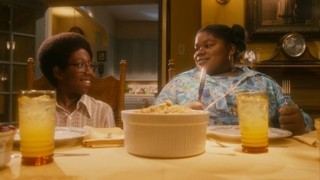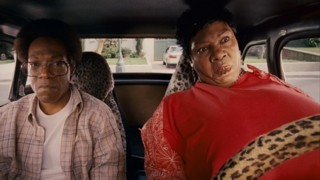 None of it seems like something Norbit wants to do, but he appears grateful to be a part of a family. Norbit is nothing but subservient to everyone around him and the first time he shows he actually has a backbone is when he catches Rasputia in bed with her tap dance teacher Buster (Marlon Wayans) and yells at her. He doesn't leave her, but he does take off his wedding ring. Things change for Norbit when all-grown-up Kate (Thandie Newton) returns and buys the orphanage. The two agree to have lunch, putting Norbit in a good mood until he meets Kate's fiancιe Deion (Cuba Gooding, Jr.). At this point, a mere half-hour has passed and I can already see where the rest of the movie is headed: a love quadrangle between Rasputia-Norbit-Kate-Deion that naturally ends with Norbit and Kate getting together (with a musical number, the town rebelling against the Latimores, and several ex-wives showing up thrown in as well). A director could have easily placed cookie-cutter characters in a room, told them to throw out a few crude one-liners and fart jokes, edit it in a haphazard style, and that film would still be better than this.

I want to say that I feel sorry for Eddie Murphy for being stuck in this film, but I can't. He actually had a hand in writing this movie.

The same guy that saved "Saturday Night Live" in the early 80s was a part of a writing team that created the unlikable characters and predictable story that took away a perfectly good Friday evening from my life. And how often must we see Eddie Murphy (or any comedian) don the big black fat suit? The Nutty Professor was a charming remake that benefited from the fat suit, but its sequel was as unnecessary as this film. If there is an audience for big black women comedies like Big Momma's House, the Madea films, and now Norbit, by all means, someone point me to their direction. Maybe they can explain to me what they find appealing and humorous in fat jokes and black jokes.

I don't claim myself to be a film snob. I've seen my share of arthouse films and smartly-written dramas, but I can still find humor in lowbrow comedies. When it comes to Norbit, however, I tried to find something worth salvaging in the mess, but came up empty. Even the most devoted fan of Eddie Murphy would have to agree with me that Norbit is unsalvageable.
DVD Details

1.78:1 Anamorphic Widescreen
(1.33:1 Fullscreen available separately)
Dolby Digital 5.1 (English, French),
Dolby Surround (English)
Subtitles: (English, Spanish; Closed Captioned)
Release Date: June 5, 2007
Single-sided, dual-layered disc (DVD-9)
Suggested Retail Price: $29.99
Red Keepcase
Also available on Blu-ray and HD-DVD
For DVD, Paramount and DreamWorks have put together a decent package for fans of the film, few and far between they are. I can imagine they'll be used as gag gifts for Christmas, or make great coasters for an Eddie Murphy collection.
VIDEO and AUDIO
As an extremely recent film, I wouldn't expect the video quality to be less than perfect. But it's truly sad that the only good thing about a bad movie like Norbit is that it looks nice and pretty on DVD. You can marvel at how realistic Rasputia's fat suit looks, stretch marks and all. Likewise, the audio gives nothing to complain about. All the rude-crude humor came in clear and chipper, and sounds even more cringe-worthy in French. You haven't seen Norbit until you've seen it in French. I would call it an improvement, but only if you don't speak French.
BONUS FEATURES, MENUS and PACKAGING

There is no audio commentary among the set of bonus features, but that's probably a blessing, since it would subject us to a second viewing, but with a couple voices either trying to justify why the movie was made or laughing along as if it were the finest comedy ever made.

So what bonus features do we get? First off is "The Making of Norbit" (21:34) that offers movie clips aplenty and makes sure to heap plenty of praise

onto Eddie Murphy for actually lending his now-on-life-support comedic talent to this mess. The majority of the featurette recaps the film while offering few soundbites about how it was made. We get a bit of nice behind-the-scenes material (including the green screen shoots Murphy and Murphy as Norbit and Rasputia), but mostly it's talking heads and clips.

Next up is a featurette titled "Man of a 1,000 Faces" (4:07) that is partly a kiss-up to Eddie Murphy and partly a kiss-up to Rick Baker. You can't go wrong with Rick Baker as the man practically perfected the art of movie prosthetics. There are several time-lapse examples of make-up application for both Mr. Wong and Rasputia. Unfortunately, beyond those examples, the rest of the piece is comments by the cast and crew about how amazing it is to see Murphy in the make-up, along with a few worthwhile notes by Rick Baker on how he developed the make-up.

"Power Tap" (4:50) is the only non-Murphy piece and is a fake infomercial for Buster's Power Tap. I don't quite see why it had to be made, aside from giving Marlon Wayans a chance to ham up his Buster character for nearly five minutes.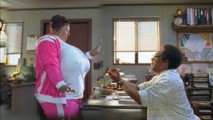 A "Stunts of Norbit" featurette (11:52) obviously looks at the stunts of the movie. I was a bit surprised at its inclusion, because it's possibly the only serious bonus material on the disc. Director Brian Robbins and stunt coordinator Andy Gill discuss the various stunts from the movie, as do stunt doubles Aaron Toney and Virgil Carter. There's plenty of behind-the-scenes material including rehearsal footage and test stunts.
Fourteen deleted scenes are included (in finished 16x9 widescreen to boot!), running about eight minutes altogether. None of them offer any character development or help forward the lackluster plot. It's as if the writers and directors purposely wrote/filmed extra "jokes" and minor scenes into the film in order to delete them and present them on the DVD. Also included is a photo gallery (58 stills) and the theatrical trailer that tries to make the movie seem worth watching.
The static-after-animated-intro menus include some twangy country-sounding score from the film. Trailers for Transformers and Blades of Glory play when the disc loads. Additional sneak peeks for Dreamgirls, Freedom Writers and "The Best of Eddie Murphy on DVD" can be found in the Special Features. The only insert inside the case is a coupon for $3 off select Eddie Murphy DVDs, presumably to remind consumers that Eddie Murphy used to be funny.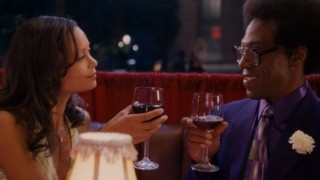 CLOSING THOUGHTS
"How the mighty have fallen." That is likely the best way to describe the career of the comedian formerly known as Eddie Murphy. Norbit is living proof that any semblance of humor left in him has died a slow and lingering death. Let us have a moment of silence in honor of the days of Coming to America, Trading Places, 48 Hours, and Beverly Hills Cop.
I hated this movie. I won't say that one day it may be seen as a misunderstood piece of comedic genius. I won't say that in a couple decades it will be regarded as a cult classic like Plan 9 from Outer Space. I won't try and gloss it up and offer any "give it a chance" pleadings. My only pleading is that readers come away from this review with no intent on ever buying, renting, or thinking about this film. It kind of makes the "Buy from Amazon.com" links on this page superfluous, because nobody in their right mind would even consider having this film in their collection.
More on the DVD / Buy from Amazon.com



Also available on Blu-ray Disc and HD DVD