The fall of 1997 provided a rebirth for TGIF. ABC's Friday night programming block was beginning its ninth year on the air, but widespread change was making it look new. The two family sitcoms that had longest been a part of the lineup -- "Family Matters" and "Step by Step" -- were gone, having moved to CBS for what would be their final seasons. Among those with the next most seniority, "Hangin' with Mr. Cooper" had bowed out with an abbreviated summer season. The veteran comedy "Boy Meets World" was back, but it continued to move away from its family sitcom origins and now spent half of its time at college,

running with a hip, wacky tone to appease a viewership largely comprised of young adults.

The other returning TGIF series was "Sabrina, The Teenage Witch", a sitcom starring Melissa Joan Hart which fared well in its debut season. How well? Well enough for ABC to employ a similar palette -- teens and fantasy -- for its two new comedy programs, "You Wish" and "Teen Angel." While neither of those would live to a 20th episode, "Sabrina" remained a fan favorite for years to come, spending four seasons on ABC and then after TGIF's demise, living on for three more on what was then the WB.

"Sabrina" was based on an Archie Comics series that achieved moderate popularity in the 1970s. The character was introduced in a 1962 issue of Archie's Mad House and by the early '70s, she was treated to her own line of comic books and was already a mainstay of Saturday morning television, appearing in Flimation cartoon series like "The Archie Comedy Hour", "Sabrina and the Groovie Goolies", and a self-titled show all her own. TGIF viewers weren't very likely to have connected Melissa Joan Hart's very '90s protagonist with Sabrina's print and Jane Webb-voiced animated incarnations of the past. They'd have been more likely to consider Sabrina a teenaged twist on "Bewitched", the 1960s-70s sitcom about a nose-twitching witch and her mortal husband.
That isn't a far off comparison, as lighthearted situations, magic for laughs, and fantastic powers in an ordinary world are all in high supply for "Sabrina" as they were for "Bewitched." The daughter of a mortal mother and a warlock father, the half-witch Sabrina Spellman (Hart) seems like a pretty ordinary teenager to most people. But at her Massachusetts home, where she lives with her two witch aunts -- fun and music-loving Hilda (Caroline Rhea) and the orderly, scientific Zelda (Beth Broderick) -- and a warlock-turned-talking cat Salem (voiced by writer-producer Nick Bakay), Sabrina's secret is safe. All sorts of imaginative magic spells flow in and outside the Spellman household, though Sabrina understandably must keep her powers confidential in the Mortal Realm, even from her boyfriend Harvey (Nate Richert) and especially from her nemesis, the snobby cheerleader Libby (Jenna Leigh Green, Broadway's Wicked).
Over the course of its seven seasons on the air, "Sabrina" underwent more cast changes than even longer-running sitcoms ever do; only Sabrina and her sarcastic feline would appear in all of the series' 163 half-hour installments. Personnel shake-ups began as early as Season 2. Entering the fray in 1997-98 are TV veteran Martin Mull as Vice Principal Willard Kraft, who is quick to punish and not shy about playing favorites, and Lindsay Sloane as Valerie, an insecure new girl who becomes Sabrina's closest female friend. Easily showing up most frequently among actors not given opening credits status, Mary Gross (who spent four years on "Saturday Night Live" during the early '80s) is also added as Sabrina's timid algebra teacher Mrs. Quick. The three new cast members essentially replace best friend Jenny (Michelle Beaudoin) and biology teacher Mr. Gene Pool ("Freaks and Geeks" creator Paul Feig) that Sabrina had in Season 1.
The single greatest overriding thread of sophomore season "Sabrina" involves the titular teen's year-long efforts to earn her witch's license. To that end, the colorfully-clad Quizmaster (Alimi Ballard, "Numb3rs") shows up regularly without warning to test Sabrina on her knowledge of spells and values in using them. Quite often, though, Sabrina's life is more similar to that of a normal teenaged American girl of the late-20th century. She spends a lot of time hanging out with the sideburned, cartilage-pierced football reserve Harvey and the desperate-to-be-cool Valerie at Westbridge High School and at local pizza joint The Slicery. There are struggles at home over responsibilities. Her principles drive her to clash with Mr. Kraft and his favored Libby. Between training for her witch's license and the typically full slate of a high school student, Sabrina finds herself pulled in a number of directions from the season's start. The feeling factors strongly in her and Harvey's decision to date other people, though one never really doubts their relationship will survive the genial break.
"Sabrina" clearly adheres to a formula, but it is not one enforced strictly enough to grow tiresome. A typical episode involves a magical dilemma (often a spell that backfires or just goes wrong), which Sabrina must overcome and unquestionably learn from. There are plenty of variations and alterations to that general premise for the show to remain fresh in Season 2. Even a humdrum "A" plot is usually spiced up with a reliable "B" storyline, frequently centering on Sabrina's quirky aunts. There is no shortage of puns. Elements of the parallel Other Realm show large amounts of inspiration and an effective sense of humor. And magical spells are applied in amusing, interesting ways.
Keeping things lively in Sabrina's two worlds is a universally talented cast. As a family-friendly TV show, "Sabrina" is part of a class where there inevitably tends to be some weak links among the regular actors, be they adults that are outshined by charismatic kids, cute kids that quickly grow out of their photogenic stage, or just generally unpolished, inexperienced young cast members. The four leading teens are played by actors who were 19-21 years of age in Season 2 and each is confident in handling comedic material, especially Hart, who's given the most opportunities to shine.
The adult actors bring even more to the table, complementing their younger cast mates by retaining some commonly adolescent shortcomings. Mull is quite hilarious as the unfair, unhip, and somewhat immature high school authority figure, while Rhea excels as the sarcastic, superficial big-sister like aunt. In voice alone, Bakay makes the lazy, opportunistic Salem an endearing cad of a cat, even when the animatronic puppetry might otherwise introduce doubt. One can't overlook those in less flashy roles, however, as the maternal Broderick, amusingly-plagued Ballard, and helplessly shy recurring Gross all generate laughs and add to the mix.
If the laugh track is to be trusted, the jokes of "Sabrina" are designed to elicit chuckles more than hearty guffaws. An honest move, the moderate audience response probably contributes to the sitcom's diverting nature, in stark contrast to today's broader, more physically-oriented comedies that crank up the volume of laughter bursts to 11 without an ounce of sincerity.
Those who only enjoy TV shows that deliver the kind of extreme hilarity that can produce tears probably won't take to "Sabrina", but the rest of us can find plenty to appreciate in the series. The modestly-budgeted but sufficient visual trickery employed to convey magic holds up quite well ten years later. The scripts contain a level of intelligence not often found among present-day's primetime fare.

The series embraces its sitcom nature, acknowledging the everything-resolved-in-22-minutes structure but packing in a lot of story and merriment. There's also an impressive roster of guest stars -- famous TV veterans, comedians, musicians, and other celebrities -- that is put to good use in nearly every episode. Some of the bigger names that claim roles in Season 2 are Teri Garr, John Ratzenberger, Shelley Long, Tom Poston, Fred Willard, and Donald Faison. Those appearing as themselves (or something like that) -- which in Season 2 includes Erik Estrada, Davy Jones, Bob Vila, Drew Carey, Johnny Mathis, the Backstreet Boys, and 10,000 Maniacs -- are obviously very good sports and have fun playing with their public image.

Nearly five months after the show made its DVD debut, "Sabrina, The Teenage Witch" returned to the format in Paramount's The Second Season release. The lack of a "Complete" in the moniker isn't merely a stylistic choice. Though the package at least makes it clear, this 4-disc set is marred by a few scene cuts and a substantial number of pop song replacements. Viewers are asked to bid farewell to some of the hit '90s songs that featured into "Sabrina"'s soundtracks, such as Chumbawumba's "Tubthumping", The Mighty Mighty Bosstones' "The Impression That I Get", Savage Garden's "Truly Madly Deeply", OMC's "How Bizarre", and Third Eye Blind's "Semi-Charmed Life." Also ousted are Canned Heat's "Goin' Up the Country", Henry Mancini's Pink Panther theme, Belle and Sebastian's "The State I Am In", and Salem singing the '60s "Wild Thing." At least most "live" performances are left intact, preserving songs from 10,000 Maniacs ("Rainy Days"), Backstreet Boys ("I Want it That Way"), and even Sabrina's quickly-formed Entry Number Five (who cover Blondie's "One Way or Another"). One exception is the Christmas episode "Sabrina Claus", which retains the audio excerpt and brief performance of Johnny Mathis' "O Holy Night", but drops his "Winter Wonderland" from a central montage, even cutting his singing bedroom cameo.

Music nearly registers as a character on the show and the late-'90s setting of the series is considerably diminished by losing almost all of the pop tunes sampled. The series' typically salient montages are rendered far less memorable with the generic substitutions they are given. It's unclear who to get annoyed at for the edits: can one blame Paramount for being stingy or should one direct their irritation at the music studios, who often with no knowledge by the artist, demand additional fees for DVDs even if, well-married to a scene, the exposure is greatly to their benefit? I suppose many will argue that this is preferable to the route Paramount has taken for Melissa Joan Hart's pre-Sabrina Nickelodeon show "Clarissa Explains It All", which has been indefinitely shelved after just one season's release. But for anyone who remembers the original song selections, the edits are a severe disappointment. And they don't even allow "Sabrina" to reach stores at the types of low prices other studios are now treating catalog TV series DVDs to; Season 2 arrives with an SRP that's $9-$15 higher than other recently-released '90s sitcom sets that haven't been subjected to such cuts.

A star (

) denotes my ten favorite episodes from the season. A pair of scissors (
) indicates that at least one scene from the episode is missing.
Disc 1

1. Sabrina Gets Her License, Part 1 (21:41) (Originally aired September 26, 1997)
Life as a newly-turned 17-year-old is busy for Sabrina, as she juggles classes, the school newspaper, showing new girl Valerie the ropes, and spending time with Harvey, all the while not devoting enough time to studying her handbook for her impending witch's license test. Hilda and Zelda disagree over how to spend their bountifully-matured, centuries-old savings bond.
2. Sabrina Gets Her License, Part 2 (20:59) (Originally aired September 26, 1997)
Sabrina must attend witch camp, which is a lot like a military boot camp, only with the focus on the finger. She sneaks out to accompany Harvey at a school dance. Meanwhile, Zelda buys a lab-top with the bond money. (Note: Though this episode runs shorter than the others, it sounds like all it may be missing is the opening recap of Part 1 added for syndication.)

3. Dummy For Love (21:42) (Originally aired October 3, 1997)
Sabrina enlists Cupid (Patrick Thomas O'Brien) to bring Valerie close to a guy she's interested in and a dummy spell to get Hilda on a date with the enamored Mr. Kraft. With football practice demanding too much of Harvey's time, Sabrina's editorial on school sports causes a row.

4. Dante's Inferno (21:42) (Originally aired October 10, 1997)
Encouraged by their families to date other people, Sabrina goes out with new-to-the-Mortal-Realm Dante (Free Willy's Jason James Richter) and Harvey hits it off with a model (Sarah Lancaster, "Saved By The Bell: The New Class"). Hilda is struck by punnitis. Also appearing in this star-studded episode are The Monkees' Davy Jones (as himself) and Teri Garr.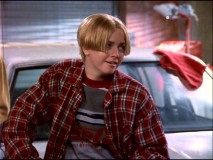 5. A Doll's Story (21:42) (Originally aired October 17, 1997)
Sabrina has her hands full babysitting her cousin Amanda (Melissa Joan Hart's younger sister Emily, in a recurring role), who shrinks her into a doll and locks her into a toy box with similarly-transformed tiny folks (played by Paul Dooley, Donna D'Errico, and Paul Sand). Bickering Zelda and Hilda try to enjoy time apart at the same spa, to no avail.
6. Sabrina, The Teenage Boy (21:42) (Originally aired October 24, 1997)
Yearning to know what guys talk about when they're alone, Sabrina has Hilda put a spell on her to look like a boy. As new guy at school Jack Spratsky, though, she finds herself in a love triangle with Valerie and Harvey. Hilda also uses the boy spell on herself to scare off a persistent Mr. Kraft.
Disc 2

7. A River of Candy Corn Runs Through It (21:42) (Originally aired October 31, 1997)
Plans for a quiet Halloween at home change when Sabrina learns everyone's expecting her to throw a party. Talking furniture with termites, Halloween carolers, and Valerie's bold bird costume all threaten the planned fun.
8. Inna Gadda Sabrina (21:19) (Originally aired November 7, 1997)
Salem's extended use of a time ball puts everyone in the free-lovin' 1960s. At first, that seems pretty groovy to Sabrina, but upon realizing some of the era's backward attitudes towards gender, she wants back. (Notes: This episode aired as part of time-translocation-themed TGIF, with Salem's time ball antics also figuring in "Boy Meets World", "Teen Angel", and "You Wish!". Salem's exit to Philadelphia, the setting for "Boy Meets World", is dropped and it's not even replaced by the syndicated version's litter box conclusion, rendering this episode shorter than the rest and with an abrupt jump from the '60s back to the '90s.)
9. Witch Trash (21:41) (Originally aired November 14, 1997)
Redneck cousins put the Spellmans' house in lockdown over their lack of access to the family magic book. They show up (Loni Anderson, Gary Grubbs, and Edie McClurg), requiring that Harvey and Valerie be shielded from the supernatural shenanigans going on around them.

10. To Tell a Mortal (21:42) (Originally aired November 21, 1997)
Friday the 13th affords Sabrina a chance to tell one mortal she's a witch, an opportunity she takes advantage of, against advice from her aunts.

A fun day in the Other Realm ensues for Sabrina, Valerie, and Harvey. Meanwhile, Zelda makes a scientific breakthrough involving pomegranates.

11. Oh What a Tangled Spell She Weaves (21:39) (Originally aired December 5, 1997)
Sabrina's imprecise spells wreak havoc on the school's temperature, her and Valerie's employment at the Slicery, and Hilda and Zelda's home redecorating. The aunts find themselves imprisoned at the house of Merlin (Bobcat Goldthwait), while the Quizmaster urges Sabrina to avoid sloppiness.

12. Sabrina Claus (21:18) (Originally aired December 19, 1997)
Sabrina comes down with a case of egotitis, which threatens everyone's Christmas when Bob (a.k.a. Santa Claus, played by John Ratzenberger) gets sidelined and she's got to fill in at the North Pole. Hilda and Zelda try to decorate a Christmas tree in the mortal way. (Note: The middle of Johnny Mathis' three appearances has been dropped, along with his rendition of "Winter Wonderland" that accompanied that central section. It's been replaced by an appealing instrumental "Hark, The Herald Angels Sing.")
Disc 3

13. Little Big Kraft (21:42) (Originally aired January 9, 1998)
To make Mr. Kraft more bearable at school and more exciting for Hilda, Sabrina slips some potion into his iced tea to make him younger acting. When the spell doesn't fade away soon, everyone suffers the consequences.
14. Five Easy Pieces of Libby (21:42) (Originally aired January 23, 1998)
While collaborating with Libby on a float for the Democracy Daze parade, Sabrina's distance spell gets reversed then broken, transforming Libby into a puzzle that Sabrina has to put together, in more ways than one. Hilda and Salem steal Zelda's secret cleaning formula (ostrich saliva) and market it.
15. Finger Lickin' Flu (21:42) (Originally aired January 30, 1998)
By not wearing her mittens, Sabrina catches the finger flu and in her ill state, she passes magical powers onto Mrs. Quick. Salem pretends to be sick, hoping it will earn him special treatment.
16. Sabrina and the Beanstalk (21:41) (Originally aired February 6, 1998)
In cutting corners on a class project, Sabrina gives life to a magic beanstalk on the Spellmans' property. By eating a jumping bean, Harvey gets a trip to the stalk's top, where he is generously fed by the Wicked Witch ("Cheers" star Shelley Long) whose actions are anything but hospitable.
17. The Equalizer (21:42) (Originally aired February 13, 1998)
Roland the troll (Phil Fondacaro) returns and for his new job as Equalizer, he takes back from Sabrina what her magic has taken from others, but crosses a line when he takes her heart. Asked to chaperone the Valentine's Day dance at Sabrina's school, Zelda and Hilda beckon Cupid (Patrick Thomas O'Brien) to help them score dates.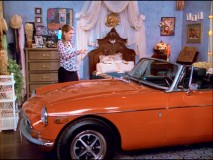 18. The Band Episode (21:42) (Originally aired February 27, 1998)
With a few sips of bottled talent, Sabrina, Valerie, and Harvey's newly-formed band wins the school's Battle of Bands contest, granting them status but also inflated egos and disagreements. Hilda tries to make the most of her new job as a fiddling waitress by slipping customers some taste. Back home, Zelda needs the help of a difficult colleague she once embarrassed.
19. When Teens Collide (20:52) (Originally aired March 6, 1998)
Molecular instability causes Sabrina to inadvertently swap personalities with Libby, leaving our protagonist with a nasty attitude and plans to take over the world. Zelda and Hilda deal with instabilities of their own, while entertaining guests.
Disc 4
20. My Nightmare, The Car (21:41) (Originally aired March 20, 1998)
After sharing a car proves too difficult for Sabrina and Valerie, Sabrina sneaks off to the Other Realm and buys one for cheap, against Hilda's orders. The enchanted new MGB GT poses challenges with its telekinetic powers and ability to speak. Also, Hilda and Zelda have their magic audited and Sabrina urges Hilda to give Mr. Kraft another chance so that he can be persuaded to let Valerie and her attend a journalism symposium in New York.
21. Fear Strikes Up a Conversation (21:42) (Originally aired April 3, 1998)
Chosen to read her essay in front of the rest of the school, Sabrina casts a spell to remove her fear, only to have her extractions haunt all mortals who encounter her. On the eve of an important science symposium presentation, an overworked Zelda "snaps", transforming herself into a series of absent-minded personas.
22. Quiz Show (21:41) (Originally aired April 17, 1998)
In trying to master changing into elements, Sabrina and the Quizmaster fight and she inadvertently gets him fired and reassigned to another student. Zelda becomes Sabrina's substitute chemistry teacher, while Hilda tries to educate Sabrina in witchcraft until she gets a new quizmaster.

23. Disneyworld (21:32) (Originally aired April 24, 1998)
One can easily see the hand that ABC's parent corporation, Disney, had in this episode, which is designed to promote the company's just-opened Animal Kingdom theme park. Everyone heads to Walt Disney World in Florida, where Sabrina is busy working on an important test towards earning her witch's license.

Her antics grab notice by Mr. Kraft, while her brew turns Valerie and Libby into zebras. Meanwhile, Digging in DinoLand U.S.A., Zelda and Hilda turn a found fossil into a caveman, who's quite a handful.

24. Sabrina's Choice (21:41) (Originally aired May 1, 1998)
In response to Sabrina's sneaky ways of getting out of her grounding, Zelda and Hilda decide to split up, with Hilda moving into a townhouse of her home. The Witches Council demands that Sabrina choose which of her aunts she wishes to live with. Kenan and Kel (of Nickelodeon fame) make a guest appearance, as does drag queen RuPaul in two forms.

25. Rumor Mill (21:42) (Originally aired May 8, 1998)
To fulfill the community service requirement for her witch's license, Sabrina volunteers at a rumor mill alongside a fellow Massachusetts resident (Donald Faison, then of "Clueless" and now on "Scrubs"). Unexpectedly, the rumors they spread about people they really know come true, turning Salem into a mafia don, Harvey pregnant, and Libby homeless, while also making the vacationing Zelda and Hilda alien abductees.
26. Mom vs. Magic (21:43) (Originally aired May 15, 1998)
Mother's Day and difficult decisions are at the foreground of this season finale. Sabrina must choose Dashiell or Harvey as her boyfriend. She also has to give up either ever seeing her mother again or having magic powers. Also, Salem's mother visits him, while Zelda and Hilda take a trip to their mother's house.
VIDEO and AUDIO
Like the '90s sitcom that it is, "Sabrina" is presented in 1.33:1 fullscreen. Picture quality tends to be quite good, lacking the inconsistency, evident thriftiness, or overly digital look of some of its kin from other studios. It's a little grainy and doesn't boast the sharpness or detail of a feature film, but by and large, the visuals are pleasing to the eye and match the appearance of original broadcasts, only enhanced by DVD's higher resolution.
The lone audio option is a Dolby Surround soundtrack, which serves up the typical sitcom mix with some very slight reinforcement on the theme tune, select music numbers, and the rare sound effect. The presentation is a slight cut above ordinary, with the elements -- crisp dialogue, sharp sound effects, occasional song, and the unique laugh track of audience amusement in short, subdued bursts -- all registering terrifically. The biggest drawbacks are the lack of an English subtitles track (the provided closed captions do the job instead) and, once again, those unfortunate music substitutions.
BONUS FEATURES, MENUS, PACKAGING and DESIGN

Sadly, there are no bonus features whatsoever found here. For a show that ended just four years ago that's popular enough to release on DVD, the empty extras slate is fairly inexcusable, though it's not all that uncommon for retired sitcoms. There definitely is no shortage of content that could have been provided, like the bumpers from the night that Salem hosted TGIF, a featurette on the comic books that inspired the series, or an episode from either the '70s or more recent cartoon series.

We don't get anything of the sort, presumably due to a low DVD budget and an apparent hesitance to dabble in rights-wriggling.

With no set-up options to worry about, the still, silent menu screens are just about as simple as possible, merely supplying a star or group cast image, a list of episodes on that disc and the ability to "Play All." Should you select the Previews button upon the insertion of Disc One, you're treated to a single promo which spotlights eleven TV comedy series of the past available on DVD from Paramount.

The four discs of The Second Season are packaged in a standard-sized keepcase, with Discs 2 and 3 held in a swingable flap in the center. The transparent nature of the keepcase allows episode descriptions to be seen when the discs are moved. The only insert is an annoyingly unfixed, double-sided order form for Archie Comics subscriptions and the company's first ever Sabrina graphic novel. Chapter stops appropriately coincide with commercial breaks, with four per episode.
CLOSING THOUGHTS
"Sabrina, The Teenage Witch" is, at least in its second season, a pretty entertaining and fun modern sitcom. Unfortunately, shy of not being released at all, this '90s/'00s comedy has been treated to nearly the worst DVD treatment imaginable, with a few missing scenes, a slew of disappointing music replacements, non-competitive pricing, and nary a bonus feature. Fans are bound to be thrown into dilemma: is it worse to go without "Sabrina" on DVD altogether or to pay the relatively high asking price for an inferior presentation with the hopes that future seasons are made available, maybe even in a better fashion? That's one for you to decide, knowing that ABC Family airs an hour of reruns each weekday and that while the series and Season 2 deserve moderate praise, this DVD release merits scorn for all but fine picture and sound.