DISC 2
Disc 2 opens with another Leonard Maltin intro (2:48) that speaks up for the merits of the non-classic cartoons compiled on this set and discusses the commentary participants, identifying the speakers and recommending them based on their positions (many of the tracks are only on the other disc, however).
THE SHORTS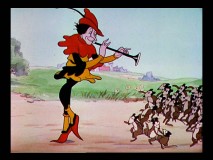 Birds in the Spring (1933) (7:15)
Three baby birds are hatched and they quickly develop into fledglings. Assorted hijinks ensue, and one of the birds gets separated from its siblings, bringing out a couple of close calls with a snake and a swarm of bees.

The Night Before Christmas (1933) (8:28)
Clement C. Moore's famous poem is loosely brought to life, as Santa Claus arrives at a house and does his gift-giving thing.

Though the jolly fat man lets out plenty of laughs, much of the focus is given to the toys who march out of St. Nick's bag and decorate the Christmas tree.

Old King Cole (1933) (7:28)
The Pied Piper, Little Boy Blue, Old Mother Hubbard, and their entourages are among the many characters from nursery rhymes and folktales who show up at Old King Cole's castle for his annual jamboree. From Humpty Dumpty to Three Blind Mice, a number of the recognizable personalities put on brief stage acts, emerging from Pandora's Box to delight the merry old soul with song and dance.

The Pied Piper (1933) (7:32)
With his town plagued by widespread rat infestation, the mayor of Hamelin enlists the services of the Pied Piper, who vows to rid the area of the rodents in exchange for a bag of gold. When the Piper delivers on his promise but fails to get paid, he uses his patented piping to lure away the children of Hamelin to Happyland, never to be seen again.
The Goddess of Spring (1934) (9:33)
With little demons by his side, a devil shows up and whisks away Persephone, the eternal goddess of spring, to make her his queen of the underworld Hades. The story unfolds with operatic singing, one of several aspects that make this short feel like a forerunner to Snow White and the Seven Dwarfs, the 2001 Platinum Edition of which it earlier surfaced on.

Cock o' the Walk (1935) (8:23)
A small bird town welcomes Cock o' the Walk, the world champion fighting rooster. His dancing with a hen sets the town in rhythm, but when the hen's gangly guy shows up, he ignores the odds and challenges Cock to a showdown.

Three Blind Mouseketeers (1936) (8:43)
The nursery rhyme "Three Blind Mice" and Alexandre Dumas' novel The Three Musketeers are oddly blended together here. While smelling their way to cheese acquisition, the titular trio narrowly avoids danger plotted by Captain Cat, who naturally gets a violent comeuppance.

Little Hiawatha (1937) (9:09)
A little Indian boy who is supposedly a brave hunter can't bring himself to take aim at any woodland creature. His reluctant hunting is rewarded when his forest friends help him escape from an enormous and irate brown bear.
Merbabies (1938) (8:34)
There's nothing even resembling a plot in this whimsical cartoon centered on cherubic young merpeople who live deep in the sea. They have fun with other aquatic creatures in an underwater circus, frolic among bubbles (that apparently give and take their lives), and nearly get swallowed by a whale, looking cute all the while. This is noteworthy for being one of the only Disney shorts from Walt's time to be outsourced; MGM's Hugh Harman and Rudolph Ising animated it at their cleverly-named Harman-Ising Studio.

Moth and the Flame (1938) (7:44)
Seeking refuge from the snowy cold, a swarm of moths finds a way into a costume shop and quickly feast upon the merchandise. Our attentions turn to a female moth -- who is targeted by a persistent, villainous flame -- and the goofy-looking male who tries to rescue her.

From the Vault finds

the same non-skippable but quickly-fast-forwardable 108-second disclaimer given by Maltin separating you from the shorts.

King Neptune (1932) (7:12)
When a band of rowdy, drunk pirates captures a mermaid, various inhabitants of the ocean wage war against the plunderers. Initially sidelined by a ship's anchor, giant sea royal King Neptune breaks free and puts and end to the fighting. It's unclear what merits the vault status: it's probably either the pirates' inebriated behavior or the fact that the mermaids don't wear bras (but then, they don't have nipples).

Santa's Workshop (1932) (6:38)
It's Christmas Eve at the North Pole. Santa reads letters from children and determines what to give them. The elves work hard to make toys, which Santa approves of before setting off. Among the toys marching into Santa's bag is a black doll which does the old "Mammy" gag.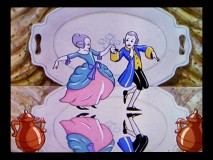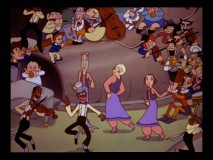 The China Shop (1934) (8:23)
Another short in the "when the owner's away, the shop will play" mold, this one finds an assortment of china creations coming to life at night. A green devil tries repeatedly to separate the central couple -- man and woman figures dressed in colonial garb. I can't figure out why this one is deemed "Vault" material and I sort of feel dirty looking for offensive material like the way the designation naturally compels us to.

Broken Toys (1935) (7:54)
Led by a sailor doll, various toys in various states of disrepair band together and vow to escape the garbage dump they call home. Among the misfits are two offensive black characters (one modeled after Stepin Fetchit's "Laziest Man in the World" persona, the other a "mammy") and a caricature of contemporary actress Zasu Pitts. For once, the former elements truly do mar the proceedings.

Three Orphan Kittens (1935) (8:55)
A trio of abandoned kittens wander into a house and comic domestic adventures ensue, involving things like a pie, salt, a doll, a feather, and a player piano. A mammy gag and the presence of an actual mammy must explain why this short's here.

More Kittens (1936) (8:11)
The orange, gray, and black kittens are back and, after the mammy kicks them out, they're outside. There, they encounter a large St. Bernard, a snapping turtle, a pesky fly, and a taunting blue bird.

Mother Goose Goes Hollywood (1938) (7:54)
This is less an inspired collection of nursery rhyme twists than it is an opportunity to caricature figures who were movie stars at the time. Among those depicted are Katherine Hepburn, Spencer Tracy, Laurel and Hardy, the Marx Brothers, Charles Laughton, Clark Gable, Charlie McCarthy (Edgar Bergen's ventriloquist dummy), Fred Astaire, and Donald Duck. It's "vaulted" because of a blackface gag and its depiction of some questionable contemporary black personalities.
VIDEO & AUDIO

The shorts of More Silly Symphonies are extremely old, so lacking picture can be forgiven to some degree; it's important to understand going into this that the films are old enough to look like the much younger, less-restored cartoons found on dollar DVDs.

Though all of the shorts are what we'd consider "fullscreen", most are slightly windowboxed on all four sides and measure in a bit off from either 1.33:1 or the 1.37:1 Academy Ratio that was standardized just before halfway into the Symphonies' run.

As you'd expect, the picture and sound quality exhibited by the cartoons tends to reflect how old they are. Disc 1 holds the elder shorts and they are in the worst shape. Some -- like Summer, The Fox Hunt, The Spider and the Fly and Bugs in Love -- fare pretty well, with transfers satisfyingly clean for 75-year-old films. Others -- such as Springtime, Autumn, and Playful Pan -- are worse for the wear, displaying heavy scratching, lots of artifacts, and a fair amount of flickering.

Other minor and typically isolated issues that arise on Disc 1 include: jumps in picture (Winter), recurring jitters (Monkey Melodies, which seems to derive from an atypical and inferior source), minor moiré effect (Arctic Antics), frayed edges (widespread), heavy grain (Night, perhaps due to its dark setting), speckles (Merry Dwarfs, also marred by print flaws that last for the entirety of a shot), splotches (The Clock Store), mild fluctuations, and slight blooming brightness (The Bird Store). Don't let that list scare you off. If everything was perfect, I could sum that up in a single sentence and as most of today's DVDs give me little to say on video, I've got to mention phenomenon like these in the rare instant they're encountered. As plagued as Disc 1's shorts are, it is evident that restoration work has been done. It may not be on par with earlier Treasures remasterings, but most of those cartoons are older (and in film preservation, a few additional years can amount to a lifetime of difference in source materials) and rarer than other animated subjects.

Disc 2 makes the leap to color and its cartoons fare much better. Though these shorts are not without some shortcomings, they doubtlessly look the best they have since their original theatrical exhibitions. Though it's unfair, for space considerations, I shall not mention all the ones that look quite good; I can say that Merbabies, King Neptune, and the pair of Kittens 'toons all are quite impressive in presentation. However, not everything on the second platter summons universal praise in the appearance department. Little Hiawatha seems a little out-of-focus, Goddess of Spring has a yellowish tint and looks slightly soft and lacking, while Birds in the Spring shimmers in part of the frame at times.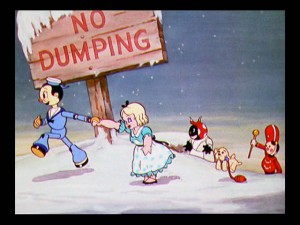 On the whole, I'm quite content with the visuals here. Were I the set's teacher, a grade of "B" to the entire lot would seem fair without knowing specific obstacles being overcome. Naturally, that "B" is an average; some deserve higher marks, some lower.
There is less to say, but still more than usual, about the audio. As is just about always the case for Disney animated shorts, these were originally presented in monaural sound and thus appear in a two-channel Dolby mono soundtrack on disc. The dynamic levels are not always consistent; some shorts need to be turned up, others turned down. From menus to shorts to supplements, the volume can run quite a range and while it's not more than mildly inconvenient, it's probably something that could have been easily addressed.
Predictably reflecting the video quality, the audio tends to be without issue on the later Symphonies but more of a cause for concern on the earlier productions. Distortion isn't uncommon and it makes the age of these shorts known, as if that wasn't already clear. Hiss also turns up on a number of the cartoons, ranging from slight (Bears and the Bees, Spider and the Fly) to more severe (Playful Pan, El Terrible Toreador). In most of the cases, like Autumn, the soundtrack comprised of little but music remains sufficient in spite of the constant presence of hiss. Accompanying the hiss on certain shorts are some mild pops or static, which can be disconcerting. Gladly, these instances tend to be few and far between, much unlike being close to a bowl of Rice Krispies. As far as the audio concerned, there are definitely more problems than I expected, but I guess "age" and "poor sources" must again be the defenses for any shortcomings.
Perhaps Treasures sales are insufficient to justify expensive, time-consuming, all-out restoration work. This theory might be supported by the unusually low print run and now Leonard Maltin-declared end to the line. If cost-juggling was indeed an issue, it works the customer into a bind, having to choose between supporting the project and buying less than ideal presentations. An obvious alternative would be to raise the list price (something that hasn't ever been done for the Treasures) and assume that the dedicated fanbase would still be willing to spend the difference. Of course, the increase in price would deter some purchases. Dilemmas like these are why there are marketing departments. It's just too bad when they get in the way of what should be an ideal studio-to-customer transfer of quality, time-tested entertainment.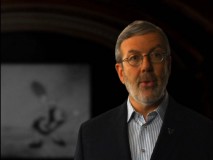 BONUS FEATURES

Disc 1 only has one type of bonus feature, but it is one which has been underserved by the Treasures line until now. I'm talking about Audio Commentaries, of which there are a surprising twelve tracks on eleven different Disc 1 shorts given by Leonard Maltin and various historians of animation, music, and comic books. Disc 2 has an additional eleven audio commentaries on as many different shorts, meaning altogether, more than half the set's shorts are remarked upon.

It's not clear why they are arranged in the order they are; nevertheless, an included "Play All" option is appreciated. Unfortunately, commentaries to the cartoons designated "From the Vault" (which are plentiful) are only accessible from the Vault menu.

The quality of the commentaries is rather a mixed bag and that's chiefly due to the various speakers. Perhaps because of his impressive body of achievements, legendary Disney songwriter Richard Sherman's two tracks (on Old King Cole and Three Orphan Kittens) are among the better ones; his cheerful reflection on personal inspirations and anecdotes about Walt are a treat. Also especially interesting are the six tracks that Treasures emcee Leonard Maltin contributes his thoughtful observations to: Mother Goose Goes Hollywood, Winter with cartoon music buff Daniel Goldmark, Broken Toys with animation historian Jerry Beck, Santa's Workshop edited with author JB Kaufman, and, with Disney comics expert David Gerstein, The Spider and the Fly and the original cut of Cannibal Capers.

Perhaps a lack of experience or a distance from the material explains why most of the other commentators are not as captivating. Not all are dull, however. On Monkey Melodies and Bugs in Love, Gerstein seems to be working from a script; his preparation pays off in the light he sheds (among other things, on print careers of characters beyond their shorts) and he kindly aims to amuse at points. Four solo tracks (The Fox Hunt, El Terrible Toreador, Cock o' The Walk, and Merbabies) find Kaufman both highly informative and fascinating in a historical storytelling kind of way. The other three speakers are less exciting: the slow, boring speech of musicologist Ross Care hinders the score observations he makes in five solo tracks (Night, The Clock Shop, Bugs in Love, The Pied Piper, and Moth and the Flame); Goldmark (alone on Springtime, The Goddess of Spring) is only slightly stuffy in his largely context and comparison-based remarks; and Beck (Midnight in a Toy Shop, King Neptune) dryly alternates between name-dropping and obvious notes.

While the enthrallment offered is sporadic, the commentary format applies well to these shorts, since the brief runtimes don't require much commitment and don't entail a lot of dead space. Naturally, the talk about which animator did which bits and what other films they worked on gets somewhat repetitive and it's never as stimulating as more general or cartoon-specific insight (which Maltin is best at). But on the whole, there are enough rewards to reap in investing the hours of listening, especially if you can spread them out over time. It's inevitable that these tracks will make others wish there were more on past Treasures tins. As a final word on the commentaries, it's curious how in pondering sensitivities, Maltin and company point out a number of potentially offensive things that you might not otherwise notice or consider remarkable.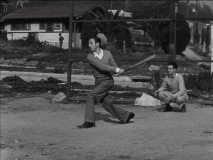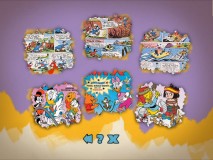 The featurette "Silly Symphonies Rediscovered" (14:30) looks at the series as a whole, with clips and comments from authorities on the subject, several of whom contributed to the commentaries. The piece covers the cartoons' technical innovations, the music employed by Carl Stalling and Frank Churchill, the stories, and the connections (both creatively and in personnel) to Disney's early feature films, specifically between The Goddess of Spring and Snow White. Among those interviewed -- mostly animation, film, or music historians -- are Daniel Goldmark, Russell Merritt, JB Kaufman, Jerry Beck, Ross Care, Disney composer Richard M. Sherman, and David Gerstein. Like the commentaries, this is somewhat dry but informative.

"Animators at Play" (6:08) offers some recently-found footage of Walt and his staff playing a game of softball during one lunch hour in the winter of 1930-31. The semi-interesting black and white material (which even has sound) is narrated by Leonard Maltin, who points out a number of individuals (among them, Roy O. Disney and "Mooseketeer" Roy Williams) and makes some obvious observations.

Finally, there are three galleries. "The Art of the Silly Symphonies" holds 80 stills, most of which are black & white pencil drawings of elements and backgrounds, with a few model sheets and some color artwork thrown in for good measure. They appear to be arranged chronologically and though they are not identified by the short they come from, most of the time, that is obvious.

"Silly Symphonies In Print" offers 30 single-page comics and stories adapted from the shorts series in the 1930s. Each is accompanied by many colorful images from the 'toons, many of which were part of the first Silly Symphonies Treasure rather than this follow-up. "Sunday Funnies and Comic Books" provides 66 images of panel comics (some color, some black & white) of Pluto cartoons and Silly Symphonies, which are also not limited to this set's featured 'toons. This section also includes covers of the excerpted Disney comic books.

An Easter Egg can be found on Disc 1, on either the first page of the Alphabetical Listing menu or the second/final page of the Chronological Listing menu - after a 40-second intro on foreign language versions of films, a French version of Little Hiawatha (9:09) plays. There are no English subtitles or anything, but of course, the cartoon is still very visual in nature, so following along without the narration isn't too difficult.

Like all the Treasures that have come before it, More Silly Symphonies opts for simplicity in its menu scheme, with bright colors, relevant artwork (one featured short per menu page), no animation, but (potentially jarring) loud instrumentation.
CLOSING THOUGHTS
While the short films of More Silly Symphonies aren't as renowned on the whole as those of the first Silly Symphonies Treasure, this set is a lot more accessible and, thus, a lot more affordable. This, coupled with the fact that not all Disney DVD collectors were in the game in 2001, makes it both viable and understandable to pick this up without owning its predecessor. Meanwhile, it should be a no-brainer for those who do own the original Silly Symphonies release to also own this, which improves upon the earlier set with a lack of frustrating Easter Eggs and complements it with its non-overlapping content.
The age and style of the Silly Symphony shorts may pose a challenge to some viewers, but they also offer a welcome departure from today's talkative animated films. The variety found in the contents is also worth something; from well-realized adaptations of fairy tales to seasonal and holiday cartoons to medleys of animal antics, you are not repeatedly treated to the same formula dressed up in different clothing. Not every short in the set is going to be one you yearn to see again and again, but many of them are ripe for repeat viewings either on their own or in a group selected by you.
Though the video and audio quality do not uniformly dazzle the way they have on Treasures of younger and more familiar 'toons, they reflect a significant amount of restoration work has gone into this product. Likewise, the bonus features illustrate further effort and if not ideal, they're a pretty good gravy. Not every commentary is a home run, but they add insight and value, as does the featurette and, to a lesser degree, the gallery and animator footage.
In short, based on content and presentation, More Silly Symphonies is a clear winner like most of the Treasures that came before it. It'd be a real shame if this is the last we see of such fine, collector-serving releases.