Before Walt Disney found that there was indeed a market for feature-length animation and before his studio relied on a small roster of popular personalities to headline nearly all its cartoon shorts, there were the Silly Symphonies. Introduced in 1929, Silly Symphonies were simple animated shorts, set to music and largely free of dialogue. The earliest cartoons were in black and white and ran about 5 to 7 minutes each. More interested in exploring a universe or creating a mood than telling a story, the Silly Symphonies offered a way for Disney animators to hone their skills.

The brand of entertainment found in the shorts, especially the earliest in the series, may seem primitive or old-fashioned by today's standards. But there is no shortage of factors which grant these 68-years-and-older works a compelling nature: their innovative contributions to the medium that paved the way for animated features, the peeks they allow into the minds of early-20th-century American filmmakers,

the audience tastes they reflect in their subject matter and sense of humor, and so on. For fans of animation in general, the Silly Symphonies are historically significant for the advances they brought to the field. For Disney enthusiasts, they excitingly represent some of the earliest work to come from Walt Disney and his studio, marking the start of an animated legacy that many consider unparalleled. The fact that the films' artistic achievements (and often, their tales) are still able to impress modern viewers only furthers their appeal.

It had been five years since a collection of Silly Symphonies came to DVD. They did so as part of the debut wave of a collector-tailored series called the Walt Disney Treasures. In all, that set -- titled Silly Symphonies: The Historic Musical Animated Classics -- held thirty-seven of the 75 cartoons issued in the line's ten-year run that concluded in 1939. For years, fans of vintage animation wondered if (and when) the remaining 38 shorts would surface in a proper compilation of their own. Then, last month's wave of Walt Disney Treasures -- the sixth and apparently final in the tin-housed, limited-issue series -- included More Silly Symphonies, Volume Two: 1939-1938. Unlike its predecessor, which required some elaborate remote control sequences to access a handful of deeply-hidden cartoons, More Silly Symphonies lays out its contents in a clear, logical fashion.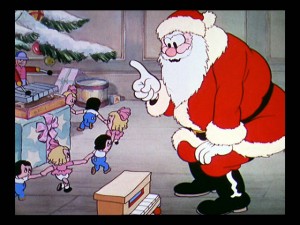 Though not as one-dimensional as the formulas applied to some of Disney's character-based series shorts, some patterns inevitably emerge in the course of viewing nearly forty Silly Symphonies. The one unifying trait -- animated antics set to music -- foreshadows a subsequent project that many consider among Walt Disney's most crowning: Fantasia. The seeds of that unique 1940 fusion of classical music and cartoons are unmistakably present in some of the Silly Symphony subjects found on this set.
Also included here are seasonal shorts, one for each of the four distinct times of year. In these and many others, animals commonly comprise the cast. Among the more commonly-depicted ones are bugs and small creatures like cats and birds. Many of the animals, from bears to skunks to squirrels, have simple, rounded faces which make them Mickey Mouse look-alikes. Other recurring themes include a boy and girl couple at the center of events and a kindred group uniting together to beat a much larger villain. Certain gags turn up repeatedly, such as one in which characters resort to removable teeth in defending themselves.
Some of More Silly Symphonies' works are more narrative than others. Generally, time finds the series evolving and improving. By the mid-1930s, Silly Symphonies ran around 8 to 9 minutes in length. The extra minutes benefit the storytelling, so that later shorts rely more on familiar tales than simple atmosphere and gags. As such, these later cartoons will hold up as the more entertaining to audiences used to narrative animation, though some may deem them less remarkable on account of what can today be perceived as conventionality.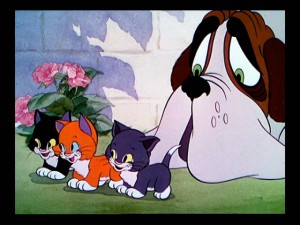 With many of the most famous and

landmark Silly Symphony cartoons (such as The Skeleton Dance, Flowers and Trees, and Three Little Pigs) included on the first volume, More Silly Symphonies may not arouse the hardcore Disney fan based on titles alone. The casual or contemporary Disney fan, both of whom are likely to be more familiar with the yesteryear shorts featuring characters still frequently employed today (Mickey Mouse, Pluto, Donald Duck, etc.), may need some prompting to care about and discover the cartoons of More Silly Symphonies. Nevertheless, all three of these demographics (and most others that any reader could fit themselves into) stand to enjoy these enduring creations on at least some level.

PACKAGING

As usual, one cannot talk of the Walt Disney Treasures without addressing something of concern to its target audience: physical presentation. Wave 6's releases stay very close to the previous wave in terms of packaging. More Silly Symphonies arrives in an embossed tin that's not quite as impressive as those of Silly Symphonies and other Wave 1 sets: there's no engraved individual copy number, the overview on back is thin cardboard flimsily attached by two tiny pieces of sticky goo, and there is no blue wrap-around to contextualize and talk up this set. Inside the tin, however, one finds the usual goodies inside the case, now a black double Alpha. There is a certificate of authenticity proclaiming your set's copy number out of the surprisingly low 65,000 produced, an eight-page booklet offering line and set-specific information from Leonard Maltin, and a piece of collectible artwork. That last element is a postcard reproducing poster artwork for the 1930 theatrical release of Summer (presented by Columbia Pictures).

DISC 1

Disc One opens with the typical introduction (1:58) from Leonard Maltin, in which he describes the series and its significance in animation history. He also points out that these cartoons are rare and many have needed to have their original title cards reproduced to the best of their abilities. The first platter holds 21 unique shorts, plus an alternate version of one of those. Most -- 17 to be precise -- of these are accessible from either the Chronological or Alphabetical Listings offered by the menu. The remaining four (plus alternate) are designated as "From the Vault" due to content concerns.
Hell's Bells (1929) (5:49)
What better way to start this collection than in Hell with the eternally damned? Among the condemned animated to the music are a dragon cow, a three-headed dog, and various demons and devils. The melodies include Charles Gounod's "Funeral March of a Marionette" (a.k.a. the theme to Alfred Hitchcock's TV shows) and Edvard Grieg's "Peer Gynt."
Springtime (1929) (6:14)
Bugs and birds dance to melodies until a rainstorm breaks out. When the rain lets up, the dancing returns, now set to "Dance of the Hours", which would famously accompany the hippo and ostrich segment of Fantasia.
Arctic Antics (1930) (7:00)
This likable piece lives up to its name by serving up sample shenanigans from creatures of the cold. Polar bears resembling Mickey Mouse keep afloat on chunks of ice, seals pursue and taunt fish, penguins march and waddle in unison. Just another day in the arctic.
Autumn (1930) (6:31)
An assortment of animals rhythmically prepare for winter in a variety of ways. Mickey-esque squirrels stock up on nuts and corn, crows do some plundering, a porcupine picks fruit, and ducks fly south. Meanwhile, falling leaves give way to snow.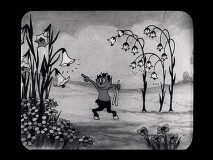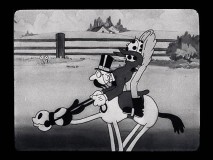 Playful Pan (1930) (6:56)
A faun plays his woodwind instrument to the amusement of all those around him, from a self-dividing caterpillar to dancing trees.

When butt-kicking clouds join in, however, they generate lightning which sets the forest ablaze. It's up to Tumnus' ancestor to charm away the flames.

Summer (1930) (5:52)
A number of insects celebrate the season: from pollinating flowers to melodic flower-bouncing to circus-type acts. In the climax, four mischievous flies team up to transport a spider.

The Cat's Out (1931) (7:17)
On a night outside the house, a cat's safety is repeatedly threatened by birds, bats, spiders, and trees.

The Clock Store (1931) (7:11)
From wrist watches and cuckoos to grandfather clocks, all kinds of timepieces show spunk, whether dancing or fighting, in this silly short.

The Fox Hunt (1931) (6:21)
A group of men (the most prominent of whom is both monocled and mustachioed) ride horses after dogs who are chasing a fox. Sight gags abound in the comic pursuit.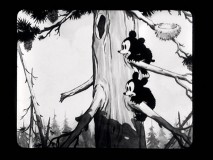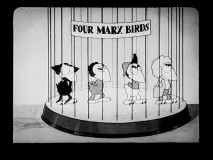 The Spider and the Fly (1931) (7:12)
When one female member of a fun-having, jam-eating group of flies gets captured by a grouchy spider, war ensues. The tiny troops' arsenal includes dragonfly-aided air raids, fly paper, bug spray, and matches. That spider hasn't got a chance!

The Bears and Bees (1932) (6:18)
The adventures of two bear cubs bring angry bees to a targeted honey tree. Fortunately, the massive swarm's sights are not set on our playful protagonists, but a monstrous elder bear.

The Bird Store (1932) (6:50)
It's like The Clock Store, only with birds. An assortment or birds (including Four Marx Birds) chirp, honk, caw, and whoop in their cages. When a cat gets in the shop, the birds unite against their common enemy.

Bugs in Love (1932) (7:02)
A multitude of bugs enjoy themselves around tiny household objects. Among them are two lovers who become tormented by a crow. As per tradition, the bugs join forces to help the threatened couple and fight back against the bird.
Frolicking Fish (1932) (6:04)
This short lives up to its title

by delivering exactly what's promised. Some of the ocean floor's numerous dancing fish get hunted by an octopus.

Monkey Melodies (1932) (6:57)
Monkeys dance and make noise in a tree. Our focus turns to a banana-gifting couple, who are threatened by dancing crocodiles and a snake.

Night (1932) (6:53)
Frogs, owls, fireflies and the moon are among the night prowlers seen here, many of them dancing and harmonizing. The short opens with portions of Johann Strauss's well-known "Blue Danube" waltz.

Winter (1932) (6:51)
Assorted animals brave the snowy cold and then make the best of it with ice skating and other fun winter activities, like getting insight from weather prophet Mr. Groundhog.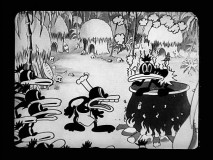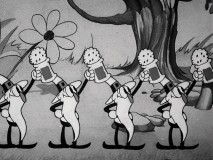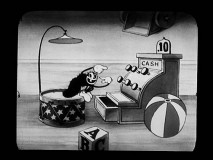 From the Vault brings up the typical "society was different then" introduction (1:48) from Maltin, which also points out Hollywood caricatures and stereotypes to look out for. Though this can not be skipped altogether, it can be fast-forwarded which on a skillful player can take as little as two seconds.

Cannibal Capers (1930) (5:59)
An island of cannibals is the subject of this short. They dance and dabble in other leisure activities, occasionally set to George Bizet's "Carmen." A lion goes after one of the natives and has the table turned on him.

Cannibal Capers (with original ending) (6:16)
Things play out in the same unextraordinary fashion,

only the last 17 seconds find the lion's comeuppance further illustrated by butt-biting teeth. In an 18-second intro, Maltin explains the original short was trimmed for airings on the 1950s "Mickey Mouse Club."

El Terrible Toreador (1929) (6:16)
The first half of this cartoon depicts goings-on at a restaurant; the second, a bullfight. It's not clear if it's the semi-chauvinistic patron/waitress antics or the pair of butt-biting teeth which require "vault" designation for this, the second Silly Symphony produced. Maybe it's a bit of both.

The Merry Dwarfs (1929) (5:59)
Bearded dwarfs work and play. Playtime includes beard-dancing as well as downing beer quickly and methodically. Two of the pointy hat-wearing men manage to get themselves inebriated.

Midnight in a Toy Shop (1930) (7:34)
A spider escapes the cold by sneaking into an uninhabited toy store. There, he samples the merchandise, some of which comes alive and dances (including a "mammy"-saying caricature black doll). The explosive finale finds the spider chased by firecrackers.

Buy More Silly Symphonies from Amazon.com

NEXT >>
ONTO PAGE TWO