The production of Disney animation slowed to a crawl in the late 1960s through the early 1980s. In that time, fans of the tradition would only get a new taste every few years. Nonetheless, audiences would also get treated to another serving of past films reissued every so often,

including many that would be new to young moviegoers. After Robin Hood's debut in November of 1973, American theaters would go more than three full years without a new Disney feature cartoon. Those years would return the likes of Alice in Wonderland, Bambi, Snow White and the Seven Dwarfs, and Peter Pan to the big screen. Finally, June of 1977 would bring about an all-new animated feature in The Rescuers.

Three months earlier, Disney had offered something in between a reissue and a new release. The Many Adventures of Winnie the Pooh took three 25-minute featurettes released theatrically from 1966 to 1974 and bundled them into one narrative feature. This wasn't some scheme designed to trick the public into paying to attend something they had already seen. Instead, it was the destination decided upon by Walt Disney when he bought the screen rights to the property back in 1961.

A.A. Milne's children's books about the animal friends of a boy based on his son were beloved in England, but not nearly as popular or famous in the United States. So Walt, being the savvy businessman he was, decided to ease American viewers into the universe, one 25-minute short at a time. Winnie the Pooh and the Honey Tree would play before the 1966 live-action comedy The Ugly Dachshund. Winnie the Pooh and the Blustery Day preceded another Dean Jones film, the Christmas 1968 release The Horse in the Gray Flannel Suit. Blustery bore the penultimate producing credit of Walt Disney, who had died two years earlier, and would proceed to win him his 22nd and final competitive Oscar, a record in absolutely no danger of being bested in our lifetimes. The series drew to a close with Winnie the Pooh and Tigger Too, a short that joined the fantasy adventure The Island at the Top of the World in theaters.
Many Adventures plays those three episodes in the order they were created, their book-incorporating presentations requiring no transitions. It tacks on a couple of minutes of new closure-providing material at the end.

Its feature form would come to assume the 22nd entry in Disney's esteemed feature animation canon.

That was not Disney's usual creative process and they haven't made any other film in a similar way. But though it was produced and unveiled in thirds, Many Adventures feels entirely like a coherent narrative feature and the best that Disney released in at least the more than twenty years surrounding it. Not since The Jungle Book (1967) and not until The Little Mermaid (1989) would the world see another Disney film as charming and magical as this one.

After opening in the bedroom of Christopher Robin, we're taken to the Hundred Acre Wood, the serene and colorful universe of the boy's imagination. Though he is the foundation of this world, it is the anthropomorphic animals based on his stuffed dolls who feature more prominently. "Most of all", of course, is Winnie the Pooh himself, a red-shirted bear of little brain with a ravenous appetite for honey.

The first third deals with Pooh's taste for the sticky stuff. After just enough exercise to put a "rumbly" in his "tumbly", Pooh finds he's all out of honey. So, he rolls around in mud, grabs a blue balloon and disguises himself as a little black raincloud, a stunt that the bees in the honey tree he targets do not appreciate. Pooh proceeds to visit his farmer friend Rabbit, whose every pot of honey he devours. That binging leaves Pooh even rounder than usual and gets him stuck in Rabbit's front door, a long ordeal that demands brainstorming and the services of Gopher, a whistly help we're repeatedly reminded is "not in the book."

The Oscar-winning second third gives this film a wondrous center. Following a blustery "Windsday" that lifts Pooh and his diminutive best friend Piglet to the house of tale-telling Owl, this section introduces Pooh to Tigger, a bouncy neighbor whose late night visit worries Pooh of honey-thieving "heffalumps and woozles." The next day, the heavy rains and winds have led to a flooding catastrophe that puts Piglet in need of a heroic rescue.

Finally, the and Tigger Too portion finds Tigger's neighbors getting fed up with his reckless bouncing and hatching a plan to get him to settle down. It involves young kangaroo Roo and the gang getting lost in the forest.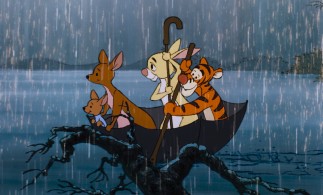 Depending on your familiarity with Disney's Pooh, Many Adventures may surprise you. This film and the shorts that make it up are excellent pieces of all-ages entertainment. Somewhere along the line, Disney lost sight of that and turned these personable characters into titans of the preschool market. That's a demographic no company specializing in family entertainment should ignore. The safe, familiar, wildly marketable, always G-rated adventures of Pooh and friends were a natural draw both for parents and their very young children. So, Disney ran with that, turning the Hundred Acre Wood gang into the company's answer to the likes of Blue's Clues and Dora the Explorer.
Although Walt's animated films relied on wide audience appeal, a model that has helped them endure for many generations, the company he left behind somehow drew the line at Winnie the Pooh. This became a franchise not to invite nostalgia. Adults weren't to share and revisit Pooh with their children. They were to give it to them while tending to more pressing matters. If you saw Piglet's Big Movie in theaters without someone 6 or younger in your party, you were a weirdo.
That's all very strange because the appeal of Many Adventures is far more inclusive. It's not strictly for children but for anyone who ever was a child. Indeed, some of the abundant wordplay and identifiable personalities are lost on those who haven't mastered literacy or encountered many different types of people. This serene animal universe enchants in how it reflects humanity and depicts a child's understanding (or more often, misunderstanding) of it.
From its playful opening song (one of many memorable treasures penned by the era's preferred songwriters, brothers Richard and Robert Sherman) to its beautifully heartbreaking, then-new conclusion, The Many Adventures of Winnie the Pooh is an utter delight, providing comfort and joy to all with its imaginative brand of entertainment.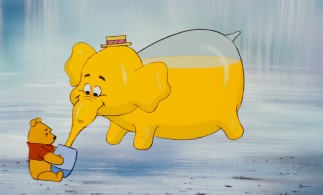 Though I'm not old enough to have experienced these tales when they were new, I feel compelled to liken the Hundred Acre Wood to successful contemporaries, Peanuts and The Muppets. Those character-driven franchises similarly thrived in the '60s and '70s and managed to endure changing tastes and remain relevant to this day.
Thanks to Disney Animation's well-made 2011 film Winnie the Pooh, the "kiddie fare" stigma of this universe has been lifted somewhat. That is the greatest accomplishment of that John Lasseter-championed labor of love, whose gross has already been tripled by the wretched Planes. There doesn't seem to be any good reason to marginalize Pooh, not when Many Adventures contains characters, songs, and moments that rank among Disney's finest.
While I don't know yet if we've come far enough for an adult to buy this movie without a kid in sight or mind, Many Adventures has hit high definition in a Blu-ray + DVD + Digital Copy set that should quite appease the movie's grown-up fans.
Blu-ray & DVD Details

1.66:1 Widescreen (DVD Anamorphic)
Blu-ray: 5.1 DTS-HD MA (English), Dolby 2.0 (English); DVD: Dolby Digital 5.1 (English)
Both: Dolby Digital 5.1 (French, Spanish)
Subtitles: English for Hearing Impaired, English, French, Spanish; DVD-only: Portuguese
DVD Closed Captioned; Some Extras Subtitled
Release Date: August 27, 2013 / Suggested Retail Price: $36.99
Two single-sided discs (BD-50 & DVD-5)
Thick Blue Keepcase in Embossed Cardboard Slipcover
Also available as New DVD ($29.99 SRP) and on Amazon Instant Video
Previously released as The Friendship Edition DVD (June 19, 2007) and 25th Anniversary Edition DVD (May 7, 2002)
VIDEO and AUDIO

Many Adventures is the latest Disney animated film to pose an aspect ratio conundrum. For a while, Disney's chose to present films made in between Sleeping Beauty (1959) and The Black Cauldron (1985) on DVD in the 1.33:1 ratio

that was long television's standard. They used a wider aspect ratio for The Rescuers (1977), then Robin Hood (1973), then The Jungle Book (1967), and now it seems that every movie from this era will be treated to a widescreen Blu-ray transfer.

The wider aspect ratios, achieved by matting, do correspond to the ones listed on IMDb and that Disney instructed exhibitors to use in original release materials. But they sometimes look cramped. And they raise a question. Why, on such a painstaking and time-intensive medium, would Disney animators work on parts of the frame that would then be missing in theatrical release? Television was obviously a consideration, but home video was not. Live-action films have long and often been shot with a taller frame than intended, but animator compositions are created from scratch and you would think that they would pick a ratio and stick to it.

While the case gives no dimensions, Many Adventures measures to 1.66:1. It's narrow enough for vertical bars to show up on the sides of a 16:9 television with overscan. It seems like a compromise between the 1.33:1 aspect ratio used on the film's two previous DVD releases and the 1.75:1 ratio exhibitors in 1977 were instructed to project it in. We lose some of the frame height from the "full screen DVDs" but not enough to throw off compositions. Since these cartoons were produced over eleven years, it's not even clear if they stuck to one consistent ratio. It would be nice for Disney to shed some light on these decisions instead of just leaving us to guess and then second-guess when they change their policies.

The good news is that Pooh looks great. The sharp and vibrant picture largely satisfies. Background elements are not as well-defined as the animated characters, but this seems to be a feature of the cel animation and not a drawback from the undiscerning digital noise reduction that seemed to plague the recent Sword in the Stone. The imagery does look slightly out of focus at times and doesn't ever look much like film, but the results are comparable to Disney's greatest restorations.

The 5.1 DTS-HD master audio, designated a Disney Home Theater Enhanced Remix, warrants unmitigated praise. Dialogue recordings, music, and effects are nicely and evenly distributed across the full sound field. Each element remains crisp and lively, while the consistent volume levels require no playback adjustment.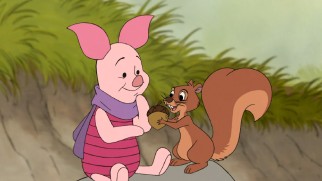 BONUS FEATURES
When Many Adventures first came to DVD, the series' most recent theatrical release was the enjoyable The Tigger Movie and Disney hadn't yet written the line off as preschool fodder. That 25th Anniversary Edition DVD, mostly recreated in 2006's cheesily-named Friendship Edition, provides the satisfactory basis of this unnamed combo pack.
Extras begin with "Pooh Play-Along" (1:47, HD), a short that finds a narrator encouraging you to exercise with the characters. It definitely does its part to undo anything I said about this series not being strictly for young kids. As does a weak implementation of "Disney Intermission", which sees childish activities (e.g. hide and seek, counting honeybees, and guessing games) play when the movie is paused.
Next up come five "Mini Adventures of Winnie the Pooh", 2-2½-minute HD shorts adapted from other Pooh movies, with John Cleese assuming narrator duties. The first four ("If I Wasn't So Small", "Piglet's Drawings", "The Expedition", and "Geniuses") are adapted from the lowly Piglet's Big Movie, while the last one ("The Honey Song") hails from 2011's Winnie the Pooh. This isn't the first time Disney has offered this type of feature, but it still strikes me as pointless. An episode or two of the Emmy-winning '80s/'90s cartoon "The New Adventures of Winnie the Pooh" would have been better and much easier inclusions.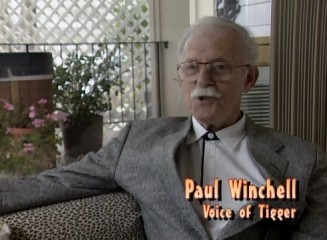 Things pick up in the Classic DVD Bonus Features section, which holds the last three extras.
First up is Winnie the Pooh and a Day for Eeyore (25:23, HD), a 1983 short that is something of a cousin or sequel to the Many Adventures segments. Released with a Sword in the Stone reissue, this featurette sees Eeyore extra gloomy, which Pooh chalks up to everyone forgetting his birthday. It does a good job of upholding the series' standards, despite the elapsed time and some voice cast changes. Kindly presented in HD, A Day for Eeyore raises further questions by appearing in the 1.33:1 aspect ratio.
"The Story Behind the Masterpiece" (25:05, SD) is a remarkably substantial and thoughtful retrospective, which seems quite a bit older than its 2001 copyright date. The best of its kind produced for a pre-Disney Channel animated feature, this piece reflects on the shorts' creations, covering the design, the characters, the voices, and the process, with valuable imagery and reflections from the likes of the Sherman Brothers, voice actors Paul Winchell and Jon Walmsley, Disney Archives director Dave Smith, and animators Frank Thomas, Ollie Johnston, and Burny Mattinson. Meanwhile, clips from the movie help you to appreciate how much better it looks in the Blu-ray's feature presentation.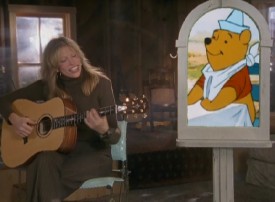 Finally, we get a music video for Carly Simon's cover of the "Winnie the Pooh" theme (2:34, SD), which finds the Piglet's Big Movie contributor occasionally "interacting" with the animated characters.

The discs open with trailers for The Little Mermaid: Diamond Edition, "Jake and the Never Land Pirates", and Planes.

The same three promos play from the "Sneak Peeks" listing along with ads for Disney Movie Rewards, "Sofia the First", Disney On Ice: 100 Years of Magic, and the not-yet-named 2014 Tinker Bell movie (which Wikipedia calls The Pirate Fairy).

The pitiful new DVD drops everything here but one of the Mini Adventures shorts ("Geniuses") and Carly Simon's music video.

WHAT'S MISSING?

Not everything from Many Adventures' DVD editions make it to this set. From the original 25th Anniversary Edition DVD, a sing-along for "The Wonderful Thing About Tiggers" is dropped and surprisingly not succeeded by a sing-along viewing mode. A Pop-Up Fun Facts viewing mode is also lost and not replaced by an equivalent. An art gallery, offered in still and video formats, is missed. "Disney Storytime: Pooh's Shadow", offered in read-along and read-to-yourself formats and the set-top game "The 100 Acre Wood Challenge", are unsurprisingly lost, Disney having moved away from both of those types. Sneak peeks for Piglet's Big Movie and Winnie the Pooh: A Very Merry Pooh Year are no longer needed. The Friendship Edition's episode of "My Friends Tigger & Pooh" is another expected casualty, that CGI television series having been ended for a few years now.

MENUS, PACKAGING and DESIGN

The creative menu features characters while wind blows and an instrumental version of the theme music plays. The Blu-ray does not resume playback, but does remember where you left off in the film if you didn't finish it.

Pooh utilizes a thicker than usual Blu-ray case to accommodate a tangible final extra: a free kite emblazoned with an image of Tigger in the clouds and a pitch for this very combo pack. The case also supplies a pamphlet with your Disney Movie Rewards code (needed not just for points but to unlock your factored-in-to-the-SRP digital copy) and another advertising Disney Movie Rewards. The case is, of course, topped with an embossed slipcover.
CLOSING THOUGHTS

Long underrated for either its anthology status or as the beginning of a kiddie empire, The Many Adventures of Winnie the Pooh seems to grow in stature all the time

and deservedly so, for it is by far the most excellent Disney animated feature of its time.

The aspect ratio raises questions and the loss of DVD extras, most notably a good art gallery, is unfortunate and, based on the ample unused space of each disc, unnecessary. Everything else about this Blu-ray combo pack and its feature presentations will satisfy fans as the film's best release to date. If you only buy one 1970s Disney movie, make it this one. But if you're sticking with DVD for the foreseeable future, then track down one of the film's vastly superior previous releases.

Support great cinema and this site
when you buy The Many Adventures of Winnie the Pooh now from Amazon.com:
Blu-ray + DVD + DC / New DVD / Instant Video / 25th Anniversary DVD / Friendship Edition DVD