The Walt Disney Studios' first animated film to enter production after its namesake died, Robin Hood embodies the stagnant interpretation of "What would Walt do?" that ran the company's flagship tradition into the ground in the 1970s. To blaze new trails would have been to second-guess the leadership of an entertainment visionary unlike any other.

Instead, the Walt-less Disney mostly stuck to making movies they could imagine Walt making in his lifetime. None of the films required heavy creative exertion and none made the instant, lasting impressions that a number of Walt's actual works did. And yet, given some distance and dropped into the context of a division that would be fully revived by the 1990s and has had ups and downs since, the handful of Disney animated features release in the 1970s now seem harmless at worse and underrated fun at best.

It is easy to see Disney's first post-Walt animated features relying heavily on his tastes at the time of his 1966 death. By then, The Jungle Book was nearing completion. When it became a hit, much like 101 Dalmatians had six years earlier, the successors of Walt and his brother Roy (who passed away in 1971) seemed to believe that the way to honor the studio's legacy was with jaunty animal musical comedies. The Aristocats gave us a groovy feline world comparable to the canine universes of Dalmatians and Lady and the Tramp. For Robin Hood, the familiar English legend would be told with an assortment of woodland creatures and wild animals.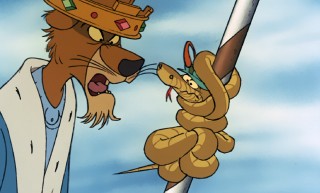 Robin himself would be a fox. As would his true love, Maid Marian. Robin's second in command, the ironically-named Little John, would be a large bear, much like the one Phil Harris voiced in The Jungle Book. Prince John, a lion. Friar Tuck, a badger. The minstrel Alan-a-Dale, a rooster. And so on. Turtles, rabbits, vultures, and a snake would also feature in this, Disney's first completely human-less animated feature.
The story is as you recall. Robin Hood (Brian Bedford) steals from the rich to give to the poor, acts that make him an outlaw in Nottingham, revered by the people but detested by Prince John (Peter Ustinov), a thumb-sucking, tax-obsessed royal filling in for his brother. Robin and Little John are old pros at robbing the haves. Early on, they disguise themselves as Gypsy fortune tellers to alleviate the prince and his snake sidekick Sir Hiss () of some bags of gold coins. By the time they're discovered, they're well on their way to redistributing the wealth.
Robin Hood disguises himself as a stork to compete in the Golden Arrow archery tournament, which offers a kiss from Maid Marian as its prize. Robin's extraordinary display of marksmanship tips Prince John off to his identity. But the fox's imprisonment is short-lived and he soon is reconnecting with childhood love Marian in Sherwood Forest. Prince John proceeds to raise taxes even more and arrests those who cannot pay, even having the Sheriff of Nottingham go so far as to sentence kindly Friar Tuck to death for treason in an attempt to lure in Robin Hood.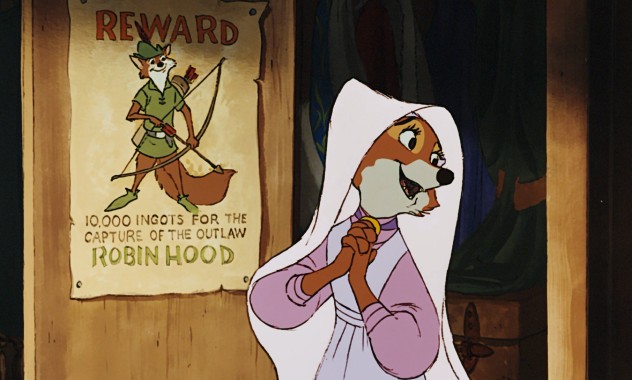 My opinion of Robin Hood has fluctuated over the years. On my first viewing, I enjoyed it as a laid-back piece of '70s family entertainment that coasted on the charms of its characters and music. The last time I revisited it, though,

for Disney's 2006 Most Wanted Edition reissue, I found the movie as underwhelming as the lightweight DVD that held it. This time, approaching Robin Hood as the last of this week's three Disney animated combo packs and as the fifteenth Feature Animation release I've reviewed over the past year, I was able to rediscover some of the film's appeal.

This film clearly does not belong to one of the top tiers of the canon. Walt's spirit may survive in the film, but his absence is still felt. The artistry took a dip in this era, as pencil lines became a defining feature of Disney Animation, frequently showing up for single frames. This was also a period when Disney tried to cut corners, recycling certain bits of animation from earlier films (mostly recent ones, at that), believing audiences wouldn't notice in this pre-VHS age.

Robin Hood is starkly episodic and some of the segments work better than others. The climax, for instance, runs a little long, its excitement remaining mild. Musical numbers are squeezed in, piled on in the second half after a good half-hour following the opening ditties passes without any tunes. The Sherman Brothers, Disney's go-to songwriters during this era, sat this one out, having brought their talents to the Hanna-Barbera cartoon Charlotte's Web and the live-action Tom Sawyer the same year. In their place, we get three casual tunes penned and sung by Roger Miller (who voices Allan-a-Dale) and two compositions by others, including the Oscar-nominated "Love", one of Disney's most dated songs of any era.

The film's shortcomings are noticeable but not too troubling. It's not the tour-de-force that Disney's best movies are, but it is a gently diverting outing fit for a comfortable revisiting on a relaxed Saturday.

This 40th Anniversary Edition presents the film on Blu-ray, DVD, and downloadable digital copy.
Blu-ray & DVD Details

1.66:1 Widescreen (DVD Anamorphic)
Blu-ray: 5.1 DTS-HD MA (English), 5.1 DTS-HD HR (French), Dolby Digital 5.1 (Spanish, Portuguese), Dolby Surround 2.0 (English); DVD: Dolby Digital 5.1 (English, French, Spanish)
Subtitles: English SDH; BD-only: English, French, Spanish, Portuguese
DVD Closed Captioned; Extras Subtitled
Release Date: August 6, 2013 / Suggested Retail Price: $36.99
Two single-sided discs (BD-25 & DVD-9)
Blue Keepcase with Side Snap in Embossed Cardboard Slipcover
Also available as 40th Anniversary DVD + Digital Copy and on Amazon Instant Video
Previously released as Most Wanted Edition DVD (November 28, 2006) and Gold Classic Collection DVD (July 4, 2000)
VIDEO and AUDIO

This combo pack presents Robin Hood in 1.66:1 widescreen. That's in between the 1.33:1 image presented on the film's initial DVD and the 1.75:1 of its second DVD matching the aspect ratio in which exhibitors were instructed to show it. While that is a curious discrepancy, the film does not look too narrow. In fact, it may even seem too wide,

for achieving 1.66:1 requires matting the 1.33:1 frame and hiding some of the makers' artwork. The wider framing does appear cramped at times, with objects approaching the top or bottom of the frame, though it's not as severe as on earlier efforts (The Sword in the Stone and The Jungle Book) that have been treated to different aspect ratios for different releases.

The concurrent Sword Blu-ray posed picture woes apart from framing and its oft out-of-focus look (the apparent byproduct of careless digital noise reduction) was recalled in an early long shot. Fortunately, that was an isolated incident, as Robin Hood mostly looks quite dazzling here. Those single frame pencil lines remain present (as they presumably should), but apart from them and despite the era's reduced artistic standards, the vibrant, sharp, bold, and clean picture makes for the kind of 1080p feast ordinarily reserved for Disney's crown jewels. Both the Blu-ray and DVD offer drastic improvement over the Most Wanted Edition's presentation.

The default 5.1 DTS-HD master audio doesn't give you as much to marvel about, but that is largely because it's an understated remix of a monaural production. While volume levels are good and the recordings are as clear as you expect they can be, nothing about the track really grabs your attention. Disney does supply a number of dubs and subtitles, adding Portuguese to the usual French and Spanish options.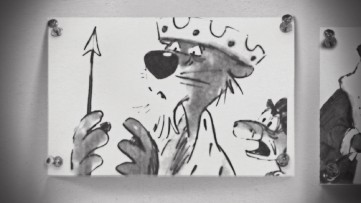 BONUS FEATURES

In surprising contrast to the concurrent combo packs and typical mid-level Disney catalog discs, the Blu-ray's bonus features are assembled with care to ensure that this is,

for now at least, Robin Hood's definitive disc.

The extras begin with "Love Letters" (7:33), a newly produced HD construction of a deleted storyline. It finds Prince John and Sir Hiss forging love letters from Maid Marian and Robin Hood to one another arranging to meet, a trap that requires the services of a singing messenger bird. The voice actors aren't the best, but the unearthed content (conveyed via animated crude concept art) is fun to see.

Next comes the alternate ending (4:34) first shared in 2006, involving King Richard's return. It again is presented via storyboards and concept art.
A Video Art Gallery (8:50) is childishly, but creatively narrated. This hands-free presentation is full of unused ideas, unvisited locations, and alternate designs, as it showcases concept art, behind-the-scenes production photos, posters, holiday promotional artwork, and Disney Parks appearances.
Here's where things start to surprise, as an extra from the movie's original 2000 Gold Classic Collection DVD are amazingly restored. That's a move virtually unheard of for Disney, who has made a habit of not carrying over less significant DVD extras to Blu-ray. Alas, it's hard to get all that excited for the virtual Storybook (14:21), which only provides the "have it read to you" version of this plain retelling of the film.
In addition, though there is the option to watch the entire film with lyric subtitles turning up over the musical numbers and the "Disney Song Selection" feature allowing direct song access, the Blu-ray still provides "Oo-De-Lally" (2:08) in songbook format. Originally produced for I Love to Laugh Sing-Along Songs video, this 1.33:1 video takes clips from all parts of the movie to accompany the Roger Miller ditty.
The 1933 Disney short Ye Olden Days (8:18) is not only presented in its original black & white, but in stunning high definition. This vintage short finds Princess Minnie refusing to marry Prince Goofy (still called Dippy Dawg),

setting up a duel between the prince and Mickey Mouse, who is caught after climbing Minnie's tower in a rescue attempt.

The DVD closely resembles the Most Wanted Edition. It lacks the deleted storyline, the storybook, and the Oo-De-Lally sing along, but retains the other extras plus the games that have not made the leap to Blu-ray.

Two items fall under the heading "Robin Hood's Merry Games."

"Archery Trivia Challenge" rewards knowledge and speed. You answer a series of multiple choice questions about the movie, gaining the most points for responses that are quick and correct. Racking up 400 points gets you in Robin Hood's band; in other words, you win. (Your prize? A return to the menu.) For most, that ends the game after just four questions. For the young (the game's obvious target), it may take longer, but they'll have to endure listening to every choice before getting to answer and not having the question text on screen. Oh, and if those weren't enough of a bummer, the questions are exactly the same and posed in the same order every time.

The other game, "Rescue Maid Marian", is essentially Disney's umpteenth variation of virtual hide and seek. Here, in order to achieve the titular task you have to find six pertinent objects in four separate locales. The twist is that the cheery British narrator only hints at what you're looking for, so that the aloof might need to do some head-scratching. At least this one is well-designed, although it too is the same on repeat visits.

In addition to the video version included on the Blu-ray, the DVD offers a still version of the art gallery, allowing you to navigate through the images and choose which ones you'd like to see full-size.

The discs open with ads for The Little Mermaid: Diamond Edition, Planes, The Muppet Movie Blu-ray, and Super Buddies. Before repeating those, the Sneak Peeks listing plays promos for Disney Movie Rewards, "Jake and the Never Land Pirates", and Return to Never Land.

WHAT'S MISSING?

Almost everything from Robin Hood's two DVD releases has made it to this new edition. The only casualties are a 16-question trivia game, a colorized version of Ye Olden Days (which you don't need), and the "Read The Story By Yourself" version of the virtual storybook, all of which have not been offered since 2000's Gold Collection DVD. And both the prior DVDs had chapter listings inserts, which Disney long hasn't included for anything but Diamond Edition releases.
MENUS, PACKAGING and DESIGN
The Blu-ray's main menu animates a Wanted poster as character prance by. The DVD's recycled screen plays clips on the Wanted poster as leaves fall and birds fly by. The Blu-ray fails to support bookmarks, resuming, or even remembering where you left off on the movie. Furthermore, it doesn't even let you choose extras with a Pop-Up menu while the movie is playing.
Booklets for Disney Movie Rewards (whose code doubles as your source for the SRP-boosting digital copy) and Disney Movie Club are housed inside the side-snapped, standard size keepcase, which is topped by an embossed slipcover repeating the artwork below that mildly reworks the Most Wanted Edition DVD's cover.
CLOSING THOUGHTS
When judged within Disney's animated canon, Robin Hood clearly falls in the middle of the pack and probably at the lower end of the class. But it's a film with no desire to be any better than the easygoing diversion it is. While it'd probably take perfect timing or childhood exposure to render this a personal favorite, the movie is fairly easy to like and to enjoy revisiting.
This 40th Anniversary Blu-ray combo pack is a tad better than expected. The strong feature presentation is complemented by a collection of extras gathered over the years that have rolled into respectable company. All that's missing is the unmatted 1.33:1 presentation, which appears to have some value as a viewing option, albeit less so than this terrific widescreen presentation. That shouldn't stand in the way of this release easily being declared the film's best to date in addition to being most likely its last for a while.
Support this site when you buy Robin Hood now from Amazon.com:
Blu-ray + DVD + DC / DVD + DC / Instant Video / Gold Collection DVD