Hayao Miyazaki made headlines over the weekend when Studio Ghibli announced that the legendary Japanese animation director is retiring. I guess it's believable that Miyazaki at 72 years old could hang up his pencil,

content with the joy that his more than thirty years of filmmaking have brought countless viewers around the globe. At the same time, Miyazaki announced a plan to retire back in the late 1990s following Princess Mononoke, and again after Spirited Away, and once more after Howl's Moving Castle, so the news warrants a healthy dose of skepticism.

Even if Miyazaki stays true to his word this time around and steps back into a supervising role while younger artists do the creative heavy lifting, his surname seems certain to remain prominent at Ghibli because son Goro appears to be ready to accept the proverbial torch.

Goro's first time in the director's chair came on 2006's Tales from Earthsea and was a source of discord, with father and son reportedly falling out over the question of whether Goro was ready to direct. The film, which gave concept credit to Hayao, was poorly received in Japan and barely released in the United States, getting just five theaters and not until August 2010. My records show that I saw the movie in the summer of 2011 and apparently gave it a lowly 5 out of 10 score, but oddly, I have no recollection whatsoever of seeing it, nor was I offered it for review.

The Miyazakis have evidently patched things up, as Goro returned to the helm for From Up on Poppy Hill, whose screenplay Hayao co-wrote. While its 2011 opening in Ghibli's customary mid-July slot did not inspire quite the same critical acclaim and ticket sales of Hayao-directed works, Poppy Hill was well-received and considered a significant improvement over Goro's debut.

If you missed out on Poppy Hill's North American theatrical release and are wondering how that happened, know that this film is the victim of a restructured distribution deal. As you probably know, Disney signed a deal in the late-'90s granting them theatrical and home video rights to Studio Ghibli's every movie. This seemed to be a mutually rewarding partnership, with Disney raising American awareness of these creative fantasies and getting to share in some of the glory (e.g. Spirited Away's 2002 Oscar win for Best Animated Feature, an honor that has continually managed to elude Disney's own feature department). Even treated to responsible English dubs featuring accomplished actors, the Ghibli productions, like the majority of imported films, ran into a commercial ceiling.
That ceiling seemed to be around $19 million, the North American gross earned by The Secret World of Arrietty in February 2012 with Disney's biggest opening and push to date. Only three anime movies have ever performed better on U.S. soil: the first two Pokιmon movies, released at the millennial height of that merchandising empire, and, by a mere $0.5 million, 2004's much more widely-released Yu-Gi-Oh! The Movie.

Nonetheless, if you've been paying attention to Disney over the past few years, then you know that $19 million does little excite to them nowadays. Under the leadership of Bob Iger, Disney has adopted a "brands rule!" mentality that sees the studio putting out a few very big films which if successful will have far-reaching implications for the company. Many would-be tentpoles have failed (e.g. John Carter, The Lone Ranger, Prince of Persia), but all it takes is one Avengers or Iron Man 3, a mega-hit with mondo merchandising power, to offset the losses. Besides, Studio Entertainment earnings amount to a tiny fraction of the company's real goldmine: Media Networks, specifically the cable kind with the letters ESPN in them.

Disney will still put out the occasional small to medium-sized movie: Frankenweenie, The Odd Life of Timothy Green, and Disneynature documentaries. But their preference is clearly for movies that cost a lot and are designed to earn a lot, not just in ticket sales but video games, clothing, toys, etc. Ghibli's films may regularly set box office records in Japan, but they lend themselves to modest returns and none of those ancillary revenues in the US.

Seemingly outgrowing the Ghibli partnership, Disney is now open to letting the small New York City-based GKIDS (Guerrilla Kids International Distribution Syndicate) distribute Ghibli's films both in theaters and on home video. GKIDS is a friend to animated cinema from outside of America. When the list of movies deemed eligible for the Best Animated Feature Oscar is released, any title you don't immediately recognize is likely being distributed by them. The category's surprise nominees, like 2009's The Secret of Kells and 2011's A Cat in Paris and Chico & Rita? All GKIDS.

Despite its name, the small studio's output is usually of greater interest to adult animation buffs than to families with young children. GKIDS has been willing and able to fill a niche in American cinema, displaying obvious passion for their imported properties. Still, they seem unlikely to be able to recreate even the relatively minor impact of Disney's Ghibli releases. Opened in two theaters and eventually expanded to 49, From Up on Poppy Hill narrowly eclipsed the $1 million mark in North America, which might well be a record for GKIDS. But that is a small fraction of what Disney was able to get out of the likes of Ponyo and Howl's Moving Castle at the box office. It also stands to reason that, removed from Disney's dominant home video presence and marketing muscle, GKIDS' Ghibli films will see far fewer disc sales and rentals. Then again, maybe not, as Poppy Hill's combo pack currently ranks 50th on Amazon's sales chart.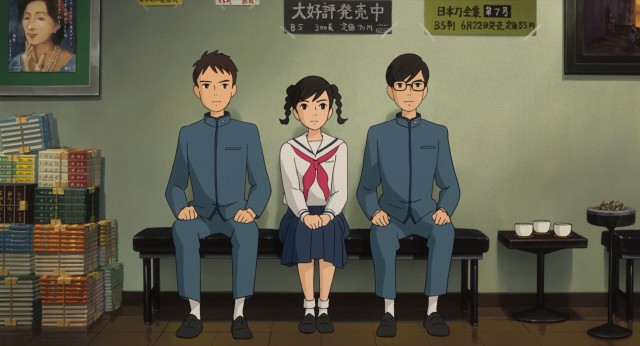 From Up on Poppy Hill looks just like one of Hayao Miyazaki's films, but its content is rather different and more akin to the works of Ghibli's less productive genius, Isao Takahata (Grave of the Fireflies, My Neighbors the Yamadas). Though it centers, quite ordinarily, on a teenaged girl, Poppy Hill lacks a single fantastical element, functioning as more of a straight dramatic coming-of-age tale.
It's 1963 and Tokyo has been selected to host next year's Summer Olympics. In the coastal city of Yokohama, young Umi Matsuzaki holds her grandmother's house together. Her father gone and her mother off studying in America, Umi cooks and cleans for her grandmother, her siblings, and their boarders. In addition to those responsibilities and the duties of high school (where she is in her second year), Umi still finds time to raise signal flags on a pole outside their hillside home and expects to get something in response.
Umi finds a friend and potential love interest in Shun, one of many boys who spend their afternoons in the Latin Quarter, the clubhouse that is home to various school organizations. Shun is involved in printing newsletters and Umi helps him with stenciling. With the region looking ahead to Tokyo '64, powers that be decide that the filthy, aging eyesore of a clubhouse could easily be torn down and replaced by something nicer. Umi and Shun aren't about to let that happen, though. Umi and other girls come to clean the multi-level building top to bottom, an act that gets Umi designated the "goddess of good luck."
Nonetheless, with a majority in favor of the clubhouse's demolition and redevelopment, the two teens have to bring their cause to a higher power, waiting hours to get in to see, sans appointment, the school board's chairman (who, for some reason, looks like Ronald Reagan).
Meanwhile, the discovery of a common thread in their past puts a damper on the possibility of romance between Umi and Shun.
As someone more taken by the humanity than the fantasy of Ghibli's films, I didn't at all mind Poppy Hill's lack of creatures, surreal imagery, and culturally distant concepts. It's easy to forget you're watching a Ghibli production or even an animated film as you get caught up in this simple but compelling story set fifty years in the past.

The setting holds no personal significance to me, nor could it to the director, who was born in Tokyo in 1967.

But something in the 1980 manga series written by Tetsuro Sayama and illustrated by Chizuru Takahashi must have really resonated with Hayao and/or Goro, for it shows in their passionate, heartfelt, and flavorful treatment of this sometimes melodramatic material.

There isn't a great deal to sink your teeth into or dissect academically, but Poppy Hill wins you over with its charming characters, story, and settings.

Having been treated to a qualifying Los Angeles theatrical engagement last November, Poppy Hill was eligible for 2012's Best Animated Feature race (as Arrietty was not, for Disney missed its 2011 deadline), but it missed snagging one of the five nominations available to the field of 21. Despite their global renown, Ghibli has only drawn one nod in the category (for Howl's Moving Castle) since winning for Spirited Away.

Though it lacks a surely desirable affiliation to Disney, From Up on Poppy Hill gets everything that it needs from GKIDS, including an English voice cast populated by respectable actors (including Sarah Bolger, Anton Yelchin, Beau Bridges, Aubrey Plaza, Gillian Anderson, Christina Hendricks, Ron Howard, and Jamie Lee Curtis) and a Blu-ray + DVD combo pack holding the usual Ghibli bonus features and quite a bit more.
Blu-ray & DVD Details

1.85:1 Widescreen (DVD Anamorphic)
Blu-ray: 5.0 DTS-HD Master Audio (English, Japanese); DVD: Dolby Digital 5.0 (English, Japanese)
Blu-ray Subtitles: English SDH, English Translation
DVD Closed Captioned; Japanese Extras Subtitled in English
Release Date: September 3, 2013
Two single-sided, dual-layered discs (BD-50 & DVD-9)
Suggested Retail Price: $34.95
Blue Keepcase in Cardboard Slipcover
Also available as 2-Disc DVD ($29.95 SRP)
VIDEO and AUDIO
The Blu-ray's 1.85:1 widescreen presentation is nothing short of flawless. While Japanese animation doesn't place the same demands on video compression as its American counterparts, the film's visuals have a distinct and serene beauty that clearly benefits from high definition. Imagery, like a dazzling sunset on Tokyo Bay, is perfectly rendered, with every frame looking spotless, sharp, and vibrant.
Sound is offered in 5.0 DTS-HD master audio and it's stellar in both Japanese and English. The lack of a subwoofer channel isn't felt, but dialogue stays crisp and environment-appropriate while the field opens up nicely for music and effects. Gladly, two distinct subtitle options are supplied: an English SDH transcription of the English dub and more literal translation of the original Japanese. Comparing the two reveals some Americanization performed for comedy or color. As usual, your soundtrack selection dictates whether you get credits in English or Japanese (the opening latter of which are translated by subtitle).
BONUS FEATURES, MENUS, PACKAGING and DESIGN

Disney's Ghibli releases always stuck to a strict regimen when it came to bonus features: storyboards, trailers,

and English voice cast featurette. The three standard components of those sets are all present here, but they're joined by a number of other goodies, all of them in HD.

First up is one of those standards: the entire film in storyboard form (1:30:51). This differs from Disney's versions in that it is presented exclusively with the English soundtrack and no subtitles (whereas Disney's used Japanese with English subs). I'd be lying if I said I watched this all the way through. Ghibli remains the only studio providing their entire movies in this form, an inclusion that implies value that's not plain to see in the crude, sparse pencil renderings.

"Director Goro Miyazaki on Yokohama" (17:37) has the filmmaker explain his decision to relocate the story to 1963 for a period setting and the film's depiction of the harbor city.
"Yokohama: Stories of the Past and Present" (22:36) celebrates Poppy Hill's setting, serving up unnarrated archival and contemporary views of the city. Like the storyboards, you can get as much out of this by simply fast-forwarding through it, but it definitely supplies some fitting context.
A music video for "Summer of Farewells" (5:45), the film's theme song, finds young singer Aoi Teshima singing amidst concept art and home movies of Yokohama.
The obligatory English voice cast featurette, titled "From Up on Poppy Hill: To Hollywood - The Voice Over Sessions" (21:48), is far more substantial than the usual survey of Western celebrities. Aware that Ghibli fans have seen at least half a dozen of these kinds of pieces already, this one gathers more telling insight from English version director Gary Rydstrom (who compares this to his work at Pixar) and screenwriter Karey Kirkpatrick. Their remarks complement behind the scenes footage of cast recordings, including the energetic Sarah Bolger, perfectionist Anton Yelchin, and Jamie Lee Curtis, who also provided an uncanny crying baby impression.

Though the actors don't get to discuss the experience, you can guess their perspective from the past features of this sort.

The Blu-ray-exclusive "Press Conference - Theme Song Announcement" (39:33) preserves the 2011 declaration by an apron-clad Hayao Miyazaki of the production's persistence in the face of post-earthquake blackouts, the conception of a Poppy Hill adaptation thirty years earlier, and the idea to use Teshima's cover of a 1970s Japanese TV drama's theme song as the film's theme. Goro Miyazaki, Teshima, and the song's lyricist, composer, and editor add their remarks, all of them acknowledging the recent tragedy, before Teshima sings "Summer." Although the subtitles should have opted for a color other than white, this is a worthwhile view all the same.

"Hayao Miyazaki's Speech After the Staff Screening" (6:14) is not the congratulatory lip service you expect. Instead, the film's writer/producer apologizes for the movie, acknowledging certain faults, and dispensing surprisingly angry criticisms in the process of introducing essential personnel and letting his son Goro say a few words, or rather apologize more. This candid insider piece points out cultural differences; we'd never see anything like this on an American animated film, even the most maturely-documented Pixar ones.
"Japanese Trailers and Teasers" (7:11) serve up three trailers and 12 repetitive TV ads of increasing brevity. Like all of the BD bonus features, these are presented in full HD. They even sport 5.1 DTS-HD master audio, but their player-generated English subtitles certainly should have been more carefully placed for legibility. We also get the film's US trailer (2:25), something Disney never included but should have.
In promotion done right, "More Animation from GKIDS" provides individual and group access to trailers for The Painting (2:13), The Secret of Kells (1:57), Chico & Rita (1:48), A Cat in Paris (1:48), Tales of the Night (0:54), and The Rabbi's Cat (1:38).
While Cinedigm is good about including the same extras on both DVD and Blu-ray, the storyboard version of Poppy Hill demanded a second disc on DVD (as the feature has for all Ghibli films), so here we can only get Disc 1 of the two-disc sold separately. Unfortunately, that means the DVD only gets the storyboard presentation in the way of a bonus feature. The two-disc DVD edition should have everything here except for the press conference and the booklet I'll soon address.
Typical for the studio, the Blu-ray's menu pan across and display still frames, eventually joined by some audio from the film. The Blu-ray doesn't support bookmarks, but it does resume playback of the film just the way that DVD does. The DVD's static, silent main menu adapts the poster/cover art.
The standard blue keepcase is nicely topped by a glossy slipcover. Joining the two uniquely labeled discs inside is another exclusive to this combo pack: an illustrated 16-page booklet that reproduces Hayao Miyazaki's fascinating, thoughtful original treatment (in English) and includes a letter from his son, the director, on the anxieties of production. What a nifty little cherry on top of this sweet package! There's also a double-sided ad for the trailered GKIDS animation titles, ones that I'm sure some customers will be tempted to check out after finishing exploring this winning presentation.
CLOSING THOUGHTS
Some will lament the absence of Studio Ghibli's signature fantasy in From Up on Poppy Hill, but I appreciated this simple film as something refreshingly different. This endearing coming-of-age period drama easily won me with the old basic fundamentals of story and characters. Its beautiful 2D visuals didn't hurt either. Goro Miyazaki's second film is something you could easily imagine his father directing.
The move from Disney to GKIDS does seem like it will limit the reach and exposure of Ghibli's newest efforts, but the distributor puts together a set that's more loaded than any Disney has put out to date. The non-standard bonus features and strong booklet complement a first-rate feature presentation in both English and Japanese.
After this fine first release, fans should be in no hurry to look back to Disney's distribution, which nonetheless will resume with the recently-announced, Touchstone Pictures-bannered November theatrical release of The Wind Rises, Hayao's latest and ostensibly last film. Beyond that, if GKIDS can do something to expand its theater counts, it should be a terrific occasional home for Japan's premier animation studio.
Buy From Up on Poppy Hill from Amazon.com: Blu-ray + DVD / DVD