At their very best, DisneyToon Studios has never come too close to Disney's main feature animation division in art, ambition, complexity or effort. The appeal of the division most recently responsible for Planes has never rested in any of those areas but in certain profitability,

an ideal that has eluded every studio on occasion and Disney Animation repeatedly so in the early 2000s. That was when the public began to prefer the computer-animated films of Pixar and DreamWorks to the ones employing Disney's traditional two-dimensional hand-drawn cartoons.

An off-shoot of Disney's television animation unit, DisneyToon was the force behind all those direct-to-video sequels. They also made the occasional one-off theatrical release capitalizing on hot properties in movies like DuckTales: The Movie - Treasure of the Lost Lamp and A Goofy Movie. The commercial value of DisneyToon's output was unmistakably demonstrated in 2000. That year, Disney's feature animation department had three releases (Fantasia 2000, Dinosaur, and The Emperor's New Groove) that each underperformed in the face of extreme costs, limited appeal, and production challenges. Meanwhile, DisneyToon's February release that year, The Tigger Movie, cost very little and thus its gross (though less than all the others) yielded significant profit.

After that, the off-season DisneyToon theatrical opening became a fixture in the studio's calendar for years to come. Movies conceived as video premieres could easily get the call up to the big leagues if things were shaping up nicely and there was a popular enough brand in play. Return to Never Land evidently met both of those qualifications. Thus, it was given a theatrical release on the eve of its predecessor's fiftieth anniversary.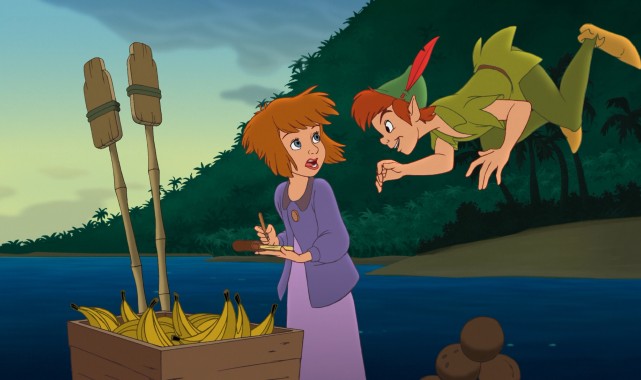 Such extreme defiance of the sequel statute of limitations makes Return tantamount to sacrilege even if Peter Pan isn't as outstanding as you remember it being. The appeal of Disney's Pan is very much rooted in the studio's animation style and entertainment values of the 1950s. The picture shares an innocence and adventuresome spirit with other Disney creations of the time, like Davy Crockett, the Mickey Mouse Club, and Disneyland itself. Needless to say, those qualities are impossible to recreate in 2002.
Full of callbacks and homage, Return tries to be a faithful and respectful follow-up, but its efforts fall way short. The film opens with some unneeded political backdrop. With England engulfed in World War II, children of London are being sent to the countryside for their safety. That includes Jane, the practical, serious, and very grown-up daughter of Wendy Darling. Just twelve years old or so, Jane apparently lacks the playful gene that younger brother Danny has inherited from their mother, whose tales of adventures with Peter Pan are met with skepticism by the girl.
After a laborious fifteen minutes of set-up, which upholds the use of shadows and features a St. Bernard called Nanatwo, Jane finds herself kidnapped by Captain Hook and his pirates. Hook has intended to kidnap Wendy, an act designed to lure his arch-enemy Pan into a trap. Pan, of course, saves the day and Jane, whom he and the Lost Boys welcome both as the first and only "Lost Girl" and their mother. Jane isn't having any of it. Her disbelief renders Tinker Bell (who remains the silent, feisty, and jealous type) flightless and dejected.
Longing to get back home, the ever-responsible Jane winds up having to choose between an alliance with Hook, who promises her a ride in exchange for her finding a treasure, and Pan and the Boys. I'll leave you to guess who she picks.
As we saw this very month with Planes, putting a direct-to-video-quality movie in theaters magnifies not just the animation but creative faults too. Premiering on DVD might have earned Return to Never Land such designations as "harmless" and "one of Disney's better sequels." Instead, the audacity to treat this inferior product to the same type of theatrical release Peter Pan received forty-nine Februarys earlier offends and even today when that four-month engagement is but a distant memory.

Even if this had gone straight to video, I wouldn't have been one of those extolling this film. Its imagery may be noticeably more polished than that of contemporaries like The Little Mermaid II: Return to the Sea and Lady and the Tramp II: Scamp's Adventure, but the storytelling relies on the same kind of standard, lazy reversals. Return adds nothing of value or note to the mythology of Never Land. There wasn't much to Pan and Hook's conflict in the original movie and there's even less this time around.

Jane is given more prominence than any other character and she's not a very likable or substantial protagonist. We get it; her advanced maturity makes her immune to Never Land's charms. Where's the fun in that? Accordingly, the film doesn't pick up any after arriving at its titular destination. There, we get some weak songs designed to pad both the runtime and soundtrack. Attempts at comedy, be it Hook and Smee banter or the Lost Boys' childish antics, are just as feeble as Jane's coming-of-age drama. Though the animation bests DisneyToon's more frugal contemporaries, it makes clunky use of CGI and is a distant approximation of the original film's nimble visuals.

Return is short, running just 65 minutes before its end credits scroll (which is fitted with an age-revealing BBMak cover of The Lovin' Spoonful's "Do You Believe in Magic"), but not short enough to keep you satisfied. At its best, the movie has the holding power of a Saturday morning cartoon, only without nearly as much fun, adventure, and soggy cereal. Even if you ignore Walt's documented aversion to sequels, the timing really couldn't be much worse. This is glaringly obvious in the disconnect between the celebration of yesteryear childhood adventure (whose politically incorrect edges are softened) and the early 21st century storytelling instincts of screenwriter Temple Mathews (Mickey's Once Upon a Christmas, The Little Mermaid II) and director Robin Budd ("Beetlejuice"), neither of whom have ever again worked at Disney.

Despite all these disappointments, the opportunity to revisit Peter Pan, Hook, Tink, et al. proved to be impossible for many families to resist. Return grossed a perfectly respectable $48.4 million domestically and another $61.4 in international markets, narrowly topping Tigger Movie's hauls from two winters earlier and qualifying as a financial success before beginning a predictably formidable home video afterlife. Return even edged Disney Animation's big theatrical release from the subsequent fall. Treasure Planet, whose $120 million budget was five times that of Return, earned 22% less domestically and $300,000 fewer worldwide.

Six years after being treated to a Pixie-Powered Edition DVD that bridged the gap between Peter Pan's Platinum Edition and the delayed launch of the ongoing Tinker Bell movie series, Return to Never Land gets its own Special Edition Blu-ray + DVD + Digital Copy combo pack. That's not because this sequel is popular enough to sell on its own (although, like most Disney animation, it is), but because its predecessor's firm standing in the company's elite Diamond Edition line takes precedence over the 2-Movie Collections Disney otherwise favors.
Blu-ray & DVD Details

1.66:1 Widescreen (DVD Anamorphic)
Blu-ray: 5.1 DTS-HD MA (English); DVD: Dolby Digital 5.1 (English)
Both: Dolby Digital 5.1 (French, Spanish)
Subtitles: English for Hearing Impaired, English, French, Spanish
DVD Closed Captioned; Some Extras Subtitled
Release Date: August 20, 2013 / Suggested Retail Price: $36.99
Two single-sided discs (BD-25 & DVD-9)
Blue Keepcase with Side Snap in Embossed Cardboard Slipcover
Also available as DVD + Digital Copy ($29.99 SRP) and on Amazon Instant Video
Previously released as Pixie-Powered Edition DVD (November 27, 2007),
DVD and VHS (August 20, 2002)
VIDEO and AUDIO
Appearing in 1.66:1 widescreen (Disney cases have stopped listing aspect ratio information), Return to Never Land looks perfect on Blu-ray. With clean lines and vibrant colors, the sharp 1080p presentation does not feature even the most minor flaw. Nor does it give any indication that this is an 11-year-old movie. It looks like brand new digital animation, which may not be true to theatrical exhibitions but that isn't likely to trouble many viewers on a film of such modest stature.
The 5.1 DTS-HD master audio soundtrack is surprisingly robust, getting your attention with crisp recordings of proper weight and fittingly mixed and distributed effects and music. The movie may be lackluster, but its Blu-ray transfer is anything but.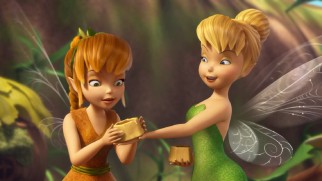 BONUS FEATURES

Return to Never Land has never been treated to an abundance of bonus features, a tradition this Blu-ray combo pack isn't about to upset with its supply of three types of extras.

First and most substantial is a group of deleted scenes (8:21, SD), which loses the original DVD's introduction by producers Chris Chase and Sharon Morrill, but gains some cuts not previously shared.

Presented in a mix of storyboards, story reels, and near-finished animation, the lot's additions include an early, fully-animated alternate version of "I'll Try" set in Never Land and deleted songs by Captain Hook and Wendy (the latter might be Kathryn Beaumont, who reprised the role but wound up being replaced by professional voice actress Kath Soucie).

Next, we get five "Pixie Previews" (6:25), short HD CG-animated clips featuring Tink and her fairy friends. I'm not familiar enough with the films to be sure, but I believe these vignettes are simply excerpts from the Tinker Bell movies that have since been seen in full. Titled "Hide and Tink", "Dust Up", "Shooting Stars!", "Volley Bug", and "Just Desserts", these differ from the three "Magical Fairies Moments" of Return's previous DVD, but seem to serve the same promotional function for the best-selling video series.
Then comes a music video for Jonatha Brooke's "I'll Try" (4:02, SD), which was included on the first DVD and missing from the second.

An obscure musical choice, for whom this very well may represent her biggest brush with fame, folk singer-songwriter Brooke provides the most incongruous, tolerable, and revisited of the film's weak songs. The video opens with an interview, which gives way to an oft-overlapping blend of recording studio footage and low-def film clips.

Finally, there is the five-year-old primer on "DisneyFile digital copies" (1:04) that's at least sort of applicable to this release, since a downloadable digital copy is included.

At this point, if there is such a thing as a devout Return to Never Land fan, and if you happen to be one, you might be thinking, "What happened to Tinker Bell's Challenge Game: Quest for the Light?!" Well, it appears to have been powered by pixies, whose services were dropped for this edition, given the moniker. The DVD included in this combo pack is a newly-authored one that even drops the deleted scenes, offering merely the five "Pixie Previews", Jonatha Brooke music video, and digital copy promo. That Pixie-Powered Edition DVD is kind of a pitiful one to not be handily surpassed by a new release. Another omission of this combo pack is a story time activity from the movie's original 2002 DVD that didn't show up on the 2007 reissue.

The discs open with trailers for The Little Mermaid: Diamond Edition, Planes, and Super Buddies. The Sneak Peeks listing plays promos for Disney Movie Rewards, Disney Infinity, "Jake and the Never Land Pirates", Disney Parks, and Mary Poppins: 50th Anniversary Edition Blu-ray + DVD before repeating the other three.

MENUS, PACKAGING and DESIGN

Each disc's animated main menu finds Tinker Bell covering the pirate ship in pixie dust, prompting starry montage of movie clips. While the Blu-ray does not resume playback, it does gratefully remember where you left off watching the film should you not be able to get through it in a single sitting.

Topped by an extensively embossed and ever so slightly holographic slipcover, the side-snapped keepcase (repeating the same poster-adapted artwork) holds a Disney Movie Rewards code good for both points and the downloadable digital copy (which raises the SRP by $7) plus a Disney Movie Club ad.
CLOSING THOUGHTS
Revisiting Return to Never Land for the first time in eleven years, I find my initial dislike of the film justified. This subpar sequel doesn't approach the heights of its predecessor, nor does it offer anything special to warrant its theatrical status. It's a movie only worth getting as a bonus feature in a 2 Movie Collection and yet is bad enough not to want it attached to Peter Pan.
Disney's standalone combo pack does this slight film justice, boasting stronger picture and sound than you'd expect and adding some deleted scenes to those previously offered. It's not a set I can recommend for more than a curiosity viewing to anyone who isn't determined to own every theatrically-released Disney animated film (a pursuit that the recent Disney Movie Club exclusive DVD of Doug's 1st Movie will also aid). Methinks you'd be better off sticking to just the Disney, Pixar, and Ghibli canons anyway.
Buy Return to Never Land from Amazon.com:
Blu-ray + DVD + DC / DVD + DC / Instant Video / 2007 Pixie-Powered DVD / Original 2002 DVD