After three seasons of their own dedicated variety television series, the Muppets were ready for the next frontier: feature films. Jim Henson's colorful puppets had taken the unconventional route of syndication,

but had managed to win fans all around the globe with a blend of comedy and music distinct from the one offered on public television's landscape-changing, educational "Sesame Street." First released to American theaters in June of 1979, The Muppet Movie held on to the same personalities and values of "The Muppet Show" but instead of sketches and recurring bits applied them to a single cinematic narrative feature.

The Muppet Movie opens with Henson's many familiar creations assembling in a studio screening room to watch this film all about how the Muppets first met. This prologue works as either your introduction to this diverse group of animals, monsters, and cranky old men or, more likely, a reintroduction to characters who have pervaded pop culture for so long.
The movie then begins in earnest with Kermit the Frog enjoying his life in the swamp with a banjo in his hands and a song in his heart. A talent agent (Dom DeLuise) in a boat encounters Kermit and recommends he brings his gifts to Hollywood, where he can make millions of people happy. Shortly after, Kermit is addressed by another man who sees his potential to entertain. This, however, is Doc Hopper (Charles Durning), who wants Kermit to become the official spokesman for Hopper's chain of restaurants specializing in French fried frog legs. Kermit, understandably, isn't crazy about the offer and proceeds to head to Los Angeles with the first friend he makes: Fozzie Bear, a hack comedian in the aptly-named bar El Sleezo.
Kermit and Fozzie hit the road in a vintage Studebaker belonging to the bear's hibernating uncle. They encounter Dr. Teeth and the Electric Mayhem, a hippie rock band set up in an old closed church, who give their car a psychedelic makeover in an effort to lose Hopper and his assistant Max (Austin Pendleton). Gradually, the other classic Muppets join the westbound party including "The Prince of Plumbers" Gonzo, beauty pageant contestant Miss Piggy, and piano-playing dog Rowlf.
Their journey to stardom is lined with peril, song, and celebrity cameos.
As the title suggests (and the cover art's increasingly useful "The Original Classic" tag confirms), this was the Muppets' first movie and the one that created the mold for future theatrical outings to follow. Moving from television to cinema is never easy and most attempts lose some of their charm as they try to raise the stakes and fill a typical feature runtime and structure. The Muppet Movie stands as one of the best examples of how to tastefully graduate from the small screen to the big one.
Creator Henson, serving as producer and lead performer, and screenwriters Jack Burns and Jerry Juhl did not lose sight of their characters' considerable appeal. They didn't concern themselves with honoring "Muppet Show" traditions, setting the film in the Muppet Theatre the cast called home, or even establishing a clear connection between this film and the weekly series that would run for another two seasons. To these three and their many collaborators, the Muppets weren't just a franchising opportunity or a brand, but a unique, beloved comedy institution.
One ill-conceived feature film and this band of misfits could have soon disappeared as a novelty act. Instead, the Muppets lived on in films long after "Muppet Show" signed off and continue to do so this day, having endured the deaths of Henson and other key personnel, a substantial sale of undisclosed terms, and multiple revivals. The Muppets have a new film coming to theaters next March and, unlike other enduring brands of comparable age, this feels like the same Muppets that took to television in the 1970s. They've had misfires and dry spells, but they've never completely gone away.
As someone who has spent much time revisiting and writing about the Muppets' many works, I feel qualified to place three of the group's seven theatrical films on a plane above the rest: this, the original The Muppet Movie, 1992's The Muppet Christmas Carol, and 2011's The Muppets. The middle of those three differs in composition and tone, but the three all have something in common: each tread new ground and/or provided a return from a hiatus. The films made in between these have been fun (I'd rank The Muppets Take Manhattan atop the second tier), but fall short of these three superior movies' high standards.

The underwhelming recent teaser suggests that 2014's Muppets Most Wanted is primed to continue this tradition, closely resembling The Great Muppet Caper in timing and story (after 2011's The Muppets modeled itself closely after Muppet Movie). One explanation for this atypical lifeline is that so much creativity is poured into the group's highlights that the creators need more time to refuel than they've allowed themselves.

Without anything to model itself after, the 1979 film debut does an incredible job of blazing new trails. It is many things: a comedy, a musical, a road trip movie, an adventure, a western, an origin story. Though that sounds like a recipe for disaster, The Muppet Movie pulls off just about everything it tries. Integral to its success and that of many of the most celebrated "family films" it compares to is that it aims for general audience appeal, instead of simply trying to please children. As a result, you don't need personal nostalgia or a young relative to enjoy revisiting this.

The Muppet Movie has a great sense of humor that somehow perfectly aligns with your own. This is a rarity among G-rated films: it's genuinely funny to people of all ages. Some of the references are dated (Hare Krishna, a correspondence course, "Bombay", India), but never enough not to still land. This first film establishes the Muppets' bag of tricks, providing running puns and creative visual gags while frequently shattering the fourth wall.

Generally, great movies do more than make you laugh and this one is no exception. One of Jim Henson's greatest strengths was to convey meaningful messages without being trite or sentimental. The lyrics to Kermit's opening song "The Rainbow Connection", the only Oscar nominee of seven original numbers composed by Paul Williams and Kenny Ascher, celebrate rainbows while speaking of the ever-dreaming human soul. You don't expect that kind of substance from a frog puppet with a banjo, but then the Muppets have always been kind of wonderfully subversive.

The film's first few songs are its best and most memorable. The strong start builds enough goodwill to keep things buoyant even when things slow a little around the film's midway point (does any Muppets fan ever think "this part could really use a slow Miss Piggy song here"?!).
On a technical level, The Muppet Movie remains impressive. The puppetry, practical effects, and filmmaking tricks somehow still all seem top-notch despite all that computers can do nowadays. The production design excels at creating colorful locations, from the dive bar to that vacated church. It's most curious that director James Frawley has worked mostly in television (ranging from "The Monkees" to, most recently, the fifth season of "Grey's Anatomy"), since he displays plenty of flair here. Truthfully, anyone directing the Muppets who is able to keep the puppeteers out of frame may seem talented, but the execution's delights go well beyond that.
One of the film's biggest feats is how deftly it balances its enormous cast, seizing opportunities for all major and even many minor Muppets to make suitable appearances. In addition, there are those celebrity cameos, now a trademark of this empire. Two seasons' worth of guest stars for television laid groundwork for some of these famous faces to pop up, but plenty more who had never worked with the Muppets seemingly jumped at the chance to do so. What's especially fun is just how much ground in entertainment history these guest stars cover, from aging legends like ventriloquist Edgar Bergen (who died before release and has the film dedicated to him), Milton Berle, and the great Orson Welles to young comedic talents on the rise like Steve Martin and Richard Pryor to Big Bird himself. It's sad how few of these entertainers are among the living these days, but at the same time, this film will keep all of them alive to a huge degree for many generations to come.
Starting Tuesday, the preferred way for The Muppet Movie and its creators to live on is in Disney's The Nearly 35th Anniversary Edition Blu-ray + Digital Copy, a disc that improves upon the film's two DVD releases in pronounced ways.
Blu-ray Disc Details

1.85:1 Widescreen
5.1 DTS-HD MA (English), Dolby Digital 1.0 Mono (German)
Subtitles: English for Hearing Impaired, English, French, Spanish, German
Not Closed Captioned; Extras Subtitled
Release Date: August 13, 2013 / Suggested Retail Price: $26.50
Single-sided, dual-layered disc (BD-50)
Blue Keepcase with Side Snap in Embossed Holographic Cardboard Slipcover
Also available as new DVD ($19.99 SRP) and on Amazon Instant Video
Previously released as Kermit's 50th Anniversary Edition Disney DVD (November 29, 2005) and Sony DVD (June 5, 2001)
VIDEO and AUDIO
Presented exclusively in its 1.85:1 widescreen theatrical aspect ratio, The Muppet Movie looks grainy but great on Blu-ray. There seems to be no way around the film's grain, nor should there be if we want the movie to maintain its original 1970s look. The dark yet vibrant picture is much sharper and more detailed than the film's DVD transfers. Sadly, you'll even spot the strings in the previously jaw-dropping illusion of Kermit riding a bike in full view.
The 5.1 DTS-HD master audio soundtrack can't completely hide the recordings' age, but it keeps things intelligible and relatively crisp, as it remixes the stereo elements evenly and nicely, expanding some for musical numbers. The Set Up submenu's listing "Sprechen Sie Deutsch?" suggests you've uncovered an Easter egg, but selecting it merely treats you to the disc's second and final soundtrack, a 1.0 Mono German dub.
BONUS FEATURES, MENUS, PACKAGING and DESIGN

Bonus features, presented in HD unless otherwise noted, begin with "Frog-E-Oke Sing-Along", a feature that's better than you'd expect. This treats the movie's first three songs (8:39) -- "The Rainbow Connection", "Movin' Right Along", and Dr. Teeth and the Electric Mayhem's "Can You Picture That?" -- to inspired videos that display the lyrics in animation befitting the song's tone.

Accordingly, "Picture" is groovy and "Rainbow", which makes nice use of the song's performance imagery, is more wistful.

The same three lyric videos play when the movie is paused and "Disney Intermission" is activated (which it is, by default). The case lists the two as separate features, suggesting that Intermission may have been intended to be more along the lines of the feature as it appeared on the Blu-rays of The Muppets and The Muppet Christmas Carol. I quite like the effect here and the disc has no problem returning to the movie from Intermission.

"Jim Frawley's Extended Camera Test" (17:53) restores and extends a feature from Sony's original 2001 Muppet Movie DVD (which had 13 minutes and 34 seconds). Not your typical camera test, this finds the director, Jim Henson, and Frank Oz seeing how the Muppets will photograph out in the world and inside a moving car. Featuring Kermit, Fozzie, Sweetums, Miss Piggy, a woman, and some farm cows, this valuable content displays how good the Muppeteers are at wittily improvising in character. It also feels like movie history in the making (you even hear the film moving through the camera), having more impact than the typical promotional featurette or retrospective. The gains over Sony's DVD include some entertaining banter inside a garage and some kind of glass booth.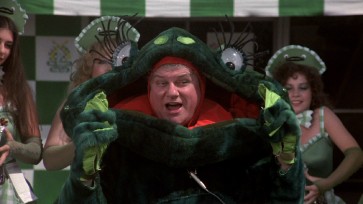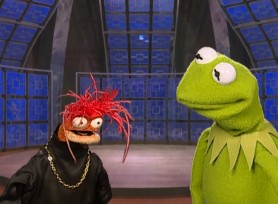 "Doc Hopper's Commercial" (1:03) presents the complete restaurant ad without the cuts and different television screen effects the movie itself gives it.
Next, we get two awesome original Muppet Movie theatrical trailers, in HD no less. A teaser (1:25) presents it as an award contender in assorted major categories and shows off the human guest stars, while the regular trailer (4:21) promotes the film at greater length. These are most surprising inclusions, since Disney is one of the worst offenders at withholding trailers from a film's disc and these never even turned up on DVD. Though surprisingly presentable, these previews' faded colors do make the feature presentation easier to appreciate.
Last and probably least is "Kermit: A Frog's Life" (6:34, SD), an installment of "Pepe Profiles Presents" pieces produced for 2005's Kermit's 50th Anniversary Edition DVD reissues. As The Muppet Movie's only bonus feature on that disc, the short was downright obnoxious then. It's more tolerable here, even if many of us Muppet fans don't think much of Pepe or feel he should be anywhere near this movie that predates him by 17 years. The prawn welcomes the frog onto his talk show, in addition to sharing fellow Muppets' remarks on Kermit and 50th birthday wishes from the Tribeca Film Festival's red carpet premiere of (groan!) The Muppets' Wizard of Oz.
An Easter egg I have found digging around the disc's files (no idea where from the menus you can access it) provides multiple complete takes of Kermit's historic bike ride (2:54). Cannot unsee strings!

Though the Muppet Movie fan in me still expects a little more for a film of this stature, I'm at a loss as to what more Disney could provide, apart from one of the gang's many unreleased television programs.

Can you imagine how cool (if random) it'd be to find any "Muppet Babies" episode in its entirety here? Or heck, even just the opening theme would have been a rush for many an '80s child. The only thing, apart from promotional trailers for other properties, lost from either of the film's two prior DVD releases are three 1999 "Muppetisms" shorts (running 30 seconds to 1 minute) featuring Kermit, Miss Piggy, and Pepe and Rizzo from Sony's DVD. They're not substantial enough to miss.

The disc opens with trailers for The Little Mermaid: Diamond Edition, Iron Man & Hulk: Heroes United, Mary Poppins: 50th Anniversary Edition Blu-ray combo, The Many Adventures of Winnie the Pooh, followed by a Pinocchio anti-smoking spot. The Sneak Peeks' second string promotes Disney Movie Rewards, Epic Mickey 2: The Power of Two, "Gravity Falls", Super Buddies, Return to Never Land and The Little Mermaid: Ariel's Beginning & The Little Mermaid II: Return to the Sea: Two-Movie Collection before repeating the disc-opening trailers.

The cool all-new animated menu recreates parts of the film in what looks like 2D felt cutouts while moving you through melodies of the songs. While the disc doesn't support bookmarks or resume playback, it does at least remember where you left off in the film, even after your player powers down.

Topped by an embossed, holographically-bordered slipcover, the side-snapped keepcase holds a Disney Movie Club ad and a Disney Movie Rewards booklet whose code will net you the digital copy of the film that's included with your purchase.
CLOSING THOUGHTS
With its satisfying feature presentation and inclusive supply of extras, this goofily-named Nearly 35th Anniversary Edition Blu-ray emerges as the definitive release of The Muppet Movie. As a highlight of both 1970s cinema and the Muppets' up and down career, this film deserves a spot in most home video collections and this disc is unquestionably the film's best, clearly exceeding the two previous DVD releases.
Having said that, it is strange that no DVD is included here, since a new one is being concurrently released, Disney invented the combo pack and continues to rely on it as heavily, and since any other studio would have treated this movie to one. It does not feel like an accidental oversight, after The Muppet Christmas Carol offered the same Blu-ray + Digital Copy last fall (though an Amazon-exclusive edition added a DVD). I would think more customers would still prefer a DVD to a digital copy, but this set deprives you of the former and makes you pay for the latter whether or not you use it. Perhaps the idea is to prevent you from reselling your old DVD, in which case, mission accomplished.
These are minor complaints that do not keep this from being the most worthwhile home video release I've reviewed this summer.
Support this site and great cinema when you buy The Muppet Movie now from Amazon.com: Blu-ray + Digital Copy / New DVD / Instant Video / Kermit's 50th Anniversary DVD / Sony DVD