In the days that followed the sudden fiery automotive death of actor Paul Walker halfway into the filming of the seventh Fast & Furious movie, some doubt hung over the franchise's future. Earlier this week, though, Universal Pictures confirmed that not only would the movie be finished

but it would also be finished in time to make its previously scheduled July 2014 release date. The announcement wasn't insensitive or founded on honoring what Walker would have wanted. It was a bow to the reality that this car-based action franchise is a bona fide juggernaut that has become a cornerstone of Universal's output.

Between the years of 2006 and 2008, no one could have imagined that Fast & Furious would still be going and going strong well into the 2010s. The original film, The Fast and the Furious, had been a hit in 2001, a film whose gross wasn't terribly shy of Universal's Mummy, Jurassic Park, and American Pie sequels that same summer. Its 2003 sequel, 2 Fast 2 Furious, didn't suffer too big a drop domestically and made gains overseas. Then, 2006's Fast and the Furious: Tokyo Drift lost the original cast (save for a cameo) and much of its appeal, its poor front-loaded performance qualifying it as a clear-cut flop.

The series might have ended there or moved to the direct-to-video market where Universal was then making Bring It On sequels and American Pie Presents spin-offs. Instead, the studio brought back original stars Walker, Vin Diesel, Michelle Rodriguez, and Jordana Brewster, opened at the beginning of the uncompetitive month of April, and found interest in the franchise very much renewed all over the globe. The fourquel, confusingly titled Fast & Furious, saw domestic and foreign grosses that were a franchise-best (ignoring inflation, anyway) and made it by far Universal's biggest hit in two years.

The series soared even higher in 2011 with the release of Fast Five, which added overwhelmingly favorable reviews (a franchise first) to its obvious audience demand en route to a spectacular $626 million worldwide haul. The reviews remained predominantly (albeit moderately) positive on this year's Fast & Furious 6, which reached higher yet, its nearly $800 M global gross trailing only Iron Man 3 and Despicable Me 2 on the year.
Fast & Furious 6, which just calls itself Furious 6 onscreen, opens with pals Brian O'Conner (Walker) and Dominic Toretto (Diesel) doing some fast and furious driving around scenic cliffs in Spain's Canary Islands. They're in separate cars, but they're not racing one another, instead both rushing to get Brian to witness the birth of his firstborn child. His wife Mia (Brewster) delivers a healthy son and it isn't long before Brian and Toretto are playfully debating what kind of car the kid will grow up to drive.
The opening titles are dispensed via a montage comprised of clips from the previous five movies (well, probably not Tokyo Drift). Though it's clear these characters have histories, newcomers like myself are easily able to figure out the dynamics and follow the adventure. Once strictly concerned with street racing, the series has come to put these characters' skill sets to use on general crime plots. Special Agent Hobbs (Dwayne Johnson, returning from Fast Five) tracks Toretto down to his large Spanish estate, where he's living large but quietly with his girlfriend Elena (Elsa Pataky). Having evidently pulled off a $100 million heist in Rio, Toretto and his team are wanted men and women in the US, requiring them to make home in countries that do not extradite.
Hobbs and his partner Riley (Gina Carano) explain they're not interested in extradition. They need Toretto and company to help capture Owen Shaw (Luke Evans), an ex-Special Forces Brit who has managed to destroy a Russian military convoy and is planning an even bigger second act that would cost lives and billions of dollars in damages. The case is of unique interest to Toretto, for Shaw's team is known to include Letty Ortiz (Rodriguez), Toretto's presumed dead former lover (who did not appear in Fast Five). She's alive, only suffering from severe memory loss.
Promised full pardons in exchange for their services, Dom rounds up the guys, bringing them from various exotic locales to London, where they intend to stop and catch Shaw.

The team includes hacker Tej (Chris "Ludacris" Bridges) and the thrifty Roman (Tyrese Gibson), who add the occasional comic relief. Unsurprisingly, the film unfolds with action, including a subway station foot chase and a street race around downtown London.

Even someone previously unexposed to this franchise is familiar with what it's about: muscular thrill-seekers in wife beaters, multicultural honeys occasionally scantily clad, exotic locales, hip music, and a few laughs along the way. The consensus seems to be that the franchise has matured and improved with post-Tokyo Drift installments actually considered respectable action films. Furious 6 is not as vapid and mindless as earlier outings probably were.

The dialogue isn't great, but it's passable until it becomes entirely subservient to action stunts. The acting is pretty poor all around; notice how Carano, whose past as a mixed martial arts fighter explains some of her duties here, does not stand out as she did surrounded by seasoned vets in Steven Soderbergh's Haywire. Walker, Diesel, Gibson, and Rodriguez have found work outside this series, but not much of it noteworthy for its dramatic stimulation. Even Johnson, whose filmography is a little more varied and full, doesn't have the chops to elevate this above slick B-movie.

These films are best enjoyed by adrenaline junkies, of which I am not one. The action sequences are as sharply produced as any, but without being placed on a sturdy foundation of story and characters, it's not terribly involving, making the film's final forty minutes or so easy to check out of, as the extended driving becomes tedious.

With timing that would feel exploitative had it not been scheduled long in advance, Furious 6 finally hit Blu-ray and DVD this week, six and a half months after the film's Memorial Day Weekend opening and in time for the final two weeks of Christmas shopping. Like most new films, Universal treats this one to a reasonably-priced combo pack presenting consisting of a Blu-ray, a DVD, and Digital HD UltraViolet. The Blu-ray alone presents the movie in both theatrical and extended cuts. A very narrowly extended cut, given the packaging's identical runtimes. In fact, it runs just 44 seconds longer, but that difference is apparently the result of a number of (sometimes extremely) minor gains and trims, making it more of an alternate cut.
Blu-ray & DVD Details

2.40:1 Widescreen (DVD Anamorphic)
Blu-ray: 5.1 DTS-HD MA (English), 5.1 DTS (Spanish, French); Theatrical-only: Dolby Surround 2.0 (DVS)
DVD: Dolby Digital 5.1 (English, Spanish, French), Dolby Surround 2.0 (Descriptive Service)
Subtitles: English for Hearing Impaired, Spanish, French
Not Closed Captioned; Video Extras Subtitled
Release Date: December 10, 2013 / Suggested Retail Price: $34.98
Two single-sided, dual-layered discs (1 BD-50 & 1 DVD-9)
Blue Eco-Friendly Keepcase in Embossed, Holographic Cardboard Slipcover
Also available in Amazon-exclusive Blu-ray Combo Steelbook, standalone DVD ($29.98 SRP) and on Amazon Instant Video: Theatrical, Extended
VIDEO and AUDIO
On Blu-ray, Fast & Furious 6 features spectacular picture and even better sound. You can't fault this franchise in the visuals and sound departments. The always-clean and sharp 2.40:1 picture shows tremendous detail and nice colors. Even the subtitles are stylish, sliding in in fragments, then disappearing with camera or character moves. The 5.1 DTS-HD master audio mix is more active and immersive than most and ripe for home theater demos. In addition to the bevy of revved engines and screeching tires, the soundtrack makes inspired use of tone-setting hip-hop and house tunes.
BONUS FEATURES, MENUS, PACKAGING and DESIGN

The extras begin with the Top Menu's prominently listed

first look at Fast & Furious 7. Eerily, it is set at a funeral and has Walker's character proclaiming "there'll be just one more." This could be one of those things reworked in post-production as the filmmakers try to salvage the film and the parts that Walker has shot.

Director Justin Lin provides an audio commentary exclusively over the "extended" cut (which he calls a director's cut). He starts out by clarifying the movie is meant to be titled Furious 6 (and why), but had to defer to Marketing Department findings (evidently getting his way on the film itself for home video). He clearly takes this, his fourth time directing the series, seriously, as he comments upon Dom drinking beer in the morning, putting the comma in "It's Roman, Bitches!", the conditions at assorted international filming locations, and giving this installment its distinct place while honoring the franchise's core theme ("family"). He also talks about dashed plans to close this chapter of the series with back-to-back movies called "The Fast" and "The Furious" and coming up with ideas for this film several years in advance. It's a more rewarding listen than you'd expect of a solo track for a franchise so old.

Three deleted scenes (1:40) are included, two of them brief exchanges between characters and one of them involving Brian's jail stunt.

"Take Control" (19:18) seems like an interactive playback mode that wasn't authored as intended. It's just a featurette allowing cast members and director Lin to address parts of the film in chronological order with production reflections and behind-the-scenes footage. Best reveal: before landing The Rock, Hobbs was envisioned as a Tommy Lee Jones type.

The Making of Fast & Furious 6 consists of four featurettes. "The Fastest of Them All" (10:06) covers bringing the film to London and really being the end of Justin Lin's trilogy, something he spends much of the commentary discussing. "Reuniting the Team" (7:34) lives up to its title with some time devoted to each leading cast member and the character they play. "Letty's Return" (4:42) celebrates the resurrection of Michelle Rodriguez's character with amnesia. "The Mastermind and the Mole" (4:21) discusses the film's new characters and cast members.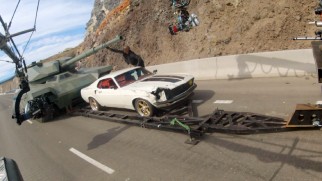 Planes, Tanks, and Automobiles gives us setpiece-specific talk about technical tasks involving vehicles, stunts, etc. Given this treatment: "The London Chase" (7:56), "Highway Heist: The Convoy Attack" (6:28), "The Antonov Takedown" (6:18), and "Dom and Letty Race Again" (3:35).

Three It's All About the Cars shorts turn our attention to the vehicles that have already been paid adequate notice elsewhere. "On the Set with Vin" (3:16) shows Diesel take stunt direction and discuss the demands and his tagline for Fast 7.

"Gearhead's Delight" (6:27) looks at the process to make the cars fast and durable. "The Flip Car" (5:23) dissects cars designed to flip over and their use on this shoot.

"Hand to Hand Fury" (9:44) focuses on tailoring the film's fight scenes to the cast with ample behind-the-scenes and choreography clips.

The same DVD sold on its own, the set's secondary disc includes the deleted scenes, the four Making of Fast & Furious 6 featurettes, "On the Set with Vin", and Lin's audio commentary, which accompanies the theatrical cut there, the only one the format offers.

The DVD opens with ads for 2 Guns, Rush, Kick-Ass 2, Fast and Furious 6: The Game, Machete Kills, Transformers: The Ride 3D, and Riddick. The Blu-ray streamed all of those at different times. Sometimes, it skipped them altogether and others, it streamed a swiftly-produced "In Loving Memory" Paul Walker montage of scenes from the franchise. On a return, an ad for Despicable Me 2.

The menu takes Universal's standard approach of simply placing listings over a standard montage of original aspect ratio film clips. The Blu-ray resumes unfinished playback; it also features uHear for simple clarification of an unclear bit of dialogue.

The blue keepcase gives artwork only moderately retooled from the theatrical one-sheet a yellow border, linking it with the other brightly-colored Fast cases and distinguishing it from the unbordered, embossed, holographic slipcover above. Inside, a booklet supplies your unique UltraViolet code and advertises some other Universal properties.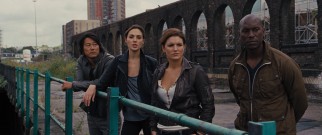 CLOSING THOUGHTS
Fast & Furious has somehow managed to ward off staleness and increase in popularity over the years. Having avoided the franchise until now, I found this successful sixth installment to be a competently produced albeit dramatically unremarkable action movie. There's clearly an audience for this series, but I doubt I'd be part of it if I wasn't reviewing movies for a living.
Universal's Blu-ray sports a terrific feature presentation and a number of extras, most of which are probably too technical to do much for general viewers.
Buy Fast & Furious 6 from Amazon.com:
Blu-ray Combo / Blu-ray Combo Steelbook / DVD / Instant Video: Theatrical, Extended