Denis Villeneuve, the French Quebecer director and screenwriter of Canada's 2011 Foreign Language Film Oscar nominee Incendies, makes his English language debut on Prisoners. The lifelong Canadian tells a very American story with an Australian leading man.

Prisoners is the product of an original screenplay by Aaron Guzikowski (the Mark Wahlberg movie Contraband), but it has detail, runtime, and substance that make you suspect it's adapted from a gripping crime novel. It's the kind of mature adult drama that could only open in fall and its late September theatrical release date is comparable to those of past films it resembles (e.g. Se7en, Mystic River).

The film opens on Thanksgiving Day, an occasion on which friendly neighbors the Dovers and the Birchs are all the family the other needs. Each family consists of two long-married parents, a teenager, and a young daughter, making age/gender-based friendships inevitable. The day is joyous enough until it's discovered that the two youngest children -- 6-year-old Anna and 7-year-old Joy -- have gone missing. The girls aren't at the Dover house and aren't playing outside in their shared street in Conyers, Pennsylvania. No, they've evidently disappeared in the way that every parent fears.

The police are contacted and their attentions are directed to an oddly occupied RV the girls had walked past and played upon earlier. Detective Loki (Jake Gyllenhaal) takes the lead on the case and is disheartened to find that the vehicle's soon-apprehended driver, Alex Jones (Paul Dano), has the IQ of a ten-year-old. There's no way that Alex could have abducted the girls on his own without a trace. After 48 hours, the police have to release the suspect from their custody, not having remotely enough to charge him. The release does not sit well with the girls' fathers, carpenter Keller Dover (Hugh Jackman) and Franklin Birch (Terrence Howard), who are bothered by a suspicious remark Alex made.
Unbound by protocol, the God-fearing Keller takes Alex to the long-vacant and rundown house his father left him, where he and Franklin try to draw information from the young man. It's a bit of a leap from loving father to captor/torturer, but Keller knows time is of the essence with most kidnapping victims not rescued within days either never found or turning up dead. While Detective Loki is following up on leads, looking into local sex offenders and other suspicious characters, Keller hopes to find the truth and his daughter his own brutal way.
I was unsettled early on by what seemed to be the planting of seeds to be sowed as a knock-out climactic twist. Gladly, my lingering suspicions proved to be entirely unfounded. Prisoners has surprises up its sleeve, but not the kind that crumble under inspection, betray everything we've been shown, or rely on a deceptive presentation. What I'd like to describe but will not for the sake of those who haven't seen the film, ends up being a plain old red herring, making this an on-the-level mystery/drama that earns its payoffs.
The film does that with technical brilliance, potent acting, and first-rate atmosphere. Every element from Roger Deakins' gray cinematography to the understated score by Iceland's Jσhann Jσhannsson to the fine work by the cast (which also includes Viola Davis and Maria Bello as the wives and Melissa Leo as Alex's aunt) seems to be on the same page and it's a page you're eager to keep turning. Comfortable with both casual small talk and explosive moments, Prisoners is suspenseful, involving, and gut-wrenching.
With audiences having so long been primed to look for twists and plot holes, it's tough to tread in this genre and still manage to engage and surprise without resorting to manipulation or suffering a misstep.

Villeneuve and company mostly pull off that trick, though, with the script, cast, and presentation all being a cut above the norms. It's not a film that will win major awards, though it's been picking up some accolades from the National Board of Review to the People's Choice, but it compares favorably to those that will, without the baggage of expectations and the disappointments of exclusion. It's just a well-made and significant film you wouldn't hesitate to recommend to anyone old enough to watch an R-rated movie who has a stomach to endure some gruesome images.

After performing decently but not exceptionally in theaters and cracking the IMDb's all-time Top 250 list (probably not for long), Prisoners quickly hits DVD and Blu-ray Combo Pack tomorrow, just in time for outside-the-box melancholic Christmas gift-giving.

Watch a clip from Prisoners:

Blu-ray & DVD Details

1.78:1 Widescreen (DVD Anamorphic)
Blu-ray: 5.1 DTS-HD MA (English), Dolby Digital 5.1 (French, Spanish)
DVD: Dolby Digital 5.1 (English, French, Spanish)
Subtitles: English for Hearing Impaired, French, Spanish
DVD Closed Captioned; Extras Not Subtitled
Release Date: December 17, 2013
Suggested Retail Price: $35.99
Two single-sided, dual-layered discs (1 BD-50 & 1 DVD-9)
Blue Eco-Friendly Keepcase in Cardboard Slipcover
Also available as DVD + UltraViolet ($28.98 SRP) and on Instant Video
VIDEO and AUDIO
The Blu-ray offers an exemplary feature presentation. The sharp, pristine 1.78:1 picture utilizes every pixel to show off the evocative cold, somber cinematography. The 5.1 DTS-HD master audio delights as well, doing an excellent job of presenting the film's masterful sound design and good score.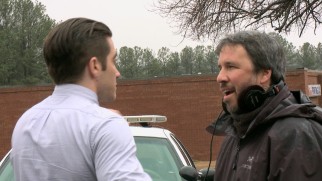 BONUS FEATURES, MENUS, PACKAGING and DESIGN

Each disc includes just two bonus features, a bit less than you'd expect for a film of this caliber.

"Every Moment Matters" (3:05) feels like an extended trailer,

adding some talking heads and a tiny bit of behind-the-scenes to film clips.

"Powerful Performances" (9:24) digs a little deeper with cast and crew (but not producer Mark Wahlberg) commenting on the fine cast assembled and the characters they portray.

Each disc opens with an UltraViolet promo and trailers for Gravity, The Hobbit: The Desolation of Smaug, and Her.

Both discs take Warner's usual approach of static poster art for main menu, with the DVD's secondary selection screens showing an absolute minimum of effort. The Blu-ray does not support bookmarks, but does resume playback just like a DVD.

The two maze-labeled discs are joined by your UltraViolet code insert in a keepcase that's topped by a glossy slipcover.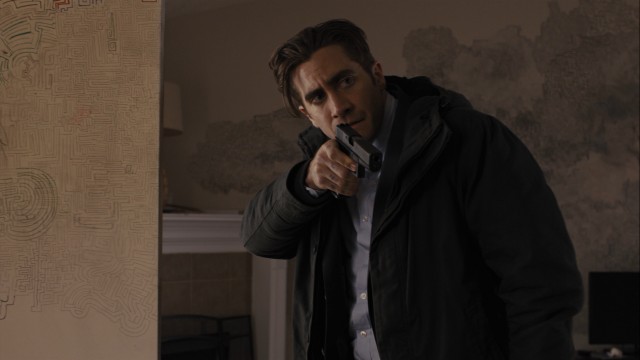 CLOSING THOUGHTS
Well-acted, well-directed, and well-told, Prisoners is a solid but dark drama. Though light on extras, Warner's combo pack delivers a first-rate feature presentation. This is one to check out, especially if you missed it in theaters.
Buy Prisoners from Amazon.com: Blu-ray + DVD + UltraViolet • DVD + UltraViolet • Instant Video