UltimateDisney.com | DVD and Blu-ray Reviews | New and Upcoming DVD & Blu-ray Schedule | Upcoming Cover Art | Search This Site
Warner Bros. Presents Saturday Morning Cartoons: 1980s DVD Review
Saturday Morning Cartoons: 1980s (1980-1988) Series & DVD Details

Featured Series: "Goldie Gold and Action Jack", "Chuck Norris: Karate Kommandos", "The Completely Mental Misadventures of Ed Grimley", "The Flintstone Kids", "Mister T", "The Biskitts", "Monchhichis", "Galtar and the Golden Lance", "Dragon's Lair", "Thundarr the Barbarian", "The Kwicky Koala Show"

Executive Producers: William Hanna, Joseph Barbera, Joe Ruby, Ken Spears, Freddy Monnickendam, Martin Short / Directors: Rudy Larriva, John Kimball, Charles A. Nichols, Jim Drake, Gary Shimikawa, George Gordon, Carl Urbano, Rudy Zamora / Writers: Steve Gerber , Lane Raichert, Dan DiStefano, Janis Diamond, Barry Blitzer, Terry & Sue Shakespeare, Martin Pasko, Flint Dille, Mark Jones, Len Janson, Chuck Menville, Gene Ayres, Duane Poole, Tom Swale, Dick Robbins, Bryce Malek, Neal Barbera, Rick Merwin, Chuck Couch, Lew Marshall, Cliff Roberts, Patsy Cameron

Cast: Judy Strangis (Goldie Gold), Sonny Melendrez ("Action" Jack Travis), Chuck Norris (Chuck Norris), Robert Ito (Tabe), Sam Fontana (Reed), Bill Martin (Claw), Kathy Garver (Pepper), Mona Marshall (Too-Much), Keone Young (Super Ninja), Martin Short (Ed Grimley, Emil Gustav), Joe Flaherty (Count Floyd), Jonathan Winters (Roger Gustav), Catherine O'Hara (Miss Tina Malone), Danny Cooksey (Wendell Malone), Frank Welker (Sheldon, Stalagbite, Patchett, Thork, Dirty Dawg), Lennie Weinrib (Freddy Flintstone), Hamilton Camp (Barney Rubble, Cragmire), Julie Dees (Wilma Slaghoople), B.J. Ward (Betty Jane Bricker), Marilyn Scheffler (Rocky Ratrock), Susan Blu (Dreamchip Gemstone), Bumper Robinson (Philo Quartz), Henry Corden (Ed Flintstone, Edna Flintstone), Mel Blanc (Dino, Captain Caveman), Charlie Adler (Cavey Jr.), Kenneth Mars ("Captain Caveman" Narrator, King Max), Mr. T (Mr. T), Phillip La Marr (Woody Daniels), Siu Ming (Kim Nakamura), Shawn Lieber (Jeff Harris), Teddy S. Field III (Spike O'Neill), Takayo Fischer (Ms. Priscilla Brisby), Amy Linker (Robin O'Neill), Dick Beals (Scat), Kathleen Helpie (Sweets), Jerry Houser (Shiner), Daryl Hickman (Wags), Bob Holt (Bump), Kip King (Shecky), B.J. Ward (Lady), Henry Gibson (Downer), Robert Morse (Moncho), Laurel Page (Kyla), Ellen Gerstell (Tootoo), Hank Saroyan (Thumkii), Sidney Miller (Horgg), Bob Arbogast (Snogs, Ither), Frank Nelson (Wizarr), Lou Richards (Galtar), Mary McDonald Lewis (Princess Goleeta), Brock Peters (Tormack), Bob Sarlatte (Dirk the Daring), Michael Mish (Timothy), Ellen Gerstell (Princess Daphne), Arthur Berghardt (Cinge), Clive Revill (Storyteller), Fred Travalenda (King Ethelred), Peter Cullen (Bertram, Sir Hubert Blunt, Bristletooth), Bob Ridgely (Thundarr), Nellie Bellflower (Princess Ariel), Henry Corden (Ookla the Mok), Robert Allen Ogle (Kwicky Koala), John Stephenson (Wilford Wolf), Jim MacGeorge (Crazy Claws), Don Messick (Rawhide Clyde), Marshall Efron (Ratso), Michael Bell (George, Ranger Rangerfield), Allan Melvin (Joey), Matthew Faison (Officer Bullhorn)

Running Time: 265 Minutes (11 episodes) / Rating: Not Rated
1.33:1 Fullscreen (Original Broadcast Ratio), Dolby Digital Mono 1.0 (English, Spanish, Portuguese)
Subtitles: English, French, Portuguese; Not Closed Captioned; Extra Subtitled in Spanish, Portuguese
Original Airdates: October 4, 1980 - September 10, 1988
DVD Release Date: May 4, 2010; Suggested Retail Price: $26.98
Black Keepcase in Cardboard box; Two single-sided, dual-layered discs (DVD-9s)
When I think of decades past, certain objects come to mind that seem to concisely and significantly represent the culture of those times. The 1950s have poodle skirts, leather jackets, and cool cars. The '60s have flowers, tie-dye, and drugs. For the '70s, there are, of course, bell bottoms and disco balls. When I think of the '80s, iconic items don't spring to mind as fast.

There are things like bright colors and Valley girl slang. But for being considered a decade of materialism, there aren't many tangible items (aside from perhaps the Rubik's Cube) that truly embody the times. Maybe it's just my personal perspective, but TV cartoons actually seem to come as close as anything to defining the decade.

The '80s were full of colorful cartoons, many of them tied to toy or movie franchises and most of them taking place in distinctive, imaginative universes with their own rules. There were bears who cared, Smurfs who smurfed, Transformers transforming, and Ghostbusters with many ghosts to bust. A survey of Wikipedia's priceless Saturday morning television schedules reveals just how much original animated programming there was, as each of the three major networks devoted at least four hours of weekly airtime to cartoon series.

Live-action Saturday morning shows started to become more common at the end of the '80s with NBC's "Saved by the Bell" success giving rise to similar kid-friendly teen comedies. But TV animation continued to flow in the '90s. Whether it's because 2000s kids have yet to get nostalgic or the networks abandoned Saturday mornings, the years from 2001 to 2009 are blank on Wikipedia and 2009-10's page is an off-putting blend of educational programming, Japanese imports, and Disney Channel reruns. Maybe current 8-year-olds will one day reminisce about the good old days of "Sonic X" and "RollBots", but that scenario remains off in the distance.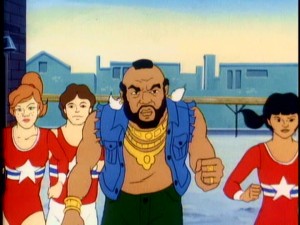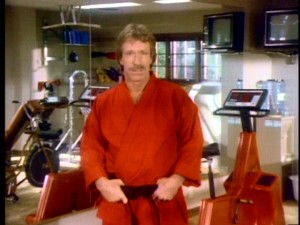 Today, the '80s kids get to be nostalgic, thanks to Warner's upcoming DVD release Saturday Morning Cartoons: 1980s. Serving up tastes of eleven different TV series, this 2-disc collection follows a model already twice applied to the 'toons of the 1960s and 1970s. Basically, Warner dips into its extensive television holdings library (which is largely just gathering dust, if not literally then figuratively) and gathers typically the first episodes of shows popular enough to potentially sell but probably not in the traditional complete season approach.
Actually, calling the eleven featured series of this 1980s set "popular" may be overstating their appeal, but even if, like me, none of these series is especially familiar to you, you're bound to recognize or know of some of these properties. For instance, Mr. T. Is it too obvious to say I pity the fool who doesn't recognize the "A-Team" actor turned all-purpose '80s icon? In the '80s, when you became as famous as Mr. T did, you got a Saturday morning cartoon. The mohawked, bejeweled badass claims central cover placement here, for the first of the 30 episodes of his three-season NBC cartoon "Mister T" is included.
Denied space on all covers but arguably and ironically as big a name today as he was twenty-five years ago is Chuck Norris, who starred in "Chuck Norris: Karate Kommandos." Like Mr. T did before him, Norris served as briefly-seen host and voiced his animated likeness in this fellow moralistic Ruby-Spears action series. Sadly, "Kommandos" only ran for five episodes, but that means a fifth of the series is now legally on DVD.
Sort of in the same class as those two personality projects is "The Completely Mental Misadventures of Ed Grimley", a Hanna-Barbera show centering on the quirky character Martin Short played in live-action comedy sketches for "SCTV" and "Saturday Night Live."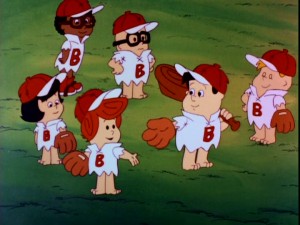 The best known of the remaining eight selections would have to be "The Flintstone Kids", ABC's two-season mid-'80s spin-off of the landmark 1960s Hanna-Barbera primetime sitcom.

The DVD serves up twice as much of this program as its present company on account of it holding a one-hour timeslot and Warner thoughtfully representing each of its show-within-a-show components.

Three classical fantasy series are represented. The best-remembered is "Thundarr the Barbarian", which ran from 1980 to 1982 on ABC and was subsequently rerun on NBC. Ruby-Spears' single-season "Dragon's Lair" show was adapted from the popular Don Bluth-animated video game first played on laserdisc. Hanna-Barbera's "Galtar and the Golden Lance" ran for 21 episodes in 1985-86.

The other shows are ones you either have seen or more likely never heard of, since they don't boast the widest reaching of reputations. "Monchhichis" was a line of toys and tie-in cartoon that Mattel imported from Japan for the 1983-84 season on ABC. (Rapper Pharoahe Monch's stage surname was derived from this show.) "The Kwicky Koala Show" is notable for being the last project worked on by legendary Looney Tunes animator Tex Avery and for seemingly being modeled after Avery's MGM canine Droopy. Ruby-Spears' "Goldie Gold and Action Jack" is about as obscure as any '80s cartoon, having run for a scant thirteen episodes in the fall of 1981. Equally short-lived in 1983, Hanna-Barbera's "The Biskitts" seems to have made only a slightly larger impression.

Unlike the 1960s and 1970s sets, Warner hasn't designated this premiere 1980s collection a "Volume 1", suggesting there aren't plans for additional compilations. Whether that implicit lesser demand is accurate or merely the perception of executives whose childhoods predate these cartoons, I don't know. I do know that the '60s and '70s compilations included a number of series released to DVD on their own. That may have slightly diminished the Saturday Morning DVDs' value in the eyes of serious collectors but also made them more appealing to folks who like shows such as "The Flintstones", "The Jetsons", and "Josie and the Pussycats" but not enough to spend $20 on complete collections of them. This '80s DVD remains entirely unique, avoiding recognizable Warner-owned programs like "Jetsons", "Smurfs", and "A Pup Named Scooby-Doo." Also missing here and presumably ripe for inclusion on a second volume are series such as "Popeye and Son", "The Pound Puppies", "Pac-Man", "Shirt Tales", and a legendary-sounding oddity called "Rubik, the Amazing Cube."

Now, let's take a closer look at what is found on this 2-disc set...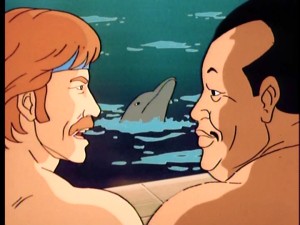 Disc 1
1. Goldie Gold and Action Jack: "Night of the Crystal Skull" (20:15) (Originally aired September 12, 1981)
Goldie Gold is the richest woman in the world. "Action" Jack Travis is a reporter for the Gold Street Journal, the newspaper she owns. Along with help from her dog Nugget, they fight crime! "Goldie Gold and Action Jack" plays out much like the old classic Hanna-Barbera action series (on which Ruby and Spears launched their careers), with plenty of close calls, expository dialogue, and useful devices. In this episode, ancient Incan warriors led by a powerful crystal-faced man crash the Gold Street Journal building, taking a professor with them. Gold, Jack, and Nugget quickly get on the trail.
2. Chuck Norris: Karate Kommandos: "Deadly Dolphin" (21:28) (Originally aired September 15, 1986)
Although he is the only one to claim titular billing, exist outside the show, open and close episodes with a lesson, and have his full name uttered nine times in the opening title sequence, Chuck Norris does not go it alone in the animated portions of this extremely short-lived series. Fellow Karate Kommandos include a tubby sumo champion, a wise samurai, a tech girl, a young Asian boy, and Chuck's apprentice. Here, Chuck and Tabe (the skimpily-clothed sumo guy) take the lead when Angel Fish seizes control of Sealab. The lady pirate is not pleased to find that kingpin the Claw has also hired Super Ninja for this project. This is a ridiculous show that one wishes was even a little more ridiculous and campy.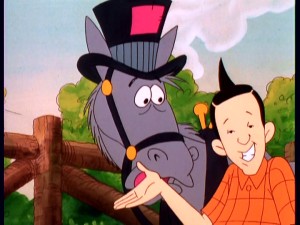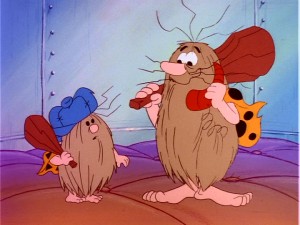 3. The Completely Mental Misadventures of Ed Grimley: "Tall, Dark & Hansom" (22:48) (Originally aired September 10, 1988)

There's a later-'80s sensibility to this program, which charms on the firm foundation of Martin Short's enduringly humorous spaz. In this premiere episode, Ed runs into trouble when he fills in for his sick Cousin Lamar's horse and buggy business. During a break, the Amazing Gustav Brothers describe gravity.

Then, in live-action, Count Floyd (Joe Flaherty) tries to frighten unmoved children with a scary animated tale involving an archaeologist and a headless mummy. Ed's final misadventure finds Leonard the horse entering a horse race to impress a lady horse. This entertaining show was my favorite thing on the set.

4. The Flintstone Kids (46:46)

This show, the most recent spin-off to focus on the original Flintstones gang, gives us elementary school versions of Fred, Wilma, Barney, Betty, and Dino. Joining them as cast regulars were bully Rocky Ratrock, spoiled rich girl Dreamchip Gemstone, and black friend Philo Quartz. The DVD includes a taste of all four types of "Flintstone Kids" segments, placing one set of end credits on the last of them. Presumably, this recreates how the show aired in the one-hour timeslot it was given throughout the 1986-87 season.

"The Bad News Brontos" (23:06) (Originally aired October 4, 1986)
The gang's struggling baseball team, the Bedrock Brontos, starts to improve after Fred's mother Edna takes over as coach. Then, Bedrottens bully Rocky makes Fred bet on their game, with the winner getting to sit next to Wilma at the big sports banquet.

Captain Caveman and Son: "Invasion of the Mommy Snatchers" (8:17) (Originally aired September 27, 1986)
This show-within-a-show, watched and commented upon by the Flintstone Kids, centers on a hirsute father and his son Cavey Jr. The Captain was first introduced as part of late-'70s "Scooby-Doo" package shows. In this installment, Bedrock's mothers are being abducted, so Captain Caveman dresses as one to discover Riff and Raff, the two-headed alien child behind the disappearances.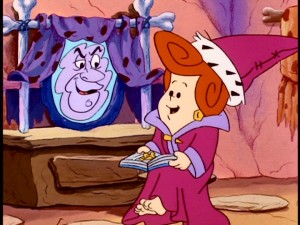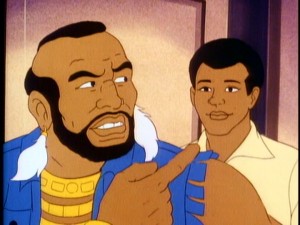 Dino's Dilemmas: "Dreamchip's Cur Wash" (3:12) (Originally aired September 27, 1986)
At spoiled rich girl Dreamchip's house, Dino is subjected to a prehistoric dogasaurus cleaning. As you can guess from the title, this show-within-a-show consisted of shorts centering on Freddy's pet.

Flintstone Funnies: "Princess Wilma" (12:11) (Originally aired December 16, 1986)
Stuck nursing her cold instead of going to the mall, Wilma imagines what her life might be like if she was a medieval princess.

In her fantasy, Sir Freddy of Flintstone challenges Sir Rocky of Ratrock to the joust of the century for the princess's hand. When Princess Wilma needs rescuing, correspondence school graduate wizard Barney tries some magic. These "Flintstone Funnies" segments, dropped after Season 1, involved the kids dreaming themselves into exotic adventures.

5. Mister T: "Mystery of the Golden Medallion" (24:02) (Originally aired September 17, 1983)

Mr. T apparently likes to hang with young gymnasts in San Francisco. That is what he's doing here along with Dozer, his dog who sports a matching mohawk. When Spike, the boy who most idolizes Mr. T, is abducted, the rest of the gang puts on their thinking caps to try to figure out where and why he's been taken. Mr. T teams up with outcast new kid Woody. This is more engaging than the Chuck Norris show the company clearly modeled after it.
Continue to Page 2 >
Related Reviews:
New: The Great Mouse Detective (Mystery in the Mist Edition) • My Neighbor Totoro • Castle in the Sky • Kiki's Delivery Service
Smurfs: Season 1, Volume 1 • Alvin and the Chipmunks: The Alvinnn!!! Edition • Transformers: The Complete First Season
DuckTales: Volume 1 • Adventures of the Gummi Bears: Volume 1 • Chip 'n Dale Rescue Rangers: Volume 1
The Jetsons: Season 2, Volume 1 • Dragonslayer • The Spectacular Spider-Man: The Complete First Season
Schoolhouse Rock (30th Anniversary Edition) • Peanuts: 1970's Collection, Vol. 1 • Alvin and the Chipmunks: The Very First Alvin Show
Forever Funny: T.V. Sets • Holiday Treats: T.V. Sets • Space Ghost & Dino Boy: The Complete Series • Pixar Short Films Collection, Vol. 1
Chuck Norris: Walker, Texas Ranger: The Sixth Season | Joe Flaherty: Follow That Bird • Home on the Range
Martin Short: The Santa Clause 3: The Escape Clause • The Spiderwick Chronicles • 101 Dalmatians II: Patch's London Adventure
Mr. T: Cloudy With a Chance of Meatballs • Silver Spoons: The Complete First Season
UltimateDisney.com | DVD and Blu-ray Reviews | New and Upcoming DVD & Blu-ray Schedule | Upcoming Cover Art | Search This Site
Search This Site:
UltimateDisney.com/DVDizzy.com Top Stories:
Reviewed April 22, 2010.


Text copyright 2010 DVDizzy.com. Images copyright 1980-1986 Ruby-Spears Enterprises, Inc., 1981-1988 Hanna-Barbera Productions, Inc., 1988 SEPP S.A., 1988 Martin Short,
and 2010 Warner Home Video. Unauthorized reproduction prohibited.