1985 opened a new door for Disney animation, as the studio ventured into TV cartoons with "The Wuzzles" and "Adventures of the Gummi Bears." Representing the old door was The Black Cauldron, a movie twelve years in the making. Feature animation output had slowed since Walt Disney's 1966 passing, but modest productions like The Rescuers and The Fox and the Hound were still generating ample profits. Four full years had passed since Fox and the Hound when The Black Cauldron opened with more ambition and higher hopes.

Adapted from Lloyd Alexander's 1960s book series The Chronicles of Prydain, Black Cauldron demanded a budget and canvas like no animated feature since 1959's Sleeping Beauty.

At the heart of this fantasy is Taran, an adolescent dreamer and assistant pig-keeper. It's no ordinary pig, Taran learns, when his mentor Dallben reveals that slop-eating Hen Wen is actually an oracle. The pig is sought by The Horned King, an evil lord who wishes to locate the fabled black cauldron and unleash the deathless warriors legend claims it holds. While looking for safety, boy and pig are both captured by the Horned King's minions.

With the assistance of an enchanted sword, Taran manages to get free and team up with two other prisoners, pretty Princess Eilonwy and the old minstrel Fflewddur Fflam. Together, they encounter intelligible dog-like creature Gurgi, a world of tiny flying elves, and three conniving witches. Throughout, Taran and company strive to keep the cauldron out of the Horned King's reach, fearing the power it could give him.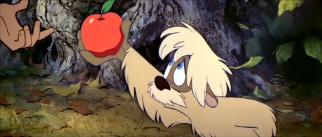 The Black Cauldron has a reputation for delivering a blow to Disney's longstanding tradition of wondrous, popular animated filmmaking. It is perhaps the one entry in the studio's feature animation canon that those in the know would be quickest to label a flop. And yet, the movie grossed over $21 million domestically on a $25 M budget. It definitely wasn't immediately profitable and its take was closer to those of Disney's regular reissues of older classics (101 Dalmatians' Christmas 1985 re-release grossed $33 M) than the $39 million predecessor Fox and the Hound earned. But compared to today's more recent financial failures (Home on the Range's $50 M gross on a $110 M budget, Treasure Planet's $38 M on a $140 M budget), Black Cauldron hardly was a disaster money-wise. One important difference is that the Disney of 1985 was putting out far fewer movies than the Disney of last decade.
If the box office performance wasn't exactly terrible, then the film must have been thrashed critically, right? Not really. Of the three most reliable sources for older movie reviews, Variety and The New York Times were unenthused, but Roger Ebert was quite a fan. Having recently seen some other clippings from the time of release, I know he wasn't alone, with more than one critic comparing the movie to the kind of exciting adventures George Lucas and Steven Spielberg were making then.
Mild unprofitability and mixed reviews aren't enough to explain Black Cauldron's low standing among the company's works. That's where the general public comes into play. It is all too easy to understand why the film wouldn't have been a favorite among moviegoers. The Black Cauldron is dark, almost relentlessly so. Only those who haven't seen them lately would assume that Walt's early films were all cheery; certainly, Bambi, Pinocchio, Fantasia, and even Snow White and the Seven Dwarfs have moments that can be considered frightening and disturbing. Even in the most genial of stories, villains must supply some threat and danger.
The Black Cauldron isn't alone in scaring, but it does go further. The Horned King is ominous and humorless. The skeletal appearances of he and the resurrected Cauldron Born army are about as ghastly as you can get. The film does inject plenty of comic relief, from the cuddly Gurgi to the Horned King's henchman Creeper to the briefly-seen Hen Wen. But the dark always overpowers the light, with the air of death ingrained in the eerie settings. This was Disney's first animated movie to receive a "PG" rating from the MPAA, something that's since been applied to many a tamer film (Bolt, Lilo & Stitch, Home on the Range). Undoubtedly, there's enough here to give a child crying fits and nightmares, a deterrent to word-of-mouth and repeat viewings.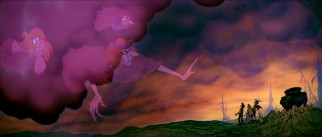 So, this may not be the ideal movie for little ones to cut their teeth on. (Although, at some point, a scary movie experience does seem like a memorable rite-of-passage for kids.) There is still plenty to enjoy here: a strong and mature story, fantasy with just the right amount of complexity,

a structure that turns and twists and skips but remains on course. The characters may not be among Disney's most lovable, but they're more than passable. Perhaps the film is lacking in the studio's signature charm department, avoiding songs and going light on laughs. Is that really a bad thing, though? Walt Disney sought to do something different with each of his earliest movies. The Pixar of late can be charged with the same. Variety adds spice to life and to art, a fact that studios seem to forget while relying heavily on recognizable properties, tried and true formulas, and projects that are like something else.

Is The Black Cauldron one of Disney's all-time best animated films? No. But it is bold, entertaining, and different. The movie shows exciting potential for the studio to diverge from reliable subjects and apply its talents to more challenging ones. Sadly, that potential has been untapped ever since; the same is true of the live-action side of the studio, which has never been as daring as it was in the mid-1980s. Sure, we get edgy things like Pirates of the Caribbean and National Treasure (which, at their best, are highly entertaining), but those just seem to slap the Disney name and content restrictions on Jerry Bruckheimer blockbusters. They're not taking the risks that movies like Return to Oz and Black Cauldron did.

It was reasonable to assume that The Black Cauldron was the last animated film Disney would choose to revisit on DVD. Does that mean that after this week's 25th Anniversary re-release that Disney is done with DVD? Not quite, but it does mean that the studio is almost done upgrading all of its animated features, the only catalog class it has bothered with for years. A look at our Disney Animated Classics list reveals few pre-DVD era works that could sustain a new edition; Hercules, The Hunchback of Notre Dame, the two Rescuers movies, the 1940s anthology films. None of those have been taken out of print, action that usually precedes a second release. And anything newer or more popular than those is likely to get its primary push on Blu-ray, the high-def format Disney has been willing to water down DVD for (while including a DVD copy on every release).

Just three weeks shy of the tenth anniversary of its DVD debut in Disney's Gold Classic Collection line, The Black Cauldron returns to stores this week, a month after it was made available early to Disney Movie Club
members.
DVD Details

2.35:1 Anamorphic Widescreen
Dolby Digital 5.1 (English, French, Spanish)
Subtitles: English for Hearing Impaired, French, Spanish
Closed Captioned; Extras Subtitled and Captioned
Release Date: September 14, 2010
Single-sided, dual-layered disc (DVD-9)
Suggested Retail Price: $19.99
Black Keepcase
VIDEO and AUDIO
One of Disney's few very wide features, The Black Cauldron appears exclusively in 2.35:1 widescreen, enhanced for 16:9 displays as it should have been but wasn't its first time on DVD. Picture quality is pretty terrific. The colors are rich and vibrant. The element is clean and stable. The film's backgrounds are especially impressive, so much so that at times the characters look a bit flat and disconnected from their spectacular surroundings. The transfer here is far superior to that of the 2000 Gold Collection DVD. There is little doubt that the movie looks as good as it could and should on DVD.
The Dolby Digital 5.1 soundtrack is also a delight. You can tell that Disney was putting more thought into multi-channel sound design by 1985, for the track has depth and directionality that the studio's earlier features either lacked or received by later remix. The closest thing to a drawback here is that character dialogue feels a little quiet in comparison to its environment. It remains crisp and intelligible, but its volume could be a little higher. One of the nicest features of the soundtrack is its presentation of Elmer Bernstein's top-notch score, which reminds me quite a bit of the music he wrote for Ghostbusters around the same time. The haunting sound, employing Bernstein's beloved French instrument the ondes Martenot, is befitting of the material, and easily distinguishes it from other Disney works.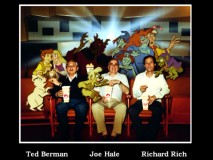 BONUS FEATURES, MENUS and PACKAGING

The Black Cauldron may be celebrating a milestone with this new DVD, but its light bonus features slate clearly puts it in the same class as Disney's second-tier works like Robin Hood, The Aristocats, and The Great Mouse Detective. At least we get a couple of new extras added to the handful preserved from the movie's Gold Collection DVD.

First and most significant is the new deleted scene "The Fairfolk" (9:49), which is more like an extended alternate sequence. This largely stays true to the part in the film itself, only utilizing pencil animation (with a touch of storyboards) and what sounds like original recordings.

The elongations contain exposition and depict Fflewddur Fflam's reluctance. Meanwhile, King Eidilleg is less helpful and more confrontational and focal here. This is cool to see, but fans of Black Cauldron know that the film has other dark deleted scenes, cut shortly before release by now-DreamWorks Animation head Jeffrey Katzenberg. I guess we can't be surprised that they're not included here.

A fast and easy to navigate Still Frame Gallery offers the usual smattering of imagery: Visual Development (33 stills), Character Development (31 stills), Behind the Scenes (7 stills), Voice Talent (8), Layouts and Backgrounds (9), Tokyo Disneyland (8 stills illustrating the film's climactic role in the park's exclusive Cinderella Castle Mystery Tour), and Promotion (8). There's some interesting stuff here, including far-out concept art and Tim Burton designs.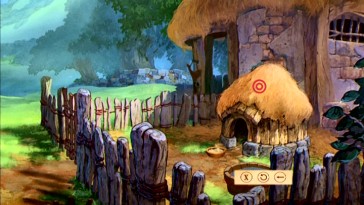 Two games are offered. Carried over from the original DVD is "Quest for The Black Cauldron", which offers trivia about the movie's plot. Whether you choose the East Path or the West Path, play proceeds in a similar, clunky fashion, with you answering simple 3-choice questions. Get them right, and you're treated to amusingly random celebratory noises (cat calls, church bells, baseball stadium organ "Charge!"). Four wrong, though, and the Horned King catches you and you've got to start all over. Reach your destination and your prize is the Donald Duck short film Trick or Treat, which otherwise can be accessed from the menu. Hmm.
The second game is the all-new "The Witches' Challenge", which has you looking in four places for the items that answer the Witches of Morva's riddles. Three wrong answers and you lose. It's quite a bit tougher than your typical set-top activity (the counterintuitive navigation doesn't help), but I can't imagine most of the movie's fans being interested by this. There is no reward for beating it.
Last but not least is the aforementioned 1952 animated short Trick or Treat (8:14), in which real witch Hazel teams up with Huey, Dewey, and Louie to scare their Uncle Donald into giving them treats, not tricks. It's a fine short whose inclusion lends weight to Disney's customary classifying of this movie as a Halloween title.

The second page extras are nothing more than the Sprouse brothers' Blu-ray pitch and your one-minute guide to digital copies, neither of which bears any relevance to this release.

The FastPlay-enhanced disc loads with promos for Disney Blu-ray, Tinker Bell and the Great Fairy Rescue, Beauty and the Beast: Diamond Edition, and a movie Disney has no idea how to market (which you might recognize as Tangled).

No longer individually accessible but playing after these via the menu listing, the second batch of "Sneak Peeks" promote Disney Movie Rewards, Genuine Disney Treasure, Oceans and The Crimson Wing, Prince of Persia: The Sands of Time, A Christmas Carol, and D23.

Despite the inclusion of all these trailers for other things, Black Cauldron's own theatrical preview, included on its first DVD, has been disappointingly dropped.

About as a cheery and childish as it could be, the DVD's animated main menu features Gurgi, Doli, and colorful birds popping up while some of Elmer Bernstein's score plays. If FastPlay is activated, the cycle repeats if you watch the menu for more than a minute.

As if to distinguish The Black Cauldron as a second-rate title among second-rate classics, Disney skips the obligatory cardboard slipcover for the first time in a long time. The black uncut Eco-Box keepcase holds a Disney Movie Rewards code and an ad promoting Blu-ray. The back of the case loudly identifies the DVD as "1-Disc", as if that is a selling point.
CLOSING THOUGHTS
The underrated The Black Cauldron offers a different kind of Disney fantasy. It's not perfect, but it's a compelling achievement all the same. The 25th Anniversary DVD delivers some much-needed improvement in the film's presentation, providing practically impeccable picture and sound. The bonus features aren't much (and a wag of the finger for dropping the trailer), but the price is low enough to justify an overdue first-time purchase or an upgrade for anyone interested.
More on the DVD / Buy from Amazon.com / The Books
by Lloyd Alexander