The film Run Fatboy Run challenges comedic talent on both sides of the Atlantic Ocean to prove themselves in new ways. For England's Simon Pegg (Shaun of the Dead, Hot Fuzz), it's a chance to establish himself as a leading man without the comfort of his genre-spoofing troupe.

For Hank Azaria, a veteran performer whose steadiest work has been voicing multiple characters on "The Simpsons", it's an opportunity to reinforce his live-action chops. All-around TV guy Michael Ian Black ("The State", "Stella") puts his writing to the test with his first screenplay to reach theaters. Behind the camera, "Friends" star David Schwimmer makes his feature directing debut.

Though most of the above are Americans, Run has a British feel, or rather an accessible British flavor on par with the widely embraced romcoms of Richard Curtis (Notting Hill, Love Actually). Pegg, who is also credited on the script, stars as Dennis Doyle, a Londoner who in a state of panic ran from marriage, leaving his quite pregnant fiancée Libby (Thandie Newton) high and dry on what was to be their wedding day. Five years later, Dennis remains haunted by this act. His visits with Libby and time spent with their young son Jake (Matthew Felton) are the only sources of brightness in his meager life as a store security guard.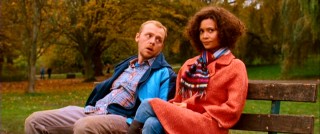 When a new man enters Libby's world, Dennis's shortcomings become all the more pronounced. Her new beau Whit (Azaria), an American abroad, seems perfect in every way: financially secure, impressively employed, well-groomed, and in top physical shape. Libby likes him, Jake likes him, and each passing day threatens to see Dennis' would-be family becoming complete without him.
To prove his worth, Dennis announces he'll compete in an upcoming marathon, just the latest of many featuring the active Whit. Everyone around Dennis is skeptical of his declaration. Like the film's title, their doubt would be more apt if Pegg's unshapeliness was the result of more than modest padding on his stomach. Nevertheless, based on his noncommittal past and aversion to physical activity, Dennis' enrollment in the 26-mile footrace and vow to finish become the crux of Run Fatboy Run.
As a romantic comedy, the movie has certain hallmarks it must uphold. Though it does so at the risk of being familiar, it strives to be better than that, giving us characters to chew on and a lot to laugh about. The reconnection potential of Dennis and Libby is secondary to the rivalry between Dennis and Whit. The latter compels partly because Pegg manages to be effortlessly endearing and partly because Azaria adeptly finds a way to make his character spotless yet unsympathetic.
While many standard-issue romcoms play to female viewer tastes (struggles to connect with Mr. Right, the perfect highs of elusive fairy tale love, and the such), Run opts for a masculine mindset reflective of its creative leads. Men will no doubt appreciate this and so will women who find the genre too formulaic. The movie juggles broad physical gags with more subtle and intelligent humor, a mix that Pegg and his co-stars are well-equipped to handle. Of the cast, Dylan Moran ("Black Books") and Indian stage actor Harish Patel make much of their supporting roles as Dennis' mess of a best friend and landlord, respectively.

And it needs to be mentioned that David Walliams channels one of his few consistently humorous "Little Britain" creations for a spirited bakery scene.

You'll likely foresee the ultimate destination in advance or find the ideas and subplots in play similar to other films in this class. You may even feel that the film spends too much importance and time on the central marathon. But Run Fatboy Run is noticeably smarter, funnier, and more fulfilling than your typical romantic comedy, even as it flirts with banality.

While the movie performed quite well in UK theaters last fall, its American debut was delayed until spring 2008. It opened playing on more US screens than Pegg's Edgar Wright collaborations ever have, and yet stateside the film failed to earn more than just a fraction of its foreign business. Theatrical underperformance often encourages studios to advance a film's home video debut, but New Line and parent Warner went the other way here, taking a full six months to give Run Fatboy Run another chance to find an American audience.
DVD Details

2.35:1 Anamorphic Widescreen,
1.33:1 Reformatted Fullscreen
Dolby Digital 5.1 Surround (English),
Dolby Digital 2.0 Surround (English)
Subtitles: English, Spanish
Closed Captioned; Most Video Extras Subtitled
Release Date: September 23, 2008
Single-sided, dual-layered disc (DVD-9)
Suggested Retail Price: $14.98 (Reduced from $27.98)
Black Keepcase
Also available on Blu-ray Disc
VIDEO and AUDIO
On DVD, Run Fatboy Run appears in both its 2.35:1 widescreen theatrical aspect ratio and a 1.33:1 fullscreen transfer. Watching the former, I was very pleased. This isn't a film that will garner much notice for visual style, but the clean, vibrant transfer nonetheless enables one to admire the assortment of London locales featured. The Dolby Digital 5.1 soundtrack is expectedly front-oriented and generally gentle, but it does come to life for a few recognizable pop tunes like David Bowie's "Queen Bitch."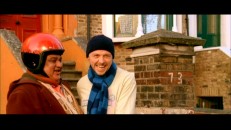 BONUS FEATURES, MENUS and PACKAGING

Extras begin with an audio commentary by director David Schwimmer, writer/star Simon Pegg, and co-star Thandie Newton. Simon's mother Gill Pegg is also there and credited, but doesn't really speak audibly. Doing most of the talk, Pegg and Schwimmer cover usual ground like filming experiences and locations. Some of the more interesting revelations are dropped casually, like that the film was written to take place in New York.

Also, Nike product placement is defended, the homage to Team America explained, and deletions are discussed (that happily are included on the DVD). Schwimmer doesn't open up as much as other first-time directors, although he does sound clearly in awe of Pegg and British comedy in general while never mentioning his own popular sitcom.

Next up are fourteen deleted scenes. Running 7 minutes and 20 seconds altogether, they're all very short and not particularly significant. The biggest inclusion shows more of blackmailing landlord's daughter Maya (India de Beaufort), who hardly appears in the final cut. Finished-looking and in 5.1, the scenes are presented with optional commentary by Schwimmer, who says just a few descriptive words on each and occasionally offers a nasal laugh.

A reel of outtakes (6:45) amuses with its collection of alternate lines, deleted moments, and botched deliveries.

"Goof" (2:52) shows Simon Pegg, while preparing for a standard press interview, discovering co-star Thandie Newton has played yet another good practical joke on him.

As featured presentation trailers grow more and more rare, it's nice to get both domestic (2:22) and racy international (2:34) theatrical trailers for Run Fatboy Run.

The disc opens with a trailer for Be Kind Rewind and the anti-tobacco urban cowboy ad. The former is all that plays from the special feature menu's "Sneak Peeks" entry.

Appropriately enough, the main menu features a montage of Dennis running. Many of the submenus are static, but they tend to boast an inspired design, like the scene selection's application of the film's striking brick wall image.

The lone insert in the standard keepcase is a noteworthy one, at least for those who perk up at the words "digital copy." It provides a code to download to your computer digital file of the film from Warner's dedicated website. No wasted disc or case space and easy to pass on to an interested friend... I think WB has a better grip on this new technology than other studios.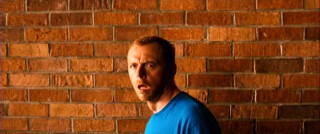 CLOSING THOUGHTS

Who knew that David Schwimmer had a fine British comedy in him? While first-time director Schwimmer and writer Michael Ian Black

may be owed some credit, those in front of the camera make Run Fatboy Run truly enjoyable. There are some timeworn touches, but Simon Pegg and a fine supporting cast keep the movie several notches above a run-of-the-mill romantic comedy, while valuing comedy far above romance. Fans of Pegg and his accessible brand of humor would be wise to give this a shot, so long as they don't expect the grand audacity of Hot Fuzz.

One viewing may be enough for some, but New Line's serviceable disc would also suffice as a purchase, particularly after the inevitable price drop occurs soon.