EXTRAS


Pollyanna appears in a 2-Disc edition as part of the Vault Disney collection. The supplements here and good and plenty starting with an audio commentary by Director David Swift and star Hayley Mills on Disc One. The two clearly have a good time reminiscing about the various things that occured while shooting, and many interesting stories pop up. It isn't a very in-depth commentary track, and the long running length of the film makes it a bit hard to sit through, but it's pleasant enough to warrant a listen.
Also on Disc One is the short "Nifty Nineties" starring Mickey and Minnie in a period similar to that of Pollyanna's. As this short originally appeared before the film upon theatrical release, it appears before the film on DVD, in a nice touch.
Preview trailers at the start of the disc are for Lilo & Stitch, Max Keeble's Big Move, and Air Bud: Seventh Inning Fetch. Accessing the Sneak Peeks menu also gives you the choice to watch previews for Return to Never Land, Monsters, Inc., and Beauty and the Beast.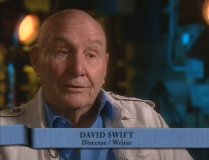 Disc Two, naturally, contains the rest of the supplements beginning with the featurette "Pollyanna: Making of a Masterpiece" (29 minutes). As with other Vault Disney featurettes, this is compiled of new interviews with various cast and crew members as well as film historians. Some location footage occasionally appears here and there, and the people interviews provide interesting perspectives on the making of the film. It's a breezy and informative featurette that's very well produced.
Next up is "Recreating Pollyanna's America" (15 minutes) which is a featurette on the costumes and sets made to convey 1912's nostalgic America. The featurette is fascinating in just how much effort went into creating the film to be as authentic as possible, with care given to details the audience may not notice.
"1912" is a curious little 3-minute feature that intercuts various Pollyanna shots with archive 1912 footage and text screens explaining things like activities played and clothes worn. It's quick, hyperactive, and not terribly informative, but interesting, anyway.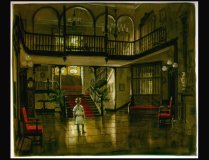 Each Vault Disney title contains a "Lost Treasure" that makes its debut on DVD or has rarely been seen before. With Pollyanna, the Lost Treasure is a set of Walt Disney introductions (7 minutes) for the film's 1963 television debut. They had never been seen since their original airdate and are a welcome addition to this set.
Following is the "Pollyanna Production Archive" which contains a great deal of supplements, starting with the galleries. The galleries contain production stills (56 stills), concept art (11 stills), costumes (4 stills), storyboards (55 stills), biographies and filmographies for the cast and crew, lobby cards (8 stills), posters (12 stills), merchandise (17 stills), documents (29 stills), and a screenplay excerpt. With the screenplay excerpt, you can read the original screenplay while selecting the corresponding film clip at any time.
"Production Gallery" is a separate 2-minute video reel of the gallery's production stills set to music. This is basically for those who don't wish to press the next button on their remote 56 times.
Trailers and TV Spots (6 minutes) presents the theatrical trailer and a TV spot back-to-back. The theatrical trailer is amazingly spoiler-filled and quite long, which makes watching slightly tedious.
"A Day in the Life of an Actress" is a 5-minute interview with Nancy Olson who discusses what a usual production day on the set of Pollyanna was like for her.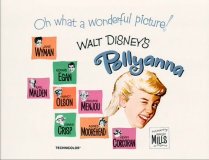 "Preserving Pollyanna" (11 minutes) is a fascinating interview with film preservationist Steve MacQueen. In this, he details how Pollyanna was restored from its original print to the picture found on this DVD. This featurette runs longer and more in-depth than the usual restoration featurette. The comparisons between the older prints and the new transfer are a treat to watch, and help one appreciate the positive picture quality even more.
"The Pollyanna Collector" is an 11-minute inteview with film historian Stacia Martin. She discusses the various merchandise meant to tie in with the film's release and displays some of these on camera. It's an interesting interview and it's always fun to see just what merchandise is created for the film, especially a film from the '60s.
"Promoting Pollyanna" (6 minutes) contains interviews from film historians Stacia Martin and Les Perkins. Both talk about the ad campaign for the movie's release and how the studio tried to make this appeal specifically for adults.
Within the "Audio Archives," we find radio spots, Sound Studio: The Bazaar, two songs that appeared on the film's records ("Pollyanna" and "Jimmy Bean"), and a story album. With the sound studio, one can choose to view a clip from the bazaar scene with dialogue only, music only, or the final composite of both. While the two songs and story album play, production photos are shown. The story album is rather tedious to sit through because since home video did not exist back then, story albums were the only way to experience films again and again. Due to this, the story album (instead of having new actors like with recent story books), is made up of edited dialogue from the film with a bit of narration by Kevin Corcoran in character as Jimmy Bean.
Disc Two finishes with "The Disney Studio Album: 1960" (5 minutes). This feature is basically a recap of what happened with Disney in that year. We're shown shots from 1960 films, attractions, shorts, and other events. It's a nice way to review a year of Disney history.