By Mark Arnold

In Yugoslavia, Andy Petrovic (Gary Grimes) is continually put down by his father (Tito Vandis), who favors the skills of his soccer-playing brother. Andy's mother (Hanna Hertelendy) is more sympathetic, and encourages her son to find a comparable talent. Enter Gus, the family mule, who happens to have the ability to kick a soccer ball the length of a football field.

Meanwhile, the California Atoms, a low-ranking (fictitious) professional football team owned by Hank Cooper (Edward Asner) and coached by Coach Venner (Don Knotts), are having another disastrous season. Upon finding out about the talented mule, Cooper tries to boost his club's spirits by offering to fly Andy and his mule out to California to be the team's half-time entertainment.

Debbie Kovac (Liberty Williams) is assigned to be Andy's escort in order to help him adjust to his new surroundings and help take care of Gus, much to the chagrin of Debbie's boyfriend Rob Cargil (Dick Butkus), who eventually breaks up with her.
The team's losing streak continues and Charles Gwynn (Harold Gould) informs Hank that this may be his last season with the Atoms unless they start winning games.

Hank tests Gus during a game and decides to make a bet with Charles. If the Atoms win seven games during the season, he gets to keep his job and the team. Charles decides to up the ante and counters that the Atoms have to win the Super Bowl in order for Hank to keep the team.

At the next game, Hank pulls out his secret weapon, Gus. After a question as to whether a mule can legally play in the NFL, Gus is allowed, as there is no such rule in the rulebook. The losing team now has added new fuel to the fire to the commentary of regular booth sportscasters Johnny Unitas (himself) and Pepper (Bob Crane).

Meanwhile, convicts Spinner (Tom Bosley) and Crankcase (Tim Conway) have been released from prison and vow not to continue with their criminal ways. That is, until Cal Wilson (Dick Van Patten) hires them to aid Charles in capturing Gus, so that the Atoms cannot possibly win the Super Bowl.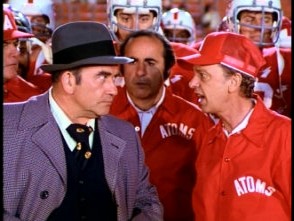 Spinner and Crankcase bumble around in a supermarket trying to capture Gus, but do not succeed. Meanwhile, Andy's parents have come to California to cheer on their son, but Andy's dad is still not convinced. He feels that anyone can hold the football and that Gus really has the talent. This fact is proven in one game when Andy is unavailable and Debbie holds the ball.
All of these issues really affect Andy and he's ready to pack it in and go home. Ultimately, he is convinced to stay on and is told that he is talented after all, just in time for the Super Bowl.
In the big final game, the rain and mud impede the progress of the Atoms, especially affecting Gus. It looks like they will be sure losers, but Andy saves the day by making a lengthy and slippery run through the mud to achieve the game-winning touchdown. Andy wins the approval of his family, and gets the girl (Debbie) in the end.
Gus is an enjoyable film, but it is definitely in the typical "cookie-cutter" style of the mid-70s Disney comedies. Cartoonist Ted Key (Hazel) came up with the gimmick concept for this field goal-kicking mule in between two other gimmicky comedies -- 1971's Million Dollar Duck and 1978's The Cat From Outer Space.

(By the way, Key's earlier work makes a cameo; Million Dollar Duck is the film playing during the scene at the drive-in theater.)

The film is competently directed by Vincent McEveety, who was one of Disney's go-to comedy directors once veteran helmer Robert Stevenson slowed his way to retirement. McEveety would surely have been at home here, having found himself in the director's chair for similar fare such as The Strongest Man in the World, and later, Herbie Goes to Monte Carlo and The Apple Dumpling Gang Rides Again.

The film was made with the cooperation of the National Football League and, as such, gridiron action featuring the likes of the Green Bay Packers and other real football teams is utilized in stock and newly-created footage. Some of this material was shot at the Los Angeles Memorial Coliseum and its neighboring Sports Arena. Other scenes were staged on a portable field covering part of the parking lot at the Disney Studios in Burbank. Real ex-football players and commentators like Johnny Unitas, Dick Enberg, Stu Nahan, Dick Butkus, and George Putnam appear throughout. Even producer Ron Miller was once a Los Angeles Ram, giving added appeal for football fans.

A note of sadness: this was Bob Crane's (Hogan's Heroes) last feature film appearance before he was murdered in 1978. Crane also appeared in Disney's Superdad in 1973.
DVD Details

1.33:1 Reformatted Fullscreen,
Dolby Digital 2.0 Surround (English)
Subtitles: English; Closed Captioned
Single-sided, single-layered disc (DVD-5)
Suggested Retail Price: $14.99
(Reduced from $19.99)
White Keepcase
VIDEO and AUDIO

Gus is presented in 1.33:1 fullscreen.

As mentioned elsewhere on this website, this presentation gets a thumbs-down as it would most definitely have been a widescreen film upon first release. The print is not pristine, but it is a vast improvement over the original washed-out videotape first issued back in 1981. The disc seems to have been mastered from the 1998 tape reissue when the tape was first touted as part of the "Don Knotts Collection". The DVD case keeps this legend, one of only a handful that kept this distinction as most Disney DVD's have sported new artwork and graphics than their tape counterparts.

The audio is listed as being in Dolby Digital Surround Sound, but I can't tell as I don't have a Surround Sound system. However, the sound is very crisp and clear on large stereo speakers considering this film's 30-year old analog recording. Disney has been known to store their sound elements quite well in many cases, and this film is no exception.

BONUS FEATURES

This is really a bare bones DVD; there is not a bonus feature to be found.
CLOSING THOUGHTS
Gus is a funny and pleasant little Disney comedy that is one of their more entertaining features. It's too bad it was released in such a rushed manner so as to not be issued in widescreen and sans extras. In fact, if you would like to hear Tim Conway talk about this film, you would be wise to seek out the Apple Dumpling Gang commentary on that disc. Otherwise, this merits a purchase only for completists and those who are devoted fans of this film or the many celebrity stock characters who appear in it.