A national swimming champion, teenaged Esther Williams was planning to compete in the 1940 Summer Olympics in Helsinki, Finland. When those were cancelled due to World War II, she auditioned for the leading female role in Billy Rose's Aquacade review in San Francisco. Williams won the part, beating out many other qualified hopefuls, to perform opposite Olympic gold medalist and Tarzan film series star Johnny Weissmüller. From there, Hollywood came calling and Williams reluctantly answered. After appearing in the two-reel short Inflation, Williams made her feature debut in Andy Hardy's Double Life, playing a love interest to Mickey Rooney in his 13th of 16 times portraying the titular all-American teen.

As one of many contract players at Metro-Goldwyn-Mayer (MGM), Williams quickly rose the ranks and became one of Hollywood's biggest stars of the 1940s and '50s. Williams' swimming talent gave her something unique to offer moviegoers

and nearly all of her films made use of her water prowess with elaborately staged swimming and diving sequences. MGM chief Louis B. Mayer leaned heavily on his strongest moviemaking instinct -- pleasing crowds with celebrated stars -- to effectively create a new genre, the aqua musical, just for Williams.

Williams enjoyed considerable popularity at MGM, headlining at least a film a year and being nearly guaranteed to wear a bathing suit for at least part of it. Cinemas weren't the only place where Williams could be found; countless photo opportunities were arranged and it was rare to encounter a newsstand without seeing the swimmer/actress' smiling face on some of the magazine covers. More than just a pretty movie star, Williams is credited with popularizing the art of swimming. The choreographed water dance sequences of Williams' well-attended films no doubt contributed interest to synchronized swimming, which was first demonstrated in the early '50s and would become an official Olympic event thirty years later.
Between a declining audience for aqua musicals and clashes with Mayer's successor, executive Dore Schary, Williams walked out on her MGM contract in the mid-1950s. She made a handful of dramas at Universal and Fox through the early '60s before retiring from movies in her early 40s. Williams would make a number of television appearances, but her days as a Hollywood sensation had passed, allowing her to settle down. Wisely, she capitalized on her high-profile cinema career in appropriate off-camera work, launching her own line of backyard swimming pools and fashion swimwear. Just a few years ago, Williams co-produced a Las Vegas water show.
Esther Williams' twenty years in the Hollywood limelight were not forgotten. She was inducted into the Swimming Pool Hall of Fame in 1967 and received a star on the Hollywood Walk of Fame. Alas, in the ten years that DVD has been around, the film work of Williams has been tremendously underrepresented on the medium. Of the actress' more than 20 feature film credits, only her 1949 musical Take Me Out to the Ball Game (co-starring Gene Kelly and Frank Sinatra) has been released on disc. Fans of Ms. Williams have been forced to wait and wait for more DVDs. Some may have settled for the archived excerpts and interview clips of the That's Entertainment! films. Others have probably tracked down videocassettes, all of which are long out-of-print and many now scarce enough to fetch high prices.
This summer, however, the wait is over, at least for five of Esther Williams' movies and a promise of more to come. Turner Classic Movies, the cable network that displays a rare respect towards cinema, launches a new TCM Spotlight line of DVDs, distributed by Warner Brothers, beginning with this month's 5-disc Esther Williams, Volume 1 box set. This collection houses five of Williams' MGM films, all musical/comedy/romances, spanning from 1944 to 1953.
Bathing Beauty

Theatrical Release: June 27, 1944 / Running Time: 101 Minutes

Director: George Sidney

Cast: Red Skelton (Steve Elliott), Esther Williams (Caroline Brooks), Basil Rathbone (George Adams), Bill Goodwin (Willis Evans), Jean Porter (Jean Allenwood), Nana Bryant (Dean Clinton), Carlos Ramirez (Carlos Ramirez), Ethel Smith (Ethel Smith), Xavier Cugat and His Orchestra (Themselves), Lina Romay (Herself), Harry James and His Music Makers (Themselves), Helen Forrest (Herself), Donald Meek (Chester Klazenfrantz), Jacqueline Dalya (Maria Dorango), Francis Pierlot (Professor Hendricks)

Songs: "Bim Bam Bu", "Te Quiero Dijiste", "Trumpet Blues", "By the Waters of Minnetonka", "Tico Tico No Fuba", "Loch Lomond", "I'll Take the High Note", "Alma Llanera", "Hora Staccato", "I Cried For You"
Though the title suggests otherwise, Esther Williams' debut starring role comes as second fiddle to Red Skelton, to whom this comedy vehicle caters. The working title was Mr. Coed and that's a lot more appropriate for a film about a newly-married man who enrolls in a girls college to get close to his swift-annulment-seeking wife. At his wedding to the cheery Caroline Brooks (Williams), popular songwriter Steve Elliott (Skelton) looks like a fool when another woman (Jacqueline Dalya) comes forth claiming to be his wife and co-procreator of three young kids. We know that Elliott's merely the target of a desperate music producer (Basil Rathbone, best known as Sherlock Holmes) who can't handle the possibility of his collaborator retiring. So our sympathies are with the flame-haired leading man as he travels to New Jersey and registers at Victoria College for Girls, where Caroline works.
It's tough to believe that seven writers were needed for the story, adaptation, and screenplay of Bathing Beauty, which is really just a string of sequences that are easily labeled comedic, musical, or both.

Whether he's pantomiming how females wake up and ready themselves or wearing a tutu and battling a sticky candle wrapper in eurythmics class, former vaudeville performer Skelton displays the flair for physical comedy that would help keep his self-named, Emmy-winning variety series a staple of primetime TV for twenty years. Elliott coasts amidst his giggly classmates, while Caroline's co-workers in the school's administration board plot to oust their lone male pupil with demerits. All the while, he pursues his wife with a charm she finds hard to resist.

Williams' contributions come most prominently in bookending pool sequences, the latter being cinema's historic, colorful first display of synchronized swimming. Though not especially well-known today, the Technicolor Bathing Beauty was a smash hit at the box office, becoming MGM's third highest-grossing film to date after Gone with the Wind and 1925's Ben-Hur.
Easy to Wed

Theatrical Release: July 25, 1946 / Running Time: 110 Minutes

Director: Edward Buzzell

Cast: Van Johnson (Bill Stevens Chandler), Esther Williams (Connie Allenbury), Lucille Ball (Gladys Benton), Keenan Wynn (Warren Haggerty), Cecil Kellaway (J.B. Allenbury), Carlos Ramirez (Himself), Ben Blue (Spike Dolan), Ethel Smith (Herself), June Lockhart (Barbara Norvell), Grant Mitchell (Homer Henshaw), Josephine Whittell (Mrs. Burns Norvell), Paul Harvey (Curtis Farwood), Jonathan Hale (Hector Boswell)

Songs: "Continental Polka", "Acercate Mas", "Toca Tu Samba", "Bonecu de Pixe", "Viva Mexico"
The Morning Star newspaper inaccurately brands Connie Allenbury (Esther Williams) -- the daughter of wealthy, powerful tycoon J.B. Allenbury (Cecil Kellaway) -- a husband-stealer. The Allenburys respond with a $2 million libel lawsuit. Don't let that premise throw you off; no press room drama unfolds. Instead, the (ir)responsible reporter Warren Haggerty (Keenan Wynn) concocts a plan involving his own fiancée Gladys (Lucille Ball, "I Love Lucy") and impoverished but charming writer Bill Chandler (Van Johnson). Chandler and Gladys wed, then Chandler begins to pursue Connie, so that she can be framed as a husband-stealer, this time with some merit.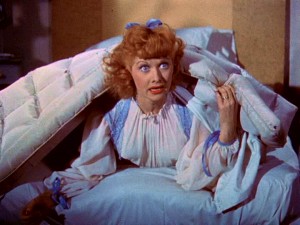 The comedy proceeds in a manner that's typical of the time and Williams' other work. Exaggerated actions, hunting, intoxication, and bigamy are all grounds for laughs, with some more fairly unrelated musical interludes performed by Mexican singer Carlos Ramirez and pop organist Ethel Smith. Easy to Wed is the type of film that doesn't take long to figure out where it's going, yet it's still quite a bit of fun getting there. Though far-fetched in execution, the plot is engaging and, in these days of headline-grabbing heiresses, not very outmoded, even though it was first put on film seven years earlier, as 1939's Libeled Lady, with the more renowned cast of William Powell, Myrna Loy, Jean Harlow, and Spencer Tracy. This remake was one of a handful of MGM sound films that enlisted silent comedy legend Buster Keaton (The General) as uncredited, cut-rate gag writer and director during his low-profile, behind-the-camera return to the studio following alcohol addiction treatment and a clash-prompted fallout.
Swimming is kept to quite a minimum here, with Williams getting wet in just two brief but key scenes. With vibrant lipstick that tests the bounds of Technicolor, she proves herself a capable leading lady in one of her numerous pairings with the smooth Van Johnson. Comedically, though, it's fiery, pre-television Lucille Ball that shines brightest as a ditzy showgirl that's merely a pawn in the manipulative negotiations.
On an Island With You

Theatrical Release: May 3, 1948 / Running Time: 108 Minutes

Director: Richard Thorpe

Cast: Esther Williams (Rosalind Rennolds), Peter Lawford (Lt. Lawrence Y. Kingslee), Ricardo Montalban (Ricardo Montez), Jimmy Durante (Buckley), Cyd Charisse (Yvonne Torro), Xavier Cugat and His Orchestra (Themselves), Leon Ames (Commander Harrisen), Kathryn Beaumont (Penelope Peabody), Dick Simmons (George Blaine)

Songs: "On an Island with You", "The Dog Song", "I Can Do Without Broadway", "Wedding Rhumba", "I'll Do the Strut - Away in My Cutaway", "You Gotta Start Off Each Day with a Song", "La Cumbanchero"
In On an Island With You, browned and top-billed Esther Williams plays Rosalind Rennolds, a famous film star. Though this 1948 release deals with a movie within a movie, Day for Night it's not. Williams and company play to their own public personas in portraying the flighty actors that are dealt most of the character and focus. The screenplay has the makings of a suspense thriller, but naturally it's handled as lightweight romantic comedy in spite of its semi-psychotic turns.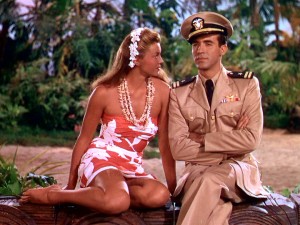 Rennolds and co-star Ricardo Montez (Ricardo Montalban, "Fantasy Island") are lovers on and off-camera who are planning to wed once they've finished filming their island romance flick. Their goofy director Buckley (Jimmy Durante), a former vaudeville star with respect issues and a yes man assistant (Arthur Walsh), has hired as the film's technical advisor Larry (Peter Lawford), a Navy soldier obsessed with Ms. Rennolds since getting to kiss her in a bit from her morale-boosting wartime show years ago.

When Rosalind refuses to grant a dance with Larry, he decides to improvise on a helicopter scene and flies her to the island where they first met. They're stranded there and with slim romantic prospects; Rosalind doesn't remember Larry and his love for her is based on nothing but dreams.

Viewing this movie for the first time today yields a pretty unpredictable experience. One can't imagine that the happily deranged Larry will get the girl, yet at the same time the possibility seems more and more conceivable as Larry and Rosalind share alone time. Still, a shy dancing actress played by Cyd Charisse (Singin' in the Rain, Brigadoon) forms the fourth corner of a love quadrangle that ensures no one will exit unloved, as if anyone ever does in these films. The half-baked plot holds one's attention, but even when attempting to inject some reality, it never fully satisfies enough to overlook the erratic, certifiable characters. The musical diversions from 1940s MGM staple Xavier Cugat and his orchestra feel especially disjointed, as do Durante's more spirited vaudevillian contributions. Kathryn Beaumont, best known as the voice and reference model for the leading ladies in Walt Disney's Alice in Wonderland and Peter Pan, appears in a modest but important role as a "too British" girl who yearns to be a part of the fictional movie. Adding to the movie's cuteness factor is Chita, perhaps the world's tiniest Chihuahua.
Neptune's Daughter

Theatrical Release: June 9, 1949 / Running Time: 93 Minutes

Director: Edward Buzzell

Cast: Esther Williams (Eve Barrett), Red Skelton (Jack Spratt), Ricardo Montalban (Jose O'Rourke), Betty Garrett (Betty Barrett), Keenan Wynn (Joe Backett), Xavier Cugat and His Orchestra (Themselves), Ted De Corsia (Lukie Luzette), Mike Mazurki (Mac Mozolla), Mel Blanc (Pancho), Juan Duval (Groom), George Mann (Tall Wrangler), Frank Mitchell (Little Wrangler)

Songs: "Siboney", "I Love Those Men", "My Heart Beats Faster", "Baby, It's Cold Outside", "Jungle Rhumba", "On a Slow Boat to China"
Neptune's Daughter reunites Esther Williams with a co-star from each of this set's three previous features, and each is essentially in the same mode as before; Keenan Wynn is the career-minded chump, Ricardo Montalban is the suave Latin, and Red Skelton is again the goofball. Though playing a secondary character, Wynn narrates as Joe, a man who establishes a profitable bathing suit line with swimming champion Eve Barrett (Williams) and hopes their relationship goes beyond business. Skeptical of men, Eve is cautionary towards her romance-seeking sister Betty (Betty Garrett), then disapproving and downright interfering when Betty becomes taken by who she believes is South American polo star Jose O'Rourke. Betty's O'Rourke is actually new-to-romance team masseur Jack Spratt (Skelton), who embraces the misconception by donning native garb and feigning a knowledge of Spanish. When Eve confronts the real O'Rourke (Montalban), he too is uninterested in clearing up misunderstandings, instead opting to turn up the charm and woo Eve.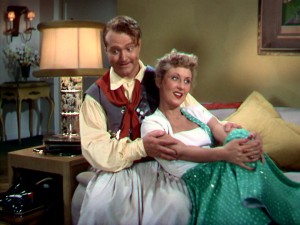 At the center of this breezy but amusing romantic comedy is Frank Loessler's "Baby, It's Cold Outside", performed in succession by the two couples Williams and Montalban, Garrett and Skelton. The catchy tune of protesting lovers has its first official performance here and it is delivered in as fun a fashion as the harmonizing pop standard demands. It would win the 1950 Oscar for Best Song and though it's a Christmastime radio staple today, the winter imagery mentioned is sarcastically implied not seen. The song's words hold little relevance to the film, as do the follow-up number and other contributions of Xavier Cugat and his orchestra, and, for that matter, the nonsensical title -- Neptune's Daughter -- that houses them all.
Still, while the movie's logic may fail viewers, its delivery and by-the-numbers design do not. Though occasionally bordering on today's vast notion of offensive, Skelton is quite funny mouthing along to an introductory Spanish record and trying to sidestep the threats of a gambling bartender's button-man. The fluffy movie also caters to the rest of the cast's talents, ensuring that though pregnant at the time, Williams still gets to perform a spectacular pool finale which follows a pratfall-laden polo showcase for Skelton. Mel Blanc, the man who gave voice to Bugs Bunny, Daffy Duck, Barney Rubble, and dozens of other famous cartoon characters, makes a rare live-action appearance as a funny-sounding polo club employee.
Dangerous When Wet

Theatrical Release: June 18, 1953 / Running Time: 95 Minutes

Director: Charles Walters

Cast: Esther Williams (Katy Higgins), Fernando Lamas (Andre Lanet), Jack Carson (Windy Webbe), Charlotte Greenwood (Ma Higgins), Denise Darcel (Gigi Mignon), William Demarest (Pa Higgins), Donna Corcoran ("Junior" Higgins), Barbara Whiting (Suzie Higgins), Bunny Waters (Greta), Henri Letondal (Joubert), Paul Bryar (Pierre), Jack Raine (Stuart Frye), Richard Alexander (Egyptian Swimmer), Tudor Owen (Old Salt), Ann Codee (Mrs. Lanet)

Songs: "Got Out of Bed on the Right Side", "Liquapep", "I Like Men", "In My Wildest Dreams", "Ain't Nature Grand", "Fifi"
As Dangerous When Wet begins, one suspects the four years that have passed since this DVD set's previous inclusion must have rung in some change for the types of vehicles MGM was providing Esther Williams. At first glance, this isn't a rom-com-musical with requisite water scenes, but a family comedy musical with plot-integral swimming. Williams plays Katy Higgins, a milkmaid and the eldest of three daughters in an Arkansas family that firmly believes in routine exercise sessions. Among other things, Katy's swimming attracts the attentions of Windy Webbe (Jack Carson), an employee of the vitamin tonic Liquapep. Windy sees the business value of having Katy, her younger sisters (Barbara Whiting, Donna Corcoran), and her parents (William Demarest, Charlotte Greenwood) become the first family of five to compete in the 20-mile swimming race across the English Channel, with Liquapep sponsorship.
In preparing for the competition, Williams slips back into her usual mode as the central sections develop a romance between Katy and a slick French yacht owner named Andre (Fernando Lamas). As in any romantic comedy film relationship, there are clashes (on their first date, Andre gives Katy an immodest bikini), unrequited feelings (Katy's not biting), and complications (involving the feelings of the excluded Windy). One gets the feeling that nine years into doing this type of material, Williams could probably pull it off in her sleep. In fact, she pulls off a different feat during a slumber in the middle of this film, sharing the ocean with MGM cartoon mainstays Tom and Jerry in a 5-minute dream sequence.

It's very gimmicky, as Williams joins the unusually cooperative cat and mouse, as well as animated anthropomorphic sea creature representations of Lamas and rival French swimmer Gigi (Denise Darcel), for some swimming and pantomime.

In its third act, the film remembers its initial concept, but rather than the English Channel swim being a family affair, Katy becomes the only Higgins to qualify for the event. Dangerous When Wet changes form again, this time meriting classification as a generic sports drama in the final fifteen minutes that feel longer. Asking us to take the climactic race seriously after the breezy fare it follows seems awfully presumptuous of the movie, and the one laugh it supplies post-Channel race probably doesn't even justify sticking through the stilted quarter-hour. Still, like Williams' other films, this light jaunt mostly holds our attention and leaves no sour aftertaste. While the three distinct acts don't gel with each other, Dangerous exceeds the actress' earlier efforts in some ways. Most notably, its notion of "musical" comes more closely to today's idea of the genre, with characters performing plot-advancing songs instead of the irrelevant, Latin-flavored respites found in the other Williams films featured here.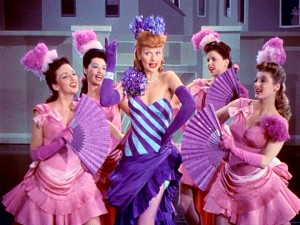 VIDEO and AUDIO

All five films were created for and exhibited in the Academy Ratio, 1.37:1, which the fullscreen DVD presentations approximate. Those who make their way through this set in chronological order may be disappointed by the picture quality after witnessing the first two films. Bathing Beauty looks pretty good throughout but in certain spots, it breaks up, where print artifacts become noticeable and colors suffer. The video on Easy to Wed is more consistent, but it is less than pleasing, with softness, grain, and regular print intrusions all detracting from the experience.

Gladly, things improve considerably from here, as On an Island With You, Neptune's Daughter, and Dangerous When Wet all offer the same benefits of the first two (vibrant colors, good detail) but with a lot less of the negatives. There are still a few anomalies (a colored spot, an unfocused shot) here and there; however, these latter three films look about as good as can be expected considering the medium and the source's age of 50-60 years old.

Each film is equipped with the most basic of soundtracks: a single channel Dolby Digital mono track in English. The visual shortcomings were mirrored in the audio department. The two eldest films were occasionally prone to hiss, muffled dialog, or peaks and valleys in dynamics. These problems didn't disappear altogether in the three latter films, but one is definitely hard-pressed to notice anything lacking in Island, Neptune's, and Dangerous. The volume levels need to be turned up a bit, but the sound elements remain rather clear for their age and certainly surpass the quality levels of a cheap public domain DVD presentation of films from the same era.
BONUS FEATURES

Bonus features are found on one every one of the five discs and they tend to pertain to the film they accompany as they would on a standalone release. Most of the supplements are vintage in nature and emanate from the time of the films' theatrical releases, including cartoons and live action shorts that presumably preceded the features in theatrical exhibitions.

Bathing Beauty offers a complete 1996 episode of the TCM series "Private Screenings" (47:38), in which Esther Williams sits down for an interview with host Robert Osborne. In this excellent inclusion, Williams discusses her life and career, covering her experiences before, during, and after her famous MGM run, with clips of relevant movies (mostly hers) sprinkled throughout.

A pair of 1944 shorts follow. The Oscar-nominated, black and white two-reel Main Street Today (19:50), starring Ray Collins, falls in between wartime propaganda and narrative. In it, an ordinary American community comes together to raise a workforce for an artillery factory, overcoming challenges for the good of supporting the US in World War II.

Different kind of warfare is found in Mouse Trouble (7:23), Hanna-Barbera's 17th Tom and Jerry cartoon. In this, their second Oscar winner, Tom's new mouse-catching advice book offers many ideas (none helpful) on trapping his rodent foe. Bathing Beauty's theatrical trailer (2:33) rounds out the disc.

Easy to Wed is joined by two mid-'40s shorts. The black and white Sure Cures (10:40) stars co-writer/director Dave O'Brien as an unlucky schlub demonstrating feeble home remedies to baldness, insomnia, and the hiccups. Though Oscar-nominated, this live-action equivalent of one of Disney's "How To" Goofy cartoons is rather unfunny. The other one-reel, 1945's animated The Unwelcome Guest (7:12) holds up a little better. It applies the Tom & Jerry formula to sluggish Barney Bear and a clever, berry-swiping skunk. Disc 2 also provides the original theatrical trailers for Easy to Wed (2:25) and Libeled Lady (2:45), the black and white comedy it remade. Both previews lean heavily on the names of their four respective stars.
On an Island With You supplies the very nifty black and white 1942 short Personalities (9:39), part of MGM's "Romance of Celluloid" series. Managing to both preview then-upcoming MGM films and reinforce the importance of movie stars, this promotional piece takes a look at the promising new actors and actresses expected to become the next Gable, Garland, or Tracy. Among those profiled are Donna Reed, Susan Peters, and Kathryn Grayson. Esther Williams is one of three hopeful starlets seen tested in the usual MGM way; enticing a shirtless Mickey Rooney in an Andy Hardy picture. Disc 3 also serves up The Bear and the Hare (7:10), a 1948 cartoon which finds Barney Bear tracking a hard-to-spot snowshoe bunny while doing some downhill skiing. Finally, Island's 2½-minute trailer is provided, with muffled cheesy narration largely taking the place of on-screen superlatives.
Bonus features on Neptune's Daughter begin with a two-minute excerpt from the 1951 film Callaway Went Thataway starring Fred MacMurray, Dorothy McGuire, and Howard Keel. Esther Williams appears briefly as herself, and anyone wanting the movie purely for Ms. Williams' appearance can probably now skip it, not that the other 80 minutes of the film are actually available for purchase. Two Oscar-nominated shorts from 1949 follow. The black and white, live-action Water Trix (8:35) provides Pete Smith narration as Charles Trego captures water-skiing moves from a variety of angles. Meanwhile, a baby woodpecker enters the lives of Tom and Jerry in Hatch Up Your Troubles (7:40).
Also on Neptune's Daughter is the deleted song (called an outtake) "I Want My Money Back" (4:23) performed by Betty Garrett. Next is an audio clip (4:50) in which Williams gives a scripted, rehearsed radio interview for repeat co-star Dick Simmons. In this promotional exchange, they cover Neptune's Daughter, Williams' swimming, and even her secret to staying thin. Closing Disc 4 are theatrical trailers for Take Me Out to the Ball Game (2:48) and Neptune's Daughter (3:20), which respectively emphasize MGM's musical tradition and (deceptively) the reunion of Williams' beauty and Skelton's laughter.
Disc 5, Dangerous When Wet, includes Pete Smith's 1953 short This is a Living? (9:17), which profiles people with extreme careers, from horse divers to trapeze artists. Tom and Jerry headline 1949's The Cat and the Mermouse (7:35), in which the cat and mouse do battle on a beach and in the water. "C'Est La Guerre" (2:53), a deleted number from Dangerous When Wet follows, in which Gigi (Denise Darcel) and Andre (Fernando Lamas) sing a pained duet.

Another very scripted Dick Simmons radio interview of Esther Williams (4:50) deals almost exclusively with swimming, but does make forced mention of Dangerous When Wet.

Demos of three songs from Dangerous -- "Got Out of Bed on the Right Side", "Fifi", and "I Like Men" -- are heard performed by lyricist Johnny Mercer (11:00), the last one giving a whole new meaning to the trailer's claim that "the songs are gay." Closing out the set are theatrical trailers for five Esther Williams MGM films: Duchess of Idaho (2:38), Pagan Love Song (3:05), Million Dollar Mermaid (1:10), the featured Dangerous When Wet (3:08), and Easy to Love (3:40).

MENUS and PACKAGING

Each disc is treated to a main menu that's vintage-looking, colorful, 16x9-enhanced, and accompanied by music. Though silent, the submenus match the main selection screen in visuals. All the menus are rather nicely done and each movie's theme stands out as being unique and mostly appropriate. Customary for the studio, a Main Menu left untouched for 70 seconds will trigger the start of the movie.

Esther Williams, Volume 1 arrives in a six-sided Digipak which presents the five discs overlapping on three panels and, on the remaining sides, provides credits, an "Esther Extras" overview, and a reproduction of the cover art. The Digipak fits into an open-ended cardboard box which supplies brief synopses of all 5 movies and original poster artwork on the back.
CLOSING THOUGHTS
More old-fashioned diversion than classic cinema, the five films of the Esther Williams Collection nonetheless hold up as lightweight, abundantly entertaining musical-comedies produced from a mold that is dated but fun. With many good, appropriate, and easy-to-consume bonus features, mostly satisfactory picture and sound, and a very reasonable price, this 5-disc set is a no-brainer for those who have already warmed to Williams' films on cable or video. It is also worth considering for those looking to discover or rediscover a largely-forgotten chapter of '40s and '50s cinema that retains some charm today.