In between becoming an action movie star and becoming the Governor of California, Arnold Schwarzenegger occasionally dabbled in comedy films. His first efforts, the Ivan Reitman-directed Twins (1988) and Kindergarten Cop (1990), proved to be quite successful financially.

Subsequent releases drew smaller crowds and by 2003, when the actor became a politician in a most unusual recall election, he had already returned to the R-rated action fare that made him a household name.

Among the comedy work that now amounts to a little more than a career footnote, 1996's Jingle All the Way stands out for being Schwarzenegger's most family-oriented and most lampooned. As far as Jay Leno and Conan O'Brien are concerned, the movie is a laughingstock that's ripe for periodic mention when the Governor is in the news. The reputation this 11-year-old Christmas flick has is of a movie that was heavily marketed, critically drubbed, and underattended in theaters. That perception is two-thirds correct: Fox widely promoted the Thanksgiving week release and reviews were hostile. But the movie wasn't exactly ignored by the moviegoing public; its North American gross narrowly met its budget ($60 million), something that has rarely happened in the years following Arnold's box office behemoth Terminator 2: Judgment Day (1991). Compare Jingle All the Way's earnings to those of Santa with Muscles, the same year's minimally-distributed holiday comedy headlined by fellow middle-aged strongman Hulk Hogan, and Arnold's draw seems fairly titanic.

However, the part about being Jingle being dubbed a dud by culture arbiters? That is completely true and their assessment is accurate. This is one bad movie and that's true no matter how forgiving your standards and frame of reference are.
Arnold plays Howard Langston, a workaholic father (bet you didn't see that coming in a family comedy) who is just plain bad to his family. He talks to his wife Liz (Rita Wilson) like she's a customer, he misses the big karate performance of his young son (Jake Lloyd, whose acting here reveals his work as Episode I's Anakin Skywalker to be a big improvement), and he's never really around for either.

He plans on making it up to his son by buying him his most-desired Christmas item, an action figure of Turbo Man, a superhero who's established in an opening "TV show" sequence that's as cheesy as a "Power Rangers" excerpt. Unfortunately, it's Christmas Eve, the stores have long sold out of the toy, and Howard's just lied to Liz that he's already gotten it.

Clearly, the movie thinks highly of the comedic value of having Howard run around fighting fellow shoppers for the one thing that can redeem him in his family's eyes. Rather than actually spending the day before Christmas with his wife and son, he takes part in the last hours of the seasonal commercial blitz. Along the way, he encounters a mailman named Myron Larabee (Sinbad) who is also on the prowl for a Turbo Man figure. Myron emerges more as a nemesis than an ally, as the movie follows Howard's increasingly painful and insipid trek for the doll, from toy shops to the Mall of America to a warehouse where dozens of mall Santa Clauses run a black market.

Back home, mother and son prepare for the annual Wintertainment Parade, while, in Howard's absence, handy divorced dad neighbor Ted (Phil Hartman, bringing the smarm) moves in on the clan. The movie's last third is devoted to the elaborate parade, which showcases characters from the '90s Fox Kids lineup in addition to those from Turbo Man's universe. The final act is so illogical and overdone that it maintains the sour cheerlessness which precedes it. There's nary a redeeming characteristic in sight.

The premise alone makes it clear that Jingle All the Way is not destined for greatness. Still, as someone who ranks several Christmas comedies among his all-time favorite films, I'm surprised that revisiting it after several years, I both remember this movie in some detail and can still so easily dismiss it as rubbish. I can't count myself among Schwarzenegger's biggest fans and it's no accident that I haven't seen many of his comedies in full. But even overlooking the genre and leading man leaves me with three good reasons to expect more out of Jingle All the Way: Sinbad, Phil Hartman, and Chris Columbus. The two funnymen were not far removed from their pairing in the terrific comedy Houseguest and Hartman would have made this in his penultimate hiatus from the brilliant "NewsRadio." Yet neither is able to bring much joy to the proceedings, especially not Sinbad who's saddled in the more lamebrained of the two villain roles. As for producer Columbus, he directed the biggest Christmas comedy ever in Home Alone and should have enough sense and experience to guide Jingle toward at least the modest heights of its Manhattan-set sequel. One expects more out of mid-'90s Columbus than director Brian Levant, who earned a Razzie nomination here and in the years prior and since has done his part to keep a stigma attached to live-action family comedies.
LEGAL TROUBLES, DVD HISTORY, and THE EXTENDED CUT
Jingle All the Way has been available in a number of DVD releases. It made its format debut in November of 1998, just before the second anniversary of its theatrical release. In March of 2001, the DVD joined the class of those that are actively pulled from store shelves. No mere Disney-esque sales gimmick, the discontinuation resulted from legal action. A Michigan jury awarded Detroit high school teacher Brian Webster $19 million in a copyright infringement suit against Fox, who he claimed used his script Could This Be Christmas? without payment or credit. The verdict was later reduced to $1.5 million and the decision was then reversed altogether when Fox was able to produce evidence showing it had Jingle story treatment before Webster's submission. (Somehow, I think were millions of dollars not involved, there would have been no push to claim authorship of this wreck.)
Jingle All the Way resurfaced on DVD in 2004 as it was earlier but with new 16x9 enhancement. Dating back to 2001 (and most ardently to 2005), Fox has also paired up Arnold's film with Home Alone, 1994's Miracle on 34th Street remake, and Patrick Stewart's A Christmas Carol as 2-packs and a "Christmas Classics Collection" box set. The movie always bore the same contents. This week, however, Jingle All the Way gets its third unique DVD treatment as a Family Fun Edition, a label earlier bestowed upon three Don Bluth cartoons, a Hilary Duff TV movie, and the masterful Home Alone.
A sticker on the front of the slipcover proclaims this DVD offers an "All-New Extended Edition with over 20 minutes of footage not seen in theaters!" The back of the case calls it an "Extend (sic) Director's Cut" and with its listed runtime of 122 minutes, the 20 minute claim seems quite conservative; we should be in for well over 30 minutes of new footage. Alas, someone did the math wrong multiple times and the extended edition presented runs just 4 minutes and a few seconds more than the theatrical cut. Anyone familiar with ABC Family airings of the movie will be accustomed to the few mild extensions found here. The most noticeable differences are the inclusion of a new lead in searching for the toy, more footage of the Mall Santas, and the relocation of the short post-end-credits scene to before the scroll. While far from groundbreaking and the deceptive advertising is uncool, it's still nice to get both cuts to choose from.
DVD Details

1.85:1 Anamorphic Widescreen
Dolby Digital 5.1 (English), Dolby Surround (French), Dolby Stereo (Spanish)
Subtitles: English, Spanish
Closed Captioned
Release Date: October 16, 2007
Suggested Retail Price: $14.98 (Reduced from $19.98)
Single-sided, dual-layered disc (DVD-9)
Black Keepcase with Slipcover
VIDEO and AUDIO
Jingle All the Way is presented in its 1.85:1 widescreen theatrical aspect ratio and though the package doesn't specify it, the movie is enhanced for 16x9 TVs like its 2004 DVD incarnation. The print is absolutely clean and though it's ever so slightly soft-looking next to today's films, the sufficiently detailed transfer boasts rich colors, which is a bit unfortunate upon seeing those Mall Santas who wear nigh-neon suits.
The Dolby Digital 5.1 soundtrack lacks the oomph of today's mixes, shying from atmospheric effects or gimmicks. A prominent feature of the track, David Newman's grandiose score serves to underscore the wide gap between what the movie thinks it is and what it actually is. A few sequences do make use of the surround channels, dynamics are consistent, and everything is audible as intended.
BONUS FEATURES, MENUS and PACKAGING

Outside of the extended cut, this Family Fun Edition boasts a very limited set of bonus features. If you select the Theatrical Version, the menu includes an option to view six scenes of "Added Footage" from the Extended Cut.

Annoyingly, viewing the scenes this way subjects you to a lot of what's actually in the movie too. To see the minute-long scene of Howard buying what he thinks is a Turbo Man from Yeardley Smith (voice of Lisa Simpson), you get over 4 minutes of content before and after. After hearing Jim Belushi and the Mall Santas' minute-long song, you've got to follow it up with over 2 minutes of existing footage afterwards. As if that much context is needed.

"The Making of a Hero" (15:25) talks more about Turbo Man than the movie, focusing on the character's design and costume logistics. In it, we hear from director Brian Levant, producer Michael Barnathan, character designer Tim Flattery, and briefly-seen Turbo Man portrayer Daniel Riordan. More exciting than their bland and sometimes ridiculous comments (Jingle All the Way is "part of the Zeitgeist"?!) are Arnold Schwarzenegger interview clips and some production footage, both from 1996, of course.

Bearing little relevance to the film it accompanies, "Super Kids" (8:05) interviews a variety of children who explain what kind of superheroes they would be and the powers they would have. Adult artists' illustrations correspond to images they conjure, but there's not even an attempt to link this piece to Jingle.

"Turbo Man: Behind the Mask" (8:10) gives the "E! True Hollywood Story" treatment to the hero that inspired the elusive action figure. We hear from "'Turbo Man' TV show director" Levant, Dicky the "Turbo Man fan club president", and Turbo Man himself (Riordan). While the premise is slightly humorous, there's not enough to sustain the joke and certainly not for 8 minutes.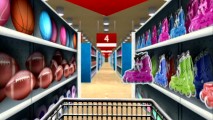 Two set-top games are provided. In "Guess the Gift", you virtually shake, weigh, and X-ray various wrapped packages. After each step, you guess the contents based on what you hear or see. It's typically a wild guess until the revealing final part, but it's a pretty fun challenge once you recognize this and occasionally get one right. "Christmas Rush" lets you maneuver around a toy shop in search of the last Turbo Man figure.

Finding the toy and exiting without getting "blocked" three times is entirely random, but appropriately enough, your punishment for a wrong move is to see a clip from the film!

A photo gallery (5:25) is actually a slideshow of many production and publicity images, displayed roughly one image for every three seconds and set to a repeated loop of dramatic score.

Sadly, the old DVDs' extras (the movie's theatrical trailer and bios/notes on three cast members) are gone, for no apparent reason.

The disc opens with a preview for Home Alone: Family Fun Edition and a promo for the DVD rereleases of Ice Age, Anastasia, and FernGully: The Last Rainforest. These aren't accessible from the DVD menus, which emulate a toy shop. The animated main menu nicely depicts a mostly barren Turbo Man shelf which devotes some of the empty space to a montage of clips.

As on any good rerelease, the DVD's keepcase artwork gets replicated almost identically in a cardboard slipcover. Inside the case is a six-page booklet, which holds a list of scenes, a few paragraphs on Arnold Schwarzenegger, some fun facts about the movie, and five Christmas activities (jokes, word scramble, multiple choice trivia, etc.). In other words, it's a kiddie version of the production notes guides Fox usually puts in DVD reissues.
CLOSING THOUGHTS
The passage of eleven years hasn't rendered Jingle All the Way any less dreadful. This movie may just be the worst Christmas comedy out there, at least among those that people are actually aware of and have seen. This Family Fun Edition does a fine job of presenting the film both in its original form and a slightly extended cut. However, a weak bonus features slate, a lack of cast participation, an inaccurate claim, and failure to carry over the trailer and cast notes from the old DVD all add up to one weak re-release. That'd be really unfortunate if a good movie was affected, but it seems kind of appropriate for this lousy flick. If you actually like Jingle and don't already own it on DVD, this release is the one to get, but don't even think of upgrading just for the lackadaisical bonus features or longer cut.