By Aaron Wallace

Though this decade has treated Disney fans well, one area of Walt Disney's career output has eluded them. True-Life Adventures was a series of films, both short and feature-length, that sought to document the natural world in a way that could entertain a wide audience. They began with Seal Island in 1948 and concluded with Jungle Cat in 1960, amassing a total of 13 adventures (seven features and six shorts) when all was said and done. They've never held the cultural significance of Snow White or Cinderella, but they took in respectable earnings and were showered with Oscars in both the short subject and documentary fields.

A great admirer of nature, the True-Life projects were near and dear to Walt's heart, as well as that of his nephew, Roy E. Disney, who did some of his earliest film work behind the scenes of a True-Life Adventure. Those who remember the films from their childhood seem to do so fondly and Walt's posthumous devotees have long been interested in this series that impacted the Disney legacy more profoundly than its meager name recognition might suggest.

Why, then, have they gone unreleased on DVD so long? Well despite their significance, they still chiefly appeal to a niche market, to which only so many titles can be pitched each year. The Walt Disney Treasures line is the premiere series of DVDs for Disney fans and has been since 2001, and though it confines itself to rarities, space for inclusion in a Treasures set is limited. With 13 films to its credit, the True Life Adventures series would need multiple Treasures volumes for a complete release. That's exactly what was expected for a short time, though, but the highly anticipated True-Life Treasures tin was temporarily passed over in favor of more marketable and manageable material. When Wave 6 of the Treasures was announced without a single True-Life Adventure in sight, some lamented the extended wait now imposed upon them. Fortunately, Disney had something even better up their sleeve: Walt Disney's Legacy Collection. This new line, emerging much to everyone's surprise and delight, is a collector's series similar to the Walt Disney Treasures and intended to run alongside it, though its precise parameters aren't yet clear. The first wave, released this December just two weeks before Wave 6 of the Treasures, is devoted entirely to Walt's True-Life Adventures.

So what's all the fuss about? I was wondering that myself, having only the occasional excerpt and countless rounds on the Jungle Cruise attraction (inspired by the films) to go on. I've never been one for science; it was my least favorite subject in school, Animal Planet bores me, and I've never even briefly considered a subscription to National Geographic. Fearing more of the same, I was skeptical of these documentaries but still, the Disney name promised something worthwhile. I'm pleased to report that it delivered.
The True-Life Adventures are remarkable. Yes, they document nature, fulfilling the "True-Life" component, but they do so in an enchanting way. Therein lies the "adventure." These films aren't plotted in advance (Perri notwithstanding; more on that in a moment), but they are cleverly designed to entertain while educating. Beyond merely showing reality's antics, they address the logic behind them and relate the behavior of nature to the common experiences of humanity. That's achieved through the employment of several brilliant techniques.
The first is narration. Brimming with 1950s charm, Winston Hibler's narration is always on-hand to make sure that the viewer knows what's going on. As a result, the audience members are more than just spectators, they are informed spectators, learning as they observe. Never preachy or professing, Hibler maintains a friendly, almost conversational tone that emphasizes the light-hearted whimsy of the world on-screen. Viewers can rest assured that they will hear enough to satisfy and intrigue them but not so much as to overwhelm or disinterest them. This vocal mediator is a key ingredient in making these adventures accessible even to those with an aversion to science.
The second is the score. The music, too, harks back to its time, invoking nostalgia. The score capably matches every animal's hop and scurry with a note, just as the slapstick gags of the Disney cartoon shorts were treated, though the music here is nearly as lush in arrangement as Bambi's. It bends with the tone, too, ranging from amusing to dramatic in order to accent each scene. There's something very Fantasia-esque to these films, in part due to the emphasis on nature, but primarily because the music is such an integral part of the experience.
Finally, the True-Life Adventures are produced with a unique perspective. The 1950s was a time when technology was greeted with much excitement and people seemed eager to explore. That adventuresome, progressive spirit is evidenced in a lot of Disney's Golden Age output and it is pervasive in these films. Ever ambitious, Disney seized the new tools of technology at his disposal in capturing the outside world. The unabashedly rampant use of extreme close-ups and stop-motion photography puts the audience in closer contact with their environment than film typically allows. The filmmakers immersed themselves in these settings, getting up close and personal to provide a truly intimate experience, and it paid off.

The real treasure in these films, though, is that they drive home Walt Disney's world view. The True-Life Adventures majestically illustrate that the same magic found in all those classic Disney films can be found in our own backyard too.

Uniting fantasy with reality was arguably Walt's greatest hope for his works. These films reveal what Walt always saw in nature and in doing so, help us understand the man whose imagination gave birth to the rascally chipmunks, talking deer, and living forests that have so profoundly affected culture ever since.

The fourth installment of Walt Disney's Legacy Collection, Volume 4 - Nature's Mysteries, rounds up the remaining True-Life Adventures not included in the first three volumes, making their availability on DVD complete. In addition to a healthy helping of bonus features, there are two feature films (though running a little over an hour, they barely qualify as such), one short film, and two seemingly complete "Disneyland" episodes that directly relate to this set's contents. As the title suggests, these adventures are concerned with the hidden secrets of the inner-workings of life, even containing the first and only "True-Life Fantasy". For a descriptive detailing of Volume 4's complete contents, read on...
Disc 1

Secrets of Life / Running Time: 1:09:59/ Theatrical Release: November 6, 1956

Though it comes on the fourth volume, this feature seems like the perfect introduction to the True-Life Adventures. It travels from one corner of the globe to the next, profiling animal and plant life from all over the natural spectrum. Its focus is the means by which life supports, sustains, and replicates itself. Coverage includes blooming flowers, forest fires, pollination, the Venus Flytrap, the life cycles of ants and bees, a twig-like water bug, the striated frogfish of Africa, and a variety of other fascinating species both above and below the shore. The most memorable scenes involve battles between competing queen bees and a family of ants taking on a snake.

Perri / Running Time: 1:14:29 / Theatrical Release: August 28, 1957

Premiering after nearly a decade of True-Life Adventures, Perri was marketed as the first "True-Life Fantasy". That moniker is a bit of a stretch, truth be told, though it does feature one extended dazzlingly fantastical sequence. It is, however, distinguished from the others by its use of a pre-scripted storyline, loosely based on the 1938 novel by Felix Salten (author of Bambi). It tells the story of a young squirrel named Perri, whose exploration of the world, epic rivalry with an aggressive marten, and destined love with another squirrel drive all of the action. It's as much a coming-of-age-story or romantic comedy as it is a fantasy, but whatever you call it, it's an entertaining and touching tale. There are a few musical numbers, but its score earned it recognition. It was nominated for the Best Scoring Oscar in 1958 but lost to The Bridge on the River Kwai.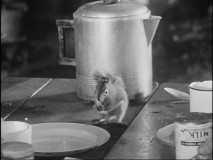 Disc 2
Nature's Half Acre / Running Time: 32:36 / Theatrical Release: July 28, 1951
I'm not sure why this two-reel short is labeled as a bonus feature, because it is clearly part of the True-Life Adventure canon. It even took home the Academy Award for Best Short Subject (Two-Reel) in 1951. Nevertheless, it's happily available here. Its subjects are less exotic than that of Secrets of Life (some overlap with bees aside). "Nature's Half Acre" is a bit of land that could be anywhere, even in one's backyard, and the goings-on of a world that tends to go unseen are exposed. Think of any scene you've come across that depicts the blossoming of spring and you'll have a good idea of this documentary's focus.
"Searching for Nature's Mysteries" / Running Time: 48:29 / Original Air Date: September 26, 1956
This episode of "Disneyland" (known as "Wonderful World of Color" at the time) is part-preview, part-making-of featurette for Secrets of Life, which debuted in theaters less than two months later. It reuses some footage from film but many of the scenes are viewed from a different angle. Winston Hibler shows up to profile some of the then-new technologies used in creating the True-Life Adventures and many tricks of the trade are revealed. It's a fascinating program and a more relevant supplement could be found.
"Adventure in Wildwood Heart" / Running Time: 49:25 / Original Air Date: September 25, 1957
Walt Disney begins this episode of "Disneyland" (this time in black & white and bearing the original title, despite coming a year after "Nature's Mysteries", presumably because it was in production for several years) with a haunting entrance into the Disney morgue, which turns out to be a lot less scary once the lights come on. After that, he gives his audience a run-down of Disney history from Mickey and Snow White all the way up to Perri, the project with which this episode is concerned. Wildwood Heart is the fictional setting of Perri and this special goes on-"set" to tell part of the story. Accordingly, some footage is reused (though in black & white form) but this episode is more focused on footage of the filmmakers themselves and their efforts at capturing real-life footage that will correspond with their pre-determined script. As with "Nature's Mysteries", there's a healthy balance of promotion and behind-the-scenes substance, and this is another grade-A bonus.
VIDEO and AUDIO

The three True-Life Adventures on this set look simply phenomenal. That is the result of clearly extensive restoration, the kind which has earned the Walt Disney Treasures and Platinum Edition lines such high praise. I can't say that they look as if they were made today, as they still have the appearance of older footage thanks to the limitations of the cameras. That's a good thing, though, because anything further would actually betray the original product.
The wear and tear of age, however, have been nearly eliminated. Artifacts, grain, and excessive darkness are far and few between. These documentaries contain some positively stunning imagery and it comes through with radiance in this new transfer. Jaws don't often drop for half-century old footage, but they will do just that for these.

The two "Disneyland" episodes don't look quite as good, though they, too, look like they've been touched up. The fact that any restoration has gone into what are essentially bonus features (though substantial they may be) is both surprising and impressive, not to mention appreciated. Here, artifacts and grain appear with more frequency (more-so in "Nature's Mysteries") and colors are sometimes less than ideally vibrant. The black & white episode looks a little better, with mostly consistent tones. Both look better than could be expected for their origin and age and can be easily enjoyed without much distraction.

The audio is presented in two-channel mono, which is true to its original presentation. The sound is never noticeably problematic, given that an expanded sound presentation isn't really necessary (though a multi-channel presentation of the isolated score might make for an interesting DVD-Audio release if the True-Life Adventures suddenly spike in popularity). The soundtrack always capably conveys the sounds of nature (featured most in Perri and sometimes dubbed) and the rich orchestral score.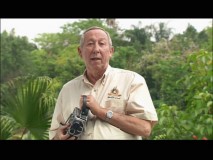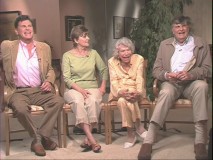 BONUS FEATURES

The "Disneyland" episodes, though significant enough to be considered features of the set themselves, already provide almost 100 minutes of supplements. Fortunately, the bonuses on this Walt Disney Legacy Collection DVD don't stop there.

In fact, those anthology installments only comprise about half of the extra material. Most of that is found on the second disc, but Disc One isn't completely hung out to dry. It launches with an introduction to the new Legacy Collection from Roy E. Disney, who serves as a host for the entire set. His role is similar to that of Leonard Maltin in the Treasures releases and his greetings are every bit as fun and warm as Maltin's too. Roy then returns for a second introduction (1:59), this one specific to the contents of Volume 4.

Roy's back on Disc 2 in "Backstage With Roy Disney at Disney's Animal Kingdom: Butterflies" (7:21). With the help of a few ever-smiling Disney cast members, Roy and his viewers learn a few things about butterflies and have a few laughs in doing so. The featurette is tied in with both the documentaries and the theme park. Sure, it's blatant cross-promotion, but who cares? It's both informative and relevant. Roy genuinely looks to be having a good time and his fun is infectious. My only beef with this is that its widescreen presentation is needlessly non-anamorphic.

"Tribute to Winston Hibler" (15:01) profiles the career of a man who meant a great deal both to the True-Life Adventure films and the Walt Disney Company as a whole. The late Winston Hibler served as narrator for the documentaries, but also penned their scripts. In fact, he wrote many of Disney's feature films, Peter Pan, Cinderella, and Sleeping Beauty among them. He has numerous directing, producing, and songwriting credits with the studio too. In a nice touch, the featurette is hosted by Hibler's family, many of whom work or have worked for Disney themselves, and they look back on his prolific work and his legacy. Of course Hibler could be the subject of his own feature-length documentary, but this does a good job at commemorating his fascinating career within the scope of a featurette. (Parks fans will get a kick out of the color video footage of Walt's Disneyland dedication speech -- which Hibler wrote -- which is most often seen in black & white and at a different angle).

"Filmmakers' Journal" (34:43) interviews several of the living individuals involved with these documentaries' production, Roy E. Disney, Julio Vera (Archivist), Paul Kenworthy (Photographer & Director), Jimmy MacDonald (Sound Effects Designer, via a 1983 interview), and Norman "Stormy" Palmer (Editor) among them. Discussion ranges from the concept behind the films to the tricky demands placed upon the filmmakers in creating them. A lot of valuable information and insightful memories come out as the featurette progresses.
"Collector's Corner" (7:57) features Stacia Martin, an artist and historian for Disney, who offers a run-down of the various promotional items created for the three True-Life documentaries. Though she talks rather fast, Martin is a delightful personality, bubbly and upbeat, and covers a lot of ground in a short period of time. Glimpses at promotional materials and merchandise are usually presented via a DVD art gallery. Never having been too big a fan of those, I much prefer this route. Admittedly, a few of the items would really benefit from longer and up-close viewing, but then most DVD players are equipped with pause and zoom buttons. I'm much more likely to return to this video again and again than I would a standard gallery and hope that a similar method is employed for future DVDs -- ideally with a gallery alternative for those who prefer it and Martin returning as host.

Finally, the theatrical trailers for Secrets of Life (3:46) and Perri (2:42) are included, which is always a treat. These lengthy promotional pieces are in fairly rough shape (Secrets of Life much more-so than Perri, but then nothing else is expected. The chance to see how these unusual theatrical successes were marketed to the public is a welcome one.

MENUS, PACKAGING and DESIGN

One of the coolest features of these new sets are the packaging. Both elaborate and usual, they're sure to grab your attention. Once the shrink wrapping is peeled off, you'll find the back half a tin (similar to the Treasures tins, only black) covered with a see-through plastic lid.

Behind it there is not only a banner that labels the volume number and title and replicated Roy E. Disney's signature, but also a colorful and very classy canister that is designed to resemble a film reel. Volume 4's depicts a lovely underwater scene (even though most of its content takes place above the sea). The canister is situated inside a green felt container, from which it is easily removed. Inside this slim canister, both discs are found, each housed atop its own cardboard disc designed to keep the DVD in place. With the canister removed, the felt tray can be taken out as well (and instructions on how to perform this easy task are even included beneath the canister). Behind that are three flyers: the collectible "Passport" that shows a map of the world and matches a few of the creatures profiled in these Adventures to their respective geographic origins, the list of DVD contents/ad for the first two waves in the Legacy collection, and finally an ad for Expedition: Everest at Disney's Animal Kingdom and the free Disney vacation planning DVDs that anyone can order. I'm also keep the promotional backing that is glued to the exterior of the tin when first purchased in this area as well -- a good solution for those looking to keep that.

Getting into this case requires a little more effort than the standard keepcase and it is undoubtedly ripe for wear and tear from repeated access. Collectors may also lament the lack of a spine, as these look fairly nondescript on a shelf. Others may be disappointed to find neither an imprinted serial number nor certificate of authenticity. I, for one, am exceedingly refreshed by such a creative departure from the same ole "standard black keepcase with (highly annoying) protective side snaps" routine. This just might be the neatest DVD packaging I've come across and its attractiveness should overshadow any other shortcomings, even for collectors.

The main menu is simple enough, though it kicks off with some nice animation, is accompanied by that wonderful True-Life music, and is classy all around. Either feature can be accessed directly from Disc 1's menu, as can Roy Disney's disc-specific introduction. Disc 2 works the same way, with the bonuses listed on the menu. The "Sneak Peeks" option on the first disc does not open up the typical menu of DVD previews but rather one extended commercial for Disney's Animal Kingdom theme park (6:10), which for parks fan will be more of a bonus feature than an advertisement. This promo does not play when the disc begins but, as previously mentioned, an introduction to the Legacy Collection. The features are divided into convenient chapter stops but unfortunately, there's no scene selection menu (which would come in handy for Secrets of Life).
CLOSING THOUGHTS
Despite that nasty "educational" label that must be applied to them, the True-Life Adventures are wonderfully entertaining documentary films. They're undoubtedly worth at least your consideration, whether for their significance to the Disney fan or for their sheer quality. Walt Disney's Legacy Collection has treated them very well on DVD, with top-notch restoration and a full slate of bonuses. The documentaries included on Volume 4 lend themselves to a first-timer's introduction to the series, though even those who have already digested the first three volumes should be pleased, for Perri shakes things up a bit from the norm. The only complaints one can reasonably raise are minor ones and aren't likely to come up at all. Disney has done an excellent job, leaving this reviewer impressed and ready to recommend.