By Ed South

During the 1940s, Walt Disney hired nature photographers Alfred and Elma Milotte to spend some time in Alaska capturing footage for a documentary. They Milottes sent reels and reels of film back to the Disney studios where Walt would take a look at them and find not much of interest.

The project took a sharp turn for the better when Walt saw a reel featuring seals. He decided that the heart of the story was to be found in the marine mammals, so he sent the Milottes back to Alaska to focus on filming the seals. The resulting film is known today as Seal Island, the first in what would become a long string of True-Life Adventures.

One of the four sets which mark the launch of Walt Disney's Legacy Collection, Volume 2: Lands of Exploration brings to DVD not only Seal Island but also the majestic The Living Desert, the first time the True-Life Adventures formula was applied at feature-length. Both films were huge successes which led to more True-Life Adventures... 13 in all to be exact (seven featurettes and six features) over a period of twelve years. This new two-disc set concentrates on films from the series that spotlight regions that are home to some of the planet's most interesting and unique members of the Animal Kingdom.

The True-Life Adventures series was never your average, run-of-the-mill nature documentary. The footage is real and authentic and each program is full of facts, just like any video we were all forced to watch in science class at one time or another. The Disney documentaries look to tell stories found in nature. They make insects, birds, and animals all characters in their own little soap opera. Most Disney films use tricks of the trade to bring you into worlds that don't exist in real life; these True-Life Adventures use the same tricks to bring you a new look at a world that does exist.
As with most products brandishing the Disney name, music plays an important role in the True-Life Adventure films. These films were scored with music written directly for the action taking place on the screen. The same kind of music that may have been used in a short featuring Mickey Mouse and Donald Duck was now being created to underscore prairie dogs digging tunnels underground or a family of kangaroos jumping across the Australian outback. The unique music also can also intensify a scene like a battle between a rattlesnake and a hawk or even a flash flood. The Living Desert and The Vanishing Prairie offer the greatest examples of how music plays a big part in these films. As the first two ushered under the True-Life banner, they sometimes feature a little too much cute music or "mickeymouseing" as it was known in the business. A millipede chugs along to railroad music, two scorpions appear to be square-dancing and bighorn sheep butt heads in tune to the "Anvil Chorus." Some may find the musical antics a bit silly, but they're part of the charm that Walt Disney worked into his creations.
Volume Two features three of the series' eight Academy Award winners. Seal Island took home the very first Two-Reel Short Subject award for 1949. In 1953 and 1954 respectively, Living Desert and Vanishing Prairie were awarded the statue for best documentary feature. Islands of the Sea, also included on this set, was nominated for a short subject award in 1960, but failed to take home the prize.
However, it wasn't all cheers and applause for the True-Life Adventures; one of the films was met with some controversy.

For the first time, the name Walt Disney was involved with a film that was banned. The Vanishing Prairie features a scene showing a buffalo giving birth. The State of New York's board of censors felt the scene was too much for sophisticated New Yorkers to handle and decided to ban the film from screening in the state. New York turned out to be the butt of many jokes because of its decision and Walt Disney himself was even quoted as saying, "It would be a shame if New York children had to believe the stork brings buffaloes, too." The decision was eventually overturned.

Two featurettes included in this collection -- Islands of the Sea and Nature's Strangest Creatures -- are not actually True-Life Adventures. Although they feature the same storytelling techniques and narrator as the designated features, they were not released under the True-Life banner. No explanation is given on this disc as to why these productions were not considered part of the series.

You'll also find some great material from Walt Disney's landmark television anthology series, which he more than often used to promote his other projects. Actually, here's everything you'll find within these two exciting discs...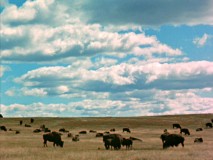 Disc 1

The Living Desert / Running Time: 1:09:?? / Theatrical Release: November 10, 1953

After producing seven True-Life Adventure featurettes over a five-year period, Walt Disney was ready to unleash the series' first feature-length film.

The first of the six True-Life features takes us to the southwestern American desert, where we see more than cactus and tumbleweeds. After a brief dry opening, the Disney touch becomes evident in an early sequence featuring footage of bubbling mud puddles exploding in time to an upbeat musical score. There are many cute and humorous scenes like this involving a millipede, a skunk, kangaroo rats, and square dancing scorpions. There are also a number of intense physical conflicts in the film. Two turtles fight over a woman (turtle, that is) and things get pretty ugly. A rattlesnake takes on a tarantula, and another rattlesnake fights for his life fending off a hawk. But the real masterpiece of wildlife photography in this motion picture is an epic battle between a deadly tarantula and an even deadlier wasp.

The film reportedly cost $500,000 to make and grossed $5 million upon its initial release. Theatrically, The Living Desert was released as a package with the animated featurette Ben and Me and the live-action short Stormy.

The Vanishing Prairie / Running Time: 1:11:?? / Theatrical Release: August 17, 1954

When filming was completed on The Living Desert, Walt sent camera crews out into the American prairie to film material for this next project. What they captured was another fascinating look into animal life in a remote area of our country. Unique views of Prairie Dogs building their underground living quarters offer one of the lighthearted moments of the film. So is footage of Bighorn sheep and Pronghorn antelope frolicking on steep, rocky mountainsides. And, of course there's plenty of time devoted to the wacky inept landings of the prairie's winged residents. But all is not fun and fancy free in the prairie: mountain lions prey on deer, a coyote uses forced entry to get to a prairie dog dinner, and there's plenty of buffalo waiting to pick a huge fight. All in all, The Vanishing Prairie manages to capture all the warmth and excitement of The Living Desert without repeating any of the same elements.

Seal Island / Running Time: 26:50 / Theatrical Release: May 4, 1949

It all started here with this, the first of the True-Life Adventure featurettes. Fur seals arrive on the Pribilof Islands for the purpose of mating. The older seals are known as bulls and have "harems" of females which they protect very seriously. The younger male seals get together, train themselves to fight, and then help each other overthrow the bulls to become the new masters of the harems. As this film has just the one single subject (seals), it starts to become a bit dull halfway into it. But just as you start shifting in your seat, the battle between the young seals and the old bull kicks in. In all of its excitement it is one of the bloodiest scenes to ever appear in a film with Walt Disney's name on it.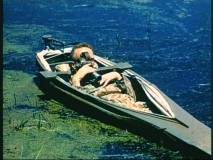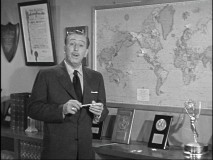 Disc 2

Islands of the Sea / Running Time: 28:24 / Theatrical Release: March 16, 1960

Filmed in the same manner as the True-Life Adventures but not designated as one, this two-reel takes us island-hopping around some of the (then) little-known islands around the world. Each island is home to at least one unusual fish, bird, or other critter. One creature spotlighted worth noting is the Jackass Penguin, whose bizarre vocal stylings will surely have younger viewers in hysterics. Also on hand is the Albatross, who provides enough failed landings to furnish a montage of funny, neck-breaking bird landings - a True-Life Adventures staple!

Nature's Strangest Creatures / Running Time: 15:51 / Theatrical Release: March 19, 1959

We're off to Australia in the shortest of the short films found on this volume. There's lots of cute little baby animals to be found, but there's a little too much up-close footage of baby kangaroos in their mother's pouch.

(It doesn't look so slimy and gooey when Roo does it!) There's also a few glimpses of the giant bat (so large it's nicknamed "the flying fox"), which happens to be the most terrifying animal I've ever known to exist. You'll also see some beautiful footage of a flying squirrel and rare underwater photography of the duck-billed platypus.

"Prairie" / Running Time: 22:50 / Original Air Date: November 10, 1954

This is the third episode from Walt Disney's long running anthology series. The DVD presentation is actually taken from the episode's fourth airing when it was first broadcast in color on "Wonderful World of Color". (Even though color television was still a few years off, Walt had the foresight to produce many episodes in color as he knew they would still be reusable when color television arrived.) The segment is hosted by Walt Disney who turns things over to True-Life director James Algar. Algar shares some behind-the-scenes footage illustrating the lengths that True-Life photographers will go to in order to get a shot. A great deal of footage from The Vanishing Prairie is used as an example. In this episode's original broadcasts, Seal Island was aired in the second half of the hour.

"Behind the True-Life Cameras" / Running Time: 24:27 / Original Air Date: September 21, 1955

Here we have the first half of the second season of "Disneyland"'s second episode. Again, Walt Disney welcomes us (this time in black and white) and then leaves us with James Algar, who lets us in on some more behind-the-scenes footage. We take a swamp boat into the Everglades to get some footage for Secrets of Life and then we are whisked away to Africa to see how African Lion was made. Even though neither film appears on this DVD volume, the episode's traveling subject matter does fit into the volume's subtitle "Lands of Exploration." The second half of this episode in its original airing was The Olympic Elk. This DVD presentation doesn't include that (it's on Volume 3), but it does provide the original ending credits, complete with a voice-over promo for African Lion, which was playing in theaters at the time.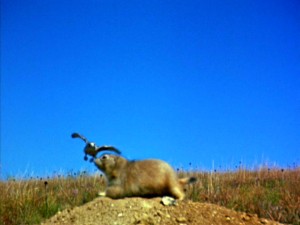 VIDEO and AUDIO

With this DVD release, these feature films and featurettes take on a whole new beauty they have never exhibited before. When previously released on either home video or television, they always looked like the film had just come out of the little cameras they were filmed on and thread directly into a projector; there was a lot of dirt and scratches on the film. This has always been some of the charm of the True-Life Adventures, adding to the "you-are-there" element. At first skeptical of how a digital restoration would alter these films, I'm happy to report that the new cleaned-up picture is a stronger and more beautiful representation of the subjects. Colors just leap off of the screen like never before.

The opening of The Living Desert features shades of purple and pink that will really test the color settings on your television. It's amazing that footage captured in the middle of nowhere on a shoebox-sized camera 50 years ago can produce such awesome images on today's hi-tech home theatres.

The two non-TLA films also appear to have had some work done to them as far as restoration goes. While the picture in Islands of the Sea is not a clear and sharp as the feature films in this set, the presentation is still free of the scratches and dirt that usually accompany nature films of this age. Nature's Strangest Creatures didn't seem to clean up as well as Islands, still retaining many scratches on the film surface. However, the audio is much clearer and you should have no hard time enjoying the footage as much as anything else in this volume.

There's no fancy enhanced Dolby Surround Sound 5.1 Mix or any of that nonsense to be found here. The soundtracks to these films are mono, but they are crystal clear (except Strangest Creatures and Islands of the Sea) and sufficient in presenting the wonderful music scores that are attached to each picture. The sound on Islands is not quite as crisp and clear as the rest of the set: in the beginning, it almost sounds like it's playing out of the speaker of an old 16 MM projector in biology class.

The material offered from the television vaults are in black and white and don't appear to have been digitally spruced up, but the condition of the shows is excellent and leaves no room for complaint. However, there are only subtitles for the films on Disc One -- when it comes to Disc Two, you're on your own!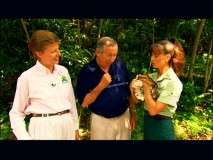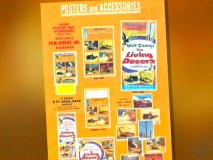 BONUS FEATURES

The bonus features included on this DVD set run the range from typical blatant Disney cross-promotion to some real treasures from the studio's vaults. There is also a feature that provides a wealth of information on the films included in this set.

"Backstage with Roy Disney at Disney's Animal Kingdom: Desert Insects" (3:31) attempts to tie the True-Life Adventure films

to Disney's Animal Kingdom theme park in Orlando. Roy Disney along with Animal Kingdom VP Dr. Beth Stevens meet cast member Edward, who shows off some exotic bugs from the Animal Kingdom collection. Someone forgot to tell Roy that this is meant to be a promo for the theme park as he keeps talking about the movies he worked on, leaving Edward speechless on a couple of occasions.

"Backstage with Roy Disney at Disney's Animal Kingdom: Snakes" (5:13) finds Roy and Dr. Beth meeting up with Animal Kingdom cast member Christy and her Ball Python. Roy seems to be having a good time encountering all of the different animals the theme park has to offer. Both of these "Backstage" segments are needlessly letterboxed.

The juicy "Filmmakers' Journal" (38:52) is a fascinating and in-depth behind the scenes retrospective of some of the films featured on this volume. Elma Milotte, in a 1985 interview, talks about her experiences meeting Walt Disney and working on the films Seal Island and Nature's Strangest Creatures. Paul Kenworthy gives an in-depth exploration into how he became involved with the True-Life series and offers many behind-the-scenes glimpses of the footage he shot for The Living Desert. Roy E. Disney chimes in with a humorous anecdote involving Walt and "duck bowling." Surprisingly, a lot of filmmaker secrets are given away in this featurette and you'll be surprised at how much of what you've been watching wasn't exactly what you thought you were watching. This is a top-notch made for DVD bonus feature.

In "Collectors' Corner" (3:15), Disney artist and historian Stacia Martin shares some promotional items tied to the DVD's films. Among the press materials, record albums, and sheet music on view, Ms. Martin provides a wealth of information regarding the music used in the films. This sort of feature is usually presented in a still gallery format, but the quick pace and extra helpings of trivia make it a welcome change of pace.

The "Trailers & Promos" section provides some real treats. First up are the unremastered original theatrical trailers for The Living Desert (2:47) and The Vanishing Prairie (3:06). Oddly, the Prairie trailer seems to be slightly altered from its original state: the beginning of the trailer appears to be recreated using stills. However, the tampered footage only lasts a few seconds. A real gem from the Disney vaults is the very nice trailer for a Desert/Prairie double feature re-release. The announcer and rating card used in the trailer suggest reveals its 1970s origins. Finally, there are two TV promos. It was customary for Walt Disney to end his weekly broadcast with a personally hosted preview of the next week's show. At the conclusion of a November 1954 airing of Alice in Wonderland, Walt showed viewers clips (3:03) from the next episode "Prairie/Seal Island." The following season's broadcast of Dumbo concluded with scenes (3:03)from the following week's show "Behind the True-Life Cameras/The Olympic Elk." All in all, there is almost fifteen minutes of promotional footage in this section! The promos can gladly be viewed individually or altogether.
MENUS, PACKAGING and DESIGN

At the start of each disc, you'll find an older Walt Disney Home Entertainment logo accompianed by a new musical score. Disc One opens with Roy E. Disney welcoming us to the "Walt Disney Legacy Collection" (2:23). He teases us with previews for upcoming Legacy sets of Oswald The Lucky Rabbit and Destino and then gives us a quick preview of what we'll find on the first four True-Life Adventure themed volumes of the series. Roy returns in another introduction (2:07), this one unique to Volume 2's True-Life Adventure films, providing a quick history of the banner, some behind-the-scenes tidbits, and a familiar overview of what you'll find packed in these two discs.

The menus feature bold colorful graphics featuring the slow spinning globe from the films title sequences. An equally bold and powerful piece of music from the films accompany the menus. The feature films and the short Seal Island are housed on Disc One and accessable from the main menu.
Even though the films are furnished with chapter stops, there is not a Scene Selection menu offered. Disc One also features a Sneak Peaks option that only plays a six-minute promo for Disney's Animal Kingdom Theme Park at the Walt Disney World Resort in Florida. From the Set Up menu, you can select English subtitles or Register Your DVD.

The discs themselves are found on small cardboard backings (not much bigger than the DVD's themselves) tucked inside a small replica of a film canister. The tiny tin canister sits in a faux-felt tray, which itself is snugly placed inside a tin box equal in size to the Walt Disney Treasures releases. Different from the Treasures tins is the clear plastic lid to cover the tin. An insert under the film canister instructs you to lift up the tray to reveal the "Exclusive Collectable" which is a Passport featuring a map of the world pinpointing where the movies in the volume were filmed. There is also an insert listing the contents of both discs plus an ad for the other volumes in the "Legacy" series released and unreleased. The long-awaited title Disneyland: Secrets, Stories and Magic is mentioned here among the upcoming titles, even though Roy Disney does not mention it in the series plug at the start of the disc. Also in your tin is a small flyer inviting you to order a free Disney Parks Vacation Planning DVD via a 1-800 number.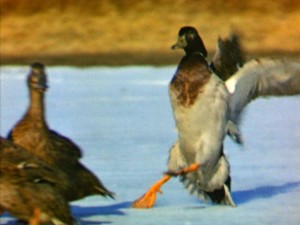 CLOSING THOUGHTS
The True-Life Adventures are among the most magical of titles in the Disney film library. By taking footage of the world around us and adding his own special brand of filmmaking, Walt Disney created documentaries that are still unique and wonderful 50 years after they were produced. This DVD set treats these films with as much prestige and care as any fan could hope for. This volume of nature films will please True-Life fans, general Disney fans, and nature and wildlife enthusiasts at large. This would make a great gift for anyone who enjoys Animal Planet programing but may not be familiar with its predecessors. It's also a great title for someone who is very familar with the True-Life Adventure series. This volume is thorough, well-produced, and the exact reason why there are so many Disney DVD fans like us!