By Albert Gutierrez

Roy Disney states in the introduction to this DVD, "The Walt Disney Legacy Collection offers a unique look into our archives and celebrates the pioneering spirit that started it all. It pays homage to what Walt Disney knew best: the power of imagination." Those words hold true to this day, when the first releases of this new DVD line present the True-Life Adventures, some of the most ambitious film projects that Walt ever took on.

He gives the documentary genre a twist, and the films that came to audiences offered fun and fanciful tales of the natural world. In the first volume of True-Life Adventures, we take an exploration of natural wonders of the world, from the beautiful White Wilderness of Canada, to the amusing lives of Water Birds and residents in Beaver Valley, as well as a look at the dangerous Prowlers of the Everglades.

When watching these films for the first time, they do seem to be simply some old nature documentaries, but the viewer will immediately notice a difference between a high school science class napfest and the True-Life Adventures. It's perhaps that "Disney touch" that makes these films more appealing. It might be the warm voice and soothing tone of the narrator Winston Hibler, or perhaps the powerful and yet subtle scores by Paul Smith and Oliver Wallace that help separate these from other travelogue films or Discovery Channel specials.
Within the True-Life Adventures, Disney manages to utilize music as a narrative form, as it co-exists peacefully with the narrator and helps set the mood and actions of the animals. Affectionately coined as "Mickey Mousing" thanks to being similar to the scoring practices of Disney shorts, the music takes on a life of its own, as each note stresses specific action or moments. A jumpy and energetic flapping of the wings is a companion to the same jumpy and energetic scales of a violin or clarinet. The bobbing behind of a sandpiper is joined with a jazzy trumpet. The long and lingering look of a walrus is met with the deep and tonal notes of a tuba. Music is as much a part of the film as the visuals and enhances them beyond their remarkable-but-silent brilliance.
Time is not a factor at all when it came to making these films. White Wilderness, which premiered in 1958, actually took six years to shoot, and as Roy E. Disney points out in the disc's intro, one couple spent eleven months in the cold climate, of which a mere nine minutes of footage was actually used. The footage these filmmakers have captured has not gone unnoticed, and their dedication is apparent when you watch any of the True-Life Adventures. Camera angles get creative, and viewers go deeper into the world of nature than they ever thought possible. It's truly a remarkable thing to be up on a perch with a mother bird and her chicks, or up close and personal with a resting polar bear and her cubs. While quantity of film was inevitably abundant (filmmakers were known for sending as much as 400 or 500 feet of 16mm film back to Burbank every day), the programs delve even further into quality as they strive to present stories that are both enjoyable and educational.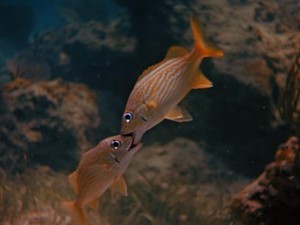 Perhaps the most infamous scene within a True-Life Adventure feature

is that of the suicidal lemmings in White Wilderness. As the legend goes, the lemmings that are portrayed as jumping off a cliff and into the sea were pushed down by filmmakers yearning to capture a phenomenon. Indeed, this is one of the few and far-between moments when the documentarians decided to dramatize a natural event, rather than capture it in reality. However, in order to support the legend of these suicide-bent little animals, "actor" lemmings were used. What many viewers did not know was that these lemmings were foreigners to Alberta (where White Wilderness was shot) and were imported from Manitoba. They were filmed at a variety of angles, including jumping from a small cliff into a river not too far below. This gave a cinematic illusion that there were many, and that during a mass migration, a large group would jump over a cliff and swim into the sea, en route to an intentional death. The filmmakers merely shot this footage in order to present a lemming migration as realistically as possible (myth notwithstanding) in an area where lemmings weren't indigenous, and never intended for it to be portrayed as a mass suicide. While I understand the filmmakers' reasons for wanting to portray/address this "legend", it can sometimes be misleading when watching the film, as the narrator's words make viewers think that what they're seeing is the true behavior of the creatures. Still, it's likely the only aberration among the many true to life behaviors documented, and has been addressed many times over before.

Four theatrically-released True-Life Adventure films are presented within this, Volume 1: Wonders of the World: the feature-length White Wilderness and two-reel shorts Water Birds, Beaver Valley, and Prowlers of the Everglades, all but Prowlers being Academy Award winners. This two-disc set also includes, among other things, two bonus programs that also have a very True-Life Adventures-esque feel to them despite lacking the banner. They are produced very much like a True-Life Adventures program, even using the same concept of an animated opening and Winston Hibler as a narrator. Mysteries of the Deep focuses on the exotic and unknown world of the sea, and its exclusion from the official canon is puzzling. "Wonders of the Water World", a 1961 episode of the "Disneyland" anthology television series (then called "The Wonderful World of Color"), offers a general look at various walks of animal life, each centered around some type of body of water. The DVD offers the main True-Life Adventure film and shorts on Disc One, with the bonus material on Disc Two.
Disc 1
White Wilderness / Running Time: 1:12:21 / Theatrical Release: August 12, 1958

Six years worth of footage shot in Alberta, Canada has been condensed into a 72-minute documentary which offers a unique and touching look at the daily lives of animals such as polar bears, walruses, goldeneyes, wolverines, and, of course, lemmings. One of the most amusing and tender moments perhaps is when a young polar bear slips down a hill and as he slides, the music takes on a comical turn, as if it were a practiced circus act. This documentary is filled with such little moments which make it all the more enjoyable.

Water Birds / Running Time: 30:39 / Theatrical Release: June 26, 1952

This two-reel adventure focuses on the interesting and odd behavior of several "water birds" such as the crane, the pelican, the fairy tern, and the snowy egret. Rather than remain in one location, the filmmakers traveled to various islands across the globe. The program concludes with an energetic and amusing montage set to Franz Liszt's "Hungarian Rhapsody No. 2." This film appeared on the 2003 DVD release of The Rescuers, but has been given much better treatment here.

Beaver Valley / Running Time: 31:55 / Theatrical Release: July 19, 1950

As the earliest of the True-Life Adventures, Beaver Valley offers a fun and amusing look at life within Beaver Valley. Home of the beavers (naturally), we get glimpses of squirrels, otters, even the coyote and blue heron. The music is much more energetic and engaging here than in the other True-Life Adventures on the disc, and is a definite highlight of this short.

Prowlers of the Everglades / Running Time: 31:56 / Theatrical Release: July 23, 1953

Disney filmmakers take their cameras to Florida, not to document the swamps that would become Walt Disney World, but to capture the lives of creatures in the everglades. Focusing primarily on alligators, we also see the behavior of animals such as snakebirds, raccoons, and even otters who like to "play" with the alligators.
Disc 2

Mysteries of the Deep / Running Time: 23:55 / Theatrical Release: December 16, 1959

Strangely not part of the True-Life Adventures canon, this short focuses on exotic and rare fish and sea life around the world. It's amazing just how clear the video is underwater, offers wonderful footage of underwater life. Too many forms of life are covered that there's not enough time to give each of them their due in the program, but those of particular interest are the residents of the coral reef, the bottlenose dolphins, and the mother octopus which consumes a large sea snail.

"Wonders Of The Water World" / Running Time: 49:32 / Original Air Date: May 21, 1961

This episode of "Disneyland" (in its "Wonderful World of Color" incarnation) begins rather abruptly with an odd montage of various animals, before opening and then providing a brief introduction by Walt Disney. Rather than limit itself to underwater life, this program tracks the course of a body of water (from brooke to lake to sea, etc.) and features the lives of animals that inhabit in or near it. It's very much a Cliffs Notes version of all the previous programs on the DVD, but is still just as entertaining.

"The Crisler Story" / Running Time: 18:49 / Original Air Date: February 27, 1957

Another episode of "Disneyland", this was aired with Prowlers of the Everglades and is a vintage behind-the-scenes look at the life of True-Life Adventures filmmakers Herb and Alice Crisler. Filmed in black and white, this short half-episode is the closest we'll get to a contemporary making-of featurette, as the other bonus features are more retrospective in nature.
VIDEO and AUDIO

A digital restoration went into this long-overdue release, and while there is little to no dirt or artifacts, the actual film quality is a mixed bag. When comparing Water Birds on this release to its DVD debut on The Rescuers, the difference is very noticeable, especially in the amount of dirt that has been cleaned removed from the film. However, the picture is still especially soft throughout, especially given the jerky and continuous movement of the camera, but the colors are quite strong. Prowlers of the Everglades has little to no grain,

though its colors are especially dull and washed out, though that likely has more to do with nature's own color palette than that of the film stock. White Wilderness and Beaver Valley offer the best quality; both are extremely clear and appropriately sharp. Overall, the amount of restoration that has gone into these programs is truly amazing, especially considering the age of these films and the equipment originally used to capture the footage on location.

Like the main films, the three bonus programs have had some restoration as well. Mysteries of the Deep, with its beautiful color tones of the sea, is the best of the three. The picture itself isn't quite as clear as one would like, but it doesn't suffer the softness found in Water Birds. Unfortunately, "Wonders of the Water World" is a hodgepodge of grain and washed-out colors, and makes for severe distractions throughout the episode. The black-and-white "The Crisler Story" is riddled with dirt and grain, though its black and white tones are consistent and the film is in better condition than its fellow anthology episode.

For all the featured films and episodes, the original mono soundtracks are provided. They mainly feature the narrator and musical score. On occasion, several scenes include in-house dubs of animal sounds such as a bird screeching, or a wolf howling, but otherwise, the two channels are an even mix of Winston Hibler and narrative score. Unfortunately, subtitles are only offered on Disc One, so none of the programs on Disc Two have them.
BONUS FEATURES

Bonus features for this DVD set are not quite so exhaustive, but they still provide a wealth of information and vintage materials in the form of trailers, photos, and interviews. There's even vintage footage of Walt, from his "Disneyland" television series, discussing some aspects of the True-Life adventures.

"Backstage with Roy Disney at Disney's Animal Kingdom: Birds" (8:50) is a non-anamorphic widescreen featurette that finds Roy Disney and Dr. Beth Stevens meeting a couple exotic birds at Animal Kingdom, such as the greenwing macaw and the spectacled owl. It's very interesting, as we learn more

about birds who take up residence in the park and Roy provides a few nice tidbits about birds he came across during True-Life Adventures.

An all-too-brief featurette, the "Tribute to James Algar" (2:57) is a quick look at the career of the 9-time Academy Award-winning producer and director of the True-Life Adventures series. Algar started as an animator on Snow White and the Seven Dwarfs, and gradually moved up until Walt gave him the responsibility to produce the True-Life Adventures. He became as much a driving force behind the films as Walt was, and while this featurette is touching, it runs by rather fast.

The best bonus feature in this set is a well-produced "Filmmakers' Journal" (22:27), which utilizies new and vintage interviews, and features True-Life Adventures filmmakers such as Roy Disney, Elma Milotte, Lloyd Beebe, Norman "Stormy" Palmer, and Jim Macdonald discussing their work on the films presented in this DVD set. Also, Disney historian Stacia Martin and film composer John Debney offer their thoughts and insight on several aspects of the film series, including the musical scores by Paul Smith and Oliver Wallace. It's a wonderful featurette, and gives worthwhile information and production anecdotes, not to mention a variety of rare production photos and even behind the scenes video footage.
"Collectors' Corner" (3:02), another letterboxed featurette, features Disney artist/historian Stacia Martin showing off several collectible souvenirs and items that have been saved for archival purposes. While she showcases several interesting products, such as press materials and even a Beaver Valley comic book, a still gallery would have allowed better viewings of some items that the camera simply pans over. Still, this short piece does give an interesting look at the merchandise for True-Life Adventures and Martin provides a fair deal of information.

Three trailers (*gasp*) appear here for White Wilderness, Water Birds, and Beaver Valley. While they're unrestored and one is even in black and white, their inclusion is welcome, as they offer a look at how these amazing films were promoted in their time. Together, the three trailers run 5 minutes and 47 seconds, a bit off from what the two-sided insert claims.

MENUS, PACKAGING and DESIGN

Before reaching Disc 1's Main Menu, we're greeted by Roy E. Disney in an Introduction (1:46) that gives a brief overview of the programs presented in this DVD set. We are treated to a nicely-animated 16x9-enhanced menu, which offers the powerful score from the series of films as well as the familiar rotating globe that appeared. Programs are listed in the random order they are arranged. The Set Up Menu on Disc One offers simply an English subtitle option. There are no subtitles for Disc Two, which is unfortunate; I can never understand any studio's choice to not bother including subtitles for bonus material.

Disc 1 opens with a trailer for the Walt Disney's Legacy Collection (2:23), which features Roy E. Disney discussing future releases such as Oswald the Lucky Rabbit and Destino, then concluding with an overview of the True-Life Adventures. On the Main Menu, the "Sneak Peeks" option doesn't go to an index page with other trailers, but plays a lengthy trailer for Disney's Animal Kingdom (6:10). It gives a nice overview of the park, focusing on some of their grand attractions and shows, as well as featuring a few interview clips.
The packaging for this DVD set is quite unique, if cumbersome. Housed within a metal and plastic case (similar in shape to that of Walt Disney Treasures) is a collectible embossed circular tin, which looks and feels like an old film reel and contains highly colorful cover art. This tin is snugly fit in a green felt casing, with a Roy E. Disney-signed banner above it. When you open the tin, you'll find Disc 1 on a circular cardboard tray, with Disc 2 below, and a simple paper insert explaining where to find the collectible booklet and inserts. Beneath the felt casing (which is relatively easy to remove but a little harder to put back) is a collectible "passport" booklet and a two-sided insert. The insert offers a features listing (with a couple inaccurate runtimes, but no original release dates) on one side, as well as a promotion for the Legacy Collection on the other side, which features a better look at the three "Coming Soon" titles: Destino, Oswald the Lucky Rabbit, and the highly-anticipated Disneyland: Secrets, Stories, & Magic. Also included is a small one-sided insert promoting the free Disney Parks vacation planning DVD with an impressive color photo of Expedition Everest (of Disney's Animal Kingdom).

The packaging touts a collectible "Passport" Booklet, which is simply a four-sided insert that opens up to reveal a plain map of the world. Along the bottom are pictures of several animals featured in this True-Life Adventures volume, their scientific name, and colored lines that help pinpoint its location.
CLOSING THOUGHTS

True-Life Adventures take what could easily be sleep-inducing documentaries and turn them into an entertaining set of stories starring nature and its animals. The level of quality and presentation in this release makes for one very impressive DVD set, equal to what we've come to expect from the Walt Disney Treasures. The films are truly enjoyable with a great amount of replay value, and the pleasing bonus features provide a terrific amount of knowledge. While the video quality is grealy improved from what we've seen before, it could still use a little work, but given the nature of these...nature films, it's easily forgivable. This DVD comes highly recommended, and I encourage all of you to go out and pick it up, it's well worth the price and then some.