Review by Aaron Wallace

I'm not quite sure what it means to be "Raven." Webster defines it in its adjectival form as being shiny and black. Somehow I don't think that's what Disney was going for in the title of their breakout hit sitcom, "That's So Raven", nor were they likely referring to a tendency to steal or devour. Whatever it is, it's clearly done in abundance on the show that stars Raven-Symoné... oh wait. Now I get it. The show is so Raven, the Disney

superstar who got her start on "The Cosby Show" and is apparently known and loved by many. It seems to be working for them. Though the series hasn't enjoyed the merchandising and feature film success that "Lizzie McGuire" once did (nor has Raven reached the Hilary Duff status of fame), it has become the Disney Channel's most popular series and the first of the network's sitcoms to be renewed beyond the standard order of 65 episodes.

The funny thing is that nearly every episode is exactly the same. Perhaps "That's So Repetitive" would be a better title. That doesn't seem to be a problem, though, because not only has the show met a tremendous amount of success, but it actually works rather well as a comedy too. I'm the first to decry the young actress/singer's overexposure by Disney, but there's no denying that it is precisely because of Raven herself that the show succeeds. Showing off life-long exposure to the entertainment world, Raven commands the art of comedic talent like few other her age. No matter how redundant the plot device may be, Raven delivers jokes freshly each time with body language and intonation that are laugh-out-loud funny.

It's almost a shame that it's a Disney Channel show to begin with. Granted, it wouldn't have seen the light of day on any other network, but that also means that there's a mandate from the big Ears to pander to a kiddy audience and in turn restrain comedy. "Raven" operates on an intriguing premise: a psychic teenager whose visions of the future aren't always as accurate as they seem. If only the folks behind the show would realize that they could capitalize on that idea while still shaking of the format from one episode to the next, they'd really be onto something. As it is, the show is enjoyable but unfortunately bland when viewed in succession.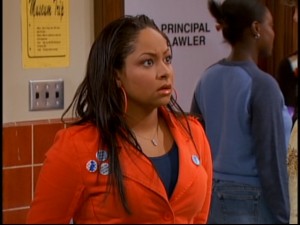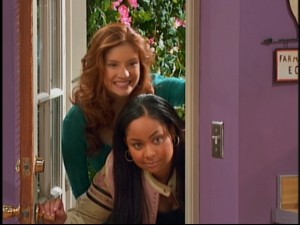 Raven -- and in case you aren't yet aware, Raven-Symoné plays a character named Raven Baxter -- costars with her character's best friends, Eddie Thomas (Orlando Brown) and Chelsea Daniels (Anneliese van der Pol), both of whom add to the comedy but are a little less able to hide when they are muting themselves to keep in line with low-brow comedy. Their characters fit a little too snugly into sitcom archetypes but are defined enough to buy into. Corey Baxter (Kyle Massey) is hilarious as Raven's younger entrepreneurial brother, often scheming to prank his sister. Bobb'e J. Thompson sometimes shows up as Stanley, another young thorn in Raven's side who is out to woo her and make some money while at it. Rounding out the cast are the parents, Tonya (T'Keyah Crystal Keymáh) and Victor (Rondell Sheridan) Baxter, easily the most annoying characters on the show as they are both far too generic and schmaltzy to be believable. The thing that often separates decent family sitcoms from great ones is the extent to which parental and/or other adult characters are involved and the weak and sparing employment of them is another thing that holds this show back.
Raven's House Party is the third compilation disc from Disney that puts just a few episodes of "That's So Raven" together with a too-high retail price. This time, it bumps the number of included episodes up from four to five, though one of them comes as a bonus feature. While the theme of the first two discs was weak and inconsistent, this one's was a complete mystery to me -- not once does Raven hold a party in her house -- until I broke down and read the back of the packaging. Apparently the common theme is that Raven sings, and indeed, she does do that in each of these episodes (and quite well, I might add). That's not much of a tie, but I'll let it slide because it just so happens to present some of the better episodes from the show and is episode-for-episode the strongest of the "Raven" compilations released yet.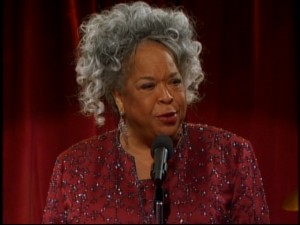 Episode Descriptions

"The Four Aces" (22:34) (Not Yet Aired)
What happens when Della Reese guest stars on "That's So Raven" and sings jazz?

The show produces one of its finest episodes. She plays a sassy and bitter star of the jazz world who hasn't performed since her father's death. Raven volunteers at the retirement center she now lives at and manages to coax some happiness and tells of her past from her, including one that reveals something about the Chill Grill (the Baxter family restaurant) that Raven never knew. Meanwhile, Corey haggles with Stanley over a gift for his girlfriend and Chelsea tries to outwrestle an elderly lady and fails.

"Too Much Pressure" (22:24) (Originally aired June 10, 2005)
Raven and Chelsea try to get a spot as a background dancer in the new music video by their favorite R&B star, Pressure (Kevontay Jackson). In order to get close, though, they have to get Corey to sign up for a bizarre dance class in the same studio.

"Double Vision" (22:16) (Originally aired December 17, 2004)
This episode actually shakes things up just a bit when Raven learns that Ben (Travis Van Winkle), the boy on whom Chelsea has a crush at their high school, is actually a psychic too. Chelsea, who is busy planning a concert by hippy singer Rayne Bow (Caitlin Crosby) doesn't like what she sees when the two of them try to combine their powers, though. Back at home, Corey frets over the nearing of his first kiss. The addition of another psychic character in this episode is an interesting one and would go a long way in spicing up the series. One hopes that Travis Van Winkle will be asked to return.

"Opportunity Shocks" (22:24) (November 5, 2004)
No one plays a tycoon like "The Fresh Prince of Bel-Air"'s James Avery. Here, he's patent maverick Presto, who is renowned for his knack at turning inventions into financial successes. He's coming to the Chill Grill and the whole Baxter family. Somehow it ends up in a wacky dance-off that's something of a tangent, but a funny one.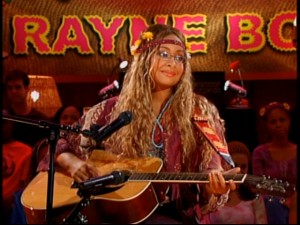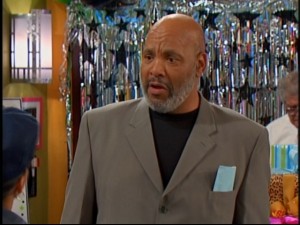 VIDEO and AUDIO
The show is presented in its proper 1.33:1 "fullscreen" aspect ratio. The picture looks almost as good as it's going to on DVD, due to the fact that these are recent productions that don't use the highest quality video to begin with. There's occasional edge enhancement and a too-soft appearance, but neither are extremely noticeable. The episodes would likely benefit from a little more breathing room but look pretty good as they are.
Once again, the Dolby Digital 5.1 track is one of the best-mixed audio presentations for a sitcom on DVD. The sound is full, vibrant, and always clear. Most dialogue of course emanates from the center speaker, but the other channels often come in to play. Sound effects, the laugh track, and applause are positioned in the rear channels to create the illusion that viewers are seeing the show filmed live and the music fills all the speakers while employing an impressive amount of bass as well.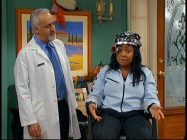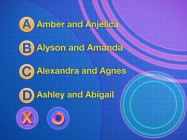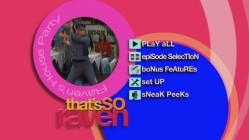 BONUS FEATURES, MENUS, and DESIGN
This disc ups the ante with bonus features too. The foremost is another episode of "That's So Raven." Though the packaging only advertises one previously un-aired episode, there are actually two: "The Four Aces" in the main program and this, "Vision: Impossible" (22:20). It's not often that Disney Channel series use clip shows, but that's essentially what this is, although the clips are brief and plentiful rather than complete scenes as is often the case in sitcoms. Raven sees a psychic doctor when her visions begin to seem a little odd and as the doctor projects the good and bad memories she has related to her psychic abilities, she must decide whether or not she wants to rid herself of her abilities once and for all.
There's also an on-the-set gag reel that, among other things, shows the cast using such racy language as "sucks" and the crew advising Raven that the Disney Channel wouldn't allow her to hit Corey on the head in the show, but only below the neck.
The final feature is a loosely-related "Radio Trivia" game that mainly concerns Radio Disney artists and occasionally a question about Raven or her TV show(s), though she appears after every question. Its creation and inclusion seem a little odd, but then, there's probably an overlap in fan bases.
The 4x3 menu screens are much the same as the previous "Raven" releases. The show's end-credits theme plays while colorful circles spin around and various clips from the included episodes play. There's an episode selection screen for the first four episodes and "Vision: Impossible" is under the "Bonus Features" heading. Unfortunately, there's no chapter division within each episode.
The disc begins with previews for Lady and the Tramp, The Wild, The Shaggy Dog, The Proud Family Movie, Kronk's New Groove, and this very DVD. Looks at Sky High, Valiant, and the Disney Channel series that is currently second in popularity only to "Raven": "The Suite Life of Zack & Cody."
CLOSING THOUGHTS
"That's So Raven" is at least worth watching (which you can do at almost any given time on the Disney Channel) and probably even owning. Sure, it's flawed in a number of ways that range from self-constraint to a reliance on formula, but it still works as a fairly funny show, thanks in large part to its central star. It seems almost certain that a box set of "Raven" episodes will be announced at any time and so even though a little bit of "Raven" goes along way, wise consumers may hold out for such a release that offers more bang for the buck. In the meantime, Raven's House Party is by far the best of the "Raven" releases so far, with an extra episode and decent bonus features that will hopefully resurface on those impending box sets. If five episodes are enough to satisfy you, then this collection is as good as any.