VIDEO and AUDIO
Appearing in its original widescreen theatrical aspect ratio of 1.75:1 and enhanced for 16x9 televisions, Old Yeller looks to be at its peak. The colors appear accurate, though they are not as bright as some of the other Technicolor Disney live-actions, and detail is reasonably good.
The Dolby Digital 5.1 remix doesn't make much use of the back speakers, but adequately lays out the sound in the 3 front channels with nice range. The transfer and sound are on par with the rest of the Vault Disney issues, once again praiseworthy for making an old film sparkle.
EXTRAS
An inviting, old-fashioned menu depicts the family's ranch, presenting the options for Disc 1. These include a few extras in connection to the movie, with the greater majority of bonuses reserved for the second disc.
Together, in a scene-specific audio commentary, are Tommy Kirk, Kevin Corcoran, Fess Parker, and son of the dog trainer for the film, Bob Weatherwax (I'm getting verklempt, talk amongst yourselves! I'll give you a topic - Weatherwax is neither weather, nor wax. Discuss!) Mr. Kirk takes up most of the time giving insight into the film's production, with Corcoran and Parker chiming in throughout. On a different note, Weatherwax gives interesting information about how they got Spike the dog (who played Yeller) to 'act' in the various sequences.
"Bone Trouble" (8:40) is a Pluto short that can either be seen prior to the feature presentation, the way it was done in the 50's, or separately. In this cartoon, Mickey's dog takes a bone from a big bulldog, running into a hall of mirrors to escape him. Pluto cartoons aren't really my favorites, but this is probably one of his best.
Skippable preview trailers play before the menu loads for the theatrical release of Lilo & Stitch, and the DVD releases of Max Keeble's Big Move and Air Bud: Seventh Inning Fetch. (That's the 39th "Air Bud" flick . . . or am I loosing count?) These can be accessed via the "Sneak Peeks" menu option, along with previews for the DVD releases of Monsters, Inc., Return to Neverland, and Beauty and the Beast: Special Edition.
Within Disc One's Set Up menu, a THX Optimizer lets one calibrate the audio and video of his or her home theater system specifically for this title.
Disc Two's menu delves into the Disney vaults, bringing up a virtual, old-fashioned building that houses a humungous archive of materials for vintage live-action Disney movies. An elevator takes us into a vast 3-D hall, and a menu is presented specifically for Old Yeller. The right side of this hall presents 3 selections.
"Old Yeller: Remembering a Classic" (36:01) features the author's son T. Beck Gipson, actors Fess Parker, Tommy Kirk, Kevin Corcoran, Beverly Washburn, animal trainer Bob Weatherwax, and Roy E. Disney. Starting off with a quite touching look back at Fred Gipson and his book, the documentary then moves on to the movie itself, spending most of the time with the actors as they reminisce about working with each other on set. As in the commentary, Spike the dog and how he was trained for specific scenes is discussed. A nice touch over the end credits is a look at fan letters by children who have read "Old Yeller." This made for a very nice retrospective piece.
"Conversations with Tommy Kirk" (14:40) interviews the former celebrity in one of the soundstages at the Disney lot in Burbank, CA. He recalls how he began his career as an actor, his meeting Walt, the several roles he played during his 8-year stay at the Disney studios, and his philosophy on acting. Surprisingly, he reveals that Fred MacMurray had quite a temper, and shares a few experiences of working with him.
"Dogs!" (1:40) is a speedy montage of canines from several Disney films, including 101 Dalmatians, Lady and the Tramp, Homeward Bound: The Incredible Journey, and Benji: The Hunted, among others. I thought this was pretty pointless, but canyou blame me? Throw me a bone! (Get it? Eh . . .never mind.)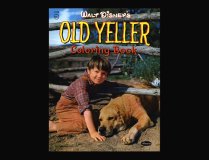 On the opposite, left side of the hall are 3 more selections. First, in the vein of the Vault Disney staple "Lost Treasures," the featurette "Ranch of the Golden Oak" (7:20) provides a nice tour of the property near L.A. that has been used to film many Disney projects, as well as some other well-known movies. (Does Independence Day ring a bell?) Tommy Kirk, Kevin Corcoran, Beverly Washburn, and Roy E. Disney all comment on the ranch, followed by the ranch manager Steve Sligh showing us around and pointing out which films where shot where, including, of course, Old Yeller.
The next option, Production Archive, zooms us into yet another hall with several more options.
A generous section of full-screen Galleries is divvied up into numerous sub-sections - "Production Stills" (55 pictures); shots of an Old Yeller comic book under "Publishing" (13 stills); "Biographies" (43 frames) for Tommy Kirk, Dorothy McGuire, Fess Parker, Kevin Corcoran, Beverly Washburn, and Chuck Connors (strangely, the remaining cast member, Jeff York – who also played with Parker in the "Davy Crockett" series – is not included); lobby cards, posters, and merchandise in "Advertising" (17 stills); fan letters to Fred Gipson and invitations for early movie screenings found within "Documents" (30 stills). Lastly, a "Screenplay Excerpt" (13 stills) is taken from the end of the movie. Helpfully, the segment the excerpt portrays can be viewed directly after reading.
"Production Gallery" (2:33) is a slideshow of select photos from the aforementioned still-frame gallery. I suggest exploring the galleries instead, as they offer much more material, and allow you to view each still as long as you wish.
"News Segment: Old Yeller Memorial" (7:14) elaborates on the debut of an Old Yeller monument in Fred Gipson's home town, which is touched upon in "Remembering a Classic." The piece focuses on the author's son, T. Beck Gipson, who explains how emotional it is to see his late father honored in this way. Laura Bush makes an appearance to give a speech, with many breaking into tears. Some of it is a retread, but it's a rather poignant little video that's surely worth a watch.
"Trailers & TV Spots" (2:04) links the original theatrical trailer with a 90's commercial for a TV broadcast of the film.
The lengthiest extra is "Best Doggone Dog in the World" (52:25), an episode from the Disneyland TV anthology series, hosted by Walt. Made to promote Old Yeller's original release, the program gives an overview of all types of dogs from all over the globe. Then, Dorothy McGuire makes an appearance, narrating a series of clips from the movie. Finally, a "True-Life Adventure"-like segment tells the story of a sheep dog who must lead a herd of four-legged cotton balls through the Arizona wilderness. Some parts of this are tough to sit through, due to their promotional nature or somewhat dry content. It definitely makes a worthy inclusion to this packed set, though.
The last option in this room is "Audio Archives", which takes us to a jukebox. Available for playing are: 6 "Radio Spots" (2:37), a "Foley Demonstration" (2:10) with Wayne Allwine (the current voice for Mickey Mouse) to show how sounds are recorded in post-production, a "Story Album" (33:20) taken from a vintage record, and a few more interactive features. Sound Studio is an option for the scenes "Travis Meets Yeller" and "Bear Attack," in which you can listen to them with music only, effects only, or dialogue only.
Back in the main hall, we discover our very last offering. "Disney Studio Album" (3:22) is a rapid-cut montage of the many events at the mouse house in 1957. Film, television, theme parks – you name it, it is glimpsed at in this closing featurette.
CLOSING THOUGHTS
Old Yeller is my favorite Disney live action movie. One of the best family films ever made, it's funny, dramatic, and touching for those of all ages. This classic is excellently represented on DVD, with a fabulous roster of bonus materials. The best doggone dog in the west should be a part of everyone's collection.
More on the DVD / Buy from Amazon.com


UPDATE: This 2-disc Old Yeller: Vault Disney DVD was discontinued in 2005 to make way for Old Yeller: 2-Movie Collection, a 2-disc set containing the original film, all of its Vault Disney extras except for the audio commentary, and the 1963 sequel Savage Sam. This new 2-Movie Collection set was released on November 15, 2005 and will be receiving a price reduction in June 2006 (new suggested retail price: $19.99). You can order this 2-Movie Collection, read our review, or scroll down to proceed reading our review of the original Old Yeller DVD, which can still be purchased with some ease.