In the spring of 2007, NBC began counting down the "final episodes" of "Scrubs" in promos. Renewal was still up in the air, but the medical comedy eventually earned it, returning for a seventh season. Season 7 was established as the acclaimed, imaginative show's swan song. But then the Writers' Strike occurred. Since NBC was unwilling to provide the creators an opportunity for closure beyond the 11 episodes filmed pre-strike, the show accepted producing company Disney's offer to enter ABC's higher-rated stable after the peacock network let go.

Over at ABC, "Scrubs" made another midseason return and this time, there was no doubt. Season 8 was the end, at least for creator/producer Bill Lawrence and star/narrator/occasional director Zach Braff (who both said the same thing a year earlier). This past May, we got an hour of programming that indicated finality in no uncertain terms. Named "My Finale", the two-parter briefly brought back eight seasons' worth of guest stars, called back to the first episode, and ended with teary-eyed poignancy bold even for the show's oft-dramatic palette.

And yet, days later, "Scrubs" was among the shows set to return to the alphabet network. Braff and leading lady Sarah Chalke were reported as signing on for 6-episode engagements. Fellow core cast members Donald Faison, John C. McGinley, and Neil Flynn were all locked in for regular duty, pending the fates of their other pilots.

Ordinarily, show renewals are celebrated and cancellations lamented. But little about "Scrubs"' run has been ordinary and neither was fan reaction to the news. The most electronically vocal and ardent devotees, the ones largely responsible for the series' continued survival despite modest ratings, were generally less than enthusiastic. But rather than just complaining because they can (like many Internet message board and comment gripes), these fans had their reasons. High among them: "Scrubs" had gotten a perfectly satisfying end and to continue without Lawrence as showrunner and Braff as full-time protagonist would be worse than to not continue at all. "Scrubs" just wouldn't be "Scrubs" without them, they argued.
But "Scrubs" will be "Scrubs" without them dedicating the time and effort of past seasons. All signs point to a tremendous challenge for the show to reach the same brilliant heights in comedy, pathos, and imagination without its heart and soul back. But to Disney, even among discussions of changing cast, setting, style, and camera format, "Scrubs" will literally still be "Scrubs" and that's no mere title trivia. Despite an average Nielsen rating of about 1.8 (about 5 million viewers) and an average share of about 6 (6 percent of TVs in use watch "Scrubs" as it airs), the show will be back next January because A) it's an easier sell than an all-new series and B) Disney stands to make a load of money for each new episode to enter the show's large, widely-broadcast syndication package.
While the numbers may make sense to ABC and keep most crew members employed, The Complete Eighth Season raises questions over the artistic value of doing so. After all, moving to ABC had required cost-cutting with some drastic, noticeable consequences. No leading cast member turns up in every episode; most were missing from a number of shows. In an effort to divert attention from this economical maneuver and seemingly to introduce new blood for potential cast replacements, the show brought onboard a number of new recurring cast members to play Sacred Heart Hospital's latest class of interns.
"Scrubs" was no stranger to interns. That's what daydreamer J.D. (Braff), best bud Turk (Faison), and go-getter Elliot (Chalke) were in Season 1 and whose shortcomings and lessons they had to deal with in recent seasons. But the new interns enjoyed instant prominence. Their presence posed change to the long-established seven-actor core. Many fans, myself included, were tempted to ask, "Why should we care about these characters when the regulars seem to come and go without explanation?"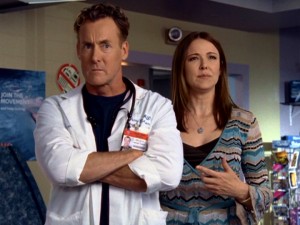 The show couldn't be charged with stagnancy or complacency, two obstacles that often arise during long runs and have affected some of its younger contemporaries. But it also couldn't be credited with being the best, most satisfying "Scrubs" it could be. Still, "Scrubs" a bit shy of its A-game still beats the vast majority of contemporary network programming I've been exposed to. There is much to love here.

J.D. is lightly bearded throughout these episodes, suggesting he's more mature, a father and veteran doctor finally in a committed relationship. But he's still J.D., the needy, nerdy, fun-lover who shares a close, special bond with his longtime former roommate Turk. Their "bromance" continues to be a chief feature, fueling the kind of humor at which "Scrubs" excels.

J.D. and Turk's friendship seemingly resonates on a deeper level than their heterosexual ones, something repeatedly acknowledged this year, but the latter also garner thoughtful notice. J.D. and Elliot rekindle the quirky romance they were always destined to find, with fatal foibles of the past overcome and/or forgotten. Turk and his wife, nurse Carla (Judy Reyes), continue their mostly smooth sailing. Their second pregnancy is treated with a nonchalance that seems merited since all of the babies born in Seasons 6 and 7 receive no more than passing mention and sightings.

Now the hospital's sole authority figure, Dr. Cox (McGinley) settles into a chief of medicine role comfortably. Dr. Kelso (Ken Jenkins), no longer the bad guy, enjoys a retirement of Hawaiian shirts and endless free coffee shop muffins. Cox and Kelso lay aside their years of animosity to reach new understanding and a believable friendship that starts in secret. Rounding out the regulars, the Janitor (Flynn) continues to torment his favorite target (J.D.) and others with his shaggy dog stories and ample powers. The longtime recurring character roster continues to be well-represented by the likes of dopey lawyer Ted (Sam Lloyd), Cox's biting ex-wife Jordan (Christa Miller), and visual/verbal joke hospital staff extras.

With the exception of lifelong fratboy Todd (Robert Maschio), the core characters, all of whom have been around from the start, are advanced this season via job promotions, love interests, and maturation. (Actually, "The Todd" does begin dating a married couple.) The progress is welcome, even if professional success seems most directly linked to character focality.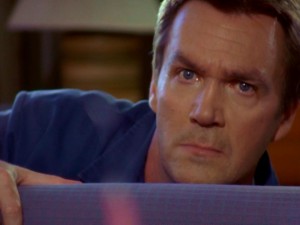 New personalities abound in Season 8. "Friends" alum Courteney Cox appears in the first three episodes as Kelso replacement Dr. Taylor Maddox, presumably to test a working relationship with Bill Lawrence (the pair join forces on upcoming ABC sitcom "Cougar Town").

Sticking around longer are the interns. Cold Denise (Eliza Coupe), whom J.D. brands "Jo" after the "Facts of Life" character, is like a young female version of Dr. Cox.

She seems most prepped for future attention and indeed she'll be a regular next season. There's also the hilariously laid-back Ed (who is sadly fired to allow Aziz Ansari to move to NBC's "Parks and Recreation"), aptly-nicknamed optimist "Sunny" Day (Sonal Shah), deep-voiced geek Howie (Todd Bosley, who you may recognize from Little Giants), shrewd Katie (Betsy Beutler), and arrogant surgeon Derek (Lee Thompson Young, "The Famous Jett Jackson").

"Scrubs" throws a lot of new characters at us and these are intended to be more than the joke parts of past seasons. I found it easier to get a handle on the interns and not resent their substantial screentime on a second viewing of the lot.

Although one can sense a desire to return to more of the genuine drama that marked Season 1, the show still remains goofy and fun. It's hilarious in places, most frequently in masterful callbacks (sometimes very subtle) that reference things within the episode or from the show's past. Much of the humor flows from the characters and their well-established but not yet tired mannerisms. While the interns don't add much comedy, other newly-introduced oddities do, like Jimmy the overly touchy orderly (Taran Killam), a payroll employee who can impersonate Oprah, and an unseen coffee shop employee who immediately throws Dr. Kelso muffins upon request. Other terrific sources of amusement include inside jokes about the theme song, low Nielsen ratings, and the such.

The positives of Season 8 far outweigh the negatives and in fact, the season seems a little stronger the previous two or three. "Scrubs" avoids the drop-off in quality that many shows, especially long-running ones, suffer near their ends. The worst experienced here are some budgetary-related changes in cast composition and chemistry. The cutbacks are also responsible for there being fewer off-the-wall creative fantasies, but the simpler ones here still divert enough not to easily notice or mind. One final positive change that results from the move to ABC: the slideshow of past seasons' end credits are upgraded to outtakes (not bloopers) that always send us off smiling.

Serving up only 19 half-hour installments, Season 8 is second only to strike-shortened Season 7 in brevity. But it still has enough content to warrant three DVDs and Disney's standard $39.99 list price for new sitcoms. As always, my favorite episodes of this season are designated below with a star (

).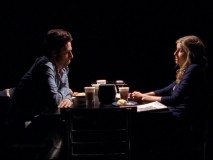 Disc 1

1. My Jerks (22:04) (Originally aired January 6, 2009)
J.D. and company deal with a new band of interns and a new chief of medicine (Courteney Cox).

Elliot resents charges that she's self-centered.

2. My Last Words (21:34) (Originally aired January 6, 2009)
J.D. and Turk call off their much-anticipated Steak Night to comfort a patient (guest Glynn Turman) in his dying moments.

3. My Saving Grace (21:32) (Originally aired January 13, 2009)
The doctors work together to oust Maddox so they can once again play the system. Carla chews out an intern taking shortcuts.

4. My Happy Place (21:32) (Originally aired January 13, 2009)
J.D. and Elliot re-evaluate their prospects as a couple, Dr. Kelso battles with post-retirement life, Dr. Cox keeps a watchful eye on Turk, and the Janitor returns to his old job.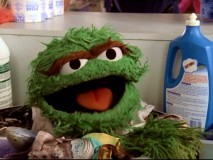 5. My ABC's (21:02) (Originally aired January 27, 2009)
In his fantasies, J.D. sees Sesame Street characters around the hospital. In reality, he tries to help intern "Jo" develop compassion. Dr. Cox tries to figure out why he can't stand his intern, Ed (Aziz Ansari). Elliot tries to build her intern's (Betsy Beutler) confidence. You rightfully pick up a season premiere vibe from this episode; it was intended to launch Season 8, a fact partly covered up by reshoots and looped dialogue.
6. My Cookie Pants (21:32) (Originally aired January 27, 2009)
Dr. Cox is hesitant to accept the chief of medicine position he is offered. J.D. continues to push Jo toward sympathizing with patients. Elliot wants her and J.D.'s first sex since reconnecting to be special.
7. My New Role (21:32) (Originally aired February 3, 2009)
Dr. Cox settles into his new job, being resigned to an office and having to say no. Carla and Elliot argue over doctor-nurse interaction.
Disc 2

8. My Lawyer's in Love (21:32) (Originally aired February 3, 2009)
Ted gets the hots for fellow hospital musician Stephanie Gooch (Kate Micucci), but needs help from J.D. and the Janitor to approach her. Dr. Cox has his hands full.

9. My Absence (21:32) (Originally aired February 10, 2009)
Carla worries she's grown jaded.

Disappointed by the muted reaction to Carla's second pregnancy, Turk pretends it's their first. Zach Braff has to miss his first ever episode here, but J.D. stays present through phone call audio.

10. My Comedy Show (21:33) (Originally aired February 10, 2009)
Directing the sketch show roasting senior staff, J.D. and Turk aren't amused by the interns' portrayal of them. Elliot teaches Denise the importance of leaving the hospital. Carla tries to convince the Janitor that he only imagined her in an embarrassing hair-plucking incident.
11. My Nah Nah Nah (21:31) (Originally aired March 18, 2009)
Turk attempts to help a patient with a risky surgical procedure he learned about on "SportsCenter." Couple troubles arise over Dr. Cox wearing his wedding ring and Lady not wanting to hold the Janitor's hand.
12. Their Story II (21:31) (Originally aired March 25, 2009)
While J.D. is recognized for bringing the hospital staff's concerns to Dr. Cox, we get inside the heads of three interns. Cheery Sunny is bothered that the Janitor thinks she's weak, Denise fights to get her patient a biopsy, and new guy Derek gets caught in a J.D./Turk squabble.
13. My Full Moon (21:32) (Originally aired April 1, 2009)
Elliot and Turk hold down the fort while headstrong interns tend to difficult patients. The Todd cracks down on high fives that exclude him.

14. My Soul on Fire (Part 1) (22:02) (Originally aired April 8, 2009)
Setting realism aside, the whole gang takes up the last-minute invitations to attend Lady and the Janitor's wedding in the Bahamas. There, disputes form between three of the regular couples.
15. My Soul on Fire (Part 2) (21:03) (Originally aired April 15, 2009)
Still in the Bahamas, Turk and Carla, Cox and Jordan, and J.D. and Elliot all try to reconcile, while Lady and Janitor tie the knot.
Buy Scrubs: Season Eight from Amazon.com / Buy on Blu-ray