Page 1: Show and Season 6 Discussion, Disc 1, and Disc 2
Page 2: Disc 3, Video/Audio, Bonus Features, Menus & Packaging, and Closing Thoughts

After indulging in wackiness like never before in Season 5, NBC's long-running medical comedy "Scrubs" got a little more serious in Season 6. The season started on the last day of November, later than most shows but sooner than the previous season, when "Scrubs" had to wait for the New Year to begin airing. In the Season 5 finale, we learned that in addition to the long-trying Turks, two other Sacred Heart Hospital couples were greeted with pregnancies, theirs being of the unplanned variety.

Season 6 gives due coverage to each pregnancy, though playing widely with normal timelines. Confident surgeon Chris Turk (Donald Faison) and his hard-working nurse wife Carla (Judy Reyes) give birth to a daughter in just the season's second episode.

While their introduction to parenthood and Carla's postpartum depression give the show some creative fuel, their daughter Isabella is not a frequent presence in the slightest. Already parents to a young child, the caustic divorced-but-together couple of attending physician Dr. Perry Cox (John C. McGinley) and Jordan Sullivan (Christa Miller) have nothing new to learn about family, but their post-vasectomy conception does lend itself to drama when an in-womb surgery is required.

Meanwhile, the series' goofy, daydreaming lead John "J.D." Dorian (Zach Braff) is in a bit of a pickle when "friendly fire" steers his just-started relationship with the hospital's urologist Kim Briggs (Elizabeth Banks) into serious expecting status. The pregnancy and young relationship between the show's immature protagonist and a barely-introduced recurring character are set aside after the season's eighth episode. They both resurface by the season's end, but on the whole, J.D.'s typically busy love life is at mostly a standstill while comedic personal problems continue to plague him.
Another romantic relationship at the foreground is that of the neurotic Dr. Elliot Reid (Sarah Chalke) and her booty call-turned-lover Keith Dudemeister (Travis Schuldt), an intern at Sacred Heart. It's tough to take the couple seriously, based on how we usually just see their silly role-playing and Keith remains largely undefined, but by the end of the year, the show directs them towards marriage.
With all the attention to relationships in Season 6, one might think "Scrubs" abandoned the hospital setting that was so focal early on and has remained integral throughout. That's not the case, as we're still treated to the usual mix of drama and humor at the workplace, thanks to one-shot patients, core cast members including the delightfully crotchety chief of medicine Bob Kelso (Ken Jenkins) and the ever-chop-busting Janitor (Neil Flynn), and a spirited roster of long-recurring screw-ups like hapless lawyer Ted (Sam Lloyd), innuendo-loving surgeon The Todd (Robert Maschio), and morgue doctor Doug (Johnny Kastl). Bizarre asides, random hilarity, and act-closing poignancy set to music... it's nothing new for "Scrubs", but the formula continued to be put to good use in the series' sixth year on NBC.
Season 5 was a tiny step below the quality of the series' phenomenal third and fourth seasons and Season 6 is about the same or slightly lower than 5, leaving a chart of the series' artistic value only barely identifiable as the "bell curve" that most TV series end up being. In the middle of the season, "Scrubs" stumbles in a noticeable manner, producing some of the show's weakest episodes to date. Troubling the series in these mid-season stretches are recurring appearances by a wounded Iraq veteran (Braff's recurring film co-star Michael Weston), whose arrival divides the show's cast (and viewers) in the painfully political episode "His Story IV." There is also the death of a longtime recurring cast member who seems deserving of better than such a tacky sidenote fate.
"Scrubs" definitely recovers by the end of Season 6 and in spite of some shortcomings and signs of mild staleness, it remains a highly winning production, one of the few on TV I consider worth making time to catch on a weekly basis. The season includes some true highlights of the series, like the spunky musical episode "My Musical", which was nominated for multiple Emmy awards and won a technical one. "Their Story" affords three of the reliably entertaining supporting cast members an opportunity to narrate and be appreciated at greater length than usual.

There is also a very fun road trip episode that marks a fine directorial debut for veteran writer Mark Stegemann.

With "Scrubs" reruns already in syndication and the first five seasons on DVD since May, Buena Vista is issuing The Complete Sixth Season more quickly than any other. Reaching stores a mere five months since its season finale aired, this three-disc set is similar to past ones, supplying all episodes and a bunch of bonus features, which this year skews more heavily towards commentaries.

The show's seventh season, which began airing last Thursday, is being heavily promoted on NBC as "Scrubs"' final. Though the network introduced unexpected finality to promos late last season, this time the end is truly nigh, as creator/executive producer Bill Lawrence and his talented starring cast and crew have agreed to factor closure into this season. As such, one can reasonably expect the Seventh and Final Season to arrive shortly after the series finale airs in May, though whether Buena Vista will opt to hold it out until the holiday season or revisit "Scrubs" in one of the increasingly-common, screw-the-fans "Complete Series with Exclusive" sets then or ever remains very much to be seen.

In any event, here's our episode-by-episode look at Season 6, with a customary star (

) designating each of the season's ten best.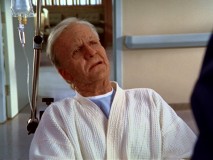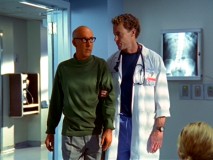 Disc 1
1. My Mirror Image (21:58) (Originally aired November 30, 2006)
Three of Sacred Heart's employees see themselves in the patients they get close to (perhaps because the actors double-up in heavy makeup). J.D. comes to terms with Kim's shocking news.

2. My Best Friend's Baby's Baby and My Baby's Baby (21:38) (Originally aired December 7, 2006)


As J.D. and Kim discuss how to handle their unexpected pregnancy, Carla goes into labor with Turk feeling left out of the process. Dr. Cox teaches his son how to be perfectly frank.

3. My Coffee (21:39) (Originally aired December 14, 2006)
Sacred Heart opens a new coffee shop in the hospital, and their employees' dental benefits upset the less-covered maintenance workers. Elliot treats a veteran private practice doctor who ignores her concerns over having surgery.

4. My House (21:39) (Originally aired January 4, 2007)
Elliot is frustrated by her co-workers' reaction to her move to private practice. To prevent her from taking a job offer in Tacoma, J.D. tries to be a great boyfriend to Kim. Meanwhile, Dr. Cox channels fellow TV doctor "House" in solving patient mysteries including an inexplicably heart-ailed young woman and an orange man.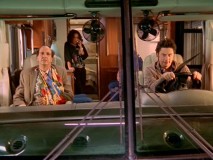 5. My Friend with Money (21:38) (Originally aired January 11, 2007)
While Carla battles postpartum depression, Elliot's new job puts a wrench between J.D. and her when he won't admit he's jealous of her upgraded financial status. Also, Dr. Cox and the Janitor both enjoy one of the hospital's unoccupied new luxury suites.

6. My Musical (23:39) (Originally aired January 18, 2007)
A Sacred Heart patient (Stephanie D'Abruzzo) complains that she hears everyone's words in song, setting up the much-promoted, long-awaited musical episode of "Scrubs." Though it adheres to its gimmicky setup a little more strictly than necessary, the songs are funny and the performances fun. Plot-wise, Elliot gets her own house and Carla wants to return to work, two things they have trouble sharing with guys.
7. His Story IV (21:35) (Originally aired February 1, 2007)
Dr. Kelso gets his chance to narrate an episode as he feels unneeded by his staff. This fun angle is drastically weakened, however, as "Scrubs" gets political when the presence of a wounded U.S. soldier leads the staff of Sacred Heart to enter heated debate over the Iraq War.

8. My Road to Nowhere (21:33) (Originally aired February 8, 2007)
The series rebounds tremendously with this Season 6 highlight. Carla, Elliot, Keith, and Ted join J.D. on his road trip to see Kim's Ultrasound. Back home, Jordan's Ultrasound requires an in-womb operation, leading battling Turk and Dr. Cox to join sides.
Disc 2
9. My Perspective (21:36) (Originally aired February 15, 2007)
J.D.'s troubles are increased by stress-induced vasovagal syncope and a ticket for scootering under the influence. Meanwhile, his friends vie to not have to be the one to help bring him out of the dumps. Also, Turk considers Dr. Kelso's advice on withholding the truth from patients and the Janitor goes on a "janitors' cruise."
10. My Therapeutic Month (21:36) (Originally aired February 22, 2007)
This episode follows a month of progress, during which J.D. is encouraged by Private Dancer to ask out a pretty nurse, an injured Turk joins the medical residents and becomes Dr. Cox's insult target, Keith moves in with Elliot to the tune of relationship problems, and the Janitor starts a mutton chop craze.
11. My Night to Remember (21:36) (Originally aired March 1, 2007)
An amnesiac patient who attempted suicide gives reason for J.D. and others to remember past encounters, care of clips from the first five seasons. Though the bulk of this episode is short trips down memory lane of mixed quality (they're typically funnier/more poignant with more context), there is also enough original material to make it worth watching for those opposed to the clip show format.
12. My Fishbowl (21:36) (Originally aired March 8, 2007)
The gang watches over Private Dancer as he goes unconscious just when he's about to leave Sacred Heart. In addition, Dr. Cox's charge that Carla isn't funny bothers her, J.D. and Turk argue over an alleged college incident, the Janitor is driven mad by having to hold J.D.'s fishbowl, and Elliot reveals something from her past. Lazy and lacking, this episode ranks as one of the weakest of the season and the series.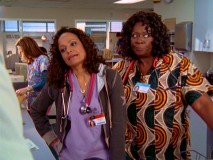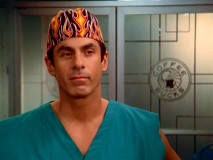 13. My Scrubs (21:06) (Originally aired (Originally aired March 15, 2007)
The doctors of Sacred Heart treat Dr. Kelso's uninsured friend, the Janitor uses the real Rowdy to blackmail Carla, Dr. Cox and Elliot disagree over how clean the hospital's former addict drug counselor (Alexander Chaplin, returning) is, and to cut down on costs, Kelso loses colored scrubs in favor of drab brown ones.

14. My No Good Reason (21:36) (Originally aired March 22, 2007)
Dr. Cox disagrees with Laverne's belief that bad things happen for a reason. Meanwhile, Turk asks J.D. to date his daughter's attractive new nanny (Mircea Monroe) and Elliot gets suspended for sneaking a dog into the hospital to lift a patient's spirits.

15. My Long Goodbye (25:32) (Originally aired April 5, 2007)
Everyone takes turns saying goodbye to a comatose Laverne, including Carla who is haunted by a ubiquitous vision of her longtime colleague.

Meanwhile, the day of Jordan's c-section arrives and Dr. Cox tries to keep it a secret so as not to have his baby's birth associated with Laverne's death.

16. My Words of Wisdom (21:36) (Originally aired April 12, 2007)
While Dr. Cox struggles to find undisturbed serenity, Keith needs Elliot to get serious about their relationship on the eve of its one-year anniversary. With some sign language help from the Janitor, J.D. and Turk care for a deaf boy who they think would be perfect for a corrective hearing surgery.

17. Their Story (21:36) (Originally aired April 19, 2007)
Recurring characters get their deserved moment in the spotlight, as Ted, The Todd, and Jordan narrate this episode. Jordan creates conflict in Elliot and Keith's relationship, Turk objects to Todd doing breast implant surgery on a 16-year-old, and Ted needs to figure out how to get Kelso to give the nurses a raise in response to their slowdown.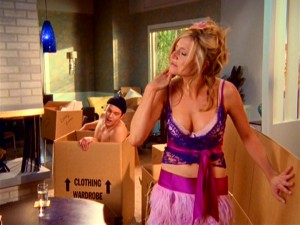 Buy Scrubs: Season Six from Amazon.com