By Aaron Wallace

Felicity began with the title character (Keri Russell) graduating high school and embarking for the ominous world of college. Here, three years later, she begins her senior year. The fourth season, like much of the series, is fueled by Felicity's search for love. Fortunately for her, she has two options: Ben (Scott Speedman), the high school crush she followed to college, and Noel (Scott Foley), the RA she fell in love with long ago. Felicity's problem is choosing between them and her swaying between the two establishes the rhythm of the show.

Her love interests aren't the only special ones in her life, though. Felicity is also surrounded by friends. There's her eccentric roommate, Meghan (Amanda Foreman), and Meghan's love interest, Sean (Greg Grunberg).

Bride-to-be Elena (Tangi Miller), set to marry Tracy (Donald Faison, "Scrubs"), is also a close friend and their premarital tribulations often serve for a second storyline. Felicity's former boss and now friend to the whole gang is Javier (Ian Gomez). The hilarious Hispanic brings a lot of heart and humor to the show. Felicity's parents, too, are a recurring presence, which is sometimes positive and sometimes not.

Unlike many other series of its ilk and time (i.e. Dawson's Creek), the cast seems to be of appropriate age for their academic setting. The situations themselves, however, are not. The ins and outs of college life are over dramatized, which is perhaps to be expected from any drama series, certainly one of the WB teenage genre. The pace is very slow and the mood is very soft, often to a fault. Lines can be whispered only so long before settling down into the realm of boredom.

The plot, too, is a bit insipid, unfortunately. There simply isn't enough going on, at least not in keeping with quality entertainment, to sustain 22 episodes of a one-hour drama (with each episode running about 42 minutes without commercials). It's worth noting, however, that flashbacks in the fourth season reveal what looks to be an entertaining and much better series in its earlier years (which I admittedly haven't seen). That isn't the case with this, the final season, though. In fact, towards its end, the season borders on the absurd.
At the beginning of the fourth season, the producers didn't know that this year would be the series' last (though four years is a convenient duration for a show about undergraduate college). When the network finally let them know, they were told they would air 17 episodes and so the cast and crew set to work on an arc that brought the series to a close in that window of time with "The Graduate" being the finale. Shortly thereafter, however, the WB requested five more. Stuck with the difficulty of adding more than a month's worth of show onto a series they had already ended, the writers decided to send Felicity back in time, turning the show from a teenage drama to a work of science fiction and fantasy. Truth be told, in this reviewer's personal taste, those final episodes were the best of the season. It must be noted, though, that they are a painfully obvious departure from the tone and nature of the entire series. To the writer's credit, the tangent pays off when the final episode ties in with "The Graduate" with even more emotion than was originally delivered.
It's also worth noting that the commentary reveals that at the time of its fourth season run, Felicity was the lowest-budgeted one-hour drama on television.
Only a few years after its original broadcast, Buena Vista Home Entertainment presents Felicity: The Senior Year Collection (a fancy way of saying the final season) on six DVD discs. The bonus features confirm that some substitution of music that was aired in the original broadcast has occurred on the DVD, an unfortunate and common side-effect of a studio being able to afford a series' release. The quality of the set itself is a bit of a mixed bag, ranging from the impressive to the disappointing.
A star (

) denotes my five favorite episodes from the season.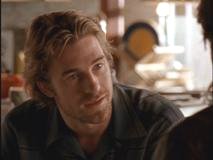 DISC 1

1. The Declaration (Originally aired October 10, 2001)
After three years in college, Felicity launches her senior year with a stake of independence from her family. Being on her own is scary, though. Therefore, she turns to Ben and Noel for support, with the former not paying enough attention and the latter perhaps paying too much. This sets up the season-long arc of Felicity's back-and-forth choices between Noel and Ben.

2. My Best Friend's Wedding (Originally aired October 17, 2001)


The conflict between Felicity's feelings for both Ben and Noel intensify when Ben is less than thrilled after Felicity spends the night with Noel.

3. Your Money Or Your Wife (Originally aired October 24, 2001)
When her request for financial aid is declined, Felicity has to find money quickly and so turns to a beauty pageant. Noel, too, has money on the mind as he decides how best to spend the $50,000 he's just been given.

4. Miss Conception (Originally aired October 31, 2001)
The beauty pageant is quickly overshadowed when Felicity learns that she may be pregnant, leading to stirring conversations with Noel and Ben. Meanwhile, Meghan joins Felicity's assertion of independence from her family when her father interferes with her planned wedding.

DISC 2

5. Boooz (Originally aired November 7, 2001)
Things get a little crazy in New York after Noel and Ben fail their unfair chemistry exam and the professor taunts them. Teenage rivalry, a Halloween party, an arrest, and a lot of alcohol make for a wild night while Felicity tries to clear her newfound reputation as a beauty queen sell-out in the midst. Meanwhile, Javier and Noel have a little fun of their own when they head to Atlantic City for some gambling. It's a bit puzzling why this episode wasn't aired on Halloween.

6. Oops...Noel Did It Again (Originally aired November 14, 2001)
Tension between Ben and Noel come to a head in a confrontation. Meanwhile, Felicity fears that she's being hit on by one of her professors.

7. The Storm (Originally aired November 21, 2001)
Felicity's attempts at explaining her unfaithfulness to Ben only inflames his ire and results in a breakup. Noel's own sordid romp with his new boss' daughter causes that arrangement to be broken off as well.

8. The Last Thanksgiving (Originally aired November 28, 2001)
Meghan claims her new spell can patch Felicity and Ben's problems but it still doesn't seem to be working when Thanksgiving dinner rolls around. Ben's there, but so is his new date. Noel brings home someone new as well, a stranger from the bar.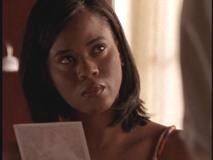 DISC 3
9. Lonelyhearts (Originally aired December 5, 2001)
The attempts at reconciliation between Ben and Felicity continue as Javier gets in the mix. His efforts, too, fail when each of the two start dating someone else.
10. Fire Originally aired December 12, 2001)
The art studio catches on fire and Felicity is trapped inside. It's Noel who comes to the rescue and is forced to decide what he wants to do about his relationship with Felicity.
11. A Perfect Match (Originally aired December 19, 2001)
It's another episode and so another character's turn to try their hand at mending things between Ben and Felicity; this time, it's Mr. Covington. Ben faces another major decision, though.
12. Future Shock (Originally aired March 20, 2002)
The future is on everyone's mind when Laura gives Ben a shocking announcement and Felicity's mother drops by with a new proposal. Noel and Sean hope for the best as they launch their new business effort.
DISC 4
13. Kiss And Tell (Originally aired March 27, 2002)
Felicity takes an interest in architecture and finds herself helping one of Noel's friends with a project and gets more than she expected. Meanwhile, Ben quarrels with Mr. Covington over what his role should be as a father to his child with Lauren.
14. Raising In Arizona (Originally aired April 3, 2002)
Ben decides he wants to be a large part of his child's life but Lauren has ideas of her own. Meanwhile, the wedge between Felicity, Noel, and Ben drives them even further apart.
15. The Paper Chase (Originally aired April 10, 2002)
Felicity fears she might lose Ben forever and so risks expulsion to keep him in her life. Meanwhile, Rita has doubts about her new boyfriend.
16. Ben Don't Leave (Originally aired April 17, 2002)
True feelings and confessions are revealed when a car accident nearly kills Ben, Lauren, and their baby and Felicity drops a bombshell of her own.
DISC 5

17. The Graduate (Originally aired April 24, 2002)
Originally intended to be the final episode, the four year storyline comes to a close (before getting one last shot of life in the following five episodes). Mirroring her high school graduation in the pilot episode, Felicity and her friends are at last graduating college. Surprises abound and happiness ensues, but not without complication. Lauren goes into labor and Ben has news for Felicity and her parents.

18. Time Will Tell (Originally aired May 1, 2002)
When the WB decided they wanted five more episodes of Felicity after "The Graduate," the writers got together and decided to take the show on a bold tangent back through time. In the first of these episodes, Felicity's doubts about Ben inspire Meghan to cast a spell that sends Felicity back in time, showing events of the series from an alternate perspective.

19. The Power Of the Ex (Originally aired May 8, 2002)
Still in the past, Felicity goes through her struggle between Noel and Ben all over again. Meanwhile, Javier wants to audition for a play.
20. Spin The Bottle (Originally aired May 15, 2002)
Felicity decides she wants to live with Noel, leaving Ben quite unhappy. Someone else has their eye on him, though- Julie, the object of Sean's excitement. Tension in the love triangle (or pentagon, I guess) escalates during a game of spin the bottle.
DISC 6

21. Felicity Interrupted (Originally aired May 22, 2002)
Felicity reveals to Ben and Noel that she's from the future only to make them suspicious of her mental health. Her efforts to prove herself result in a horrifying revelation.

22. Back To The Future (Originally aired May 22, 2002)
In the series finale, Felicity is finally able to return to the future, but not before flashing back through the last four years in order to make the right decisions. When she gets there, everything is as she left it, but she now knows her destiny. Despite the fact that it ends an odd offspring of the original finale, the final episode does a good job of tying itself in with "The Graduate" and ending the series on the right note.
VIDEO AND AUDIO

Felicity is presented in its proper broadcast ratio of 1.33:1. The video quality is unfortunately rather poor. Most scenes appear fuzzy with a lot of grain and are on par (at best) with television broadcasts. For a season that aired for the first time just a few years ago, this seems inexcusable when compared to the quality of other much older shows (even some from Buena Vista).

Felicity is a quiet show to begin with, using a lot of soft background music and only occasionally capitalizing on the potential of volume. Still, it makes adequate use of its Dolby Digital 2.0 soundtrack and sounds fairly clean. Unlike the video quality, the audio is certainly acceptable.

BONUS FEATURES

Though the DVD fails in many ways, one area in which it is a real winner is the healthy offering of bonus features. The Senior Year Collection joins the ranks, in terms of supplementary content alone, with some of the better (but certainly not the best) TV-on-DVD releases.

First up and probably most substantial are the three audio commentary tracks, each by a different pairing of cast or crew. The first is by Executive Producers J.J. Abrams and Matt Reeves on the season premier, "The Declaration." As one might expect, technical insights and reflections on the show's creation dominate their discussion. Next, supporting actors Ian Gomez and Greg Grunberg offer a lighter commentary on "Your Money Or Your Wife" (also on Disc 1), favoring funny conversation over substance and having a little fun with Buena Vista's insistence on censoring the mentioning of product brands in their commentary tracks. This makes it what many might consider to be the least valuable of the three tracks, but is still enjoyable to listen to. The other track shows up on "The Graduate" (Disc 5) and is by far the best. Felicity herself, Keri Russell, is joined by series star Scott Foley, who also happened to direct this episode. The insight of the first commentary is combined with levity of the second to make for a truly entertaining and informative discussion.
The remainder of the bonus features all appear on Disc 6. "Fade Out" is a behind-the-scenes featurette of "Back To The Future" and serves as sort of an abridged commentary for that episode. The highlight here is the chance to see what the series really meant to those involved with it.
"Creating Characters" is a segment presented by The Museum of Television & Radio in which J.J. Abrams, Matt Reeves, Keri Russell, and Alias star Jennifer Garner (who also guested on Felicity) answer questions from the press and fans about the creation and presentation of the characters of Felicity. It also appeared that Alias was discussed more heavily than what is shown here but was mostly edited out. The segment of course ends with a plug for both Felicity and Alias being available to own on Buena Vista DVD.
The final bonus feature is a never-before-seen deleted scene, shown here in rough, unfinished form, that explains what happened to Elena in the series after her character's resolution was unfortunately "lost in time" inside the editing room. Abrams and Reeves put the scene into context and its inclusion is a real treat for fans or even casual viewers who were wondering what happened to the character.
The first disc opens with previews for The Hitchhiker's Guide To The Galaxy, The Golden Girls: The Complete Second Season, Francine Pascal's Sweet Valley High: The Complete First Season, and Popular: The Complete Second Season. The Sneak Peeks menu also includes a look at Home Improvement: The Complete Second Season, Boy Meets World: The Complete Third Season, Alias: The Complete Third Season, and ABC's current series, Hope & Faith.
MENUS, DESIGN, and PACKAGING
Each disc's menu is prefaced by a rather artsy clip of Felicity writing the menu selections on the wall. Set to soft music, the choices include Senior Year (in other words, episode selection), Set Up, and a Play All feature. The Set Up menu presents choices for Audio Options (though there aren't actually any options), Captions, and an opportunity to register the DVD. Each menu's background is detailed and aesthetically pleasing and the main menu screens show off an old-timey display of various video clips from the season.
Each episode is divided into about six chapters for easy navigation, though there is no scene selection screen for each episode.
The set features three slim-line DVD cases housed together inside a cardboard slipcover. The box's cover art pictures Felicity, Ben, and Noel over a backdrop of New York City. The three slim-line cases (labeled volumes 1, 2, and 3) house two discs each and feature the same cover shot of one of the stars without their counterparts. The backsides of the slim cases provide disc specifications and information on episodes, with a title and description for each. Each also features four screencaps. The back of the cardboard slipcover features a large shot of Felicity in cap and gown aside three smaller screencaps, a series description, and DVD specifications.
The discs themselves are a rather bland silver and gray, common among many catalogue Touchstone titles, and list the included episodes and repeat the disc specifications.
The set includes a double-sided, three panel fold-out. The Museum Of Television & Radio is advertised on one side. On the other, ads for The Gilmore Girls on ABC Family and Buena Vista's Soap Network accompany a $10 rebate when you buy Felicity: The Complete Fourth Season and any other complete season set of the series.
CLOSING THOUGHTS
For fans who watched what looks to be an interesting series from its start, the fourth season of Felicity is sure to please in content alone, as it provides resolution to a college career (even if it does embark on a rather wild storyline at its end). For anyone else, though, the set is difficult to recommend.
In its final season, the show itself is lackluster. The poor video quality doesn't help matters, either. Fortunately, these shortcomings are offset by a surprisingly satisfactory serving of audio commentaries and supplementary features. Still, those looking for a new show to watch are advised to look elsewhere first as this set probably interests only diehard fans and current owners of Felicity's first three years.