Over the past sixty years, more than two hundred live action films have come to theaters bearing the name "Walt Disney." As a result, people have come to develop a certain set of expectations for the live action Disney film.

In general, the formula involves kids and cuteness; light adventure ensues and a message emerges. They're frequently comedies, and a lot of the time, charismatic animals are prominently featured.

As much as anyone, I think it's unfair to pigeonhole live action Disney films into a stereotypical understanding like this. Still, watch enough of them, and certain patterns emerge that you notice just as much as frequently reused cast and crew names.

The point of this long-winded introduction is that The Watcher in the Woods dispenses with anything remotely seen as a Disney formula. Released in the early 1980s when the studio was trying to reconnect with audiences who had grown weary of the familiar light comedies they had been releasing for two decades, The Watcher in the Woods is really a well-crafted suspense film without the objectional material that often makes films of the genre off-limits for young audiences.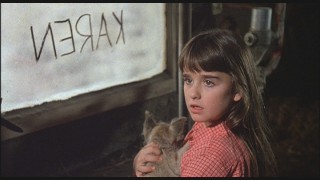 After seeing the film a first time last year, I reasoned that Watcher is most enjoyable if you know nothing going in. Watching it again, I still feel this way, and yet even with the knowledge from a prior viewing, the film maintains its compelling power and remains easy to appreciate.
Watcher opens with a typical family, the Curtises, looking for a house in the English countryside. The one they settle on is surprisingly low-priced, spacious and secluded. One may suspect the house is haunted by a ghost, and as the wiseass father (David McCallum) points out, "What self-respecting old English house mansion would be without one?" The house comes complete with the enigmatic elderly landlord Mrs. Aylwood, aptly played by top-billed screen legend Bette Davis. Although Ms. Davis surely had seen better days, she still possesses an undeniable screen presence in her 70s.
Thirty years ago, Mrs. Aylwood's daughter Karen disappeared. Since then, Mrs. Aylwood has been lonely, bitter, and still in search of answers. She seems to see a lot of Karen in Jan (Lynn-Holly Johnson), the Curtis' teenage daughter. Meanwhile, Jan, experiencing a number of oddities in her new house, is being supernaturally summoned to solve the central mystery. The viewer is given no more information than her, and much of the fun comes from unraveling the mystery.
A PG-rated suspense film eschews gore and relies upon crafting, atmosphere and visceral frights. What's best is that for young viewers, a film like Watcher in the Woods will easily frighten and yet not scar or jade. For many children, there's fun in being scared and Watcher does a fine job of succeeding in this department.
The first hour of the film is particularly effective in creating an eery atmosphere. Creepy camerawork and an appropriate score complement the build-up. Though the ending may leave you hoping for more, and all the dots may not connect, Watcher in the Woods nonetheless provides non-stop entertainment.
The standout performance, besides Davis' creepy supporting turn, is from Lynn-Holly Johnson, the true star of the film, who holds her own in the protagonist role.
DVD Details

1.85:1 Anamorphic Widescreen
Dolby Digital 5.1 (English)
Subtitles: English, French, Spanish
Closed Captioned
Release Date: August 3, 2004
Single-sided, dual-layered disc (DVD-9)
Suggested Retail Price: $19.99
Black Keepcase
In 2002, The Watcher in the Woods was released on DVD in fine form by Anchor Bay, a small DVD studio that had been authorized to issue discs of a number of live action Disney films (generally, their more experimental and less recognized films). Anchor Bay topped every previous DVD of a Disney film that they had done with the Special Edition put together for Watcher.
Our full review of the Anchor Bay DVD for The Watcher in the Woods can be seen here. But, what you probably are interested to know, is how does Disney's own release of their film stack up next to the quite packed disc that was issued two years ago?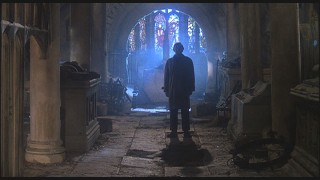 VIDEO and AUDIO


Though it lacks the THX certification of Anchor Bay's release, Disney's DVD still showcases The Watcher in the Woods with commendable video and audio.

Presented in its 1.85:1 original theatrical aspect ratio and enhanced for 16x9 televisions, the film is wonderfully displayed here. Colors are accurate and vibrant.

The print is remarkably clean, which makes one notice the tiny artifacts, excessively grainy shots, and other minor imperfections that show up infrequently. Bright and dark scenes alike are nicely handled. The transfer consistently displays impressive sharpness and clarity and for a film that's over twenty years old, Watcher looks great.

Disney loses the DTS-ES 6.1 remix that Anchor Bay provided, but the Dolby Digital 5.1 remix here serves the film just fine. The soundtrack is not quite like that of a brand new film, but it is more active than you might expect for its origins. The film makes very good use of the soundfield to heighten atmosphere and in hand, suspense. The track contains a few bursts successfully designed to make you jump and the subwoofer also comes to life at the right moments.
BONUS FEATURES and MENUS


Right off the bat, this DVD loses points for not including some of the features from the Anchor Bay DVD.

The first exclusion, not surprisingly, is a 20-page collectible booklet in which cast and crew members reflected, often portraying Disney in a rather negative light.

Also left off Disney's disc is a full-length audio commentary by director John Hough. Prior to Watcher, this British director of genre films had worked with Disney on the two Witch Mountain movies and was originally assigned to the studio's big-budget sci-fi film The Black Hole. While his solo track was not the finest use of an audio commentary, it lent significant insight into the making of the film, and it's a shame it's not carried over. The exclusion of the commentary could be a rights issue, but I'm not sure. The detailed John Hough biography provided on the Anchor Bay DVD is also gone, but as text features are a rarity on Disney DVDs, this also shouldn't be a surprise.

The good news is that some of the bonus features from the Anchor Bay disc are restored here. There are still two alternate endings as well as two theatrical trailers, although all supplements are presented letterboxed, as opposed to the 16:9 treatment they received from Anchor Bay.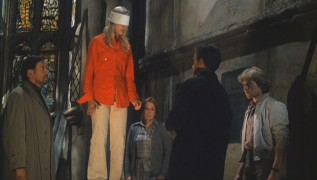 Included are the two alternate endings (running 6:29 and 13:35), both of which are kind of silly. Unfortunately, the Hough commentary that was provided for these on Anchor Bay's DVD is missing, so these sequences have to speak for themselves. Both contain appearances by an extraterrestrial presence and leave some questions unanswered. They are extremely interesting to see, even if they aren't the most satisfying of endings.
Also, there are two theatrical trailers for Watcher in the Woods, presented in non-anamorphic widescreen. These intriguing previews end with the warning that "it is not a fairy tale" and the disclaimer that parents should "pre-screen the picture for pre-teens" as it is not for children. Together, the two trailers run three and a half minutes. These were both on the Anchor Bay DVD; the 30-second TV spot that was on that release is not included here.
The menus are 16x9 still frames, with some subtle use of the eery film score. They're not the most unique, but they are easier to see and navigate than Anchor Bay's menus. In a nice touch, the bonus features menu reveals the running time of all the extras included.
The disc opens with a 90-second preview for recent live action Disney films on DVD and video. If anything, this serves to show just how different the studio's films are now from what they were twenty years ago.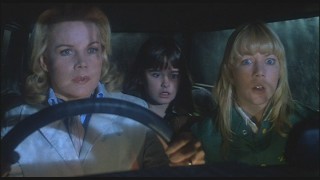 CLOSING THOUGHTS

Disney's release of The Watcher in the Woods isn't as enlightening as the out-of-print Anchor Bay DVD was. While it retains two alternate endings and two theatrical trailers, the disc loses significant and insightful features from the past DVD: the director's audio commentary and 20-page booklet. Still, the presentation of the film remains praiseworthy, so those able to look past the loss of the audio commentary should be satisfied.
As Anchor Bay's release becomes increasingly difficult to track down, if you don't already own The Watcher in the Woods, this DVD release by Disney should be satisfactory. For those who are not familiar with the film, it is well worth checking out. This atypical Disney production delivers thrills and suspense and makes for a wholly intriguing and captivating experience.