Pete's Dragon is a combination live action/animated Disney musical about a misfortunate boy named Pete and his gibberish-speaking, oft-invisible dragon Elliott. The two of them arrive in Passamaquody, a small coastal New England town, and discover a variety of characters - including some who wish to help (lighthouse keeper Nora and her bumbling father Lampie) and some who wish to exploit (the conniving traveling Doc and his assistant who believe the dragon can bring them riches).
To me, the film alternates between soothing and formulaic. When the film is working, it's pleasantly heartfelt in its central friendship, and in spite of a noticeably difficult acting-with-nothing performance from Sean Marshall as Pete. Even if he's utterly goofy and doesn't omit a single intelligible thought, there's something compelling about Elliot, as the boy's guardian angel and friend, who's always there for him, even when he seems not to be.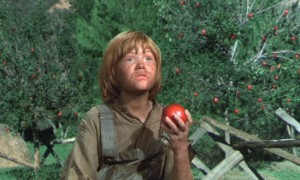 The hand that Pete is dealt calls to mind another blonde boy of '70s cinema - Charlie from Willy Wonka and the Chocolate Factory. In this model, Elliott is the "world of pure imagination" and although the blend of animation and live action mostly works, the fantastic element that helps pull the protagonist out of his sadness could use some Wonka-esque oomph. The negative aspects of Pete's life - particularly his dim-witted abusive adoptive family - could have been more smoothly handled as has been done with the dark material of Dahl's adaptations.
The film does seem quite dated. The same year that George Lucas and Steven Spielberg were giving us Star Wars and Close Encounters of the Third Kind, Disney was essentially still doing the pictures they had done all throughout the '60s. In this regard, the film's few weak points can be attributed to a lack of originality. This may or may not be due to the fact it's based on an S.S. Fields story that was 40 years old upon filming.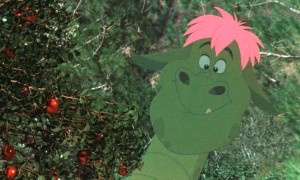 There are a couple of standouts among the generally okay supporting cast. As the villain Terminus, Jim Dale brings an odd energy to the role, rendering his performance rather memorable. Mickey Rooney comically stumbles through nearly the entire film in one of two states: drunk or hungover. Musical numbers by Dale and Rooney are the film's most catchy tunes, but it is "Candle on the Water" performed by Helen Reddy (who as Nora, made one of a small handful of film appearances) that was nominated for the Best Song Oscar.
Although it plays things safe in sticking to a successful formula, I found Pete's Dragon to be rather pleasing overall.
DVD Details

1.66:1 Anamorphic Widescreen
Dolby Digital 5.1 (English),
Dolby Surround (French)
Subtitles: English, French
Closed Captioned
Release Date: January 16, 2001
Single-sided, dual-layered disc (DVD-9)
Suggested Retail Price: $29.99
White Keepcase

VIDEO and AUDIO
Pete's Dragon is presented in 1.66:1 anamorphic widescreen. Video quality was strong to quite strong, with the film's colorful palette presented clearly and sharply. I was pleasantly surprised by the overwhelmingly satisfactory transfer; who knew Disney would put effort and care into a Gold Collection DVD of a film like this two years ago?
Given a 5.1 Dolby Digital remix, the film makes some use of the surrounds for the more boisterous musical numbers. In general, it sufficiently sticks with the front speakers; dialogue and music is consistently clear.
EXTRAS
Uncommon for their catalogue titles two years ago, the Gold Collection Pete's Dragon DVD actually does showcase more than a few extra features.
"Where's Elliott?": The Disappearing Dragon Game is pretty self-explanatory; while the clues are incredibly easy, there's at least a momentary use of brain cells, more than most set-top games ask. Young ones should enjoy the witty clues. At the end of completing the two levels of the game, you are awarded a bonus Video prize - which is a brief, but neat feature on dragons. Running just a few minutes, it analyzes the role that dragons have played in culture, and makes reference to Sleeping Beauty.
Still Frame Galleries contains dozens of drawings and photographs from the film's production, separated into Concept Art (sketches), Behind the Scenes (production stills), and Publicity (posters and promotional shots). There are two trailers included - International and Theatrical. Film Facts is a set of 5 pages of interesting notes on the film's development and production (describing it as the studio's most ambitious project since Mary Poppins).
The "Disney Family Album" excerpt highlights the work of Disney artist Ken Anderson (not to be confused with the Pacers point guard). Anderson, who created the character of Elliott the dragon, also made significant contributions to 101 Dalmatians and The Aristocats earlier. The 2-minute, 20-second excerpt ends with Anderson talking about the "happy place" he found, a reference to Disney's 1946 (reference removed).
"The Plausible Impossible" is a 3-minute, 38-second excerpt from Walt Disney that aired on Halloween 1956. The obvious link to the film is that Walt explains that many myths spur from reality; the root of dragons could be dinosaurs; and of centaurs, perhaps the first horse-rider.
"Lighthouse Keeping" (6:44) is a Donald Duck cartoon short, in which a feud between Donald and a tired pelican becomes surprisingly violent.
"Man, Monsters, and Mysteries" is a fairly fascinating 25-minute piece which again analyzes fantastical mysteries and myths on animals. The majority of the program focuses on the 'elusive' Loch Ness monster, who appears in animated form, voiced by Disney veteran Sterling Holloway (the original Winnie the Pooh among others). The interaction between Holloway and Winnie the Pooh narrator Sebastian Cabot is a lot of fun, as the monster explains individuals who have been trying to track him and how he's teased those in search of him by allowing a mystery to prevail. Pristine live action sequences contain comments from folks who claim to have seen Nessie. While this isn't directly related to the movie, other than in theme, it's an awesome and quite entertaining inclusion.
CLOSING THOUGHTS
As far as live action films go (and though Pete's Dragon doesn't comfortably fit into that classification with its liberal use of animated elements), this film has been given treatment above and beyond most. With 16:9 enhancement, a 5.1 surround remix, and a healthy dose of supplements, this is one of the most satisfying Gold Collection discs, and can be viewed in some ways as a precursor to Disney's fantastic Vault Disney line (which are now generically labeled "Special Edition"). If you're a fan of the film, you should be pleased with this disc. If you haven't seen the movie but know that you like the formula of Disney's live action films of the '60s and '70s, then this is one of those films that has actually received better-than-ezra DVD treatment.

Pete's Dragon received a new DVD release in August of 2009.
Click here to read our better review of this available edition.
Pete's Dragon (High-Flying Edition DVD Review)
Ultimate Guide to Disney DVD Home
Older Live Action (Pre-1980) Home
DVD Review Index