DVDizzy.com | DVD and Blu-ray Reviews | New and Upcoming DVD & Blu-ray Schedule | Upcoming Cover Art | Search This Site
The Last Hard Men & Sky Riders: Action Double Feature DVD Review
The Last Hard Men & Sky Riders: Action Double Feature
DVD Details

2.35:1 Anamorphic Widescreen / Dolby Digital 2.0 Mono (English)
Subtitles: None; Not Closed Captioned
Release Date: January 17, 2012 / Suggested Retail Price: $19.93
Single-sided, dual-layered disc (DVD-9) / Clear Keepcase
See Below for Film Casts, Writers, Directors, Runtimes, and Release Dates
The Last Hard Men Also Available on Amazon Instant Video
Buy The Last Hard Men & Sky Riders: Action Double Feature DVD from Amazon.com
After a few years of steady workmanship on TV westerns, James Coburn broke into the movies as part of action ensembles in films such as John Sturges' The Magnificent Seven and The Great Escape.

Before his 2002 passing, Coburn had experienced a revival, claiming major roles in hit movies like Maverick, The Nutty Professor, Eraser, Snow Dogs, and Monsters, Inc., and winning a Best Supporting Actor Oscar for Affliction. In between these stages, Coburn remained gainfully employed in the types of old-fashioned, hard-edged movies that his repeat Sturges co-stars Steve McQueen and Charles Bronson also favored.

Two of the movies from this middle stretch of Coburn's 45-year acting career make their Region 1 DVD debuts next week: Sky Riders and The Last Hard Men. That 15 years could pass without these two 1976 Fox movies releasing on the format accurately implies that they aren't especially well-known or fondly remembered. But, here they are all the same in a single-disc Action Double Feature from Shout! Factory.

Sky Riders

Theatrical Release: March 26, 1976 / Running Time: 91 Minutes / Rating: PG

Directors: Douglas Hickox; Greg MacGillivray, Jim Freeman (aerial action) / Writers: Jack De Witt, Stanley Mann, Garry Michael White (screenplay); Hall T. Sprague, Bill McGaw (story)

Cast: James Coburn (Jim McCabe), Susannah York (Ellen Bracken), Robert Culp (Jonas Bracken), Charles Aznavour (Inspector Nikolidis), Harry Andrews (Auerbach), John Beck (Ben), Zou Zou (Female Terrorist), Kenneth Griffith (Wasserman), Werner Pochath (Number One Terrorist), Ernie Orsatti (Joe), Barbara Trentham (Della), Henry Brown (Martin), Cherie Latimer (Cora), Simon Harrison (Jimmy), Stephany Matthews (Susie), Steven Keats (Rudy), Anthony Antypas (Dimitri), Telis Zottos (Bracken's Secretary)
Sky Riders is the more outlandish of the two. In fact, it's got to be among the most outlandish movies ever made. One morning at dawn, rich industrialist Jonas Bracken (Robert Culp) leaves early for work. The second he's gone, armed, masked radicals storm his Grecian villa, killing every staff member on site and abducting Bracken's wife Ellen (Susannah York) and two young kids (Steven Keats and Stephany Mathews). The family is held hostage by the World Activist Revolutionary Army, a terrorist group fighting imperialism.
Bracken responds by calling in the police and selling off assets to raise the demanded ransom money. Meanwhile, Ellen's ex-husband and her son's father, working class renegade pilot Jim McCabe (James Coburn), is alerted and comes up with his own plan. A hostage photo inspection reveals that Ellen and the kids are being held in an abandoned monastery up in the mountains accessible by only one easily-defended road. But McCabe sees another way to infiltrate the fortress: the sky! He hits up the local hang gliding air circus, where $200 gets the attentions of the performers and some lessons.
Ludicrously, McCabe and the six or so hang gliders are all game for a rescue mission. They strike quietly at night. Their improbable mission against dozens of trained terrorists with helicopters and a robust weapons supply becomes the film's drawn-out climax. Don't let the PG rating fool you; the final act is very violent and though it's not too graphic, it's still brutal, with gunshots firing left and right and many a bad guy dying.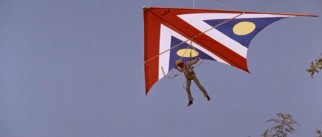 An action flick where the heroes are hang gliders doesn't sound too promising and Sky Riders is certainly lacking in the brains department. Furthermore, it's not engrossing or suspenseful. The movie plays out to expectation without any truly distinctive element. There's a somewhat memorable scene in which the Greek police (led by Charles Aznavour) trace the kidnappers' two-way radio transmissions to a parked van. And then there's a lot of hang gliding. In the day. In the night (shot in the day with a dark filter, which accounts for the one goof listed on IMDb). The real cast is clearly engaging in this activity much of the time, which is surprising. Those playing the pro gliders are apparently non-actors, but at one point, Coburn himself unbelievably hangs onto a flying helicopter's skid.
This not quite thrilling footage was captured without any actor injury, but a Greek electrician did die in an explosion accident. A producer was arrested and an executive producer was detained. Their release was secured after an out-of-court settlement was reached with the Greek government. Shockingly, the incident didn't make either producer consider another line of work; both stayed in film into the 1990s.

The Last Hard Men

Theatrical Release: April 23, 1976 / Running Time: 97 Minutes / Rating: R

Director: Andrew V. McLagen/ Writers: Brian Garfield (novel Gun Down); Guerdo Trueblood (screenplay)

Cast: Charlton Heston (Sam Burgade), James Coburn (Zach Provo), Barbara Hershey (Susan Burgade), Jorge Rivero (Menendez), Michael Parks (Noel Nye), Larry Wilcox (Shelby), Thalmus Rasulala (George Weed), Morgan Paull (Shiraz), John Quade (Gant), Robert Donner (Lee Roy), Sam Gilman (Dutch Vestal), James Bacon (Deputy Jeffore), Riley Hill (Gus), Dick Alexander (Bo Simpson), Yolanda Schutz (Paloma), Alberto Pina (Storekeeper), David Herrera (Indian Policeman), Christopher Mitchum (Hal Brickman)
The Last Hard Men is a western, made at a time when the genre had fallen from prominence and been reconfigured by the likes of Sergio Leone and Sam Peckinpah. Befitting the title, this movie earns its R rating with ample bloodshed, scattered profanity, and a rape scene.
Zach Provo (Coburn) has spent the last eleven years incarcerated, sweating his life away as part of a chain gang. One day in the early 1900s, he spearheads a successful escape attempt that frees him and his fellow convicts. Provo assumes leadership of the runaways, promising to keep them safe if they help him settle an old score. That score is with Sam Burgade (Charlton Heston), an aging retired police captain whom Provo considers responsible for his girlfriend's shootout death.
Burgade is quickly on the case, with the blessings of reserved young sheriff of Pima County (Michael Parks). Provo's quest for revenge takes new meaning to Burgade when he kidnaps the captain's young adult daughter Susan (Barbara Hershey). That shrewd act amplifies Burgade's efforts to nab the half-Indian outlaw. Burgade is joined by his daughter's boyfriend (Christopher Mitchum, son of Robert),

a hydroponics farmer from Massachusetts who has never fired a shot at a human. As the two men trail the party of tough criminals, Provo turns the situation around and actively tries to lead Burgade to his demise, using Susan as bait.

Heston gives a nice performance in his usual speechifying manner as a widower lamenting the changes of the modern world. There is no question that we are to sympathize with him and hope he can rescue his strong-willed daughter. It's all just leading up to the inevitable square-off between law man and outlaw.

Low on atmosphere, high on violence, this is a pretty nasty film, one that devotes much of its time to threatening Susan sexually. The finale is over-the-top and its conclusion tough to believe. If nothing else, The Last Hard Men does get some decent mileage out of slow motion photography, although it's slightly guilty of overuse.
VIDEO and AUDIO

Though the case lists a 1.78:1 aspect ratio for each film, that must be including the black bars encoded within the 16:9 anamorphic frame. Both Sky Riders and The Last Hard Men are presented in their original 2.35:1 theatrical aspect ratios. Considering the age and low-budget origins, both movies look quite a bit better than expected.

The element stays shockingly clean on both and no compression concerns arise from putting over 3 hours of content on one dual-layered disc. Sky Riders is a bit grittier and shows some grain, but most of the shortcomings seem inherent to the original filming, like clumsy dialogue replacement, the cheesy blue tint of Sky's day for night scenes, and shots lacking focus in both. Anything else, like a couple of moments of shimmering on Last, is too minor to trouble. Having seen how shoddy low-budget '70s movies have looked elsewhere, even with big studio backing, these sparkling transfers are a pleasant surprise.

Audio is offered as two-channel Dolby Digital, which I gather to be monaural in nature. The recordings are flat and dated but clear. That helps because, unfortunately, no subtitles or closed captions are provided by Shout! who in the past has cited such standard touches to be cost-prohibitive luxuries for them. The audience for these movies is the 50+ demographic, so I suspect a good amount of viewers will be negatively affected by the omission.
BONUS FEATURES, MENUS, PACKAGING and DESIGN
Sky Riders and The Last Hard Men are each joined by two original previews, a windowboxed or pillarboxed trailer (2:38 & 0:58) and a 30-second TV spot. These supply welcome insight into the films' marketing campaigns and the faded, beat-up appearances also make it easy to appreciate how much better the DVD's feature presentations look. Who could ask for more?!
Each movie gets its own animated main menu, which plays a scored montage of clips next to a sidebar of original poster art.
The clear keepcase allows Shout! to provide artwork on both sides of the case. The studio makes very tasteful use of posters and publicity stills (perhaps these are the still galleries the case mentions but the disc doesn't include?). The rear cover supplies clear and concise information on each film.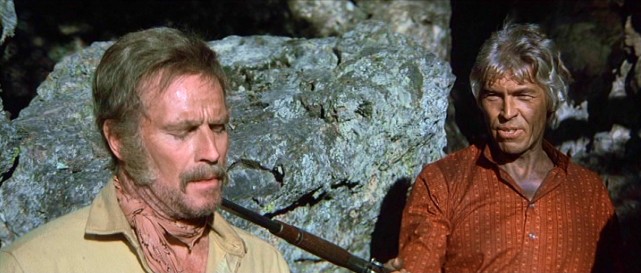 CLOSING THOUGHTS
You'd need some pretty remarkable nostalgia to be able to enjoy Sky Riders and The Last Hard Men as more than just being different from today's movies. These days, most studios treat obscure catalog movies like these to overpriced, barest-bone, manufactured-on-demand DVD-Rs. Shout! Factory has clearly done better by these two, offering a sensible, modestly-priced double feature with strong A/V quality, appropriate original trailers, and nice, colorful packaging. If you remember and like the subjects and are not hearing impaired, you should find this basic treatment perfectly satisfactory. Now, if only Shout! can find some better movies with which to apply its customer-friendly sensibilities...
Support this site when you buy this Action Double Feature DVD now at Amazon.com


Related Reviews:
New: Runaway Daughters • Don't Be Afraid of the Dark • The Guard • The Station Agent
James Coburn: Monsters, Inc. • The Muppet Movie • Snow Dogs | Charlton Heston: Planet of the Apes • The Ten Commandments
Barbara Hershey: Black Swan • Beaches • Insidious | Men of Action: Walker, Texas Ranger: The Sixth Season
1976: Rocky • Taxi Driver • The Muppet Show: Season One • Eat My Dust • The Shaggy D.A. • No Deposit, No Return
1970s Movies: The Island at the Top of the World • Live and Let Die • 3 Women • Fernando Di Leo Crime Collection • The Black Hole
Westerns: Billy Two Hats • Once Upon a Time in the West • True Grit (2010) • Stagecoach • Dead Man
DVDizzy.com | DVD and Blu-ray Reviews | New and Upcoming DVD & Blu-ray Schedule | Upcoming Cover Art | Search This Site
Search This Site:
DVDizzy.com Top Stories:
Reviewed January 12, 2012.


Text copyright 2012 DVDizzy.com. Images copyright 1976 20th Century Fox and 2012 Shout! Factory. Unauthorized reproduction prohibited.