Review by Jack Seiley

If someone were to ask me what the most underrated Disney animated film was, I would instantly say The Great Mouse Detective. In fact, Iíd say its one of the most underrated films Iíve ever seen.

Since Iím sure many are unfamiliar with this film, Iíll give a brief run-down of the plot. The father of a young mouse named Olivia is kidnapped right before her eyes by a mysterious individual. Lost in the foggy streets of London,

she meets an elderly mouse named Dawson, who helps her find Basil of Baker Street, the Great Mouse Detective. Together, the trio sets out to follow clues to find Oliviaís dad, and come face to face with Basilís arch-nemesis, Ratigan, discovering a bigger plot behind the kidnapping.

There are several things I adore about this film. The movie begins without credits, immediately plunging the audience into the mysterious atmosphere of turn-of-the-century London, when a frightening event instantly gets the attention of the viewer. The characters themselves all click together wonderfully, including the witty and likable hero and the deliciously villainous Ratigan (wonderfully animated by Glen Keane). Henry Mancini delivers a fantastic score with a very catchy main theme I found myself humming for days after viewing the film. Plus, out of all the Ďmice filmsí from Disney, I think this one utilizes the aspect of a miniature world the best Ė the highlight being a climax within the inner workings of Big Ben.
The film isnít as refined or well-polished as it could have been. One part, in particular, that I really wish would have either been canned, or shortened, is a mouse bar-room scene in which a stage mouse comes out to sing a song called "Let Me Be Good to You" and proceeds to strip to a Ďsexyí costume while all the male mice hoot and holler. Iím not offended by this, but this number slows the filmís excellent pacing, and the song itself sounds straight out of the 1980s and totally out of place. Thatís my only real complaint about an otherwise well-crafted movie.

Great Mouse Detective is also historically significant, as it is only the second animated feature to ever use the computer, doing so to create Big Benís gears.

Ironically, I actually think the computer animation is the best looking in this film out of any other traditionally animated features. It blends together with the hand-drawn images so well, I can hardly tell the difference.

Just a quick note for Alice in Wonderland fans: Ever wonder where "Poor Bill" ended up after he was shot out of the chimney? Apparently, he landed in 1897 London, because one of Ratiganís henchmen is the spitting image of the unfortunate lizard.

Through the years, Great Mouse Detective has never gotten much attention, and I just canít understand why Ė especially considering how close in nature it is to Disneyís early Ď90s films, and it was the next Disney feature to come after the Ďdark agesí low point, The Black Cauldron. In many ways, it was the one that revived Disney animation, even before The Little Mermaid.

But alas, it arrives on DVD treated as a catalogue title. Its single disc is held in a standard amaray case, with a cover that makes it look more like a cheap Good Times release than a Disney animated classic. It has a single page insert, with a chapter listing and a display of the bonus features.
DVD Details

1.66:1 Anamorphic Widescreen
Dolby Digital 5.1 (English)
Dolby Surround 2.0 (Spanish, French)
Subtitles: English; Closed Captioned
Release Date: July 23, 2002
Single-sided, dual-layered disc (DVD-9)
Suggested Retail Price: $19.99 (Reduced from $29.99)
White Keepcase
Replaced in 2010 by Mystery in the Mist Edition
VIDEO and AUDIO
I didnít expect this film to have that great of a transfer, but I was pleasantly surprised. Presented in its original aspect ratio of 1:66.1 and enhanced for 16x9 TVs, the image is very sharp, with almost no film deterioration or dirt. However, donít expect a really colorful looking transfer, since the majority of the film retains a blue-ish pallet.
On the other side, I was disappointed by the audio. It is presented in Dolby Digital 5.1 Surround Sound, but I donít remember once hearing a sound coming from my back speakers. If there was, it certainly was miniscule. My real irritant, though, is that the dialogue is too strong throughout almost the entire movie. Sound effects & music are quite soft whenever a character is speaking, and I found that to be pretty annoying. That may have been the way it originally sounded in theaters, but either way, I wish it were better.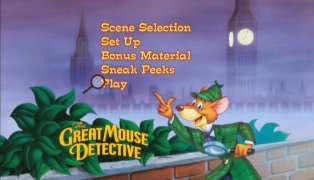 BONUS FEATURES
Thereís not much here, and not a lot about the making of the film. The actual quality of whatís included is fine, but it leaves one wanting much more.
The highlight of the extras is "The Making of The Great Mouse Detective" (7:50). Appearing to have been created at the time of the film's original release in 1986, it features footage of Roy E. Disney, a few animators who worked on the film including Glen Keane, voice actors such as Vincent Price and Barrie Ingham, and composer Henry Mancini. The piece is promotional in nature, yet each participant sheds some informative light on the part they played in production.
"The Great Mouse Detective Scrapbook" contains about 45 still images, ranging from concept art and storyboards to production photos and promotional materials. While it's one of the smaller galleries of the Disney DVDs, I think it covers the art of the production broadly, while some of the other discs just focu on a particular aspect, like concept art. I didnít think this would be here at all, so itís a welcome addition.
Two animated shorts, Donaldís Crime (8:00) and Clock Cleaners (8:30) are included, simply for the reason that their subject matter relates somewhat to that of the film.

The first is about Donald stealing from his nephews so he can go on a date with Daisy. The latter is about Mickey, Donald, and Goofy cleaning a very high clock over a city and inevitable misadventures occur.

Next, "The Worldís Greatest Criminal Mind" sing-along song provides lyrics to the song that Ratiganís henchmen belch out during in the movie. Hey, why not "Let Me Be Good to You"? I can just picture my niece singing that good old bar-room tune right now.

Finally, the standard Sneak Peeks make their appearance, with outdated previews for 101 Dalmatians II: Patchís London Adventure (hey I spelled 'Dalmatian' right!), Beauty and the Beast: Special Edition, Inspector Gadget 2, Mickeyís House of Villains, Monsters, Inc., Rolie Polie Olie: The Great Defender of Fun, The Rookie, Schoolhouse Rock, and "Teamo Supremo."
CLOSING THOUGHTS
While the DVD is unspectacular when compared to fully loaded 2-disc sets of some of the other Disney classics, this is likely the best itíll ever get for the truly underrated The Great Mouse Detective. Itís presented in a nice enough transfer, disappointing but suitable audio, and with a small helping of decent extras. Especially with the temporarily reduced price tag this spring, the cost is worth it just for the film alone, which I personally guarantee any Disney fan will enjoy.