I didn't ask to review Mr. Troop Mom, but I received it and its cover was too full of curiosities to ignore. It wasn't so much the grizzly bear wearing sunglasses, the snarling Jane Lynch, or the generic premise-toting tagline ("It takes a real man to be one of the girls!"). But a banner proclaiming "As Seen on Nickelodeon" and a title logo stating "George Lopez Presents" the movie? It's as if blame is being laid on the star/executive producer and then the fact that he's doing a cable TV children's movie is being rubbed in his face.

But I guess such is the price Lopez pays for his eponymous six-season ABC sitcom being admitted to the halls of Nick at Nite so quickly, extensively, and inexplicably.

Lopez plays Eddie Serrano, a San Francisco widower who's more interested in being a lawyer than being a dad to his tweenaged daughter Naomi (Daniela Bobadilla). Circumstance requires Eddie to be troop mother for Naomi and her friends at their much-anticipated all-girls camping weekend.

Everything that unfolds from that fish-out-of-water concept does so to expectation and tradition. While the girls are familiar with wilderness living, Eddie is challenged to turn in his cell phone and leave behind some of the comforts of civilization. The gags here date back to the first time someone brought a camera on a camping trip. There is trouble setting up a tent, excessive use of bug spray, and, of course, someone gets turned upside down with a foot caught in a rope trap. The scenes of comedy falling flat get doused in pop music so as to shroud the sound of unmoved crickets chirping.
At Hulka's Rock, Naomi's team, the Killer Bees, competes against a team of defending champ bad girls, the Wasps, in the Spring Action Classic. The challenges are generic and not worth discussing. So too are the one-note characters -- the hair-obsessed one, the boy-crazy chick, an emo girl -- who are brought to life by unnatural, amateurish young actresses. Shortly before the one-hour mark, you'll realize there hasn't been a food fight yet, but only because there is one right then. There is even some climactic slime, as if to remind us we're on Nickelodeon, which used to be fun.
The movie tries to balance its flat, broad hijinks with a heart that stems from the single father and daughter needing to connect. It doesn't succeed in this regard either, the moral core factored into the concept registering as predictable, false, and flimsy.
The whole affair is tired and though he puts in effort, Lopez is unable to find a way to freshen the material or wring out some laughs, even while finding room for his beloved Scarface impression. His character has to fend off eager advances from a treacherous younger mom (April Amber Telek) while casually pursuing a love interest of noble heart (Julia Anderson). Both are out of his league, as no one notices. Judd Apatow favorite Jane Lynch lobs some references at adults as the no-nonsense Army veteran/campmaster Ms. Hulka.
The movie culminates with an appearance and performance by the Naked Brothers Band, Nickelodeon's answer to Disney's overhyped Jonas Brothers.

Seemingly a return favor to family friend Lopez, who has thrice guest-starred on their show as himself, the duo's short cameo somehow merits a shrinkwrap sticker and rear cover mention.

It's sad to see William Dear, who directed two of the best family films of the '90s in Angels in the Outfield and Wild America, reduced to this, but then there's nothing about the presentation to suggest he deserves better work. Mr. Troop Mom was written by B-movie actor Thomas Ian Griffith, as his first family-oriented script, his first outside the action genre, and his first realized without him in the cast.

VIDEO and AUDIO

Warner's DVD is kind enough to offer both 1.78:1 widescreen and 1.33:1 cropped fullscreen versions of the movie on the same side of the disc. There are no surprises with regard to picture and sound. Enough money went into this to ensure it looks good. Not just good compared to shoestring budget Nickelodeon programming, but as in it could pass for cinematic fare if projected on a big screen. The Dolby 5.1 soundtrack is rendered lively by pop tunes and some light atmosphere. Just don't expect an exhilarating outdoorsy aural experience.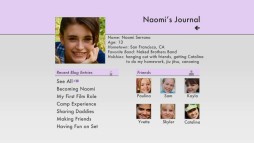 BONUS FEATURES, MENUS and PACKAGING

A half-hour of bonus features begins with "George Goes to Camp", a six-minute featurette centered on the star/producer, who discusses the project

and the familial nature of its making (which co-stars his real daughter and was co-produced by his wife).

Next comes "Naomi's Journal", the feature that comes closest to being deemed creative. After a 25-second intro, we settle on what looks like an ad-free version of MySpace. Despite the title and the profile, this interactive electronic feature is more about actress Daniela Bobadilla than her character. The bulk is 6 short "blog entries" (6:25) that paint a cheery portrait of production with titles like "My First Film", "Sharing Daddies", "Making Friends", and "Having Fun Together." Five of the six "Friends" images take to 15-30 second excerpts on castmates' characters.

"Rockin' the Bonfire" (3:50) covers the Naked Brothers Band's involvement. We hear from Alex and Nat Wolff as well as their adoring co-stars. We also get to see the young brothers getting their hair and make-up prepped alongside their nepotistically-cast friend Mayan Lopez.

"Killer Bees vs. Wasps" (5:00) allows the cast and crew to talk about the cast, their character labels, and their experiences. The upbeat verbal celebration hardly seems warranted.
A gag reel (3:35) shows off child actor goof-ups and George Lopez improvising (some used, some not). It is spruced up with music and sound effects, as it would have to be.
Finally, four "Additional Scenes" (4:42) prove to be brief, easily disposed deletions of forgettable character interactions.
Ads at the start of the disc tout Blu-ray, Harry Potter and the Half-Blood Prince, 17 Again, and Saturday Morning Cartoons: Volume 1.
The static, silent, ordinary menus place posed cast shots in front of lake backdrops, with a bear print cursor conveying the movie's wild side. An insert supplies a 1-year code needed to download a $1.99 digital copy of the movie in Windows Media format.
CLOSING THOUGHTS
Mr. Troop Mom truly belongs on cable television. The only people who will enjoy this hackneyed formula fluff are fans of George Lopez's comedy stylings who either have or are a pre-teen girl. Even that small demographic isn't likely to be entertained enough for repeat viewings. This doesn't have the decency of yesteryear rubbish that's bad enough to enjoy with diverting derision; it's just bad in a watchable and unlikable way. If you have any interest, I'd advise catching it on TV, but since it doesn't seem to be all over Nickelodeon's schedule like other cable movies would be, just don't even bother.
More on the DVD / Buy from Amazon.com / Buy the Blu-ray/DVD Combo from Amazon.com