The television industry is like a pyramid. At the bottom are the concepts for shows. Just above those are the filmed pilots, most of which never make it to the air. Above them are series that are ordered and produced. From the many of these, few survive for a second season. The pyramid continues to narrow as a minority of series can find the popularity, acclaim, and creativity needed to maintain a broadcast presence for multiple years. At the top are the elite shows that "make it", earning annual renewal, profits, and rerun residuals.

In the US, it's fair to say that any program that sticks around for four full seasons is doing something right. Such a statement applies to "Reno 911!", which just this week had its fifth season finish airing on Comedy Central. Debuting in 2003, "Reno 911!" is the brainchild of three members of MTV's mid-1990s sketch comedy show "The State." A clear and affectionate parody of Fox's long-running Saturday night staple "COPS", "Reno" applies the idea of documenting law enforcement duties to the inept officers of the Reno Sheriff's Department.

Like "COPS", there are no writers credited on "Reno 911!". Don't let that fool you. "Reno" is pure comedic fiction and as strange as real life can be, "Reno" ensures fiction can be stranger. The lack of writers is due to the unique nature of the series' production. Concepts are established for episodes, but the execution is largely improvised. Thanks to the creative cast members and savvy editing, coherent narratives emerge. Fueled with fine comic sensibilities, the loose, laugh track-free mockumentary format yields much entertainment as we follow the Reno cops in segments short and long.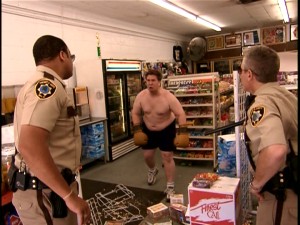 At its heart, the series is all about bungling cops responding to 911 calls regarding an assortment of oddballs, portrayed by a mix of recurring comedians and notable guest stars. Rightfully realizing the limits of a one-track design, "Reno" goes further by showing us some of the department's inner workings and the officers' off-duty interests.
Comprising the eight core members of Reno's police force are seasoned comedic performers almost all in their late 30s. From "The State" are creators/executive producers Thomas Lennon, Robert Ben Garant, and Kerri Kenney-Silver. On the side, Lennon and Garant (who also split directing responsibilities of all episodes) have written a number of movie screenplays, including the lucrative family comedies Night at the Museum and The Pacifier.
Among the cast, Lennon steals the show as Lt. Jim Dangle, the dutiful, short-shorted leader of the ragtag unit. But all seven of Dangle's deputies add a unique personality that isn't forced or overplayed. The squad includes prejudiced, infatuated cat lady Trudy Spiegel (Kenney-Silver), who opens the season with a baby; quietly stupid redneck Travis Junior (Garant), who supplies one of three central mustaches; the buxom and promiscuous Clemmie Johnson (Wendy McLendon-Covey); and the sassy, large-bottomed Raineesha Williams (Niecy Nash). Though the characters are colorful, it is usually the situations that serve up the funny.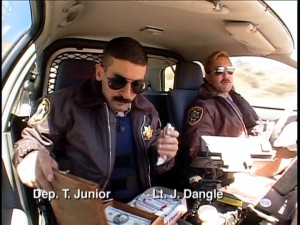 Humor is prevalent, in the cops' banter and unprofessional antics, in the behavior of loopy suspects (like those played by frequent guest stars Nick Swardson and Toby Huss), in the contrast between the bizarre occurrences and the routine manner with which they're filmed and presented.

Not every gag is a home run and some viewers will consider the proceedings too crass, but I find it impossible to get through an episode without some, and usually often, laughter.

I must not be alone, for "Reno" is in the midst of an impressive run that's extraordinary by Comedy Central standards. 2007 gave the series two big boosts. In February, with 50 episodes having aired, the gang took to theaters in the budget-doubling Reno 911!: Miami. The same year, "Reno" went into syndication, putting it on the televisions of non-cable households and granting it approximately the same prominent on-air presence as its enduring inspiration, "COPS." Though a sixth season has yet to be ordered by Comedy Central, there is certainly no air of finality to Season 5.

Just five days after the season finale first airs, "Reno" returns to DVD from Comedy Central and Paramount. Holding sixteen episodes across three discs, The Complete Fifth Season Uncensored! is in stores Tuesday and it's the title's last word that's operative for those used to airings. On TV, the fairly frequent flow of profanity is tempered by bleeps à la "COPS" and other reality shows. On DVD, every foul word is heard in full, which requires some adjusting from viewers. The DVDs of Season 2 onward have proclaimed themselves "Uncensored" and I imagine they have all been presented this same way, but part of me thinks that the profanity is sometimes even funnier when bleeped and that the broadcast soundtracks should have been included as alternate audio tracks.
Of course, if dirty words are a red light for you, you might not enjoy "Reno 911!" even with them bleeped. After all, no topic is too sacred for this group to poke fun at: race, violence, death, religion, suicide, politics, animal cruelty, sex offenders, deviants.
Season 5 starts with an attempt by Lt. Dangle to jump a shark, with cast and hopefully audiences absolutely aware of the significance of that oft-cited "Happy Days" turning point. By the time the season has ended, three shark jumps have occurred, each one resulting in disaster. Without the series' complete chronology behind me, I can only state with a shadow of doubt that there is no irony to Dangle's chosen charity activity. In its fifth year on the air, "Reno" remains sharp, witty, and comfortable but not complacent in its methods.
The set strangely does not provide episode titles, but various versions of these are easily found online. I've used them on my concise synopses below. Per custom, I've designated my favorite episodes of the collection with a star (

).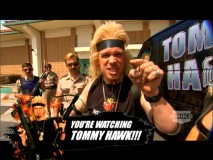 Disc 1

1. 501 / Jumping the Shark / Did Garcia Steal Dangle's Husband? (21:18) (Originally aired January 16, 2008)


With paternity still in question, Trudy screens couples to whom she intends to sell her baby.

2. 502 / Tommy Hawk / Bounty Hunter Tommy Hawk (21:18) (Originally aired January 23, 2008)
The Reno cops team up with Spike TV bounty hunter Tommy Hawk (Diedrich Bader) to track down fugitive drug smugglers. Trudy spends the day attending to a seemingly able-bodied man (David Wain) for the Neighbors & Friends program.
3. 506 / Kevlar for Her / Super Knockers! (21:32) (Originally aired January 30, 2008)
The women officers reap the benefits of their new cleavage-enhancing bulletproof vests. After ten years in prison, a man (Kevin Ruf) seeks revenge on Dangle and Jones, who can't remember him.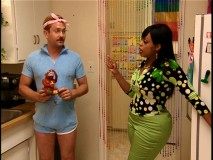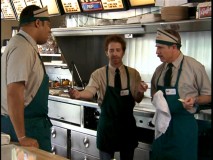 4. 503 / Mayor Hernandez (21:18) (Originally aired February 6, 2008)
Reno's disheveled Mayor Hernandez (George Lopez) pays a number of visits to the police department, in which he is vague and shady.

5. 504 / Coconut Nut Clusters! (21:18) (Originally aired February 13, 2008)
The department goes door-to-door in twos, selling Coconut Nut Clusters candy bars to benefit the sheriff's athletic league.

6. 505 / Back in Black / Dangle's Secret Family (21:02) (Originally aired February 20, 2008)
Dangle enlists Williams to pose as his girlfriend and help him look smooth in front of his visiting black siblings.

7. 507 / Undercover at Burger Cousin (21:32) (Originally aired February 27, 2008)
Jones and Garcia go undercover at a much-robbed fast food burger joint, where they have to answer to a demanding manager (Seth Green).
Disc 2

8. 508 / The Wall (21:03) (Originally aired March 5, 2008)
Junior and Garcia spend the day at the US-Mexico border with plans to build a fence to keep illegal immigrants out. Back in Reno, Dangle and Trudy try to lure and catch pedophiles on a bus.

9. 515 / Death of a Pickle-Thrower (21:32) (Originally aired May 22, 2008)


All the cops pay a last visit to a dying prostitute (double duty for Kenney-Silver). Also, the men have their hands full with dropped-off babies.

10. 512 / Baghdad 911 (21:32) (Originally aired May 29, 2008)
Language is a barrier as the department trains Iraqi police. Dangle and Trudy seize cocaine that's hidden inside a lot of talking bunny dolls.

11. 516 / The Tanning Booth Incident (21:33) (Originally aired June 5, 2008)
A tanning salon incident turns Dangle red all over and keeps him laid up in the hospital. A lottery error breeds workplace rants.
12. 511 / Strong Sister (21:03) (Originally aired June 12, 2008)
A writer for Strong Sisters magazine spends time with the department for an article profiling Williams. The cops make sure that the local brothel follows new laws. The raciest episode of the lot, this one also makes good on the cover's promised "indecent exposure" with some topless dancer nudity.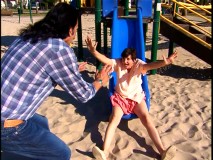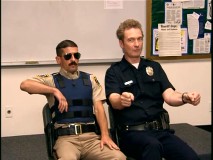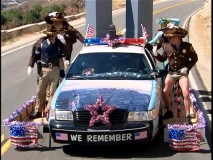 13. 510 / Wiegel's Dad Returns (21:33) (Originally aired June 19, 2008)
Two Wolves (Joe Billingiere), a Native American man claiming to be Trudy's father, visits. Dangle and Junior stake out in a hotel room where they hope to bust a Thai food delivery front for prostitution.
14. 509 / Junior Runs for Office (21:32) (Originally aired June 26, 2008)
Junior campaigns for Animal Carcass Removal Commissioner. Jones and Kimball escort a racist World War II veteran (Ken Marino in makeup) at the Reno Pride Day parade.
Disc 3

15. 514 / Undercover Acting Coach (21:33) (Originally aired July 3, 2008)
An officer from Los Angeles (Ryan Stiles) gives Reno's cops acting lessons for more convincing undercover work.
16. 513 / The Parade (21:32) (To air on July 10, 2008)
Patriotism runs high as the department works to win a statewide law enforcement parade prize with their 9/11 float. Meanwhile, outsourcing sends Reno's 911 calls to India. Per tradition, the episode ends with a dramatic cliffhanger.
VIDEO and AUDIO

"Reno 911!" has a distinctive documentary look defined by a mix of fixed in-car cameras and shaky handheld video. Any anomalies in the picture are by design, as the 1.33:1 fullscreen transfers look clean, sharp, and appropriately "real". The Dolby Digital 2.0 stereo soundtracks are also satisfactory in light of a few deliberate limitations.

BONUS FEATURES, MENUS, PACKAGING and DESIGN

Bonus features begin with six episode audio commentaries scattered throughout the set. These tracks bring the total number of "Reno 911!" commentaries up to 25 and the participants understandably sound like they're trying not to repeat themselves.

Wendi McLendon-Covey and Cedric Yarbrough pair up on Episodes 3 and 7 ("Kevlar for Her" and "Undercover at Burger Cousin"). They're relaxed, conversational, and more apt to talk about their real lives than behind-the-scenes info.

Five actors are on hand for the remaining four commentaries, on Episodes 6, 9, 10, and 16 ("Back in Black", "Death of a Pickle-Thrower", "Baghdad 911", and season finale "The Parade"): Yarbrough, Kerri Kenney-Silver, Thomas Lennon, Robert Ben Garant, and Carlos Alazraqui. There is palpable camaraderie to this group, and they share a bit more on scenes onscreen.

All six commentaries are plenty entertaining, particularly the large group ones. From production tales and filming location talk to discussions of feet, the Electric Mayhem, and Arby's curly fries, these tracks range wildly in focus. Through it all, the cast members never turn off a switch or stray too far from their Reno personalities, ensuring that the two hours you devote will be chockfull of amusement.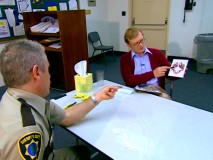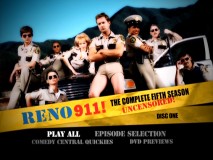 Two relevant video bonuses are housed on Disc 3.

First up is "Cop Psychology: Inside the Minds of Reno's Deputies" (23:26),

a collection of psychological interviews of the eight leading cast members in-character. Each officer's chat with the cordial evaluator (played by Andrew Daly) runs about 2-3 minutes, although Deputy Wiegel's is closer to 5. These vignettes, which are also available on Comedy Central's website, shed light on the characters with more amusing improvisation.

Four extended scenes provide unused content and also show how long the cast riffs in certain set-ups, leaving editors to magically trim it down to a compact size. Seen here are Dangle and Wiegel handling the cocaine-stuffed talking bunny dolls (12:54); three cops on a dark circus call for a full car of suffocated clowns (16:50); more rambling by Junior, Garcia and their border buddies (8:25), and dying prostitute Jackie voicing her bizarre final words of gratitude over her visitors' chatter (3:21). Though patience-testing and drawn-out overall, there are some funny bits in the first and third ones.

Disc 1 also holds four "Comedy Central Quickies", excerpts that promote the network's programs with 2-2½ minute sample tastes. Seen here: from "The Daily Show", Rob Riggles' remote report on the US Marine Corps' controversial occupation of Berkeley; from the "The Colbert Report", Stephen Colbert's Wag of the Finger to American troops in Afghanistan; bedlam breaks out in "South Park" when the Internet goes down; and in the animated satire "Lil' Bush", young versions of today's US political figures discuss their spring break plans.

Disc 1 opens with promos for "Comedy Central's TV Funhouse", "South Park": Season 11, and "Drawn Together": Season Three. The same three spots play from the disc's "DVD Previews" listing.

"Reno 911!" is packaged in a cardboard box with three slim clear cases inside. The series' eight leads claim an even amount of the cases' cover space, two character stills per side on Discs 1 and 2 and four less sharp images on Disc 3. The one big exception is the outer box cover, which is dominated by Niecy Nash's bulky Deputy Williams. The reverse side of the case artwork contains episode synopses (amidst blank police forms) and a snapshot from each of the disc's featured episodes. Also found in the box is an 8-page fold-out guide devoted to Comedy Central DVDs and other merchandise.

Each disc's main menu cycles through the same character stills with flashing lights, snazzy editing, and an incarnation of the theme music. The few available submenus are silent, static, and understated. Episodes are divided into a reasonable number of chapter stops, but strangely rewind and fast-forward capabilities are mildly reduced.
CLOSING THOUGHTS
In its fifth season, "Reno 911!" continues to entertain on a regular basis. A winning union of talent and format, this comedy series proves to be a fine showcase for the cast's ample improvisation skills. So long as you're okay with the profanity being uncensored, Comedy Central's Season 5 DVD won't disappoint. The presentation is solid and the commentaries and psychological interviews add value. Though the price is a little high for a 16-episode set, it is sure to eventually follow its predecessors down to a lower rate. Accordingly, you may want to wait, particularly if you still have the cheaper previous seasons to pick up. But so long as you deem "Reno 911!" worth owning and not something just to catch bleeped reruns of from time to time, then this collection earns a recommendation.