In dramedies like Election, About Schmidt, Sideways, and The Descendants, Alexander Payne has told stories about situations of great importance to his characters with little impact beyond them. Adapted from novels often by Payne and his writing partner Jim Taylor, these films have been widely celebrated for their wit, humanity, and warmth.
Payne's latest film, Nebraska, does not spring from literature or credit him with the screenplay. It's an original story written by middle-aged newcomer Bob Nelson. But it is very much in line with Payne's brand of funny, smart, emotional storytelling and adds to the director's winning streak.
The black and white, 2.40:1 Nebraska opens with the image of Woody Grant (Bruce Dern), an aging, unshaven man with wild hair, walking along the side of a Montana highway. A police car stops nearby, with the officer popping out to check on his intentions. Down at the station, reticent, old Woody explains to his middle-aged son David (Will Forte)

that he has received a letter entitling him to $1 million and that he's planning to redeem it down in Lincoln, Nebraska, by foot if necessary. David points out that the letter is an obvious scam, an attention-grabbing way to encourage magazine subscriptions. Woody doesn't care; his mind is set on collecting his prize.

Against the objections of David's mother, Woody's outspoken wife Kate (June Squibb), David takes time off from his job as a home theater salesman to drive Woody all the way down to Lincoln. Though Lincoln and a million dollars are ostensibly the destination and purpose of this trip, David's really making it as a way to spend time with his father and to indulge him in this far-fetched fantasy.

After a brief look at Mount Rushmore from the side of the road and a stay in Black Hills, South Dakota, father and son make it to Hawthorne, Nebraska, Woody's hometown. He's surprised and a little disappointed to discover that his old auto repair shop and favorite watering hole are now run by people who don't know him or the former owners. The two men visit the home of Woody's brother (Rance Howard), a place that remains quiet even though the families haven't seen each other in at least twenty years.

Down in the town, Woody can't help but reveal his windfall to his old business partner, Ed Pegram (Stacy Keach), a man he still bitterly believes owes him hundreds of dollars and an air compressor. Word of Woody's good fortune spreads quickly around the small town, where ears perk up during this time of recession. Long-lost and ne'er–do–well relatives stake their claims through David to some of the earnings. Even Ed looks to settle a score.

Meanwhile, Kate and David's brother (Bob Odenkirk) show up and David becomes more aware of his father's upbringing in this sleepy Great Plains community.
The road trip has twice fueled Payne's creative juices. This newest journey conceived by Nelson does so again without feeling like dιjΰ vu. There's some common ground, more in the widower in the Winnebago than in the friends taking one last wine country ramble together. But this is the story of a father and son. It's one of the most potent to explore that relationship since Big Fish ten years ago.
The black and white Cinemascope cinematography adds instant artistry and beauty to this story. Somehow, this trip of revisiting the past seems to demand gray hues. Though humor runs throughout, there is an air of sadness too. Woody isn't long for this world. He and Kate aren't really getting along. A few glimpses of David's personal and professional lives suggest both are kind of pitiful. Hawthorne isn't any better. It's a place where Sunday afternoons find men watching football motionless, emotionless, and silently, save for trying to remember the cars one another used to drive.
Many comedies set in flyover country send up life in these sparsely-populated parts. Nelson and Payne are obviously having fun with the location (Keach's character sings Elvis Presley's "In the Ghetto" at a diner's karaoke stage), but do so with respect, honesty, and authenticity. Each knows these regions; Payne is a native of Omaha, while Nelson's birthplace of Yankton, South Dakota is one of the only things his IMDb page reveals.

The two capture the personality and poetry of the Midwest, making it a salient backdrop to this slow, offbeat tale of generational bonding. The film shuns sentimentality throughout, but Payne remains a master at earning viewers' tears without contrivance, cheats, or twists. The beautiful, understated conclusion is exactly what the film has been leading to and it caps this journey in a heartwarming and satisfying fashion.

Dern is an actor who has been around for a really long time, but is mostly resigned to supporting roles in minor movies. This is a part that many an elderly actor would relish, but the 77-year-old makes it his own while embodying the character instead of just playing it. "Saturday Night Live" alumnus Forte isn't someone you immediately think of to play the straight man in an indie dramedy, but his committed and graceful performance eliminates any of his baggage your mind has been carrying from his ten years in mostly lowbrow television comedy. Forte's value to the film is considerable, but his turn wasn't flashy enough to feature in more than a few acting award races. As expected and deserved, the film was widely recognized in a number of those both for Dern's soulful lead turn and in the firecracker support of June Squibb, whose filmography has been growing but not in noticeable ways since playing Jack Nicholson's wife in Schmidt.

Following The Artist, perhaps black and white is not the feared plague it once was. Some will see the decision to shoot Nebraska that way pretentious or unfortunate (there was one nearby vocal objection to it early at my theatrical screening). But it simply serves the material well, without necessarily paying tribute to anything (at most, it recalls The Last Picture Show in setting and composition). Paramount, trotting out their rarely used, essentially retired Vantage label, must have hoped that the film's resonant, poignant material would overshadow any reservations some adult moviegoers might have about watching a movie that isn't in color.

Their slow rollout to rave reviews and palpable award season buzz has only taken the film so far, though. Having recently eclipsed the $16 million mark domestically and unlikely to get much further, Nebraska is this year's lowest-grossing Best Picture Oscar nominee, but it's worth noting that it's outearned the holder of that title every year since the field's 2009 expansion from five nominees. That doesn't change the fact that the film still has a ways to go to recovering its reported $12 million production budget. Home video can help starting Tuesday, when Paramount kindly treats this to a Blu-ray + DVD + Digital HD combo pack and standalone DVD.
Blu-ray & DVD Details

2.40:1 Widescreen (DVD Anamorphic)
BD: 3.0 DTS-HD MA (English), Dolby Digital 3.0 (German); DVD: Dolby Digital 3.0 (English)
Both: Dolby Digital 3.0 (French, Spanish, Descriptive Video Service) Subtitles: English, French, Spanish, German; BD Film only: English for Hearing Impaired
DVD Closed Captioned; Extra Subtitled
Release Date: February 25, 2014
Two single-sided, dual-layered discs (1 BD-50 & 1 DVD-9)
Suggested Retail Price: $39.99
Blue Eco-Friendly Keepcase in Cardboard Slipcover
Also available as standalone DVD ($29.98 SRP) and Amazon Instant Video
VIDEO and AUDIO
Nebraska looks terrific on Blu-ray. I was pleased its great cinematography earned an Oscar nomination and that it receives one of Paramount's typically excellent high-def presentations. The 2.40:1 visuals look perfect to my eyes and even scrutiny.
Similarly opting for the old-fashioned, the film's soundtrack is presented in a 3.0 DTS-HD master audio mix. The lack of surround channel usage isn't noticed or minded and the track does a very nice job of presenting the wonderful score by Mark Orton, a country-western artist with a relatively short filmography who ought to have picked up an Oscar nomination for this (it was ineligible). Dialogue is crisp and warm, each focal character having their own distinctive sound and the many local actors supplying the right regional sound. In addition to an English DVS track for the visually impaired, French, Spanish, and German subtitles and dubs are provided on Blu-ray, while the DVD includes all the same except for the German dub.
BONUS FEATURES, MENUS, PACKAGING and DESIGN

The Blu-ray's only bonus feature is "The Making of Nebraska" (28:50, HD).

In this thorough companion piece, cast and crew take us from concept to completion. Production footage complements film clips and the obligatory talking heads, as everything from casting and Payne's direction to Midwestern filming locations and the studio resistance to shooting in black and white is satisfactorily covered. While it would have been nice to get additional extras, namely trailers and deleted scenes, this featurette fulfills as the disc's lone supplement.

The same DVD sold on its own, this combo pack's second disc includes no extras at all, save for disc-opening trailers for Noah, The Wolf of Wall Street, Labor Day, Jack Ryan: Shadow Recruit and ones for A.C.O.D. and Adore that precede them from the menu's Previews listing.

Each disc's main menu sets a still of father and son to a piece of the tasteful score. The Blu-ray allows you place bookmarks on the film, but does not resume playback.

An insert supplies directions and your unique code for redeeming the downloadable iTunes and UltraViolet digital copy and stream included with your purchase. That's the only thing joining the two plain discs inside the eco-friendly keepcase that's topped by a glossy slipcover that reproduces and repositions the artwork below and bears a gold sticker identifying and celebrating the film's six Academy Award nominations.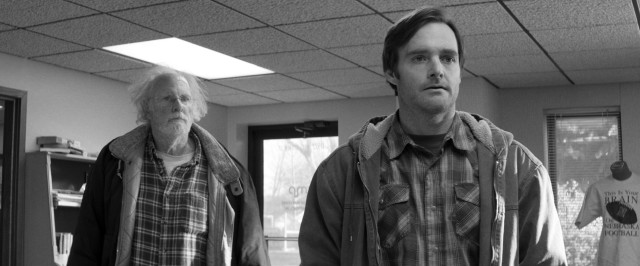 CLOSING THOUGHTS
I cannot recommend Nebraska, my second favorite film of 2013, highly enough. This witty, artistic and evocative tale deserves to be widely seen and appreciated. Hopefully, home video helps with that, because theatrical attendance has been mild. Paramount's release is simple and light, but still delivers all the versatility of a combo pack, a beautiful feature presentation, and a single Blu-ray making-of featurette that quenches your supplemental thirst.
Support great cinema and this site when you buy Nebraska from Amazon.com:
Blu-ray + DVD + Digital HD / DVD / Instant Video