After a few efforts that seemed a little too closely modeled after Pixar and DreamWorks productions, Walt Disney Animation Studios seems to have found and accepted a unique, fitting, and relevant identity. Disney continues to rest on the traditions that have served it well for over 75 years,

but they present that classic material in modern ways, meaning computer animation, 3D, and with action, comedy, and pacing that align with contemporary moviegoer tastes. They'd much rather you know the latter than the former. Like Tangled, the department's 2010 blockbuster, Frozen is titled to hide the fact that it is a princess movie. Its marketing also shrouds that it is a musical, emphasizing the comedy and action elements intended to give the film unisex appeal.

Just like Tangled, Frozen is different than advertised and better. While the marketing department's job is to fill seats, the filmmakers have worked hard to ensure those in attendance will not leave disappointed. If anything, Frozen's makers seem to have worked too hard. The film runs through the wide array of emotions one associates with the magic of Disney's animated fairy tales, but it does so with the feel of years of committee collaboration and touch-ups, not the natural bursts of creativity and inspiration that seem to drive the studio's most wonderful features.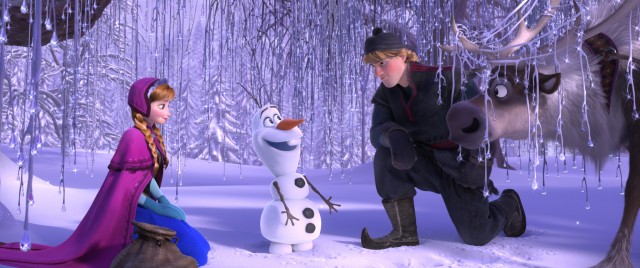 The film opens with two young sisters playing in their spacious residence. One, Elsa, can create ice, frost, and snow from her bare hands, a power that keeps the younger Anna highly entertained. But their innocent indoor recreation goes awry and Elsa accidentally strikes Anna's head with her cold throw. Their parents, the king and queen of Arendelle, bring the injured girl to stone trolls, who can help her but decide it's best to remove any memory of her sister's power. The only remnant of the episode is a white streak in Anna's hair. The two girls grow up with more distance between them than either would like, for Elsa has to keep her gift a secret.

Their parents die in a vague shipwreck, setting up the coronation of the now presumably late-teenaged Elsa. Already, it's clear that this platinum-haired Queen to be (voiced by Idina Menzel) is not our protagonist. That role is filled by Anna (Kristen Bell), her down-to-earth, friendly, slightly clumsy sister. On the day of Elsa's crowning, Anna meets Hans (Santino Fontana), a sweet, handsome, mutton chopped young man for whom she falls head over heels. Within what can't be more than a few hours, Hans proposes and Anna accepts. When they bring their marriage plans to Elsa,

she refuses to give them her blessing and in the process, her long-held secret is revealed to everyone at the reception.

Elsa's unintentional ice-slinging puts Arendelle in an eternal winter. She storms off, prompting Anna to go find her, while leaving Hans temporarily in charge of the family's kingdom. Before Anna can reach her sister, she encounters hunky blonde outdoorsy ice vendor Kristoff (Jonathan Groff), his loyal reindeer Sven, and Olaf (Josh Gad), a largely indestructible and upbeat snowman who is happy to tag along for the adventure (and earn the film's biggest laughs).

Frozen attributes its screenplay to a single individual: Wreck-It Ralph contributor Jennifer Lee, who is also one of three credited with the story (not counting Hans Christian Andersen, whose The Snow Queen is also acknowledged) and shares directing duties with Chris Buck (Tarzan, Surf's Up). Even if you aren't aware of this project's long development history, you get a sense of it in just how taut and rigid it plays. Though it exhibits some qualities desirable in storytelling, the film suffers from slavish devotion to efficiency. You can practically hear executive producer and Pixar head honcho John Lasseter reminding Lee, Buck, and others of the value of story. It's tough to dispute that story is the most important thing in filmmaking, animated or otherwise. But personality, characters, and heart are important too and Frozen is lacking in these areas, as it constantly introduces and develops easily-resolved conflict, barely pausing for a comic gag or to let a short song advance the story.

The songs are composed by the husband-wife team of Kristen Anderson-Lopez and Robert Lopez, whose past collaborations include 2011's Winnie the Pooh and Disney World's Finding Nemo musical. The two are also stage veterans, with Robert having co-created the Tony Award winners Avenue Q and The Book of Mormon. That explains the score's extremely Broadway feel, which doesn't perfectly gel with the rest of this fairy tale's execution. The songs are strong in composition and performance; they just don't really contribute to a fully satisfying whole.

The film inevitably will spark comparisons to Tangled that make it feel lesser and derivative. Tangled has its problems, but it at least proved Disney was up to blending new and old ways into something powerful and artistic (and more so than The Princess and the Frog, the more highly anticipated 2D effort from a year earlier). Frozen relies on uninspired twists you see coming far in advance and gives us two lead characters that are easily mistaken for a shorter-haired strawberry blonde Rapunzel and a blonde, clean-shaven Flynn Rider.

Us Disney fans ask a lot of a film like this. We want it to somehow remain true to the studio's storied legacy, but we also want it to not be overly familiar. We'd be disappointed if romance, fantasy, music, or comic relief were left out, but we don't want them to announce themselves as integral ingredients. We want to experience magical new highs reminding us of the most treasured moments of our favorite classics but we don't want to think of past movies and be reminded that new ones can never rival our rosy old memories of them.
In truth, most of us will hold Frozen to a higher standard than your typical new animated family film. That explains some of the disappointments felt here. That humor and imagination are far less prevalent in this brisk outing than they were in last November's outstanding Wreck-It Ralph also accounts for something.

As does the fact that there hasn't been a single terrific animated film released in 2013 and, for many, this was the last hope.

The year's relatively mediocre animated output should more or less guarantee Frozen one of the five nominations for the Best Animated Feature Oscar. If it wins, though, and its toughest competition seems to be from within the Disney family (Hayao Miyazaki's Touchstone-distributed The Wind Rises and Pixar's Monsters University), it may be a victory of timing or recompense for overlooked superior efforts, like last year's deserving Ralph.

Another Oscar contender precedes the film: the new Mickey Mouse short Get a Horse!, which opens looking like a meticulously restored, newly-unearthed, late-1920s black and white cartoon of the company mascot, but comes to make use of CGI and 3D. Honestly, my potential enjoyment of this short was crushed by a curiously terrified youth immediately behind me, whose loud objections drowned out the joys of what resembled a Disney theme park movie. Disney's support for this in the Best Animated Short category will be undivided after Pixar's photorealistic The Blue Umbrella surprisingly failed to make the recently-announced shortlist of ten. Horse! will certainly have the public's vote too, being by far the most widely seen of the candidates.

Buy Frozen from Amazon.com: Blu-ray + DVD + Digital Copy / DVD / Instant Video