To the average person, the list of Oscar nominees is full of titles unheard of and movies unknown. You could do a decent job of staying on top of new releases each week, keep your finger on the pulse of the independent cinema scene, and even be open to obscure films you might stumble upon on Netflix or Redbox.

Even so, that ballot includes foreign films not yet released in America, fifteen shorts that with rare exception hardly anyone has seen, movies given mere qualifying release on one of the two coasts, and films whose paid moviegoer count barely stretches to five figures.

Best Documentary is one such category whose nominees usually elude the general public. This year, though, all five nominees are proving rather accessible. The Square, on Egypt's ongoing revolution, began streaming on Netflix the day after it secured its nod. It joined The Act of Killing, Dirty Wars and Cutie and the Boxer there. The fifth nominee, backup singer celebration 20 Feet from Stardom, was already available to rent on iTunes and it has since come to DVD, Blu-ray, and Redbox. If you're a Netflix customer, it almost couldn't be any easier to catch up on this year's contenders, pick a personal favorite to back, and recognize a frontrunner.

Those who aren't Netflix subscribers have another way to check out Cutie and the Boxer tomorrow, as Anchor Bay Entertainment releases the film to DVD and Blu-ray. Directed, produced, and photographed by Zachary Heinzerling, this stands out as one of the more intimate, upbeat, and human of the five Documentary nominees. Though the title and Heinzerling's few prior credits may lead you to expect a sports film, Cutie actually tells the story of a married couple of Japanese-American artists who have lived in New York together for over forty years.
The film opens on the morning of Ushio Shinohara's 80th birthday. He and his longtime wife Noriko share a large, cluttered aged loft in SoHo. Shinohara fills the latter part of the title with his unusually method of painting. He puts on oversized foam-topped boxing gloves covered with paint and violently punches a large canvas right to left, usually taking no more than a couple of minutes to finish. Ushio also makes distinctive cardboard sculptures of motorcycles.
Noriko, meanwhile, paints Cutie, a character clearly based on herself. This always naked alter ego has her hands full with her man, Bullie, based on Ushio. There is also a child, recalling the one Noriko became pregnant with six months after meeting Ushio. She was 19. He was 41. Though Ushio has had his share of fame and renown, most people find his avant-garde art striking but not to their taste. Few of his creations have sold and the couple can still barely afford rent and utilities.
Ushio and Noriko are an interesting couple who earn the attention of Heinzerling and viewers. There's some clear animosity between them. Ushio was an alcoholic early in their marriage and did little of the raising of their child. That child, Alex, is all grown up, but like Noriko still living in Ushio's shadow. A peripheral presence here, Alex seems depressed and his mother fears he has inherited his father's propensity for alcoholism. The pigtailed, beauty-marked Noriko discusses the boy's inferiority complex growing up and her similar own artistic marginalization, which we see when art gallery owners consider exhibiting the couple's work.
There's a little bit of a cable reality TV feel to the film, which uses subtitles to translate both sides of the Shinohara parents' mix of Japanese and broken English. The film is bolstered by excerpts of old documentaries on the couple and their home movies.

Noriko describes life with Ushio as a constant struggle, though love and a wealth of shared experience clearly outshine their frequent bickering. Noriko's illustrations, which earn seemingly the MPAA's first R rating purely for "nude art images", are at times brought to life with animation, her charming imperfect English captions intact.

Ending abruptly and needing end credits to pass the 80-minute mark, Cutie and the Boxer may seem slight to some viewers. Its Oscar nomination over the celebrated and buzzed-about documentaries Stories We Tell and Blackfish surprised many. No one really expects it to win, with experts giving it the longest odds at the prize of the five nominees.

Having now seen them all, I've found these nominees to be good but not great. The Square most disappointed for its complete failure to explain the revolution it was documenting. Regardless of its duplicitous intent and inevitable destination, I found The Act of Killing, which has dominated many of the critics awards including those of my own Online Film Critics Society, repugnant for the spotlight it turned on unrepentant mass murders. Of the remaining three, Dirty Wars, investigating covert operations of the US military, was the most powerful and frightening. But it's also the most political and in ways that make even its nomination a surprise.

That leaves us with the two human interest tales of artists distributed by the Weinsteins' new Radius-TWC label. 20 Feet from Stardom surveys the experience of trying hard to break through, subject matter that may well resonate with the actors who make up the largest portion of the Academy. While that makes me confident in predicting it a winner, I must say that I prefer Cutie as a film. We gain a better understanding and appreciation for the lives and callings of the Shinoharas than we do for the backup singers whose contributions to classic songs and brushes with fame are detailed. I guess that means that I'm rooting for Cutie at the Oscars, though I'd be happy with anything other than The Square and Act of Killing winning.
Blu-ray Disc Details

1.85:1 Widescreen
5.1 DTS-HD MA (English)
Subtitles: English, English for Hearing Impaired, Spanish
Not Closed Captioned; Extras Subtitled in English
Release Date: February 4, 2014
Suggested Retail Price: $29.99
Single-sided, dual-layered disc (BD-50)
Blue Keepcase
Also available on DVD ($24.98 SRP) and Amazon Instant Video
VIDEO and AUDIO
Like most documentaries, Cutie and the Boxer's picture varies in quality, depending on the source. The new material, which makes up the majority of the 1.85:1 film, is crystal clear, razor-sharp and vibrant, leaving nothing to be desired. Old home movies and documentary excerpts hold up decently too. The 5.1 DTS-HD master audio mix does a good job of distributing some distinctive score and the dialogue. Still, there is very good reason that a stream of English subtitles is turned on by default. Even when the Shinoharas slip into English, their heavy accents make the translations a must.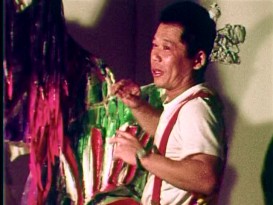 BONUS FEATURES, MENUS, PACKAGING and DESIGN

The Blu-ray's extras, presented in HD unless otherwise noted, begin with five deleted scenes (9:26).

They show us more of Ushio sculpting, Noriko dancing and cooking, the couple discussion their relationship, and Ushio swimming, reflecting on being an artist, and retiring for the night in his net-protected bed.

Shinohara: The Last Artist (23:17, SD) is the complete early 1970s TV documentary excerpted in the film. Written and directed by Rod McCall, it's an excellent companion piece and a fascinating portrait that conveys life for Ushio, his young family, and other struggling Japanese artists in a much different New York half a lifetime ago. It's rare to encounter such a valuable, aged licensed extra from anyone but Criterion.
Next, we get a short Q & A session (8:06) at the film's 2013 Sundance Film Festival premiere. Director Zachary Heinzerling, the Shinoharas, and executive producer Kiki Miyake partake in a warm, funny engagement that sees the Boxer repeatedly grabbing the mic from his wife's hands.

Despite the frequent laughs, this chat sheds some real light on the film.

Finally, we get "Action Is Art: A Study of Ushio Shinohara's Boxing Painting" (3:39), a short that presents the artist's boxing glove methods, taken outside and applied to glass showing Manhattan skyline behind it, in highly artistic super slow motion. It's a surreal, creative video.

The disc opens with trailers for fellow Radius-TWC documentaries 20 Feet from Stardom and Inequality for All. Sadly, they're not accessible by menu and Cutie and the Boxer's trailer isn't accessible on this disc at all.

The scored menu montage plays new, old, and animated clips alike. Thus far, 2014 sadly isn't looking like the year when Weinstein discs begin supporting bookmarks or resuming playback.

No inserts or slipcover jazz up the plain blue keepcase.
CLOSING THOUGHTS
Cutie and the Boxer is an appealing study of a long marriage between two clashing artists. I encourage you to see it and its accessible fellow Best Documentary nominees by Oscar night. While eight hours is a lot of time to invest to enhance a single night and, honestly, probably just a few minutes of it, documentaries are an important form it's too easy to take for granted. These five are enough to fill your quota for the year.
Anchor Bay's Blu-ray satisfies with its feature presentation and truly solid collection of extras. I'm tempted to call this release the one 2013 documentary most worth owning, but it's definitely possible that another film will resonate more with you.
Buy Cutie and the Boxer at Amazon.com: Blu-ray / DVD / Instant Video