A career's got to start somewhere. For James Cameron, that somewhere was Piranha Part Two: The Spawning, the low-budget 1981 sequel to a Roger Corman-produced horror movie. Three years later, Cameron's sophomore feature as writer and director, a small science fiction film, was released to far more distinction. The Terminator would propel the careers

of Cameron and star Arnold Schwarzenegger, while launching the franchise with which both are most closely identified.

Though tertiary in screentime and dialogue, top-billed Schwarzenegger commands the screen in the title role of a virtually indestructible cyborg programmed to kill. The Terminator comes from the future, the year 2029 AD. His mission is to eliminate one Sarah Connor of Los Angeles, California. Using a phone book, the Terminator lives up to his name by wiping out anyone in the city answering to that name.

The Sarah Connor he wants (Linda Hamilton) is a young waitress ordinary in seemingly every way. Coming to her aid is another time traveler from the future, Kyle Reese (Michael Biehn). He explains the improbable situation to her, that she is to give birth to John Connor, a man who one post-apocalyptic day will lead the successful human resistance to defeat the powerful, destructive cyborgs who have wiped out most of mankind with nuclear holocaust. The Terminator's arrival in 1984 L.A. is the cyborgs' last-ditch effort to change the course of events in their favor.

That story can only be met with disbelief and that is how the unflappable local police department (led by Paul Winfield) receives it. But there is no time for doubt and skepticism, as the anthropomophic assassin pursues his target with his ample might, using a powerful arsenal of stolen weapons to swiftly deal with anyone standing in his way. If Reese is to be believed, then the future of the world is at stake in this tense man vs. machine battle centering on an average woman and her heroic future son.
So iconic is the Terminator and Schwarzenegger's performances as it that it's easy to look at the original poster of the sunglassed, leather-jacketed villain and assume a campy, mindless, nostalgia-assisted action movie introduced the character and confirmed the thickly-accented Austrian former bodybuilder as major movie star. That just isn't the case. Cameron's first major feature holds up as one of his very best, displaying ingenuity, tautness, and restraint that his bigger, more acclaimed films should have aspired to.
Running 107 minutes with credits, The Terminator is shorter than all six of Cameron's subsequent narrative feature outings. That is very much in its favor. One of the most common sources of criticism on Avatar, the epic 2009 fantasy that commercially reinforced Cameron's self-proclaimed worldwide royalty, was its length (162 minutes). Similar complaints could be made (and often have been) regarding Cameron's other post-Terminator works, from former box office king Titanic (194 minutes) to his underperforming underwater film The Abyss (146 minutes). Even Aliens, Cameron's much-loved Terminator follow-up, feels bloated in its extended Special Edition (154 minutes). Avatar and Abyss have been subjected to similar extensions both for theaters and on video. Like Peter Jackson, Cameron's passion and technical expertise are unquestionable, but just like Jackson, success has given him too much power. Who dares point out to box office gods like Jackson and Cameron that their movies might be much stronger if they parted with some of their less inspired ideas and managed to tell their stories in closer to two hours than three? I think even their most ardent fans, those who relish the comprehensiveness of their gargantuan extended cuts, wouldn't entirely dismiss the notion that less can be more.
Look at The Terminator for proof of that. Every word uttered counts. None are wasted. Each bit of dialogue advances the story or characters without overinflating either. Those who were dissatisfied by Avatar's story, labeling it familiar or derivative, cannot easily take similar issue with The Terminator. It may not be entirely original. The end credits acknowledge a debt to Harlan Ellison, whose sci-fi, along with "The Twilight Zone" Cameron has cited as enormously inspirational. And yet The Terminator, on which Cameron shares writing credit with producer and future second wife Gale Anne Hurd, is its own sharp, clever thing. The script answers almost all the questions you could raise in a police interrogation scene. And yet, it also has huge fun with one of the potential paradoxes of time travel.
The film is not consumed with showy visual effects, although most of the practical work it does is up to par. Efforts to reveal the Terminator's metallic skeleton under the damaged living tissue of his face are poorly rendered, employing the unconvincing makeup techniques that badly date low-budget horror from the '70s and '80s. Such attempts are sparse, with Cameron rightly recognizing that illusions and gimmickry could distract from the universal humanity of the story that serves it so well. And yet, a scene like a robotic skeleton rising from presumed death to walk purposefully (if jerkily) adds undeniable value.
The heart of the film, though, lies in flesh and blood performances. Schwarzenegger is perfectly menacing, supplying the not-quite-human quality the part calls for. This wasn't future California governor Schwarzenegger's first acting work; even if we forget 1969's Hercules in New York, the actor starred in Conan the Barbarian and its sequel not long before this.

The Terminator actually grossed one million dollars less than the first Conan, but it helped grant him household name status and regular action stardom. Dealing with more complex and subtle emotions, Cameron favorite Biehn and future "Beauty and the Beast" star Hamilton have nice chemistry, getting us to warm to a romance that defies the limitations of their dangerous circumstance. Even actors given few chances with which to make their marks manage to do so, like the authoritative Winfield, Joe Dante regular Dick Miller as a gun salesman, and, becoming another Cameron staple, a young Bill Paxton as "Punk Leader."

As stated, The Terminator wasn't exactly a blockbuster. It was hugely profitable; grossing $38 million domestically and $78 M worldwide on a $6.4 M production budget. But it was in an entirely different league from the year's biggest hits (Ghostbusters, Beverly Hills Cop, Gremlins, and Indiana Jones and the Temple of Doom). Television and home video earned the film the huge audience that its modest fall theatrical release did not. Terminator 2: Judgment Day hit theaters for Independence Day 1991, with Cameron, Hamilton, and Schwarzenegger (this time on the other side of the moral compass) returning. The sequel was as big as they come. Grossing $205 M domestically, it was 1991's top film and the second highest-grossing R-rated movie ever (behind Beverly Hills Cop). Bringing in five times as much as the original, it still holds the record for the sequel offering the greatest improvement over its predecessor. Though many consider T2 one of the best sequels ever and an improvement over the original, I do not, as entertaining as it may be.

Since T2, there have been two additional Terminator sequels (one with Schwarzenegger, neither with Cameron) and a two-season Fox TV series. With Schwarzenegger out of the governor's office and ready to return to Hollywood, a fifth installment has been planned, with Fast & Furious and Fast Five director Justin reportedly attached.

The Terminator installments are among the movies most often revisited on home video. Just five years into Blu-ray's run, it's proving as true on that format as it was on DVD. The subject of this review, a Limited Edition Blu-ray book, represents the original film's fourth release on Blu-ray. The disc itself has remained unchanged from its June 2006 debut, but the packaging around it has gone in different directions, from a lenticular slipcover in 2009 to a Blu-ray + DVD combo in DVD casing in 2010. This newest release doesn't purport to stick around any longer than those short-lived editions.
Blu-ray Disc Details

1.85:1 Widescreen
Uncompressed LPCM 5.1 (English), Dolby Digital 5.1 (English, French)
Subtitles: English, English for Hearing Impaired, French, Spanish, Portuguese, Chinese, Korean, Thai
Not Closed Captioned; Extras Not Subtitled
Release Date: May 10, 2011 (Disc first released June 20, 2006)
Single-sided, single-layered disc (BD-25)
Suggested Retail Price: $34.98
Hardcover Digibook
Still available in standardly-packaged Blu-ray ($19.99 SRP) and 1-Disc DVD ($14.98 SRP)
Previously released as Special Edition DVD and DVD + Blu-ray
VIDEO and AUDIO
Knowing The Terminator's modest origins is essential to having reasonable expectations for this Blu-ray. The 1.85:1 presentation does have some scratches here and there, but is mostly quite clean and highly satisfying. The transfer lacks the stunning detail associated with BD. Whether that is because the work came at the format's debut or because the movie's source materials are lacking, I don't know. I can guess that the picture leaves some room for improvement. At the same time, it largely pleases as is.
The uncompressed PCM 5.1 soundtrack impresses even more. This is one of the best-sounding Blu-rays I've encountered. The audio is dispersed from all channels with precision and impact. Heavy on gunfire, the film lends itself to a dynamic mix and this did not disappoint in any major way. It is worth noting that the dialogue in some of the more intimate scenes can be quiet and almost unreasonably so. But this isn't a case where you're fumbling to adjust volume levels throughout. Dolby Digital 5.1 mixes are also provided in English and French. Something resembling the film's original monaural mix, unfortunately, is not. Internationally-minded Sony equips the film with subtitles in seven languages, eight if you count both the SDH and non-SDH English streams.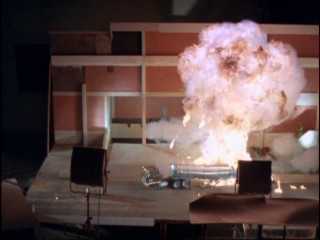 BONUS FEATURES, MENUS and PACKAGING
Like all of The Terminator's other Blu-ray editions, this one provides the film with three bonus features. First up is "Creating The Terminator: Visual Effects & Music" (12:58), a dull featurette on technical achievements with smoke, explosions, forced perspective miniatures, and rear screen projection. In the slightly better second half, composer Brad Fiedel recalls how his enthusiasm for the project grew.
"The Making of The Terminator: A Retrospective" (20:30) opens with a trailer and then bounces between comments James Cameron made in 1986 and a conversation between him and Schwarzenegger taped presumably at one of their houses in 1992. The latter part makes up the bulk of this and both produce good anecdotes about casting, make-up, and production.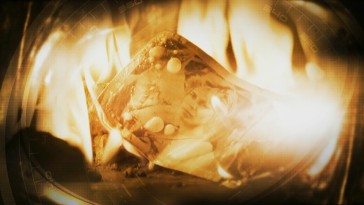 Finally, there are seven "Terminated Scenes", which run 9 minutes and 56 seconds, but will take you more time than that to view. That's because the scenes can only be viewed one at a time, a chore that is particularly tedious because most are short (four run less than a minute) and because of an annoying menu issue discussed below. The snippets aren't too remarkable, although we do get some nice unseen moments between Sarah and Reese,

as she introduces him to such forgotten things as hot dogs and tickling. There is also a trio of strung together bits featuring Paul Winfield's Lt. Traxler and post-climactic factory scene hinting at one negative consequence. In the longest and most notable cut, Sarah contemplates attacking Cyberdyne Systems, the corporation behind the revolting Skynet technology, leading to a melodramatic spat. Not only are these scenes presented in standard definition, they are letterboxed within a 4:3 frame.

Under Previews, we find trailers for S.W.A.T., Underworld: Evolution, and xXx. If you recognize those movies as properties that belong to neither Fox nor MGM, that is because this disc was issued when MGM was partnered with Sony Pictures Home Entertainment. Somehow, Fox hasn't seen cause to re-author the disc for any of the movie's various Blu-ray repackagings. (A "play all" for deleted scenes?! Who wants that?!)

The Blu-ray's action-packed menu is one of the worst and most absurd I've ever encountered. That's because navigation is accompanied by loud robotic sound effects at volumes much greater than the copper montage's effects and score. The jarring noises even play every time the menu first appears or pops up. There is no way to enjoy this menu as intended. How it could pass through any quality control department, I don't know. While bookmarks are not supported, the disc does manage to resume stopped playback of the film and bonus features.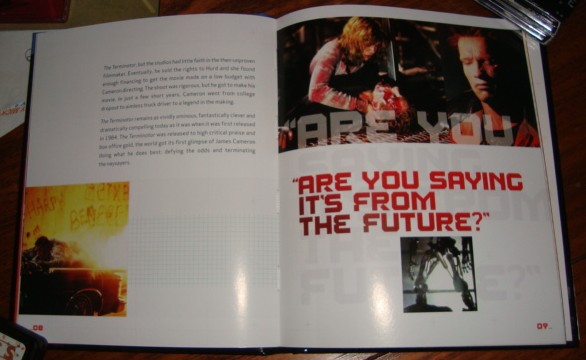 The real attraction to this edition is the Digibook packaging, which holds the disc in a hardcover book a hair thinner than the usual blue plastic Blu-ray keepcase. I'm not sure why Digibooks have been such a fixture on Blu-ray while not ever being employed on DVD, since nothing other than perhaps Blu-ray's scratch-resistant coating and premium pricing make it a better fit for hubless high-definition. Warner Home Video has led the charge, releasing dozens of Blu-ray/book sets, and last week, 20th Century Fox got into the act exclusively on some of the best-selling titles in the MGM library it distributes.
The nicely-illustrated book part runs 26 pages, some featuring nothing more than a stylish presentation of a character quote from the film. A page of brief biography and very select film credits goes to each of the three leading actors. There is a page of interesting trivia tidbits. And the book opens and closes with essays: Richard Tanne's "James Cameron: Cinematic Terminator" on the writer/director's journey and Travis Baker's "Tech Noir: The Dark Side of Techno." Both feel like light, short, simple attempts to analyze the film in the style of a Criterion Collection booklet. The latter essay supplies some meaningful observations, but the first (a rags-to-riches tale of a college dropout-turned-truck driver) reads like it was written by Cameron's publicist.
Broken down into its individual parts, the book is certainly underwhelming, but I can see the allure of collecting Digibook Blu-rays. And with inserts having gone the way of the dodo, this is a suitable successor for those who miss the days when DVDs came packed with behind-the-scenes reading material.
CLOSING THOUGHTS

Though clearly a product of its time, The Terminator holds up remarkably well as intelligent, exciting sci-fi action. I don't hesitate to call it the best movie James Cameron and Arnold Schwarzenegger have given us separately or together.

While the film is good enough to make room for even in a selective collection, there are many ownership options and none that stand as the clear winner. The disc included here, identical to all of the movie's Blu-ray editions, lacks a number of bonus features found on the film's since-discontinued,

double-sided 2001 Special Edition DVD, such as the hour-long documentary "Other Voices", still galleries, trailers and TV ads, scripts and story treatment, Easter eggs, and Cameron's deleted scene commentary. For extras fans, the loss of that substantial material is inexcusable.

With the four and counting films held at three different studios, there won't be a definitive franchise collection anytime soon. But inevitably, the original movie and at least its hit first sequel will continue to get new releases every once in a while. It's probably only a matter of time before all of The Terminator's extras are compiled alongside new ones in a more satisfying Blu-ray set. If you can't wait, you can choose from two in-print Blu-ray editions, a stripped-down DVD, and more if you're willing to dive into secondhand markets. As for those Blu-rays, the Digibook is okay, but not good enough to spend the currently $13 premium it commands over the same BD in standard packaging.

Support great cinema and this site -- Buy The Terminator from Amazon.com:
Blu-ray Book / Standard Blu-ray / DVD / Special Edition DVD / DVD + Blu-ray Combo