While the music video has faded from television and national discussion, the form still deserves credit for launching a number of filmmaking careers. David Fincher, Michel Gondry, Spike Jonze, Gore Verbinski, Antoine Fuqua, and Michael Bay all got their start in music videos. As did Lasse Hallström,

a Swedish man who helmed twenty-six videos for the pop group ABBA from 1974 to 1982. The medium was in its infancy back then, but it still became a launchpad for Hallström, who transitioned to television and, logically, the theatrical 1977 documentary ABBA: The Movie.

Hallström's fifth feature as director really earned him a place on the world cinema map. Released near the end of 1985 locally and the spring of 1987 in the US, My Life as a Dog (Mitt liv som hund in its native tongue) would earn Hallström Academy Award nominations for Best Director and Best Adapted Screenplay (the latter shared with three co-writers), two categories rarely recognizing foreign films. The success of this coming-of-age drama paved the way for an American film career, which Hallström began in the early 1990s and has never really looked back since. His English language credits include the Best Picture Oscar nominees The Cider House Rules and Chocolat, last year's hit Nicholas Sparks romance Dear John, Leonardo DiCaprio's star-making What's Eating Gilbert Grape, and Hachi: A Dog's Tale, a tearjerker whose lack of US theatrical release hasn't stood in the way of widespread admiration.
Based on a novel by Reidar Jönsson (one of Hallström's three co-screenwriters), My Life as a Dog centers on Ingemar Johansson (Anton Glanzelius), a bed-wetting, milk-spilling boy about ten years old in the late 1950s. Though he might seem like your typical fun-loving youth, Ingemar's voiceover reveals he has some weighty, morbid thoughts rattling around inside his head. For instance, he repeatedly refers to Laika, the Soviet space dog who orbited the Earth and died in the process. Ingemar hopes to gain some perspective from such an incident; mortality is clearly on his mind because his mother (Anki Lidén) is sick and dying of tuberculosis. Unable to care for Ingemar and his older brother Erik (Manfred Serner), she sends them to live with separate relatives.
Ingemar takes a train ride out to the countryside, where he will stay with his Uncle Gunnar (Tomas von Brömssen) and his wife (Kicki Rundgren). There, the boy picks up soccer and boxing, making friends with a green-haired boy (Jan-Philip Hollström), Gunnar's voluptuous glassworks colleague Berit (Ing-Marie Carlsson), and an androgynous girl called Saga (Melinda Kinnaman) who poses as a boy to play on the soccer team. The latter two contribute to Ingemar's sexual awakening, which causes him to fall through a skylight trying to catch a glimpse of Berit's nude modeling. As counter to that, he helps Saga shroud the signs of her developing womanhood.
Ingemar tries to cope with his mother's passing and the unexplained disappearance of his dog, whose mannerisms he adopts in what can be considered the climactic portions of this film.
Like its protagonist, My Life as a Dog is strange, quiet, and sad. It is a movie driven more by rhythms and moods than story. That is true of other Hallström films as well. The director is clearly drawn to palpable, ordinary human experience, which he presents with understatement and sincerity. The skylight fall is one of few remarkable events to occur here. The green-haired boy's grandfather offers a taste of space travel in a homemade cable car ride that malfunctions in two different ways.

Crowds of children gather and cheer on a boxing match between Ingemar and Saga. An old man always seen and heard tinkering on his roof catches the neighborhood's attentions by going for a mid-winter swim. Such episodes hold us captive and carry some meaning beyond the surface, without unfolding in a way that reordering or redacting would ruin. The movie is determined to present a slice of life that belongs exclusively to Ingemar but all can relate to.

In both of its nominated Oscar categories, the film lost to The Last Emperor, the Bernardo Bertolucci epic that time has forgotten. My Life as a Dog did get plenty of other accolades around the world, winning Best Film and Actor in Sweden's Guldbagge Awards, claiming foreign film honors at the Golden Globes and Independent Spirit Awards, and picking up three special Young Artist Awards at a ceremony that also celebrated Fred Savage, Cory Feldman, and "Growing Pains." Sweden chose not to make My Life their entry for the Best Foreign Language Film Oscar, though its other nominations retroactively suggested it would have been a lock to win. The country instead submitted artist colony period drama Hip Hip Hurrah! starring Stellan Skarsgård; it was not nominated for the award, which Babette's Feast from nearby Denmark would win.

My Life received a PG-13 rating from the MPAA in 1986, but surrendered it, going out as unrated in its unusually formidable US release, the strongest on record by a Scandinavian movie until last year's trilogy-launching The Girl with the Dragon Tattoo.

My Life was a no-brainer selection for The Criterion Collection, the boutique line devoted to important films from around the globe. It turned up on DVD there in March 2003 with spine number 178, supplanting its now long-discontinued, full screen, basically barebones 1999 DVD debut from Fox Lorber. Last month, Criterion issued the movie on Blu-ray Disc.
Blu-ray Details

1.66:1 Widescreen
LCPM Mono 1.0 (Swedish)
Subtitles: English
Not Closed Captioned; Swedish Extras Subtitled in English
Release Date: September 13, 2011
Single-sided, dual-layered disc (BD-50)
Suggested Retail Price: $39.95
Clear Keepcase
Still available as Criterion Collection DVD ($39.95 SRP)
Previously released to DVD by Fox Lorber
VIDEO and AUDIO
Criterion preserves My Life as a Dog's original 1.66:1 widescreen aspect ratio (the European standard of its day), though typical overscan will render it indistinguishable from the current 1.78:1 norm. Sweden in 1985 clearly didn't have the same filmic equipment we take for granted today. Nonetheless, Criterion does its very best to make the film presentable and they mostly succeed. The picture is good, remaining clear and clean throughout, save for the rare faint line. It's soft, lacks detail, is quite grainy in some places and has a deliberate warm glow in others. I don't doubt that this is the best the movie has looked since its first theatrical exhibition, but those expecting results comparable to HD transfers of American blockbusters from the same time are expecting too much.
Audio is presented exclusively as a 1.0 LCPM mix in the original Swedish. It's a serviceable soundtrack, displaying age and limitations but staying clear and audible at all times. I noticed just one oddly-translated word in the optional English subtitles, which though white are consistently visible, sometimes just barely over snow.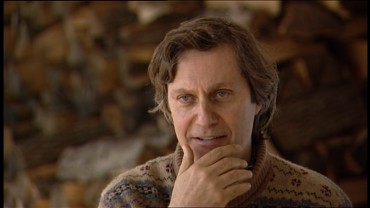 BONUS FEATURES, MENUS, PACKAGING and DESIGN

On Blu-ray, My Life as a Dog is joined by all the same bonus features of Criterion's DVD, only now all are in high definition.

First comes an on-camera interview with director/co-writer Lasse Hallström (18:29) from the spring of 2002 and primarily in English.

He touches briefly upon the ABBA phase of his career, but soon focuses on the movie, its adaptation from novel form, and its reception. Though I'm sure many of the movie's fans would have welcomed a commentary, this stands as a strong companion to the film.

Next and most substantial is Shall We Go to My or Your Place or Each Go Home Alone? (52:47). This 1973 TV movie marks Lasse Hallström's writing and directing debut. It dramatizes a night out for three young, single, sexually active best friends, starting with their romantic advances at a nightclub and following each as they take home (or are taken home by) a lady for philosophical discussion, table ice hockey, and failed air mattress inflation, among other things. 1970s television in Sweden is a bit different from what the networks offered here; there's swearing, head-to-toe nudity, and frank sex talk. Even so, this is a torturous experience, giving little indication of Hallström's future achievements. A disclaimer at the start of the movie informs that two songs have been changed for copyright reasons, which you'll only notice because dialogue is also muted (but still translated) in those scenes.

Accompanying Shall We Go, "Hallström on the Film" (1:28) has the director identify his influences (Milos Forman and John Cassavetes) and say a few words on his debut work's concept and improvised design.
My Life as a Dog's original Swedish theatrical trailer (2:40) is kindly preserved and in full 16:9 as opposed to its letterboxed DVD presentation.
Last but not least, we find a 16-page booklet inside the Blu-ray-sized, DVD-style clear keepcase. This contains the usual helpful information: chapter titles, film and disc credits, transfer details. In addition to those things and plenty of film imagery, there are two short essays, both penned for the movie's 2003 DVD. "Child's-Eye View" by Village Voice critic Michael Atkinson calls the film one of the most memorable about childhood and offers analysis of settings, depictions, tone, and even specific compositions. Novelist Kurt Vonnegut's "A Sweet Operation" sings My Life's praises in a more amusing fashion, revealing it as the favorite of both him and the droll comedian Steven Wright. Vonnegut imagines pitching the film to a studio executive in matter-of-fact language.
The menu earns creativity points for its seamless loop of Ingemar lying sideways on the summer house bench while radio boxing and Mr. Fransson's hammering are heard. Par for the studio, listings appear on a tasteful, translucent gray, expanding left to right
Criterion further demonstrates their superiority in authoring; the disc supports bookmarks and resumes with the best of Blu-rays. That's a more than acceptable trade-off for extras and menus taking a few seconds longer to load.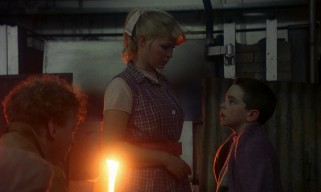 CLOSING THOUGHTS
My Life as a Dog is a nice little slice of childhood specific to a time and place but universally relatable. I wouldn't give it the classic status that the film's wide critical acclaim suggests, but it's an appealing drama that finds Lasse Hallström's natural filmmaking at its purest.
Those looking to add the film to their collections will notice that this new Blu-ray is cheaper and easier to acquire than the 2003 Criterion DVD without being inferior in any way. Though I didn't appreciate it enough to recommend buying unseen, the movie is well worth a viewing and likely to be enjoyed.
Support this site when you buy My Life as a Dog now from Amazon.com: Blu-ray / DVD