Cirque du Soleil, a company launched in 1984 by two Quebec street performers, has grown into one of the biggest brands in modern entertainment. Today, the company employs over 5,000 individuals and brings in $850 million of revenue annually. Permanent shows in Las Vegas play to 5% of the city's visitors. Other shows can be found on every continent but Antarctica.

The troupe has paid tribute to some of the most famous acts in the history of pop music. They've even performed at the Super Bowl and the Oscars.

A 3D film given wide release in standard theaters wasn't just another frontier to tackle, it was an inevitability. It isn't even that surprising that Cirque du Soleil: Worlds Away opened during one of cinema's most competitive weeks of the year or that it did so with the creative input of Hollywood bigwigs Andrew Adamson (Shrek, The Chronicles of Narnia: The Lion, The Witch and The Wardrobe) as writer-director-producer and James Cameron as executive producer.

At the same time, it looks like Cirque du Soleil is getting a little carried away with Worlds Away. Few concert films dare to open in close to 1,000 theaters and those that do boast the presence of one of the world's most famous celebrities. Ignoring that, Worlds Away was humbled by opening outside the Top 10 and soon plunging from multiplexes en route to a modest $12.5 million domestic gross. That was still more than what the Halloween comedy Fun Size earned in over 3,000 theaters. And twelve times what The Oogieloves in the Big Balloon Adventure made in its disastrous late summer run.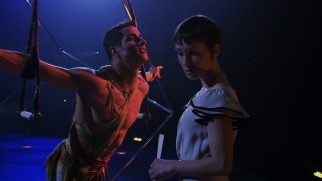 Worlds Away opens with a wide-eyed young woman the end credits name Mia (Erica Linz) strolling around a small town's circus grounds on her own. Linz is no stunning beauty and doesn't need to open her mouth to reveal her modest acting gifts, two facts that hint she'll reveal some wondrous acrobatic skill. Spoiler alert: she does, but not until the film's final moments. Still, she is our protagonist on this nearly entirely wordless journey. At the silent pleas of a sad clown, Mia checks out the aerialist tent. There, a shirtless man (Igor Zaripov) with a hairless chest and unflattering child's hairdo performs up in the air. The aerialist displays skill but also imperfection as he tumbles down, disappearing into the sand below. Concerned, our heroine follows him in, this sand representing the kind of looking glass driving the thin plot. The Wonderland on the other side is a hodgepodge of various Cirque du Soleil shows: O, Kΰ, The Beatles Love, Mystθre, Zumanity, Viva Elvis and Criss Angel: Believe.
You needn't have attended one of those to know what you're in for. Trippy, surreal imagery involving masks, costumes, and animal-less circus acts. There's trapeze, there's twirling of fire and cubes, there are choreographed fights, there is contortion, and there are a number of Beatles songs. Worlds Away is pure spectacle cinema with no illusions of being anything more than that. There's only a narrative in the sense that assorted performers stand in the way of Mia and the man she wants to know and help.
This film is a nice way to cinematically preserve the troupe's impressive contemporary offerings. But, aside from a few minor visual effects,

it doesn't utilize the medium in any way. Beyond the prologue, it doesn't offer anything other than the Cirque's popular standard course. That course would seem a lot more special if the company didn't have all these similar shows going on all the time all over the world. As is, Worlds Away plays like a feature-length corporate advertisement or like a Broadway show consisting entirely of chorus dance numbers.

You can respect the ample flourish and the displays of disciplined athleticism without really enjoying it. Many noble artists devote their lives to dance and musical theatre. This, on the other hand, is something you might take in among a magic show, a stand-up act, sightseeing, and casino time. There's a curious disconnect between the troupe's seemingly lofty ideals and the tourist crowd they play to. That's also felt here, with a tagline daring enough to call the director of Shrek a visionary filmmaker (while still downplaying his considerably greater involvement to that of the more recognizable Cameron).

Even if you can concede the momentary diversion of contortionists and swinging trapeze, you may very well become bored here, long before the 81-minute mark, when ten minutes of credits acknowledge everyone associated with the different shows sampled here. There are too few intriguing touches like a tricycle with a rider invisible save for boots. And too much of the same few hijinks dressed up in different costumes. At least, the film doesn't overplay its three-dimensionality with an abundance of in-your-face gimmickry, instead allowing planes of depth to be known to somewhat cool effect.

One way to appreciate the film is to accept that it is like a "Best of" Cirque du Soleil show filmed capably and professionally from desirable vantage points. And whereas adult tickets to these full shows typically begin at $50, you can currently rent this from Redbox for the very reasonable rate of $1/night on DVD ($1.50 on Blu-ray), assuming you don't first take a second to find one of the many free rental codes floating around the Internet.

Those who believe this is a trip they'd take more than once can now own Worlds Away in a single-disc DVD, a two-disc Blu-ray + DVD + Digital Copy, and the three-disc Limited 3D Edition Blu-ray 3D + Blu-ray + DVD + Digital Copy combo pack we review here.
Blu-ray 3D, Blu-ray & DVD Details

1.78:1 Widescreen (DVD Anamorphic)
Blu-rays: 5.1 DTS-HD MA (English), Dolby Digital 5.1 (French, Spanish, Portuguese, DVS)
DVD: Dolby Digital 5.1 (English, French, Spanish, Descriptive Service)
Subtitles: English, French, Spanish, Portuguese; BD Movie only: English SDH
DVD Closed Captioned; Extras Subtitled
Release Date: March 12, 2013
Three single-sided, dual-layered discs (2 BD-50s & 1 DVD-9)
Suggested Retail Price: $54.99
Blue Keepcase in Glossy Cardboard Slipcover
Also available in Blu-ray + DVD + Digital Copy ($39.99 SRP), DVD ($29.99 SRP),
and Amazon Instant Video
VIDEO and AUDIO
On Blu-ray, some long shots show some grain in Worlds Away. Otherwise, the 1.78:1 presentation is pristine and dynamic. I cannot question the talent or thought that goes into such a show and the 1080p picture shows it off in greater detail than you can see live, no matter how good your seats.
The 5.1 DTS-HD master audio is also terrific, nicely distributing the music that complements the performances. With hardly any dialogue, it's interesting to see that Paramount still supplies its usual bevy of dub and subtitle options. The most fascinating soundtrack would have to be the Descriptive Video Service track; this has to be an unenviable assignment for a narrator and visually impaired listener alike. Meanwhile, the subtitles do not transcribe or translate song lyrics, rendering them fairly useless.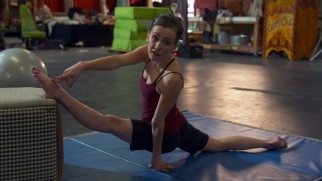 BONUS FEATURES, MENUS, PACKAGING and DESIGN

The few short bonus features of this three-disc set are relegated to the middle disc,

the standard Blu-ray that is the same disc provided in the two-disc combo pack. Each is presented in high definition.

Brief, promotional "Making Worlds Away" (2:26) shares remarks from Andrew Adamson, James Cameron, producer Martin Boluc, and lead Erica Linz to a few glimpses of behind-the-scenes footage.

"A Day in the Life with Erica Linz" (13:24) has the film's star show us her and her fellow performers stretching and rehearsing, while her voiceover discusses her attraction to the circus lifestyle, the troupe's creative process, and the specifics of this film's production. I expected to get much more of this kind of thing; instead this is the set's only worthwhile extra.

Watch a clip from "Making Worlds Away":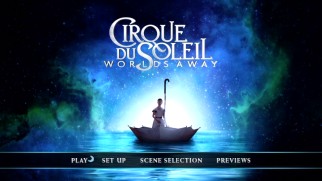 Finally, unmentioned on the case, a Cirque du Soleil Las Vegas commercial (1:02) promotes the company's varied Sin City fixtures.

You'd think Paramount would include Worlds Away's own trailer, especially in 3D, but they do not. The Blu-ray opens with streaming trailers (the most effective use of that standard Paramount feature I've yet seen)

which for me promoted Star Trek Into Darkness, Fun Size, and The Guilt Trip.

The DVD, also the same sold on its own, is barebones, save for disc-opening trailers for the aforementioned three plus Titanic (which I had streamed on a second visit) and an anti-smoking spot, all but the last of which play from the menu's "Previews" listing.

The main menu of all three discs plays score over the film's static poster art. The Blu-ray supports bookmarks on the film, but does not resume playback.

The three discs fit in a standard blue keepcase with spindle. Inserts provide your unique code for downloading the complimentary digital copy and UltraViolet stream and a discount for 20% off select US and Canadian Cirque du Soleil shows. The case is topped by a glossy slipcover.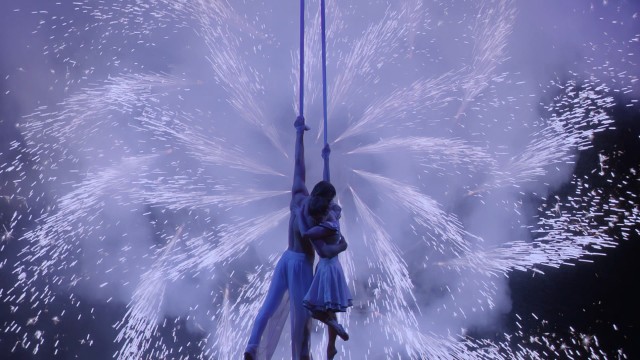 CLOSING THOUGHTS
As a sampling of Cirque du Soleil shows, Worlds Away presumably lives up to the standards of the popular circus company. As a film, though, it is pretty dull and thin. It looks nice (especially in high definition) and the performers do impress with their physical feats, but that isn't enough for any emotional investment or reaction. As such, this is strictly a one-time viewing for fans, who very well may have already seen some or most of these acts. The Blu-ray 3D combo pack provides terrific picture and sound, but little bonus material to enhance your appreciation for either this brand of entertainment or the film itself.
Buy Cirque du Soleil: Worlds Away from Amazon.com:
Blu-ray 3D + Blu-ray + DVD + Digital Copy / Blu-ray + DVD + Digital Copy / DVD / Instant Video