For years, manic comedy was considered Robin Williams' forte. The rapid-fire, change-on-a-dime stylings of the stand-up work that helped discover him carried over to TV's "Mork and Mindy" and then a high energy film career. But Williams was also a competent dramatic actor, having been classically trained at Julliard. Dramatic work in comedies and then straight turns in films like Dead Poets Society and Awakenings let the secret out, but generally making people laugh remained his bread-and-butter. Then came Good Will Hunting, released at the end of 1997 and earning Williams his first Academy Award the following March.

His acclaimed performance as a widowed psychologist seemed to signal a career redirection, turning him to more drama-skewed dramadies. Films like Patch Adams, Jakob the Liar, and Bicentennial Man may have given the performer free reign to be silly,

but they also called for teary sentimentality in a mix critics were none too crazy about. After Y2K arrived, Williams disappeared for a few years, and when he returned, the comedy was more or less gone, as the actor embraced dark, humorless roles in the well-regarded dramas Insomnia and One Hour Photo. He'd let loose in the occasional voiceover job, but he was only seen (and I'm using that word generously) in minimally-distributed independent films.

Last year marked a resurgence for Williams, as he headlined a handful of diverse films -- a bit of the old comedic Williams (RV), a bit of the new dreary Williams (The Night Listener), with some voiceovers and a supporting turn in the blockbuster Night at the Museum thrown in for good measure. 2007 has been a little quieter for Williams; he's got the extremely odd-looking August Rush due out Thanksgiving week. Before that, he appeared in License to Wed, one of the worst-reviewed movies of the year.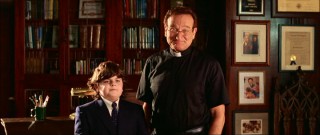 License to Wed gives us old school pre-Oscar Williams: lots of silliness and a minimum of seriousness. Here, he plays Reverend Frank, a Christian minister at St. Augustine's Church, where the young, newly betrothed Ben Murphy (John Krasinski) and Sadie Jones (Mandy Moore) decide to have their wedding. Having to choose between an opening three weeks away and one that's two years away, the couple opts for the former. To get wed, however, they'll first have to endure Rev. Frank's marriage preparation course.
Designed to keep divorce rates down and incompatible parties apart, the crash course is expectedly over-the-top in its extremeness. Ben and Sadie are taught to fight. They're assigned a pair of fussy robot babies to watch over. They've got to give up sex until the wedding. There are word activities meant to create stirs. And all the while, Frank and his little Ministers of Tomorrow mentee/sidekick "Choir Boy" (Josh Flitter) have bugged the couple's apartment and are monitoring their behavior and reactions toward the training program.
Never for a minute does anyone doubt how the film will play out, for it conforms to every design convention of the romantic comedy genre. Never for a minute does one mistake the film for being remotely realistic or having great insight on the sanctity of marriage. Still, the film is entertaining enough, a gentle and gentile version of a Ben Stiller embarrassment comedy that makes up for the lack of a strong, identifiable Stiller protagonist with the presence of high-strung and intermittently humorous Williams.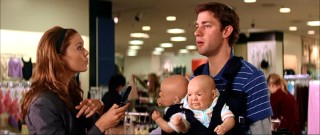 The movie certainly leaves a lot of room for improvement. Though individually charismatic, Krasinski and Moore don't have a lot of chemistry together. Supporting characters are insufficiently developed, serving as a showcase for ideas and humor attempts that fail to work. As Ben's unhappily married best friend, DeRay Davis feels like token minority casting and his jokes fall flat. As Sadie's divorced older sister, Christine Taylor (another suggestion of being in Stiller-land) is wasted.

As Sadie's close, cultured male friend, Eric Christian Olsen is supposed to represent a threat but if you're like me, you'll forget he's not just her brother. Likewise, Sadie's parents and grandmother barely make an impression and certainly don't elevate the intended comic awkwardness factor.

The three credited screenwriters (Kim Barker and the team of Tim Rasmussen & Vince Di Meglio) are all short on experience and presumably young. Their first big studio effort isn't a bad one. While sitcomish and flighty, License to Wed happily doesn't revel in gross-out humor or nastiness. The material is light and predictable, but consistently diverting. Though director Ken Kwapis doesn't bring much flair or vision to the proceedings, he does bring a connection to NBC's "The Office", from which Krasinski and three briefly-seen cast members (including a laugh-scoring Brian Baumgartner) are plucked. If "The Office" (which Kwapis occasionally executive-produces and directs), feels a little too good for network television (especially in its most recent episodes), License to Wed feels slightly out of its league on the big screen. If not for Williams and all that he brings to the table, this project could very well have "TV movie" written all over it. Then again, without Williams, there just might not be anything there.

Though scorched by critics, License performed moderately well in theaters, earning a little under $44 million. While that isn't much next to the big-budget sequels and action flicks it shared multiplexes with and it pales next to Williams' career highs, the mid-range performance is pretty much par for the genre. Just a shade under four months after opening in theaters, License to Wed simultaneously reached DVD, Blu-ray, and HD DVD from Warner Brothers.
DVD Details

2.35:1 Anamorphic Widescreen and
1.33:1 Reformatted Fullscreen
Dolby Digital 5.1 (English, French, Spanish),
Subtitles: English, English for Hearing Impaired, Spanish, French;
Closed Captioned
Release Date: October 30, 2007
Suggested Retail Price: $14.98 (Reduced from $28.98)
Single-sided, dual-layered disc (DVD-9)
Black Keepcase
Also available on Blu-ray and HD DVD / DVD Combo
VIDEO and AUDIO
DVD presents License to Wed in both its wide 2.35:1 theatrical aspect ratio (of course enhanced for 16x9 displays) and a 1.33:1 "fullscreen" presentation on the same side of a disc. The transfer isn't particularly remarkable. The film plays things straight visually and the DVD doesn't disappoint, its sharp, clean, and colorful image meeting one's expectations for a new studio film and delivering no surprises greater than slight softness and light background grain. There's nothing striking about the Dolby Digital 5.1 soundtrack either, with its mix of dialogue and the occasional prerecorded song registering as just fine.
BONUS FEATURES, MENUS and PACKAGING

A very meager selection of bonus features is found here. First, we get are a handful of deleted scenes (12:25) that are presented with and without audio commentary by director Ken Kwapis. There's an animated alternate opening stylistically inspired by Monty Python,

a one-on-one basketball game between Ben and Reverend Frank (deemed too tame), an exchange between Ben and Carlisle that underscores the latter's success (and Michael Jordan game ball ownership), an alternate ending with Frank and Choir Boy, and, most substantially, scenes from Ben's dull bachelor party and Sadie's racy bachelorette fest. With the exception of the lame pre-wedding bashes, most of the content seems worthy of making the film and your time needed to watch. A commentary on the feature from Kwapis would have been welcome, for he proves to be informative and compelling here.

Next and last there is "Ask Choir Boy", an interactive feature that finds the character taking questions and doling advice on his pirate radio call-in show. There are 12 segments and a sign-off, each running between 15 seconds and a minute. I didn't think much of Flitter's part; if you did, maybe you'd find some laughs here.

Playing upon insertion of the disc are DVD promos for Ocean's Thirteen, and In the Land of Women, the theatrical trailer for P.S., I Love You, a "Seinfeld": Season 9 spot , and an ad for "Ellen: The Ellen DeGeneres Show". Sadly, a trailer or trailers for License to Wed are nowhere to be found here, so there's nary a trace of Spencer Davis Group's "Gimme Some Lovin'."

Though the HD DVD/DVD Combo and Blu-ray versions offer less compression on the feature, they provide no exclusive bonuses and carry list prices of $10 and $6 higher than standard DVD, respectively.

Like the disc art, the non-animated main menu recycles the film's poster artwork. It's set to a minute of music, after which you're prompted to select a screen format if you haven't already or else the film will just play. Submenus maintain the white-heavy motif, but they don't feature any music. There are no inserts inside the standard keepcase.
CLOSING THOUGHTS

I'm not sure what those who lambasted License to Wed were expecting. Is it high art? Naturally not. But a reasonably fun way to spend 90 minutes? Yes.

As predictable, formulaic, and unrealistic as just about any romantic comedy, License nonetheless diverts and gently amuses with the antics of Robin Williams and the reactions of a grounded couple. While it doesn't rank among Williams' best films, it's nice to see him again dabbling in laughs. The rest of the cast and crew never exceed "pleasant" or "benign", but that's more than can be said for the lesser works in the genre. Doubtlessly, the relatively tame and genial material is preferred to the bathroom humor and pointless raciness that's easier to find today.

Warner's DVD is sufficient. The deleted scenes and commentary on them add value. I'd have preferred more bonus features (a feature commentary, the trailer, a featurette) to the fullscreen version, which seems to take a minor toll on video/audio compression. At least that puts the widescreen version in lame stores that don't carry dual formats. In closing, License lends itself to a viewing, especially for fans of the cast, and you could do much worse than a bargain bin buy down the road.

More on the DVD / Buy from Amazon.com: DVD / Blu-ray Disc / HD DVD/DVD Combo