Thirty years ago this past August, Elvis Presley passed away. To "commemorate" the occasion, a few studios released new DVDs starring the revolutionary musician, none as extensively as Warner Home Video. In addition to debuting six of Elvis' lesser-known late-'60s musical movies, granting Deluxe Edition treatment to his two best-remembered films and repackaging still others, Warner revisited a pair of documentaries featuring the much-celebrated "King" of rock 'n' roll. One of those, the posthumously-produced This is Elvis (1981), had never before been on DVD. The other one -- the subject of this very review, Elvis: That's The Way It Is -- had, but in its most recent release, it was a completely different movie.
That's no hyperbole. This concert film, released theatrically in the fall of 1970, first came to DVD in the format's infancy, August of 1997, in a double-sided disc from MGM. After acquiring much of MGM's catalogue with the purchase of Turner Entertainment, Warner released the film in March of 2001 as a Special Edition. Unlike the more common usage in this DVD age, Warner's "Special Edition" was in the George Lucas sense; the movie had been retooled and even more dramatically than the Star Wars creator has ever tinkered with his epic sci-fi works. Both adding and losing a substantial amount of footage, the new cut actually ran twelve minutes shorter than the theatrical cut, which was no longer in print.
As is often the case with film re-edits, fans were divided, with most appreciating the additional footage, some approving of certain trims, and few cheering the deletion of three song performances. This Two-Disc Special Edition strives to appease those wanting to own the original cut in addition to 2001's much different presentation. It devotes a disc to each of the cuts and includes some never-officially-released deleted material as a welcome bonus.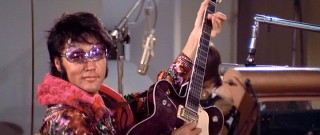 Elvis turned 35 at the beginning of 1970. The previous decade, his first completely in fame, Elvis headlined 27 feature films. As you'd suspect from such a concentrated record, the films adhered to a formula: almost all were musical comedies. Another two things that most of Presley's films had in common were that they were critically panned but turned modest profits. With his attentions set on Hollywood, the career that made Presley a superstar was more or less sidelined. Presley was still making music, but it was mass-produced for lightweight movies and their strong-selling soundtrack albums. Creatively, he was stifled.
As the title it's generally referred to makes clear, Elvis Presley's '68 Comeback Special was a conscious and calculated career move, designed to reassert the performer's musical prowess when NBC aired it in December of 1968. It marked Presley's first concert in over seven years and it was deemed a success by nearly any standard. The following year saw the release of three films that would mark the end of Presley's acting career. With his long-held hopes of being a serious actor squashed, Presley's renewed pursuits as a musician led him to touring the nation and performing for extended periods of time in Las Vegas. For That's the Way It Is, MGM, the regular distributor of Presley's movies, sent out filmmakers to the City of Lights to capture rehearsal sessions and six concert performances of Elvis, his band, and backup singers.
Despite having well over a decade of film experience, Elvis had never appeared as himself on the big screen prior to That's the Way It Is. The very medium that had taken away from live performing was intended to help bring him back. Elvis' act had changed from his pelvis-shaking, news-making days as a young man. But it hadn't followed the changing trends of rock 'n' roll. There was no sign of the British Invasion or the hippie culture in 1970 Elvis' music. Those scenes had been documented in Monterey Pop and Woodstock, films released in the months before Elvis took to theaters. They couldn't be much more different and their chronological proximity would undoubtedly seem suspicious to the alien eye.
Whether or not Elvis was still musically relevant doesn't seem much in question. Instead, That's the Way It Is underscores the energetic Presley's talent as a singer and performer. Having gone through one comeback, Presley appears to once again possess near-universal appeal, which especially in the theatrical cut, seems to transcend age, sex, and race. Swooning females may be ubiquitous and Elvis no doubt catered to this seeming majority of his audience, complete with lip kisses during renditions of "Love Me Tender" long enough to require breaks from singing. Most would agree, however, that the music was enjoyable and it remains so more than three decades later. With singing that seems like it could break into laughter at any given moment (sometimes, it does), Elvis' comfortable stage presence holds audience members captive and delighted. It's not your typical performer that can draw riotous applause with a single gesture.
There's no real plot or even a clear angle to either cut of That's the Way It Is. In truth, this project is just a high-tech capturing of the showman in concert at a time when his popularity seemed near its highest heights. There is an undeniable magnetism to the charismatic singer which somehow justifies the crowd's immense pleasure over his antics. While those skilled folks around him play their instruments with precision and others have written the words being uttered, he's merely a man using his voice (and infrequently strumming a guitar) who receives 100% of the credit.
The differences between the theatrical and Special Edition cuts of That's the Way It Is are numerous. The more recent cut tries to paint a human picture of Elvis; we see more of him goofing around during rehearsal, his false starts on songs in concert, the pre-show jitters that find him worrying he'll forget the lyrics to one song, the jokes he makes in the company of his band and those he uses to entertain the massive crowd eating out of his hands. This version, which earned a PG rating for "some language", does brush with raciness at times, extending Elvis' concern for clean language in avoidance of an "X rating" and making sense -- with a mild expletive -- of his laugh-scoring retelling of his discovery by Ed Sullivan.
It includes some on-screen text that brings a little bit of a Pop-Up Video feel to the proceedings, but outside of the first few scenes, it is used sparingly and does inform. The Special Edition cut keeps the spotlight on Elvis, speeding through footage of the audience and the venue setup. The technique gives the glitzy Las Vegas an introduction that multiple present-day filmmakers wouldn't resist marrying to Elvis' 21st Century dance hit "A Little Less Conversation." Perhaps most troubling about this edit is that we don't get to hear all of the songs that are rehearsed being performed; Elvis' concert takes of the Neil Diamond-penned "Sweet Caroline" and Simon and Garfunkel's "Bridge Over Troubled Water" are both dropped. The newly-added rehearsals of other songs, like "Santa Claus is Back in Town", feel anti-climactic without reprisal. On the other hand, it's nice to see Elvis performing one of his more recent hits of the time, the catchy "In the Ghetto", which was strangely previously excluded.
In the original theatrical cut, Elvis and his Las Vegas concerts receive more context. We hear from fans (some of questionable sanity) and the manager of Tiger Beat magazine. There is more on the preparation of the venue, a discussion of Elvis' place and draw in comparison to other performers. Visually, the film is mostly without on-screen text, and it opts for some split screens. In addition to the dropped songs, one of the aspects most missed from the new cut is of a London presenter who is bestowed with Elvis' two-seat bike and proceeds to raffle it off at a European ceremony that's complete with Elvis tribute performances.
Both of the cuts have their merits and though Warner has wisely not forced viewers to accept just one, they do tip the scales in the favor of 2001's Special Edition, placing it on Disc 1 and with superior picture/sound.
DVD Details

2.35:1 Anamorphic Widescreen
Special Edition: Dolby Digital 5.1 (English)
Theatrical Cut: Dolby Digital Mono (English)
Subtitles: English, French, English for the Hearing Impaired (Theatrical Cut only); Closed Captioned
Release Date: August 7, 2007
Suggested Retail Price: $20.98
Two single-sided, dual-layered discs (DVD-9s)
Black Keepcase with Reflective Cardboard Slipcover
VIDEO and AUDIO

As films, the two cuts of That's the Way It Is must be viewed on their own individual merits and that's also true of their picture and sound quality. Both edits are presented in the widescreen theatrical aspect ratio of 2.35:1 and enhanced for 16x9 displays, but that's nearly where the similarities stop. The Special Edition looks very nice; its element is very clean, the colors are rich, the footage is sufficiently detailed. A few shots are grainier in nature, but for the most part, this looks terrific.

By contrast, the theatrical cut isn't as visually satisfying. Its blacks register more as dark grays, the print isn't as pristine and polished, intrusions are minor but turn up with some regularity. Were this 10 years ago, the transfer would have been satisfactory and perhaps all we're getting is the transfer that was done for MGM's '97 DVD.

Those who prefer the movie's original format may be disappointed that it's received less care than the Rick Schmidlin-supervised re-edit.

Disparity is also found in the soundtracks. The Special Edition boasts a lively Dolby Digital 5.1 mix which is properly engulfing and reveals that the surprisingly excellent recording technology holds up very well. That's not to take away from what surely were considerable restoration efforts. But this is just an utterly pleasing presentation which effectively recreates the concert experience in a much more aurally pleasing way.

Then there's the theatrical cut which is heard only in a Dolby Digital Mono track. As many a fan/Amazon customer has pointed out, the single-channel presentation fails to recreate the audio of original theatrical exhibitions, which came in 4-channel Dolby Stereo. While the elements are still satisfactory and at some points you'll even question that all the sound is coming from just the center speaker, it's a shame that the DVD fails to grant fine and faithful treatment to what until a few years ago was the one and only version of this film.

Both versions are equipped with multiple subtitle tracks, which oddly don't transcribe song lyrics. If you're looking to sing along or at least make out all the words, you'll be glad to know that the closed captions do provide all the decipherable verses, but they are only offered on the Special Edition.
BONUS FEATURES, MENUS and PACKAGING

The modest slate of extras is mostly copied over from the old DVD. Disc One's supplements begin with basic but highly informative text screens.

A light "Cast & Crew" section provides a dozen pages of biography and filmography for Elvis himself and two pages on film restorer Rick Schmidlin. "Behind the Scenes" offers six screens of production notes on That's The Way It Is. "Elvis and His Films" serves up fourteen pages on Elvis' movie career.

The featurette "Patch It Up: The Reconstruction of Elvis: That's The Way It Is" (9:10) touches upon Schmidlin's then-new restoration and more significantly offers reflections from a number of band members and one of Elvis' confidants. Covering both the movie and more so their experiences of making music with Presley, their comments are fairly enlightening.

Closing out the first disc is the original trailer for Elvis: That's The Way It Is (2:10), which, like most vintage previews, is a treat to see.

Aside from the original theatrical cut, Disc 2's only offering is a collection of 12 "outtakes" (37:12), which are new to DVD. The word doesn't entail what it usually does on today's discs; don't expect to find botched lines and uncontrollable laughter. Instead, the rough, video-looking sequences depict Elvis rehearsing and performing songs. There are alternate performances of existing songs and renditions of unheard songs (such as gospel mainstay "Oh Happy Day"). There's also a little bit of Elvis goofing around, eating, and interacting with guests at a calm post-show party. The content won't seem extraordinary for diehard fans who have purchased or considered purchasing unofficial collections of outtakes from the film that number up to 11 DVDs.

The static menus depict bright colors and various stills of Elvis. Though submenus are silent, each disc's main menu features a soft 4½-minute excerpt of "I Just Can't Help Believin'" (ironically, one of the tunes cut from the Special Edition) concert audio before assuming you want to play the feature.

The keepcase artwork gets replicated in a cardboard slipcover that adds a metallic-looking sheen. Elevating the packaging past usual heights is the inclusion of a neat 24-page booklet of mostly black and white photos of Elvis in concert accompanied by some of his one-liners. Imagine a coffee photo book that has been shrunk down to the size of DVD case and the budget of an average-priced DVD.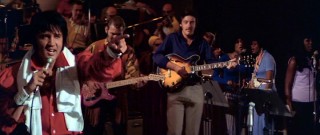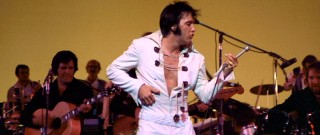 CLOSING THOUGHTS
Elvis: That's the Way It Is captures in an electric concert setting one of the 20th century's most popular singers at arguably his peak musically and physically. As a film, this one maybe isn't as dynamic or decisive as other music documentaries, but the mix -- one-third rehearsals, two-thirds Las Vegas concert -- is a pleasing and compelling one that showcases and justifies Presley's enormous appeal. Elvis may not have been as big a rage in 1970 as he was fourteen years earlier and he can't take credit for the lyrics he sang (not that they were usually thought-provoking). But one can't deny his stage presence and charisma, both of which are certainly well-documented here in his performances of his trademark songs and ones associated more with other performers. It's tough to believe that the vital soul seen here is beginning his last decade on Earth.
Warner's Two-Disc Special Edition DVD makes the wise decision to let viewers choose between the original theatrical cut and the leaner, more Elvis-centric recent cut. It comes close to offering the definitive DVD release of this movie, but its lacking video/audio on the original theatrical cut will disappoint Elvis fans who prefer it. There's sufficient reason for people to fall into that class, as the footage of fans and the concert setup add welcome context to the summer of '70 Las Vegas concert series. Still, this remains the best official release of a movie that deserves a spot in the DVD collection of every serious fan of Elvis and concert documentaries.