Last fall, "It's Always Sunny in Philadelphia" became the first original series in FX history to make it to an eighth season. Its reward for that feat was to be moved to FXX,

the cable network's newly-launched, comedy-centric spin-off digital cable channel where its already declining viewership will surely take a major hit.

"It's Always Sunny" has opened doors for its stars/writers/producers, especially designated wild card Charlie Day, who has landed roles in major movies like the hit 2011 comedy Horrible Bosses and this summer's Pacific Rim and Monsters University. Still, Day and his colleagues are signed on through at least (and probably, at most) a tenth season and it's hard to imagine a better fallback job than making a TV show with your friends with virtually complete creative control.

Nothing ever really changes for the staff of Paddy's Pub, a scarcely-frequented South Philly establishment run by twin siblings Dennis (co-developer Glenn Howerton) and Dee Reynolds (Kaitlin Olson), their childhood friends Charlie Kelly (Day) and Mac (creator Rob McElhenney), and the Reynolds' biologically unrelated father figure Frank (Danny DeVito). Now in their late 30s, the gang remains underachievers by every regard, always scheming to get ahead but never really getting anywhere. For any one of these individuals to grow up or succeed would betray the series' design. Instead, their unending pettiness remains a reliable source of amusement.
Season 8 is full of callbacks, bringing back songs, guest stars, and story ideas you wouldn't expect to resurface. The second episode, conceived as a season premiere, is almost meta as it recreates banter from past shows, though some will accuse it of simply being lazy. In truth, you can tell this group isn't trying too hard to make their names or win new fans. Their comfort zone and unfakable chemistry is simply enough to fuel regular laughs. Day inspires at least chuckles almost every second he's onscreen. The show's usual mix of highbrow and lowbrow remains fairly winning. You get precise homage to Citizen Kane and Jaws as well as incest and breast implant jokes and a brownface gag. Season 8 also provides a couple of fairly high-profile guest stars (by "Sunny" standards, anyway) in P. Diddy and Day's Pacific Rim director Guillermo del Toro, each seemingly outing themselves as fans.
After three consecutive seasons of attracting around 2.25 million viewers for the season premiere and then averaging around 1.5 million afterwards, the series has seen its audience shrink while fan satisfaction has also dropped. Season 8's final two episodes each drew fewer than one million viewers, while the season's apex (1.39 million) was also well below the usual levels.
Hitting stores the day before Season 9 premiered, The Complete Season 8 hit DVD and Blu-ray this week, each edition carrying last year's ten episodes on two discs.
Disc 1

1. "Pop-Pop: The Final Solution" (21:27) (Originally aired October 11, 2012)
As Dee and Denis wrestle with the decision to take their former Nazi grandfather off life support, Mac and Charlie go searching for a painting of a dog that might be the work of Adolf Hitler.

2. "The Gang Recycles Their Trash" (20:10) (Originally aired October 18, 2012)
The guys try to profit off a garbage workers strike by running their own trash collection service wearing tuxedos and renting a limousine.

Meanwhile, Frank and Dee try to win the city's contract.

3. "The Maureen Ponderosa Wedding Massacre" (23:03) (Originally aired October 25, 2012)
Just in time for Halloween comes this episode assuming the feel of a horror movie. On a Friday the 13th, the gang crashes the remarkably odd forest wedding of Dennis' ex-wife (Catherine Reitman) to a McPoyle (Jimmi Simpson).

4. "Charlie and Dee Find Love" (21:51) (Originally aired November 1, 2012)
A car accident leads to Charlie and Dee finding friendship and romance with a pair of wealthy siblings (Josh Casaubon and Percy Jackson's Alexandra Daddario), prompting Dennis to fear they're being played in a Dangerous Liaisons/Cruel Intentions scenario.

5. "The Gang Gets Analyzed" (21:47) (Originally aired November 8, 2012)
Following a dinner party gone wrong, the gang takes turns seeing a therapist (Kerri Kenney) and revealing their many issues.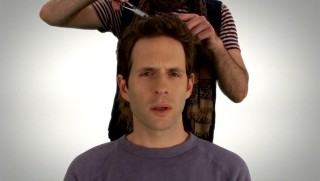 Disc 2
6. "Charlie's Mom Has Cancer" (21:41) (Originally aired November 15, 2012)
The guys turn to a homeopathic doctor in a garage (P. Diddy) and church to help cure Charlie's mother's lung cancer. Dee and a forgetful Frank see a psychic.
7. "Frank's Back in Business" (21:52) (Originally aired November 29, 2012)
Frank returns to the old company he built. Dennis, Dee, and Mac pose as the Canadians whose unclaimed wallet held box seat tickets for a Phillies game.
8. "Charlie Rules the World" (21:42) (Originally aired December 6, 2012)
The gang gets hooked on an online video game, while Dennis voices a desire to experience real life instead.
9. "The Gang Dines Out" (19:32) (Originally aired December 13, 2012)
The gang goes out for a meal at a fancy Italian restaurant in three separate groups: Mac and Dennis on their monthly dinner, Charlie and Frank celebrating their anniversary as roommates, and Dee with a Groupon discount. Awkwardness ensues between the three in an episode that inexplicably runs two minutes shorter than the rest.
10. "Reynolds vs. Reynolds: The Cereal Defense" (21:13) (Originally aired December 20, 2012)
The gang turns Paddy's into a courtroom to determine culpability after Frank hits Dennis' car and knocks over the bowl of cereal Dennis was eating while driving.
VIDEO and AUDIO
Having gotten used to seeing the show in high definition, DVD definitely takes a step back for the show and brings it closer to its crude original aesthetic. The 1.78:1 anamorphic widescreen presentations are adequate, plagued by nothing worse than player-based shimmering and a general lack of detail. One can argue that a comedy like this is just fine in standard-def, but it does require an adjustment and lowered expectations. The Dolby Digital 5.1 soundtracks are tougher to fault, remaining basic but clear. Though most profanity flies freely, the rare F-bomb is bleeped (though it's all over the commentaries). English SDH, French, and Spanish subtitles are kindly supplied in addition to closed captioning.
BONUS FEATURES, MENUS, PACKAGING and DESIGN

Extras begin with audio commentaries on four of the ten episodes. Rob McElhenney, Charlie Day, and Glenn Howerton talk over the season's first three episodes.

As usual, the group is entertaining as they make witty observations, notice goofs and technical shortcomings, and recall the specifics of the episodes' filming and editing. Editor Josh Drisko joins the guys on "The Maureen Ponderosa Wedding Massacre." Day and Howerton also tackle Disc 2's "Charlie's Mom Has Cancer", where they discuss the episode's guest stars, their experiences with the Catholic Church, and blasphemous profanity.

Disc One opens with a dated FX promo and a short home video ad for "Archer."

Disc Two's video extras begin with a collection of deleted scenes (4:40), consisting of Dennis faking his way through golf with the businessmen as Brian LeFevre, Charlie and him singing their wrestling anthem "Birds of War" while driving their trash limo, and more of Dennis and Dee planning their defense, with Dee then arguing it. There's some amusement to be had.

A gag reel (7:10) supplies more of that, as the cast tries repeatedly to avoid cracking up at challenging moments, their laughter being quite contagious.
"Lady House: The Lost Premiere" (6:17) gives us a taste of an old-fashioned, multi-camera, laugh track sitcom about Charlie and Mac's cohabitating mothers (Lynne Marie Stewart and Sandy Martin). There's obvious comedy in the odd couple pairing, though nothing too hilarious.
"Frank Reynolds: How to Be a Warthog" (1:33) is a brief, amateurish in-character ad for an expo, with Frank, his friends, and P. Diddy making a very dubious pitch for business training.
Finally, "Fat Mac: In Memoriam" (2:05) lets the cast weigh in (no pun intended) on Rob McElhenney's return

to his usual physique after ballooning in Season 7 for the sake of his art.

The series' tradition of creative menus is upheld, with each disc's main screen taking imagery from the online video game's animated renderings of the characters accompanied by some of their more quotable lines of the season. The static submenus use the same imagery, placing a character avatar next to the listings.

Fox remains consistent with the packaging, using another clear keepcase to showcase another predominantly yellow (and random) cover design. The reverse side artwork lists episodes and extras, while an insert promotes the new season currently airing on FXX.
CLOSING THOUGHTS
While "It's Always Sunny in Philadelphia" appears to have passed its prime, it's still plenty capable of entertaining on a regular basis. On a first viewing, Season 8 seems lighter than past seasons in hilarity, but still funnier than most contemporary comedy series, especially if you've seen enough previous episodes to get all the callbacks and character quirks.
To the unacquainted, I'd recommend starting at the beginning and giving the show enough time to find its groove. To the already faithful, you probably need no push to see and own this latest batch of episodes. Though inferior to Blu-ray, the DVD's presentation and bonus content is far preferable to television broadcasts and a great way to see or revisit Season 8.
Support this site when you buy It's Always Sunny: Season 8 now from Amazon.com:
DVD / Blu-ray / Instant Video